If a watched pot never boils, there's an equally true and annoying corollary: an ignored pot always burns, even if you just take your eye off it for a second. I've tossed plenty of dishes that I neglected even briefly, not wanting to inflict that burnt taste on my family. I've also spent a lot of time glued to the stovetop, wooden spoon in hand, constantly stirring to prevent burning. All of which is to say, I've often wished for some magic device, like a Star Trek food replicator, that could produce delicious and perfectly cooked food, more or less automatically, without needing my continuous attention.
It turns out that such a device exists — sort of. And it's been around for quite a while. It's low-tech, relatively inexpensive, and actually produces fabulously delicious versions of soups and stews.
That's right. It's time to take a new look at an old kitchen workhorse: the slow cooker. In this article, you'll discover how to use a slow cooker. And how it can become your new best kitchen friend for plant-based cooking.
What is Slow Cooking?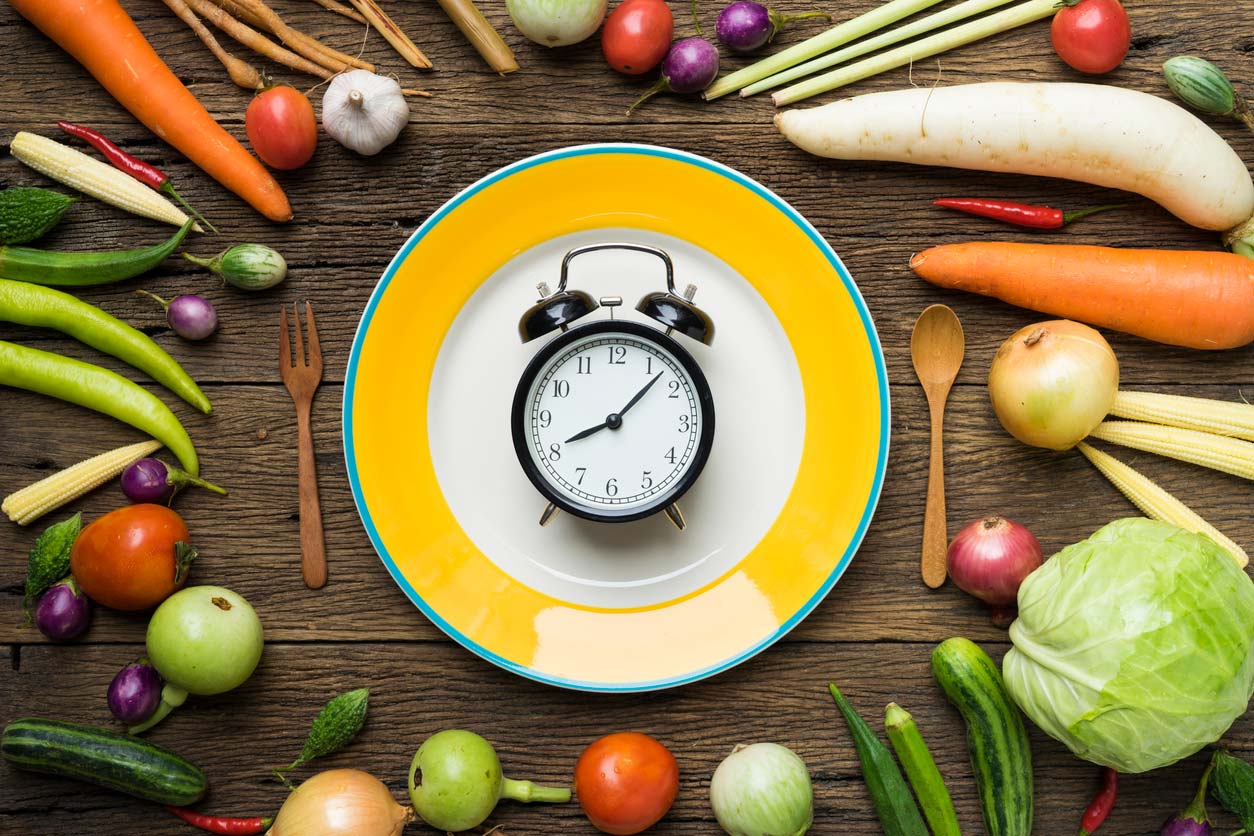 Slow cooking is exactly what it sounds like — a process of cooking that takes its slow, sweet time, often as much as 2-8 hours, depending on what you're cooking. Slow cookers accomplish this feat through two main mechanisms: low temperatures and even and efficient heat transfer. In most slow cookers, the heat rises up from the bottom. In some electric models, the sides of the cooker also heat the food. In addition to direct conduction of heat from the cooker into the food, slow cookers use steam and moisture for cooking food. As a result, slow-cooked dishes typically come out tender and moist.
The first slow cooker was patented in 1940 by Irving Nachumsohn, a Jewish inventor who wanted to solve the problem of cold food on the Sabbath since observant Jews were prohibited from initiating any cooking between Friday evening and Saturday night. His "set and forget" innovation allowed religious families to enjoy steaming hot "cholent," a traditional Eastern European stew that could stay warm over the embers of a wood-fired oven.
In the 1970s, the slow cooker was lauded as a tool of women's liberation, "allowing" women to work outside the home while still preparing hot, home-cooked meals for their husbands and children. Mable Hoffman's 1975 Crockery Cooking was one of the most popular cookbooks of all time, selling four times as many copies as Julia Childs' The Art of French Cooking.
Since slow cooking was touted as the way to make the same popular American dinners, just with less time required by the cook, it's often associated with meat meals. Check out the cover of any slow cooking cookbook from that era, and you'll likely find a cooked chicken, pot roast, or seafood stew on the cover. While slow cooking has an association with the meat-heavy standard American diet, there are plenty of plant-based slow cooker recipes out there as well.
Why Use a Slow Cooker?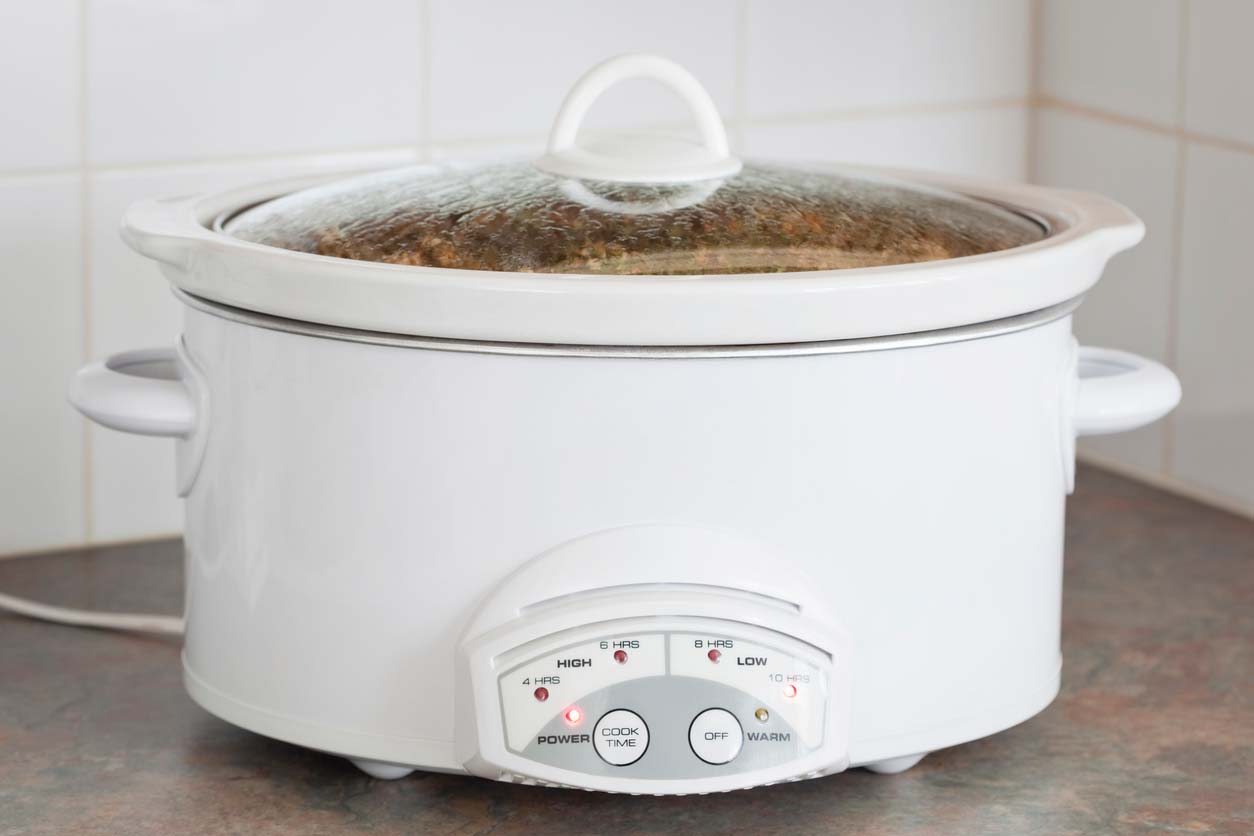 In addition to freeing you from the drudgery of constantly stirring to prevent the bottom of a pot from burning, there are many other benefits of slow cooking.
1. Set It and Forget It
To use a slow cooker, you start the process several hours before you want to eat (or even overnight). The advantage is its "set it and forget it" nature. Because slow cookers use lower temperatures than a pot on a burner, you don't have to worry about scorching the bottom layer. Your contribution to the process is front-loaded: just add your ingredients, and let the device do its magic. You can be making food even when you're not in the kitchen.
2. Easy to Use
If you've ever been intimidated by a kitchen appliance (I'm looking at you, Instant Pot, with your 17 buttons, LCD display, and optional Bluetooth), you'll appreciate the simplicity of the electric slow cooker. Most have a single knob, which can be turned to off, warm, low, or high. Now that's user-friendly!
3. Good for Batch Cooking and Meal Prep
Another useful feature of many slow cookers is their generous size, which makes them ideal for batch cooking and meal prep. You can throw large amounts of legumes, whole grains, vegetables, soups, stews, and other meals into a slow cooker, so you'll have enough to last you for many days. Some home cooks create rituals like "Slow-Cooker Sunday" in which they batch cook a dish or two that will be eaten for the entire week.
4. Use Less Heat and Electricity
Since slow cookers spread their heat efficiently, only where it's needed, they put out less heat than a pot cooking over a burner, and use a lot less electricity than an oven, which has to heat a large mass of air as well as the oven itself.
5. Preserves Nutrients
And not only are slow cookers more energy-efficient, but they also preserve nutrients better than many other cooking methods. Where you might lose water-soluble nutrients like B vitamins or vitamin C when boiling or steaming veggies, slow cooking preserves more of them. The pressurized lid on a slow cooker doesn't allow steam (and therefore nutrients) to escape as easily as other cooking methods. And since many slow-cooked dishes are cooked in liquids that are part of the dish, such as soups, stews, curries, and the like, water-soluble nutrients remain in these liquids.
6. More Flavorful Dishes
But perhaps most important to home cooks who take pride in the quality of their creations, slow-cooked dishes can be more flavorful than their stovetop or oven-baked counterparts since the flavors have more time to join and frolic together during the long cooking process.
Difference Between a Slow Cooker and a Crock-Pot
You may have heard the term "Crock-Pot" used interchangeably with slow cooker and wondered about the difference. Crock-Pot is a brand of slow cooker that uses a ceramic or earthenware crock as its main cooking vessel, often encased in a heating element. Crock-Pot has been around since the 1970s and lent its name to the entire class of cookers in the same way that Kleenex became a synonym for tissue. So every Crock-Pot is a slow cooker, but not every slow cooker is a Crock-Pot.
I mentioned the Instant Pot brand earlier, which is becoming synonymous with pressure cooker. In fact, Instant Pots are multicookers, which combine both slow cooking and pressure cooking functions. (The brand also makes other household appliances now too.)
While the modern slow cooker uses electricity, the concept of slow cooking goes back long before the advent of electricity. Certain heavy-duty pots could be used for slow cooking if they distributed heat evenly enough. The cast iron dutch oven, a pot with a tight-fitting iron lid, is an example of cookware that could slow cook in an oven, or even over smoldering coals.
Healthy Plant-Based Slow Cooker Options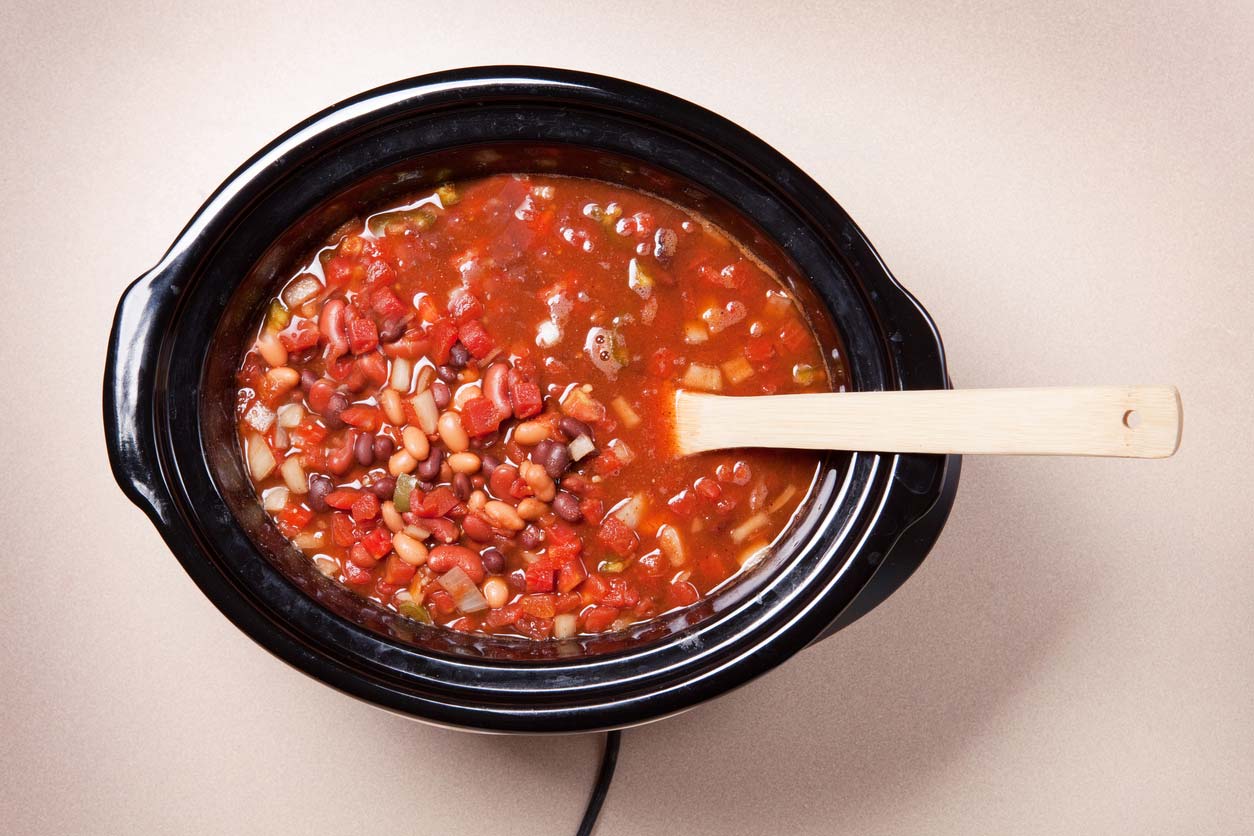 If you have one of those classic slow cooker cookbooks from the 1970s, there might be a short section on "vegetables and side dishes," but in all likelihood, the bulk of the recipes feature meat and dairy in abundance. So if you're going to embrace slow cooking for your healthy plant-based lifestyle, what on earth can you cook? For ideas, I turned to Kathy Hester's classic cookbook, The Vegan Slow Cooker.
Bean Dishes
You can save money, reduce waste, and experiment with unusual and exotic beans by slow cooking your bean soups and stews instead of using cans. If you pre-soak your dried beans (recommended for the reasons explained here), you need about 8 hours of slow cooking to get them table-ready. So soak them in water the night before. Then, in the morning, toss all the ingredients into your slow cooker and turn it on. And that evening, you'll sit down to a beanilicious feast.
Root Vegetable Soups and Stews
Carrots, onions, garlic, celery, rutabagas, parsnips, sweet potatoes, and other starchy root vegetables perform magic when their flavors are allowed to develop slowly under low heat. You can cook whole grains, or add cooked grains or cooked pasta just before serving. And if you'd like, you can include some plant-based meat analogs like organic soy curls or diced grilled tempeh for extra chewiness.
Casseroles
If you have one of the oblong-shaped Crock-Pots, you can easily layer veggies, starches, and sauces and slow-cook them into a deliciously hot and steamy comfort meal. Check out this article on dollar-stretching plant-based casseroles for some ideas.
Hot Breakfasts
What about waking up to a pot of sweet, cinnamon-spiced oatmeal, or a savory bowl of scrambled tofu, or a fruity bowl of quinoa pudding? Pretty much anything you can cook on the stove in a frantic hurry in the morning, you can leisurely mix into your slow cooker at night, and let the work all happen while you sleep.
Slow Cooker Recommendations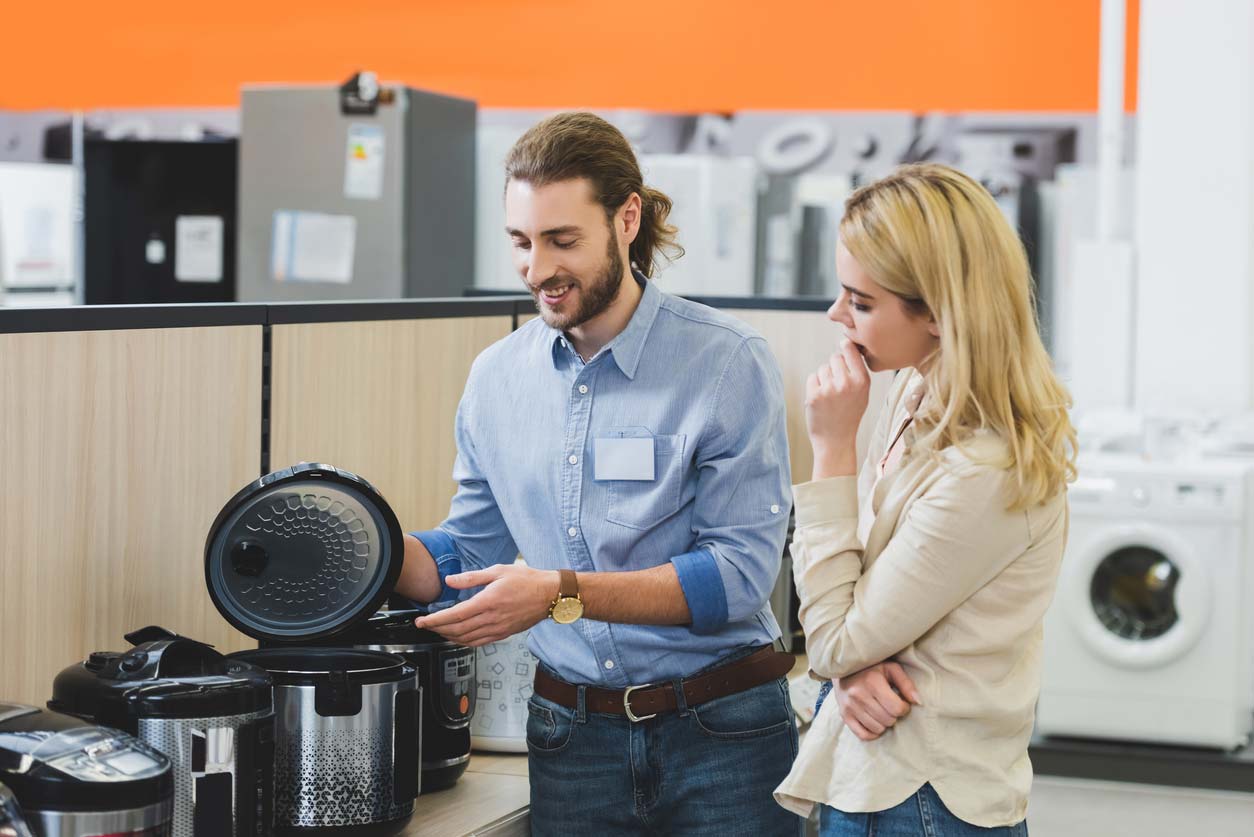 There are dozens of slow cookers on the market. And many of them are quite affordable. You might even be able to find a perfectly good one at your local thrift store. If you're in the market for a new one, including some fancy modern versions that are programmable, I've got some recommendations for you. I'll include one of each type: a classic slow cooker — updated with fancy modern technology; a multicooker with slow cooker capabilities; and a cast-iron Dutch oven that you can use in a regular oven or on a stovetop.
This 6-quart slow cooker makes dishes that can feed a crowd (at least seven people, according to the manufacturer, but I'd think closer to a dozen). It's got a removable stoneware insert for easy cleaning, and a digital timer that you can program from 30 minutes to 20 hours, after which it automatically switches to "keep warm" mode. It also has handles for easy transportation to potlucks. And all for less than 50 bucks!
The Instant Pot brand has taken the cooking world by storm over the last decade, mostly on the strength of the pressure cooker function. But you can skip the pressure and use it as a slow cooker just as easily. It's more vertical than the traditional casserole-shaped slow cookers of old, which makes it perfect for soups and stews. And its stainless steel insert is easy to clean, dishwasher safe, and shatter-proof, even if you have a tile floor. This model holds six quarts and also comes in eight- and 10-quart versions for serious bulk cooking. It also does a great job cooking rice, quinoa, and just about anything else.
This heavy-duty Dutch oven retains and spreads heat evenly thanks to its cast-iron core. The enamel coating prevents rust and keeps food from sticking. The 6-quart version weighs 15 pounds empty, so you'll need some serious muscles to maneuver it from cabinet to cooktop to oven to sink and back again. Unlike the other slow cookers, this one gets very hot on the outside, so be sure to keep it away from young children.
5 Whole Food Plant-Based Slow Cooker Recipes
Slow cookers might be best known for their ability to free up your time by throwing everything in the cooker and then leaving for the day (or waiting for the meal to cook while you sleep!). However, as you'll see in the recipes below, slow cooking also offers an elevated taste experience as flavors slowly infuse into each other, creating a heightened sensory experience through the marriage of aromas, flavors, and textures.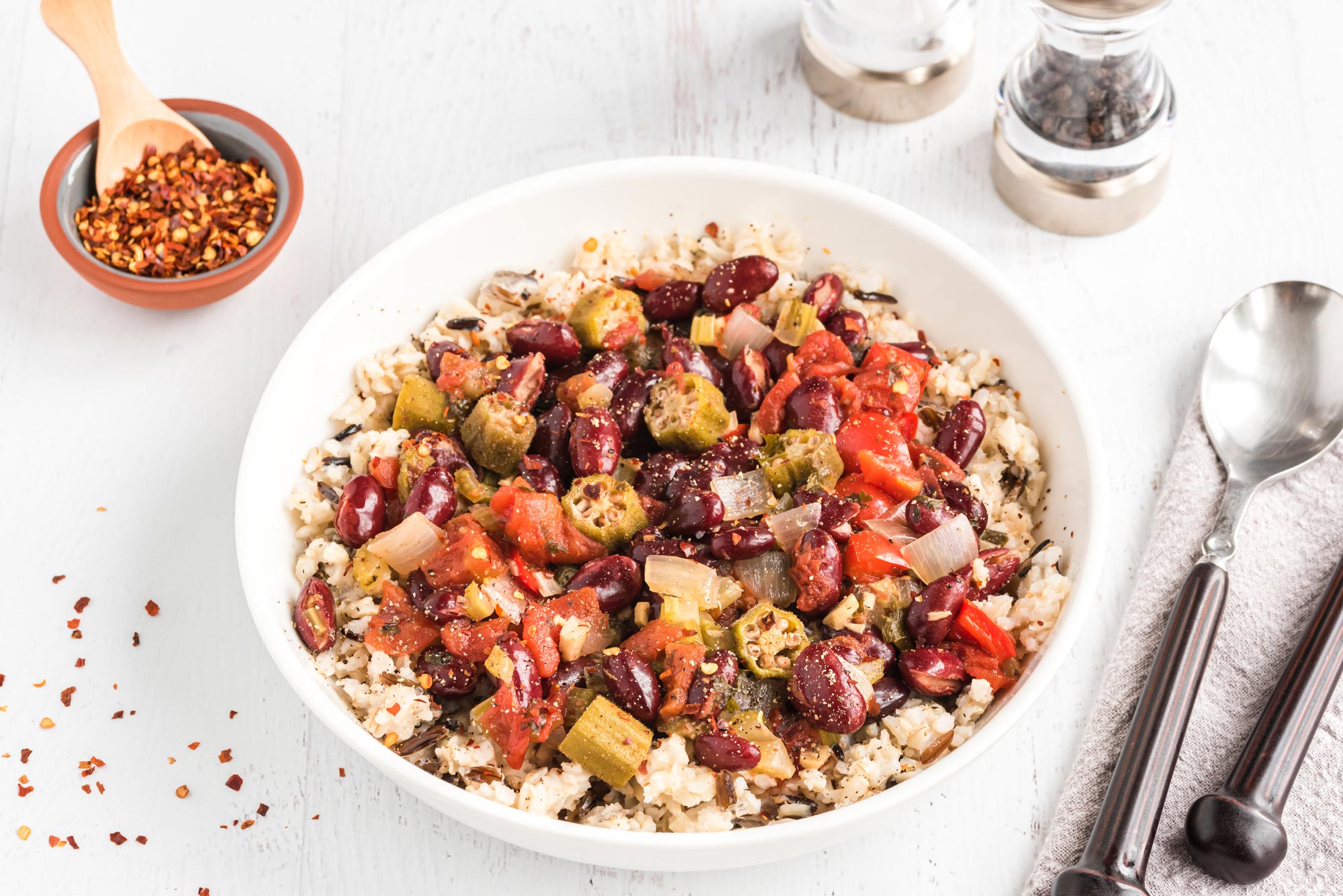 While you might think of Louisiana when you hear gumbo, the name derives from a West African word for okra, suggesting that gumbo was originally made with this often under-appreciated vegetable. We wanted to stick with tradition here (well, the plant-based way), so here you have Red Bean Gumbo with Okra! Add red kidney beans and whole grains to it, and you have yourself a nourishing and tasty dish.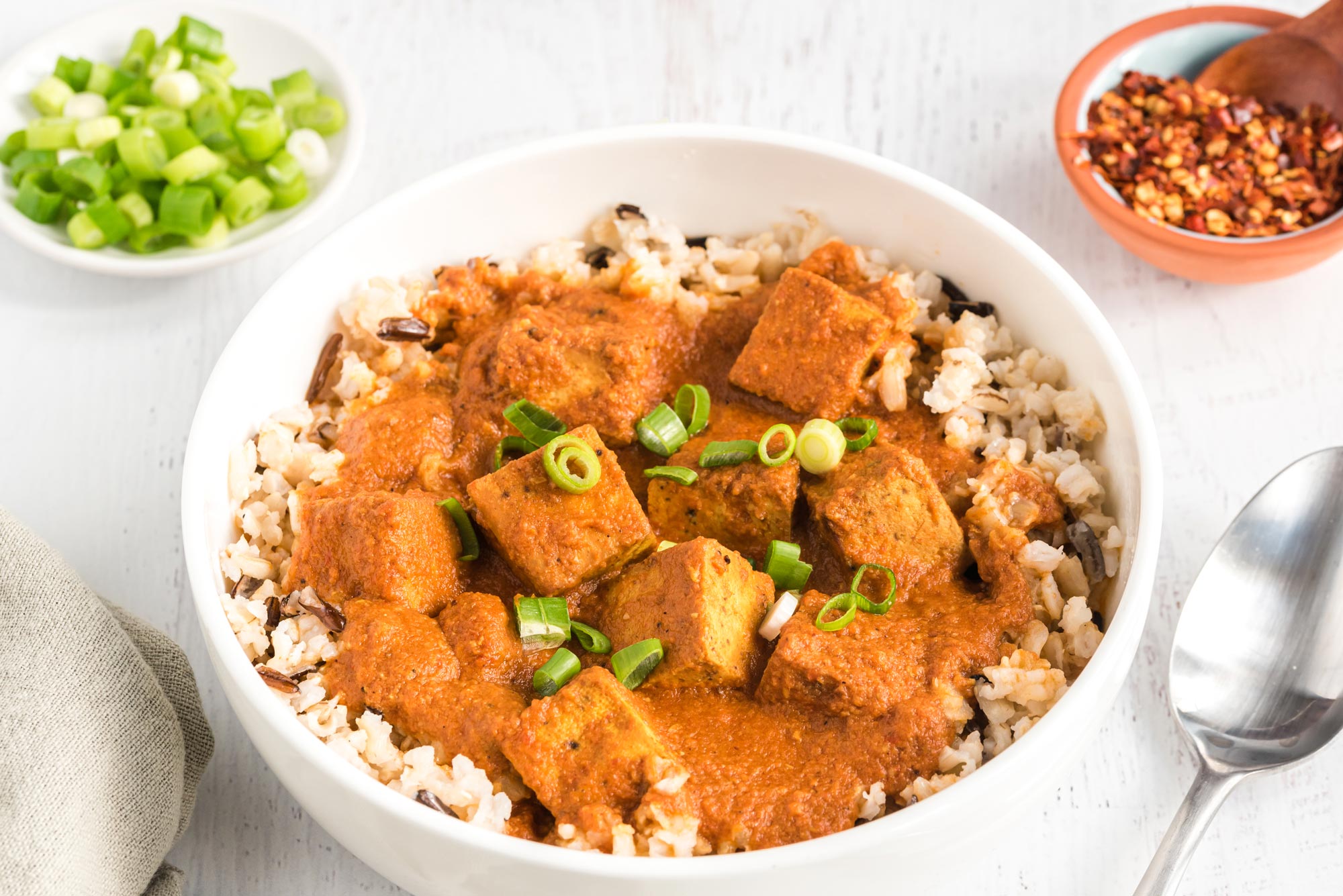 This dish is a classic example of how slow cooking allows the aromatic spices to seep slowly into the ingredients — in this case, tofu. The longer you let this gently cook, the better the flavor gets, rewarding you with a comforting, hearty, Indian-inspired dish.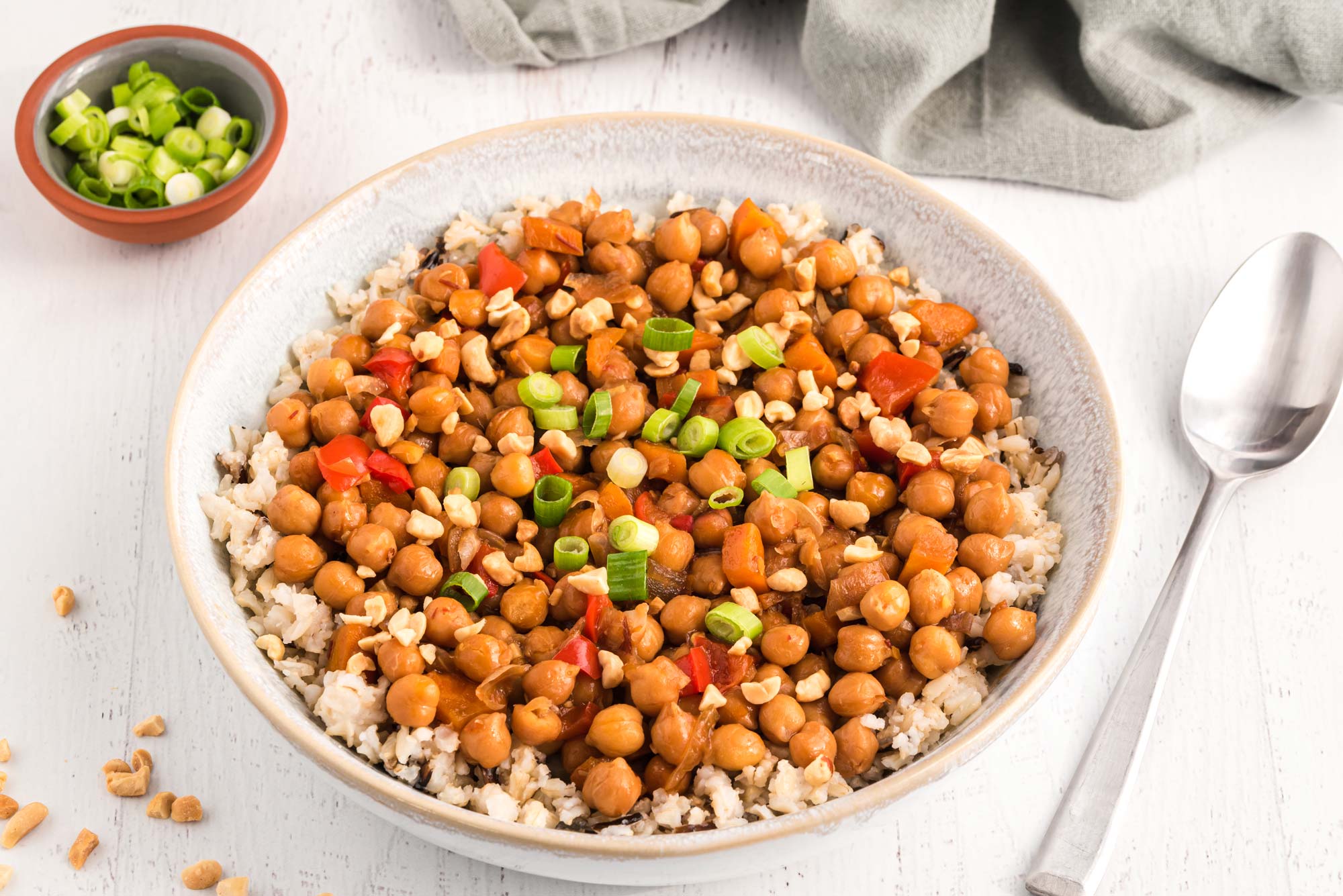 The coolest thing about this recipe might just be the change in color that the chickpeas undergo while they're slow-cooking. This dish makes for a delicious dinner when served with brown rice or your favorite whole-grain, or as a fun snack all by itself. We recommend up-leveling the nutrition by adding leafy greens such as kale, bok choy, or spinach at the end of slow cooking to ensure you're getting your daily leafy greens.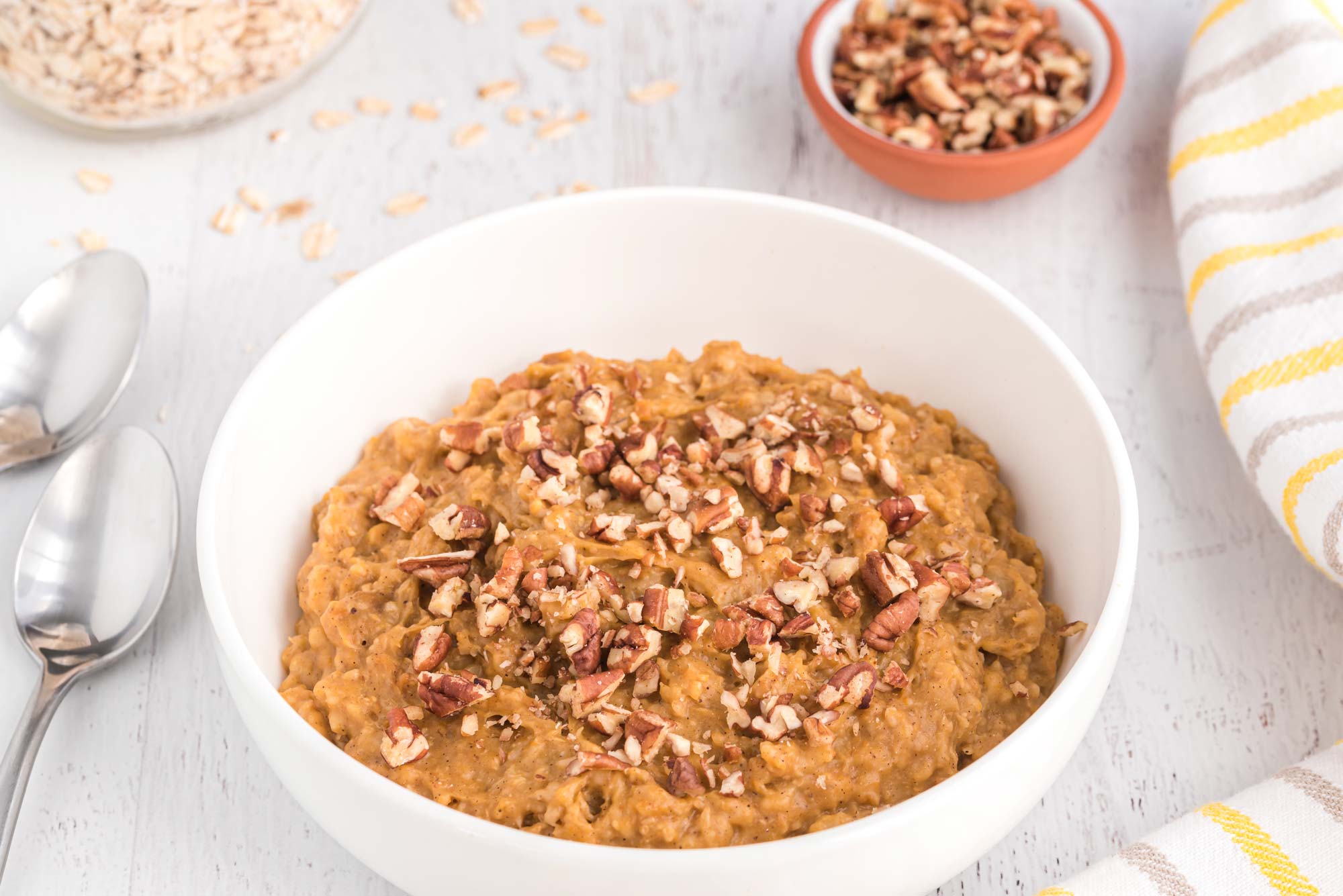 If you love the natural scents of fall in your home, then you'll want to make this Pumpkin Pie Oatmeal. Picture yourself cozy on the sofa with a good book and a bowl of this nourishing goodness. It's these moments that keep your body warm from your head to your toes. Complete with fiber, B vitamins, and beta-carotene, this oatmeal supports whole-body health and wellness from your digestion to your heart to your brain.
Oh so silky, creamy, and bursting with nutrition, you might want to plan on doubling this batch of cauliflower mash before you head to the grocery store. It's a nice alternative to traditional potato mash and a yummy way to get some cruciferous vegetables into those kiddos (they'll never know!).
Slow Cook Your Way to Health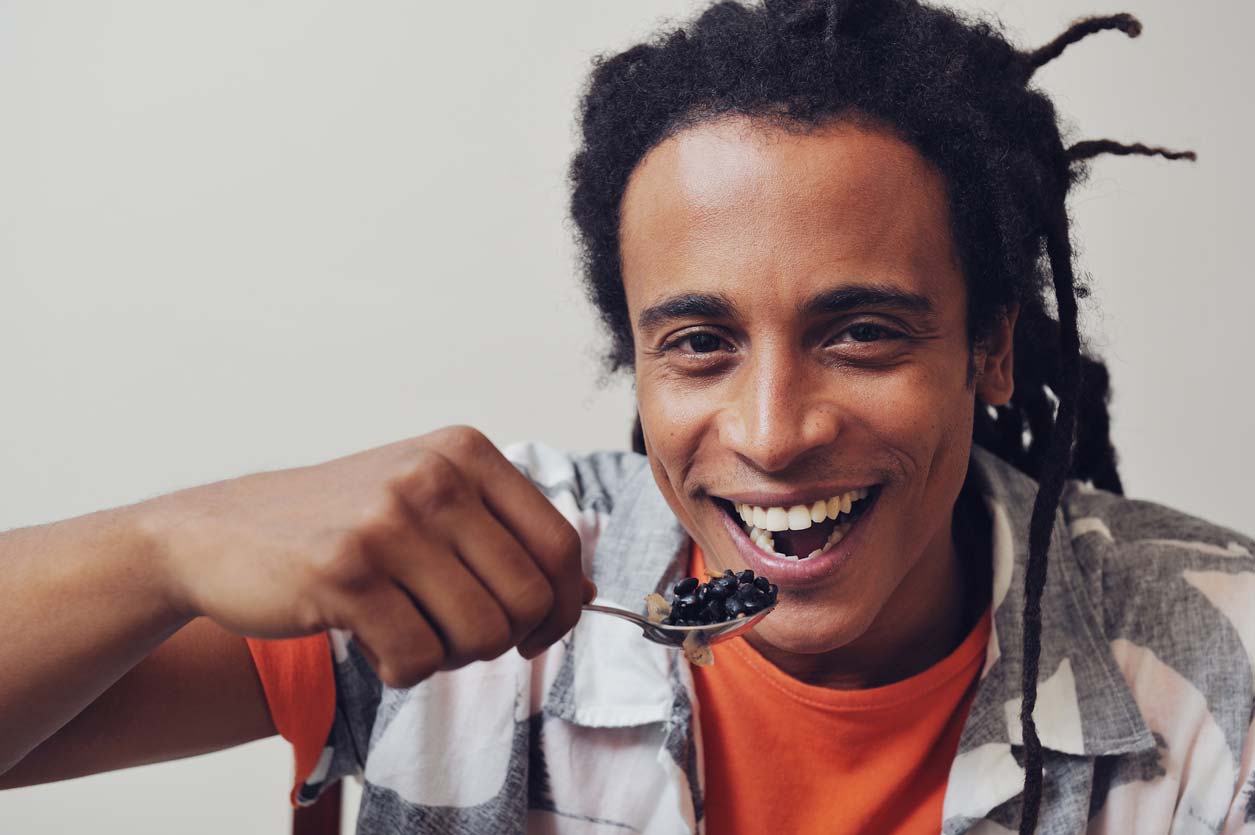 A slow cooker is a useful addition to almost any home chef's toolkit. If you're looking for the exact opposite of fast food, it's hard to beat a cooker that can take all day (or all night) to prepare your meal! Although slow cookers have been traditionally used for meat dishes, there are plenty of nutritious and delicious plant-based recipes that are perfect for slow cooking. In the long run, investing in a slow cooker can save you time, money, and increase the likelihood of having a healthy meal ready to go at the start or end of a long day.
Tell us in the comments:
Do you have any fond memories of slow cooker meals from your childhood?
Do you own a slow cooker? If so, what's your favorite slow-cooked dish?
What new plant-based slow cooker recipe would you like to try next?
Feature image: iStock.com/Ladanifer
Read Next: