If you've ever walked past a display of asparagus in the produce section and wondered, "What in the world do I do with that?" you're not alone. Many people are intimidated by its tough, fibrous texture, and have no idea how to cook asparagus or include it in their meals. In Turkey, even the birds are flummoxed by asparagus. The Turkish name for the plant is
kuşkonmaz
, which roughly translates to "birds won't land on it."
But asparagus has a lot going for it as an ingredient you may want to include in your spring dishes. It's versatile and nutritious, packed with vitamins and minerals as well as some awesome phytonutrients. And during the reign of French king Louis XIV, asparagus was even dubbed the "king of vegetables," which you'd better believe was a compliment at the time (the "Sun King" ruled for 72 years, and pretty much everyone in his orbit flattered him with single-minded focus).
Asparagus' relationship with royalty began centuries earlier, in the first days of imperial Rome. Emperor Augustus used to command his subjects to move with haste by shouting at them to complete the task "as quick as it takes asparagus to be cooked," or in Latin: "velocius quam asparagi conquantur."
Which is to say, asparagus cooks quickly (and turns to mush quickly, too, so stay alert), making it a great addition to low-effort meals you can get on the table in minutes.
So in this article, we'll share cooking techniques and ways to prepare asparagus, along with seven quick and delicious asparagus recipes you can try today. Whether you're a seasoned cook (does that mean someone poured salt and pepper on you?) or a beginner in the kitchen, these unique asparagus recipes are sure to impress.
When Is Asparagus in Season?
You can find fresh asparagus in spring and early summer. In areas where the climate trends towards the tropical (think South Florida or Hawaii), you may find the first bunches ready as early as February (or August in the southern hemisphere).
You can easily grow asparagus yourself in a home garden. Plant your first seedlings in early spring (a planting calendar may be helpful here), but don't get too eager. The plants typically take two to three years to start producing edible shoots.
To compensate for its slow start, one asparagus plant can give you yummy stalks for years. That's because, unlike most vegetables, asparagus grows as a perennial thanks to its hardy nature. According to Horticulture magazine's alliterative advice, asparagus is hardy "from Saskatchewan to South Carolina."
To source the freshest asparagus, if you aren't growing your own, get it directly from a local farm, either through a farmers market, community-supported agriculture (CSA), co-op, or produce box. Wherever you shop, avoid wilted or slimy stalks. If you're looking for the tenderest taste and texture (which you totally deserve), choose bunches with the thinnest stalks.
Asparagus Varieties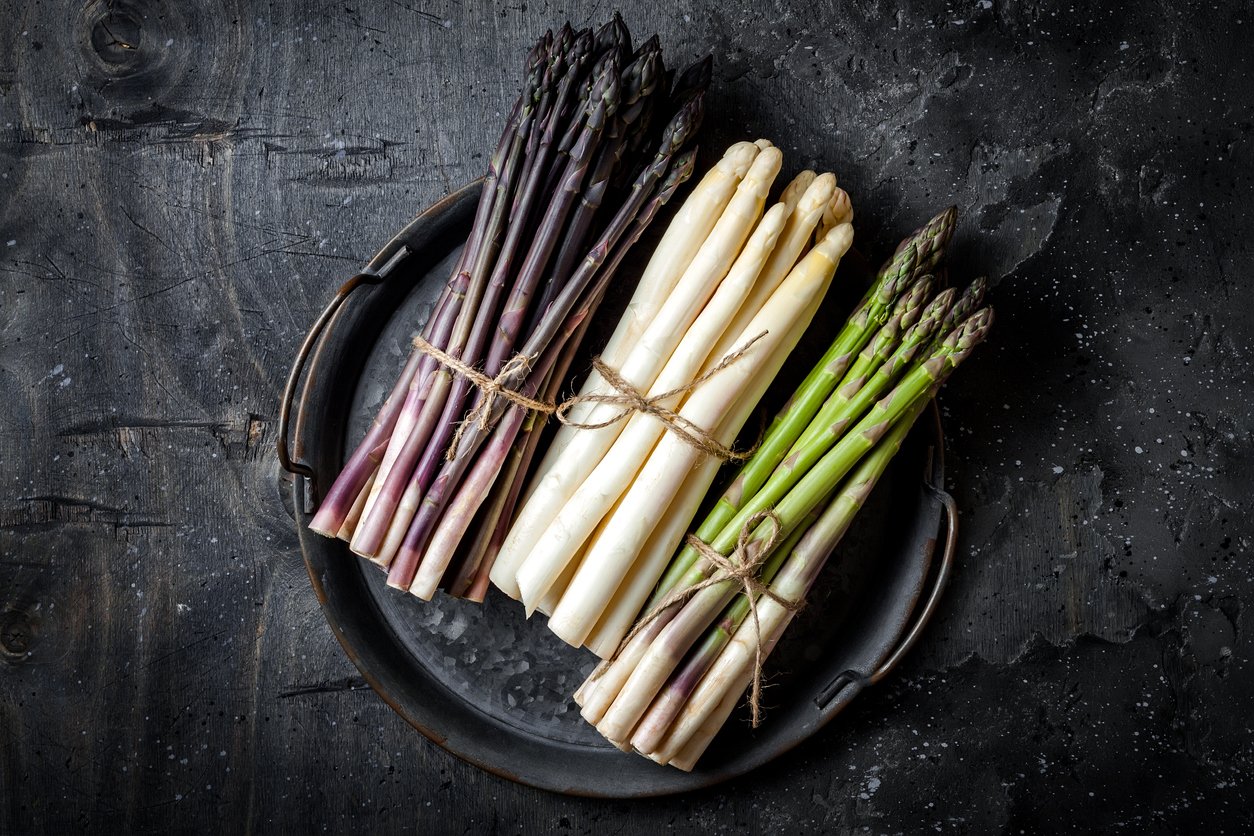 There are three colors of asparagus you might encounter: green, white, or purple.
Green asparagus is by far the most common in the US and much of the rest of the world.
White asparagus is just the green asparagus plant deprived of sunlight, so it never develops green-hued chlorophyll. White asparagus is all the rage in Germany, where entire towns turn out for "Spargelzeit," or "Asparagus Time," and urban centers transform into giddy street fairs with farm wagons piled high with the year's first crop.
Purple asparagus was first developed in Italy and is now grown worldwide. Varieties include the provocatively named Purple Passion, the serene Pacific Blue, and the erudite Erasmus.
Ways to Use Asparagus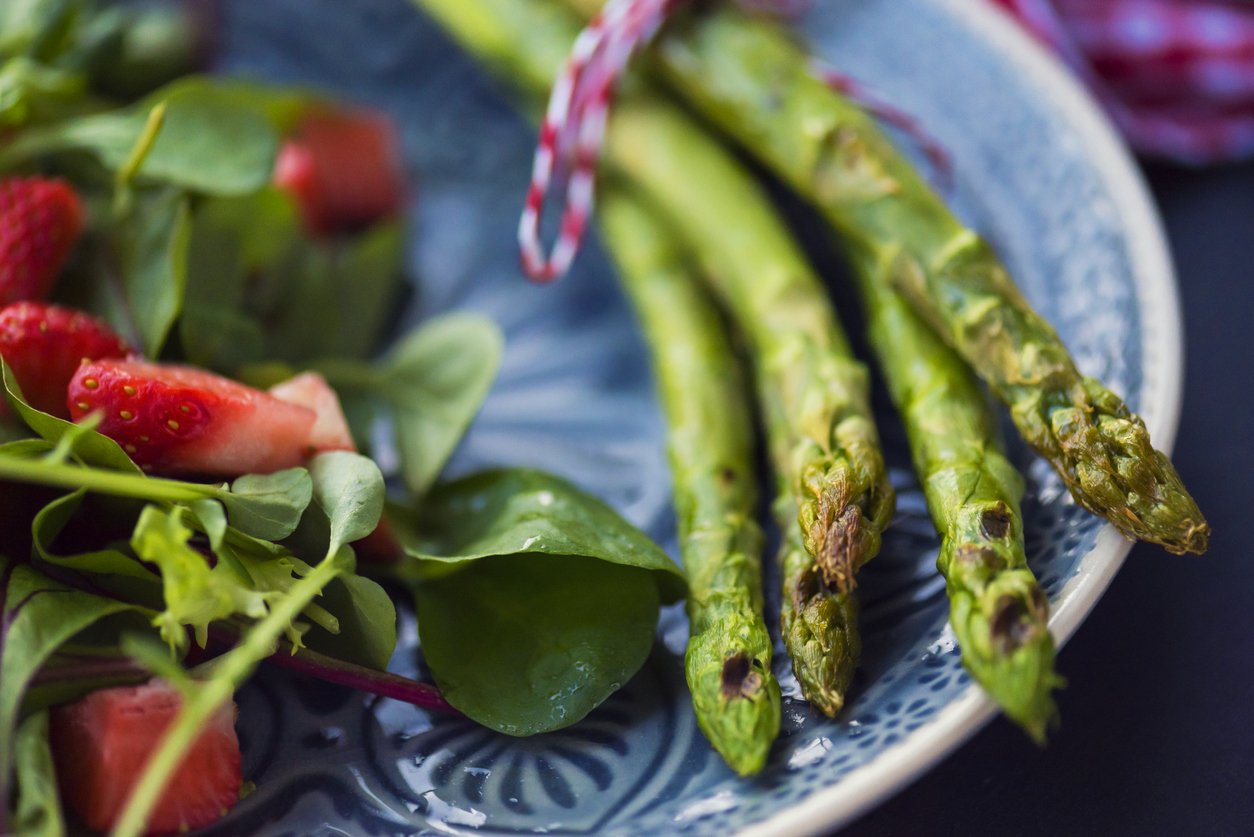 You can use purple, white, and green asparagus interchangeably, but there are some taste differences that may influence your choices.
Purple asparagus tends to be sweeter, with a milder, less "grassy" flavor than green varieties. Its color derives from yummy, health-promoting anthocyanins. Eating purple asparagus raw will deliver more of those purple phytonutrients to your body.
White asparagus has a bitter skin that needs to be peeled. It's generally cooked, and offers a hearty texture and delicious, mild flavor — similar to green, but maybe "smoother."
Green asparagus can be enjoyed raw or cooked. Since the stalks (especially the thicker ones) can be a bit "woody," you may want to "shave" them for ease of chewing. This entails slicing them thinly, so you get lots of interior surface area available for your chompers.
Use raw asparagus in salads, cold soups (such as gazpachos), and veggie wraps.
Cooked asparagus is more tender than raw, and you can enjoy it whole, chopped, or even blended. Ideas for how to use cooked asparagus include pasta dishes, eggless quiches, hot soups, side dishes, and appetizers. You can also try them in grain-based dishes and bowls, dips, and even on pizza.
And if your taste for this spring vegetable knows no time limits, and the thought of an asparagus-less fall and winter fills you with sadness, you may want to try your hand at canning or pickling asparagus spears for year-round enjoyment.
What About Asparagus Pee?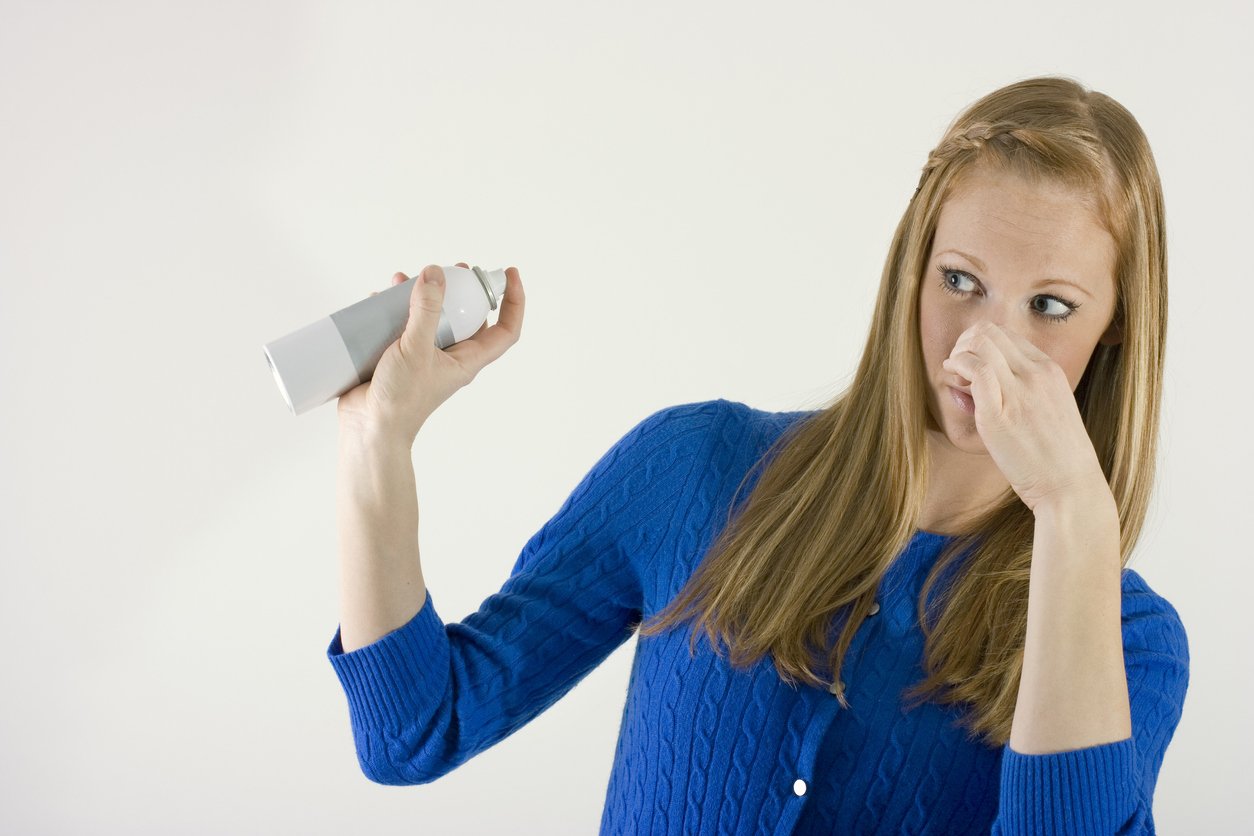 Okay, I have to interrupt the narrative flow here to talk about that thing about asparagus that may be on your mind if you've ever had the pleasure of eating it: It can make your pee smell funny. (This is what a group of otherwise serious Dutch scientists referred to in a 2020 review article as "urinary intrigue.")
Not everyone experiences this smelly side effect. It has to do with how efficiently your body deals with the sulfur that you metabolize from the asparagusic acid in the asparagus. Also, some people apparently lack the gene that allows them to smell sulfur, so it's possible to produce the odor without even knowing.
Here's what's important to know about the asparagus pee phenomenon: It's totally natural and harmless. And from my perspective, it's a totally acceptable trade-off for the privilege of eating one of nature's most delicious foods.
If you're still not convinced, consider the perspective of French literary giant Marcel Proust. Asparagus, he wrote, transformed his "humble chamber pot into a bower of aromatic perfume."
Now I can't stop thinking of names for asparagus urine perfumes and colognes: "Chanel Number One." "Miss Dior-ine." "Axe Potty Spray." And don't even get me started on Eau de Toilette!
How to Cook Asparagus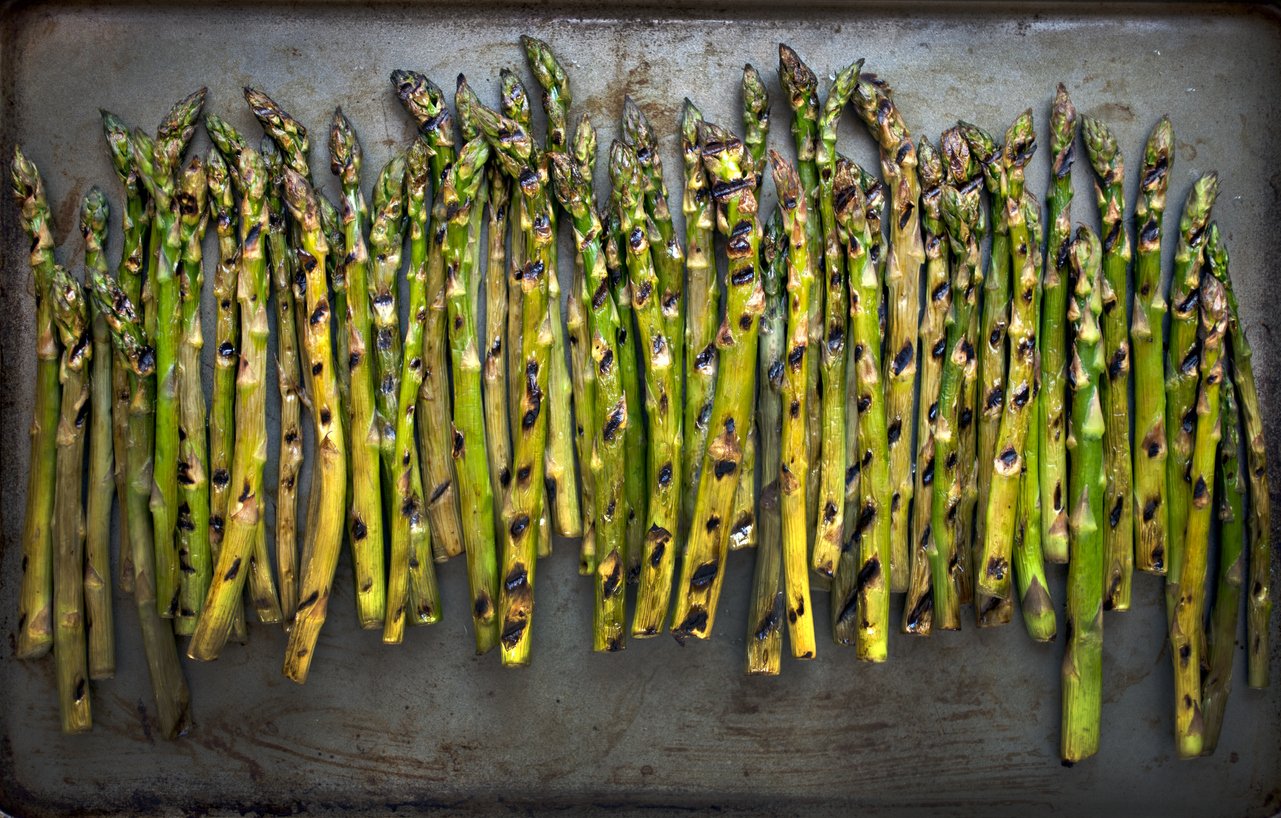 Cooked asparagus provides some nutritional benefits over raw. You get more phytochemical and antioxidant activity from cooked asparagus (except for the purple asparagus anthocyanins mentioned above). And cooked spears provide more B vitamins, as well as vitamins C, E, and K, and the minerals potassium and selenium, than raw ones.
Cooking may improve the nutritional profile, but overcooking is bad unless mushy asparagus is your idea of a good time. (If that happens, I recommend blending them into a sauce or dip.)
Before cooking, snap or cut off the woody ends of the stalks as they don't soften with cooking and will end up feeling like textile fibers in your mouth (arguably healthier than many brands of chewing gum, but decidedly less enjoyable).
Since asparagus cooks so rapidly, I recommend using one of the classic short cooking methods: baking, grilling, steaming, air frying, roasting, or sautéing. How long you cook asparagus depends on the thickness of the spears and your preferences for al dente or fully cooked.
Here are some cooking ranges for asparagus:
Baked: 20–25 minutes at 375°F (190°C)
Grilled: 6–10 minutes
Steamed: 5 minutes
Air fried: 5–10 minutes at 375°F (less time for thinner spears)
Roasted: 12–15 minutes at 425°F (220°C)
Sautéed: 5–10 minutes
Asparagus Recipe Ideas
Although it may not seem like it, asparagus is a highly versatile vegetable that can be used in a variety of ways. From soups to dips to creamy sauces, asparagus is here to demonstrate just how adaptable it can be! Many of these wholesome asparagus-forward recipes are also done in 30 minutes or less, making them an easy (and fun) way to incorporate this skinny veggie into your diet. P.S. Feel free to swap in white and purple asparagus varieties for any of the recipes listed below. Happy cooking!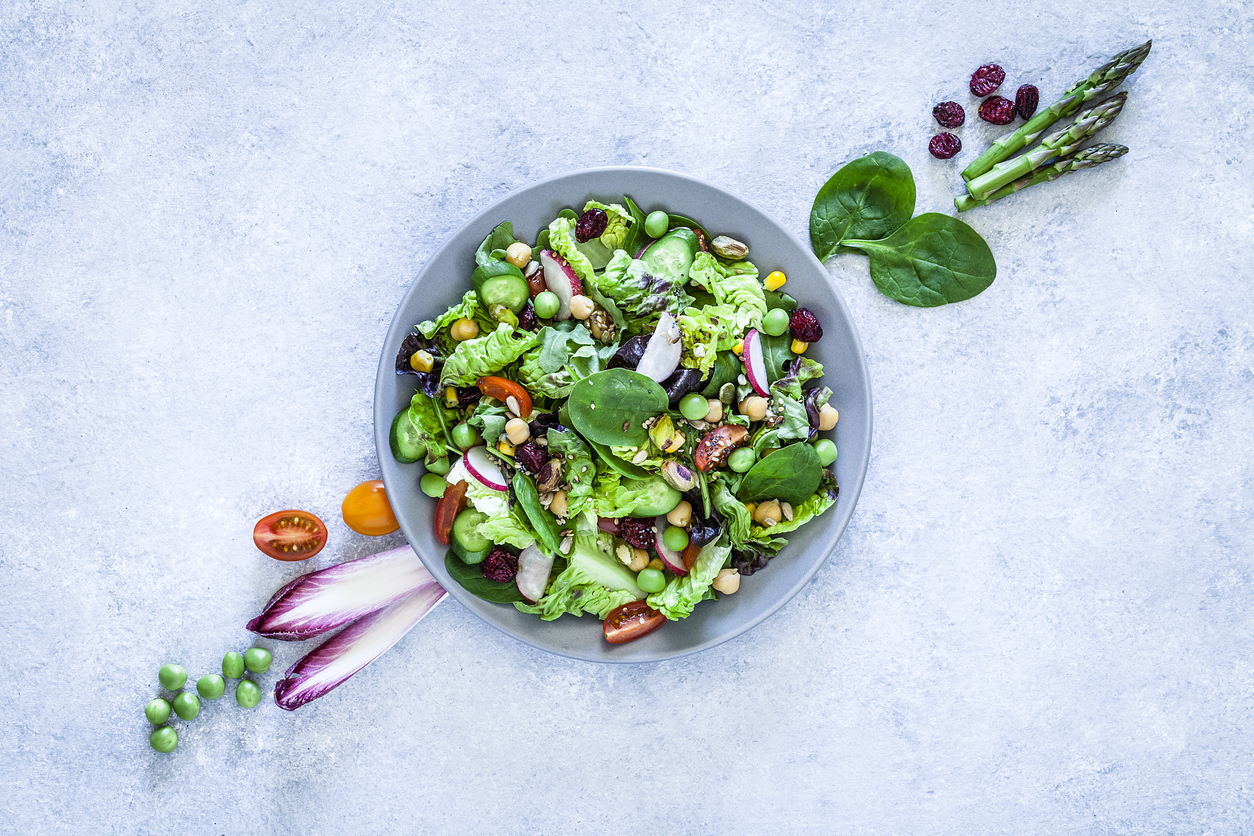 Shaving asparagus spears does something magical to the texture, especially after marinating. This Simple Cucumber, Asparagus, and Radish Salad recipe highlights the delicate flavors of spring and intensifies as it sits. It's pretty neat how you can put a handful of flavorful plant-based ingredients together, let them meld, and have a dish that bursts with flavor the next day! After you give this salad a try, you may wonder why you haven't tried asparagus this way before.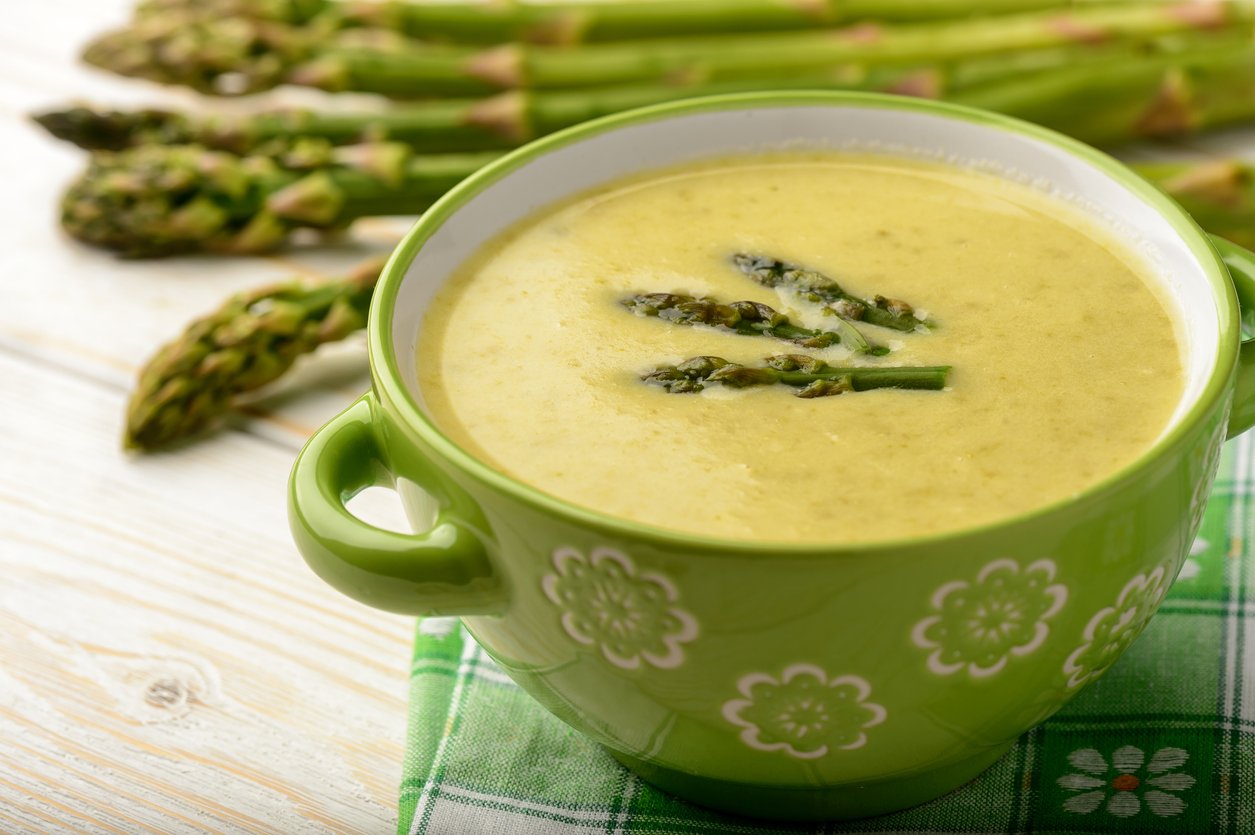 This dreamy and vibrant asparagus soup will wake up your taste buds with its fresh flavors. And its creamy consistency will leave your belly satisfied. Enjoy this asparagus dish alongside a hearty salad or as an appetizer that complements your favorite plant-based meal. Bonus points for coming together in just 30 minutes, including prep time!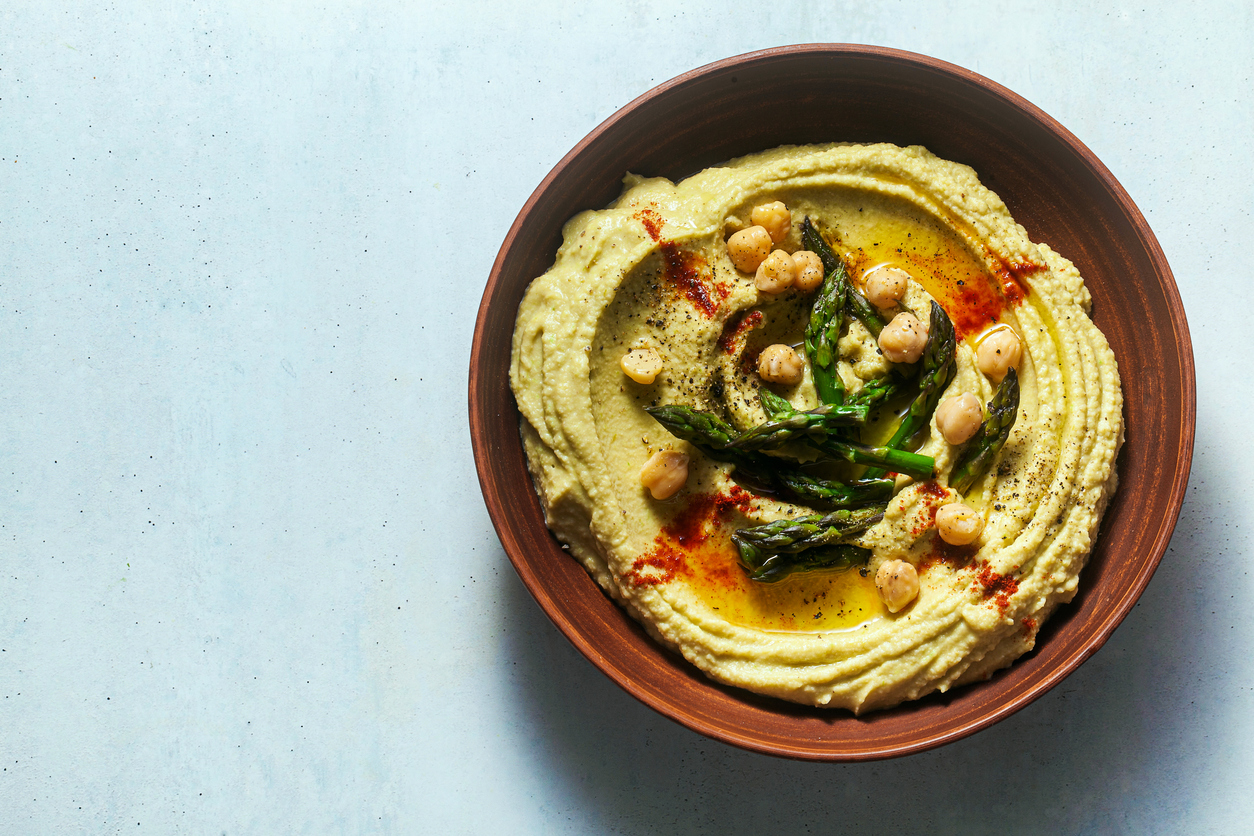 Creamy Artichoke Asparagus Hummus is a smooth and refreshing dip that's full of flavor and nutrition! Jarred artichokes offer a slightly briny flavor that complements the richness of the tahini. Together they enhance the grassy flavor of the asparagus to create a delicious, veggie-rich hummus that is sure to be a hit time and time again.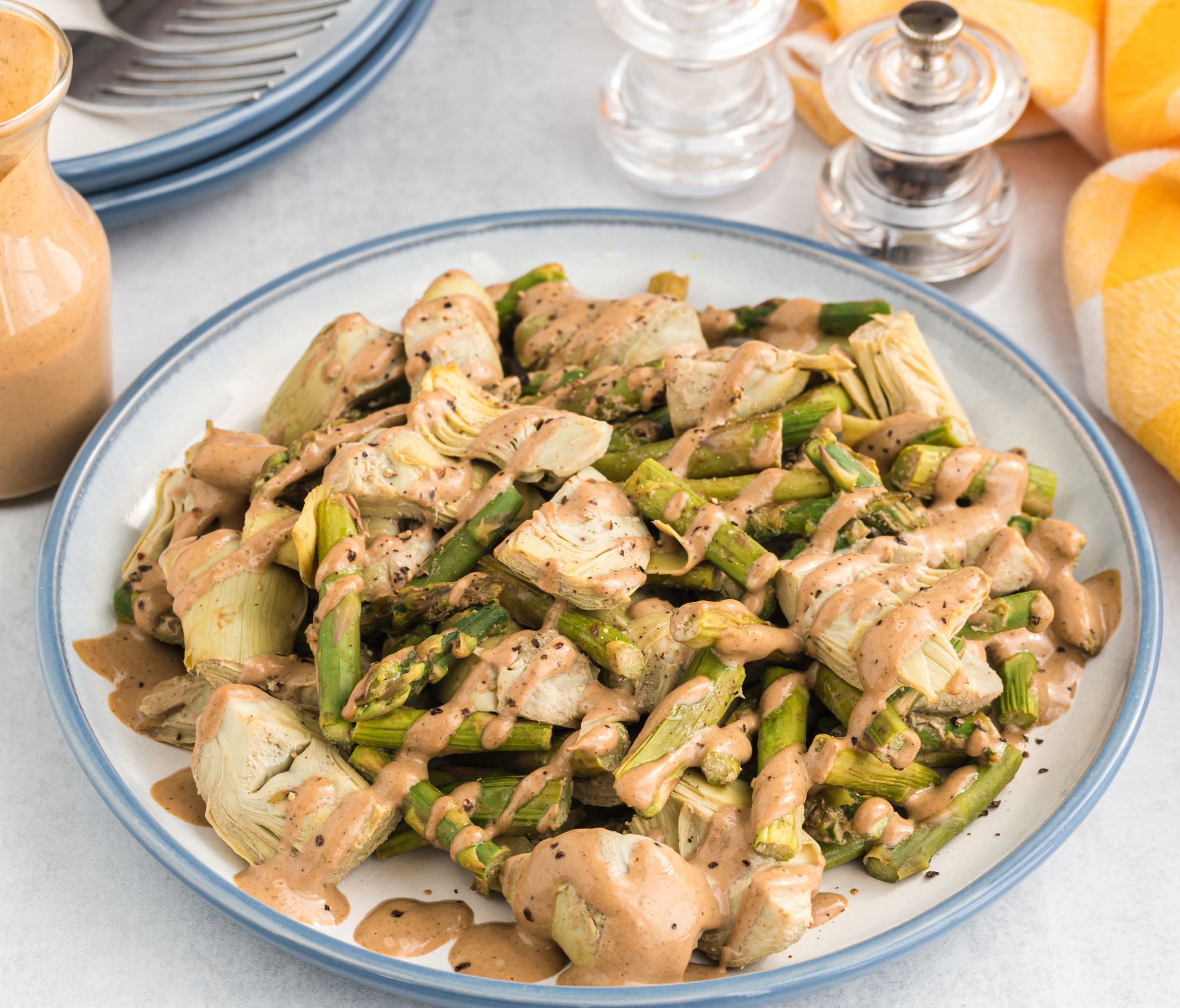 Roasted artichokes and asparagus take on a slightly caramelized flavor in this tantalizing Balsamic Dijon Artichokes and Asparagus side dish. Both asparagus and artichokes develop a deeper flavor as they roast, making this a nutritious side dish that is delicious as a companion to grilled tofu or tempeh or as an addition to a grain bowl.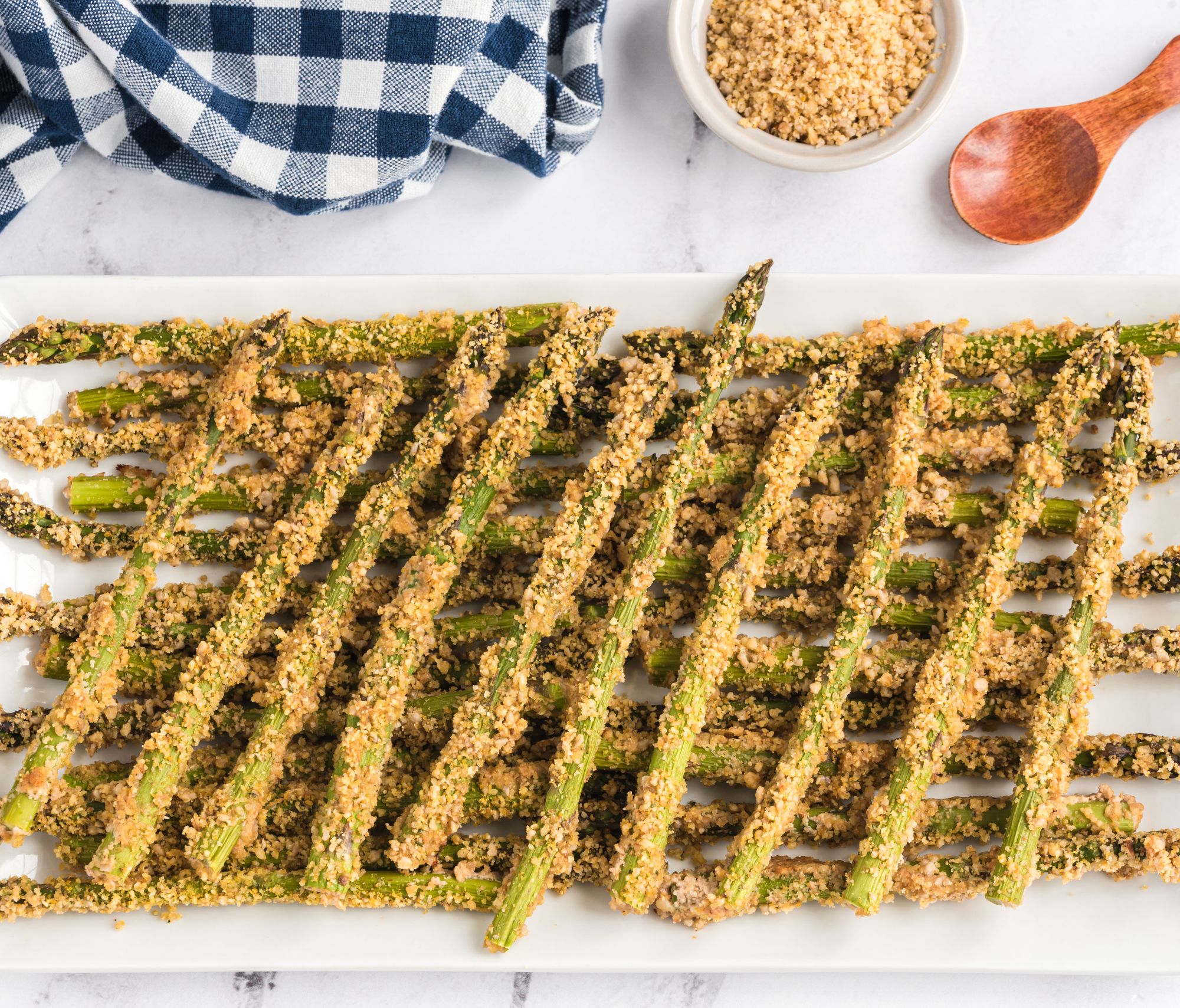 A few words come to mind when we think of these Parmesan Crusted Asparagus spears: elevated, crispy, and nourishing! Loaded with plenty of healthy fats (from the flax and the walnuts) along with phytonutrients and fiber from the asparagus, we couldn't think of a better way to add a bit of razzle-dazzle to this healthy asparagus side dish! These asparagus spears have a delightful cheesy flavor (without the cheese!) that is certain to bring a smile to anyone who tries them!
In this recipe, asparagus gets a bit of a tropical twist! Coconut Lime Quinoa and Asparagus pops with bright and satisfying flavors and enjoyable textures thanks to the coconut, pistachios, lime, and asparagus. Together, these tasty whole foods create a lively and nourishing side dish that is an exciting way to enjoy asparagus (and a few other plant foods, too!).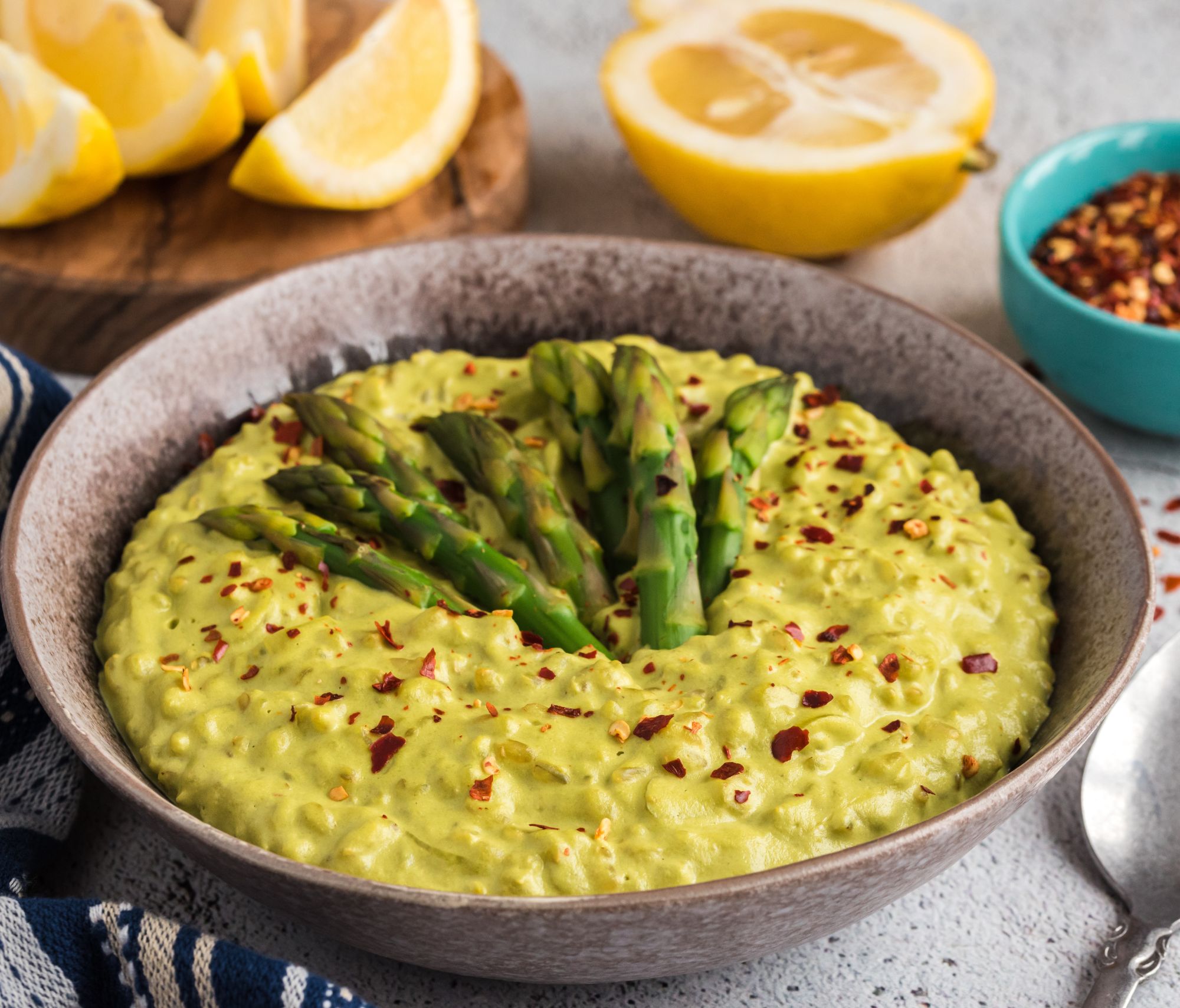 Asparagus is the unforgettable star of this creamy risotto! Amazingly, this dish takes only 30 minutes to make. (If you've made risotto in the past, you know this is a plus!) Plus, it's incredibly delicious and bursting with umami-rich flavor, all from plant-based ingredients. Taste the magic of asparagus yourself with this Italian-inspired recipe.
Aspire to Embrace More Asparagus!
Asparagus is a delicious and nutritious vegetable that can be enjoyed in a variety of ways — either raw or cooked. Whether you prefer green, white, or purple asparagus, experiment with eating it in different ways and different cooking methods, to maximize flavor and health benefits.
And if you're new to this iconic vegetable, don't be intimidated by its tough texture and otherworldly appearance. Give it a chance, and you may discover it becomes a spring and summer staple in your meal rotations.
Start with any of the asparagus recipes we've shared above, and you may also come to regard asparagus as the "king of vegetables."
Tell us in the comments:
Have you prepared asparagus in your kitchen? What color did you try, and how did you prepare it?

What's one way of cooking asparagus that you're curious to try?

Do you know people who are intimidated by asparagus? What asparagus dish could you prepare for them that might get them to give it a try?
Featured Image: iStock.com/MeganBetz
Read Next: