After decades of research and countless studies, science has come to a definite conclusion on one of the most important issues of our time. The finding:
Noodles
are awesome and fun. But this is not an article about noodles.
I mean, pasta, in general, is yummy, easy to cook, and versatile. And noodles — those long, wiggly pastas that you can twirl onto your fork, suck up through your teeth, and make shapes on your plate — they're entertaining as well as delicious. Even the word "noodle" makes me smile. And don't get me started on "spaghetti" (tiny twine) and "linguine" (little tongues) and "capellini" (a contraction of capelli d'angeli, or "angel hair"). Noodles are a party in your mouth even when you're just saying their names.
But as with much of life, there's a shadow side to these fun, wonderful foods. Most noodles are made from refined flours. And even the whole grain ones are still flour products. So while they're technically whole foods, they aren't intact and therefore, can cause blood sugar spikes. Wouldn't it be cool if you could have the fun of a noodle with the healthfulness of a vegetable? I'm here to tell you that you can!
"Zoodles" and Spiralizing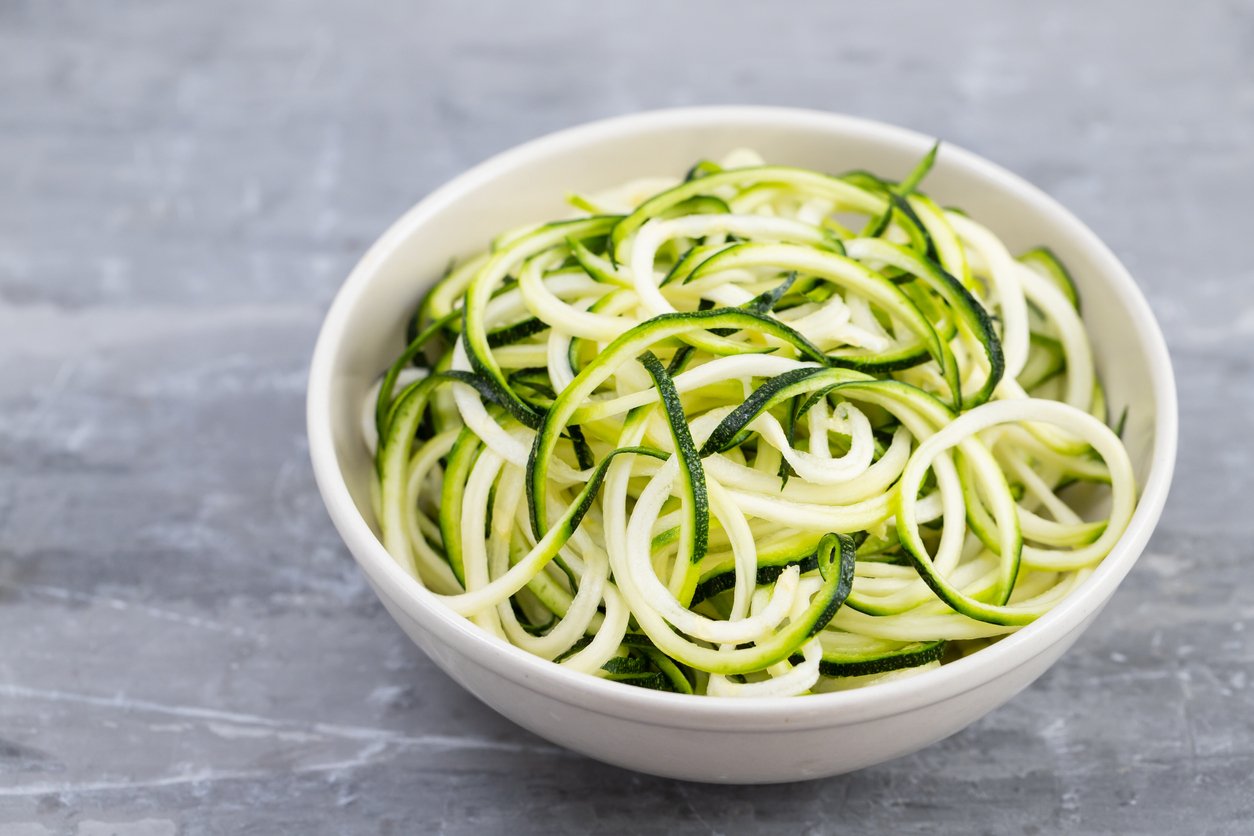 Perhaps you've heard of the word "zoodles," which is a combination of "zucchini" and "noodles." Hopefully, scientists are not working on a genetic cross between a zucchini, a labrador retriever, and spaghetti because the world definitely does not need a labrazoodle. (Cute, I'm sure, but that green coat would be kind of disturbing, honestly.) These days, other veggies have gotten in on the zoodle fun, like sweet potatoes and jicama, but linguists have not bothered to invent words like "swoodle" and "jicoodle." Zoodle, it seems to have been decided, is sufficient.
Another interesting thing about zoodles is how they're made. They don't come from hybrid plants that produce pre-strung zucchini, in the same way that baby carrots are not actually picked as newborns. Instead, zoodlers (not a word, but perhaps it should be) take regular veggies and perform the act of "spiralizing" on them. Essentially, a spiralizer turns an oblong or round veggie into long strings by cutting multiple strands as the veggie is spun on an axle. The combination of forward movement and circular motion produces the spirals that can create long, long strands of veggies that act a lot like noodles in various dishes and spiralizer recipes.
And the best thing about this is, you can bring the wonders of spiralizing to your very own kitchen. Spiralizers are small, often inexpensive, and fun to use (as long as you follow the safety precautions to avoid spiralizing your fingers, which is not OK under any circumstances — and definitely a no-no on a website that promotes sustainable eating). But you may be reluctant to invest in another kitchen gadget that has only one purpose. So beyond zoodles, what else can you do with a spiralizer? Beyond zucchini, what other foods work with them? And what are some good spiralizer recipes to try?
What is a Spiralizer?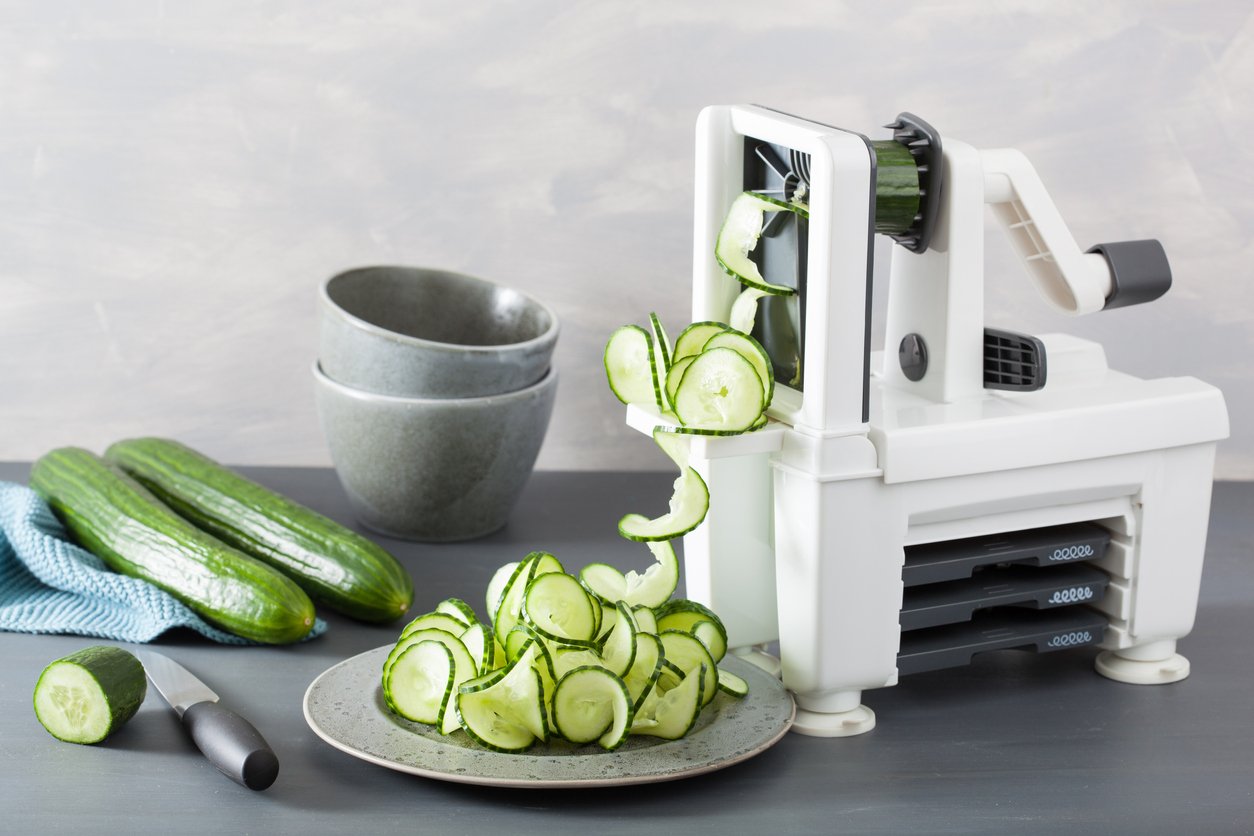 A spiralizer is a kitchen appliance that turns fruits and vegetables into noodles and other shapes. The "spiral" in the name can refer to the mechanism (think of a large crank pencil sharpener like they had screwed to the wall in 4th grade, or a woodworking lathe) or the shape of the finished product. While zucchini noodles are pretty limp, other veggies like carrots and sweet potatoes come out as bouncy spirals, reminiscent of a model's hair in a shampoo ad.
In addition to long zoodles, most spiralizers allow you to cut your food into different lengths, thicknesses, strands, slices, and chips. Spiralize the veggies when raw; after that, you can bake or stir-fry them to create lots of delicious and interesting meals.
Many chefs have fallen in love with spiralizers because of the innovative dishes they suggest — and the beautiful presentation they enable. The cool new looks of traditional veggies are both decorative and functional and allow people to experience "boring" old foods in a new way. Some newer models cater to this creativity by adding "wavy" blades that contribute texture and symmetry to the finished veggies.
For the home cook, a spiralizer is an inexpensive and not too bulky addition to a healthy plant-based kitchen. The manual crank and handheld models are the lowest in cost, while you'll pay more for an electric model or a dedicated attachment to another appliance like a stand mixer.
What to Spiralize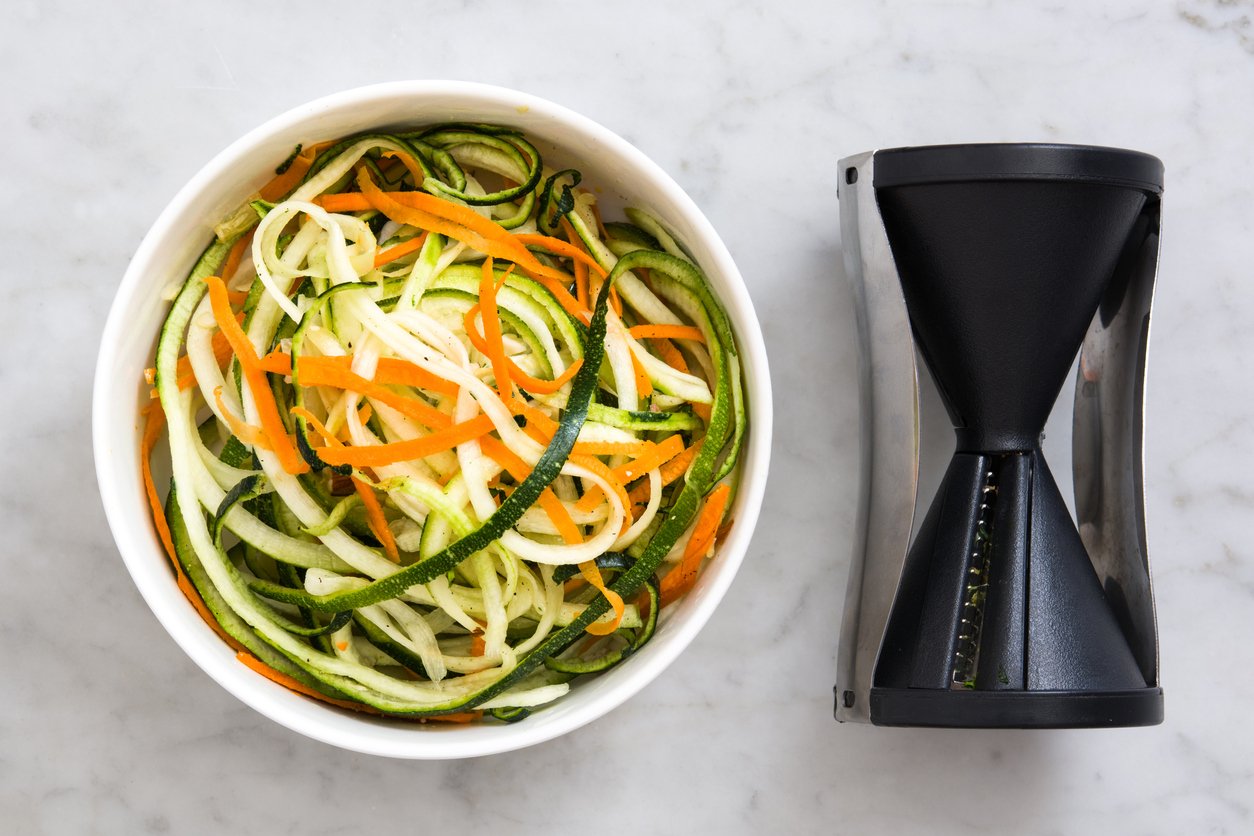 The best foods to run through a spiralizer are firm or crisp fruits and veggies of a round or oblong shape. These include:
Carrots (must be very thick to work)
Parsnips
Cucumbers
Beets
Pears
Bell peppers
Cabbage
You can also spiralize citrus peels for use as garnish in a mocktail or other fancy drink.
Spiralizer Recommendations
If you want a fun and creative way to eat more fruits and vegetables, or make completely plant-based, unprocessed noodles, a spiralizer might be in your future. There are three main types of spiralizers: manual, electric, and handheld.
Manual Spiralizers
This affordable spiralizer model includes five interchangeable blades and a lever to engage and disengage the suction pads that keep it in place.
This manual spiralizer has a 6th, stainless steel, wavy blade, and comes with a cleaning brush.
Electric Spiralizers
The Bella Electric Spiralizer is essentially a manual model with a motor attached. It has an auto-stop, so it won't spend eternity spinning a zucchini if you forget and leave it unattended. And it can accommodate vegetables up to six inches long.
This spiralizer has a form factor that more closely resembles a juicer, with a top chute and bottom container. It also has six color-coded blades that are dishwasher safe. In the box, you'll also find a storage bag for the blades, a cleaning brush, and a mini-book filled with spiralizer recipes.
Handheld
The Vegetti is the smallest and least costly of all the spiralizers. Just hold it in one hand, take the vegetable in the other, and twist the vegetable while holding the Vegetti still. Because of its narrow interior, it may be harder to clean than the flat-bladed models. But if you need a portable spiralizer or don't have space for one more appliance, this model is perfect.
Much like the Vegetti, this Zoodle Slicer has no moving parts, aside from you and the veggie you're spiralizing. Picture using this one like a waiter at a fancy Italian restaurant offering you a twist of black pepper on your dish. Just hold it over the plate or bowl and crank away.
How to Use a Countertop Spiralizer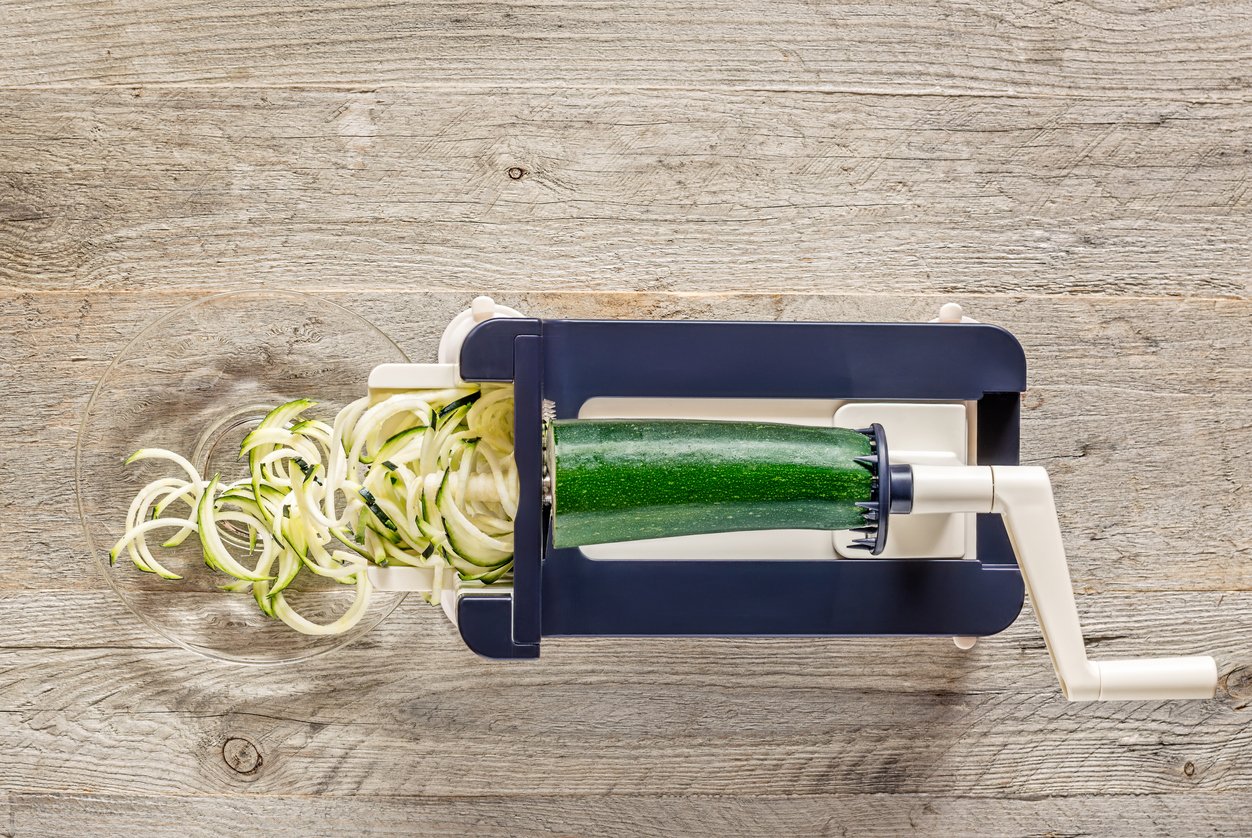 As with any tool, the exact step-by-step instructions will vary based on the style, make, and model of your spiralizer. I'll give you a basic overview of the countertop hand-crank version, but please read the manual that comes with your unit before zoodling.
Step 1: Choose What You Want to Spiralize
First, choose the fruit or vegetable that you're going to spiralize. Look for ones that are at least an inch and a half in diameter since the spiralizer will "core" the plant in the center. If you spiralize a thin carrot, for example, you'll end up with a few shavings and a core shaped like a dowel.
Step 2: Shape to Fit
Next, if necessary, trim and shape it to size. You will probably have to flatten it by cutting perpendicularly into the round ends. If it's a big sweet potato, you may have to cut it lengthwise to get it to fit. And a footlong zucchini from your August garden may require splitting into a couple of six-inch sections, so it will fit between the crank and the blade. (Some electric models use chutes instead of requiring you to place the vegetable manually.) You may also want to position an appropriately sized plate, bowl, or clean tea towel under the outside of the blade to catch the spirals.
Step 3: Pick a Blade
Since spiralizers come with a variety of blades, you'll want to select your desired blade next. Many countertop models come with three different blades: thin noodles (like spaghetti), thicker noodles (think udon), and lasagna. The blade has a round cutter in the center, into which you insert the end of the fruit or veggie. The other end goes into the spikes on the moveable part, which is attached to the crank handle and slides toward the blade. Before you start cranking, make sure the unit is firmly affixed to the counter. Most models accomplish this with four suction cups on the corners. Some industrial models include clamps. You do not want your spiralizer, veggie, and bowl to go flying off the counter the second you start to apply force.
Step 4: Spiralize!
Once the veggie is centered and secured on the spiralizer, you're ready to go. Turn the handle as you apply gentle pressure on the food toward the blade end of the unit. Or, for an electric model, flip the switch.
Check out this video, with extremely cheerful music, for a visual aid.
https://www.youtube.com/watch?v=Gg2UpyanG7s
Whichever one you use, keep your hands away from the blade. The blade can be wicked sharp. And you don't want to do to your hand what a spiralizer can do to an apple. Anecdotally, most spiralizer injuries occur not during use, but when washing the blades afterward. Make sure you grasp the blade by the plastic frame, and keep fingers far away from the business end. Rinse off blades right after use, so your skin won't accidentally find them at the bottom of a sink full of suds and dirty dishes.
What to Do with Spiralized Food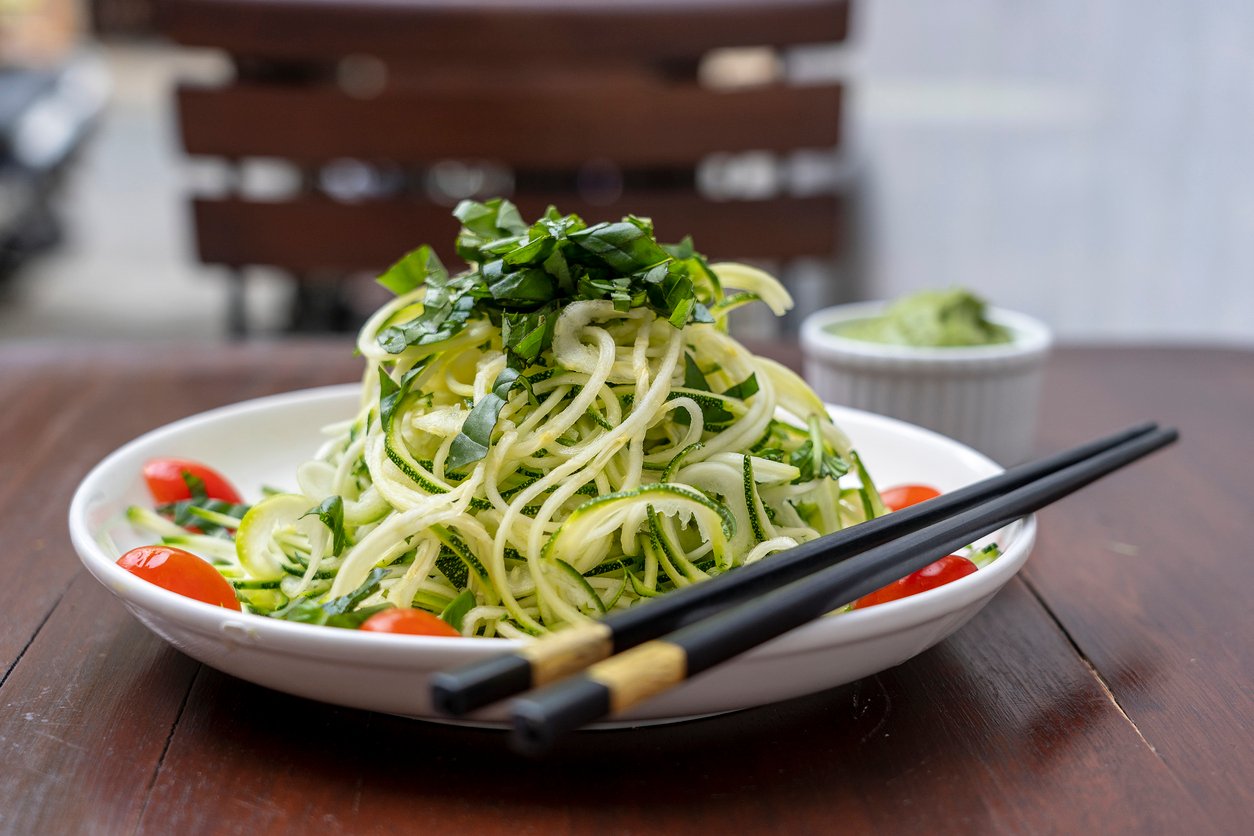 Now that you're a spiralizer pro, let's talk about some of the wonderful and creative ways you can use this food. First, you can substitute it for pasta in spiralizer recipes like noodle soup, pad thai, spaghetti and "meat"-balls, and the like.
You can also add flair to salads by spiralizing your raw beets, carrots, and apples. You can add texture and interest to soups and stews. Because we associate noodle shapes with fun, and comfort foods, it's a great way to sneak more veggies into your (and your family's) diet. Casserole dishes provide another use for spiralized root veggies such as potatoes and sweet potatoes. And spiralized onions and zucchini can appear in stir-fries.
Then there are the quick, easy, and impressive side dishes you can create with the spiralizer. One example is to spiralize a bunch of sweet potatoes, toss with herbs and spices, and bake or air-fry until the individual strands are browned and crispy. Simple, and bound to be a hit!
And don't forget dessert! I've seen spiralizer recipes for crunchy apple nachos and chocolate zucchini noodle donuts. But you can also keep it clean and simple by spiralizing apples and firm pears and serving them with a sweet balsamic glaze.
7 Fun & Plant-Powered Spiralizer Recipes
Time to bring the fun into your own kitchen with these seven, plant-powered spiralizer recipes! Breakfast becomes the most interesting meal of the day with the Cinnamon Pear Cranberry Crumble. And the Cucumber, Carrot, and Beet Orange Miso Salad and Thai Peanut Rainbow Noodles are (almost!) too pretty to eat. Our spiralized Potato and Onion Bhaji will conjure fond memories of your favorite Indian restaurant. The Spiralized Zucchini and Sweet Potato make traditional pasta with white wine and garlic sauce seem like a thing of the past. And, please don't miss the Apple Strings with Caramel Sauce and Cashew Cream because this dessert is OMG delicious!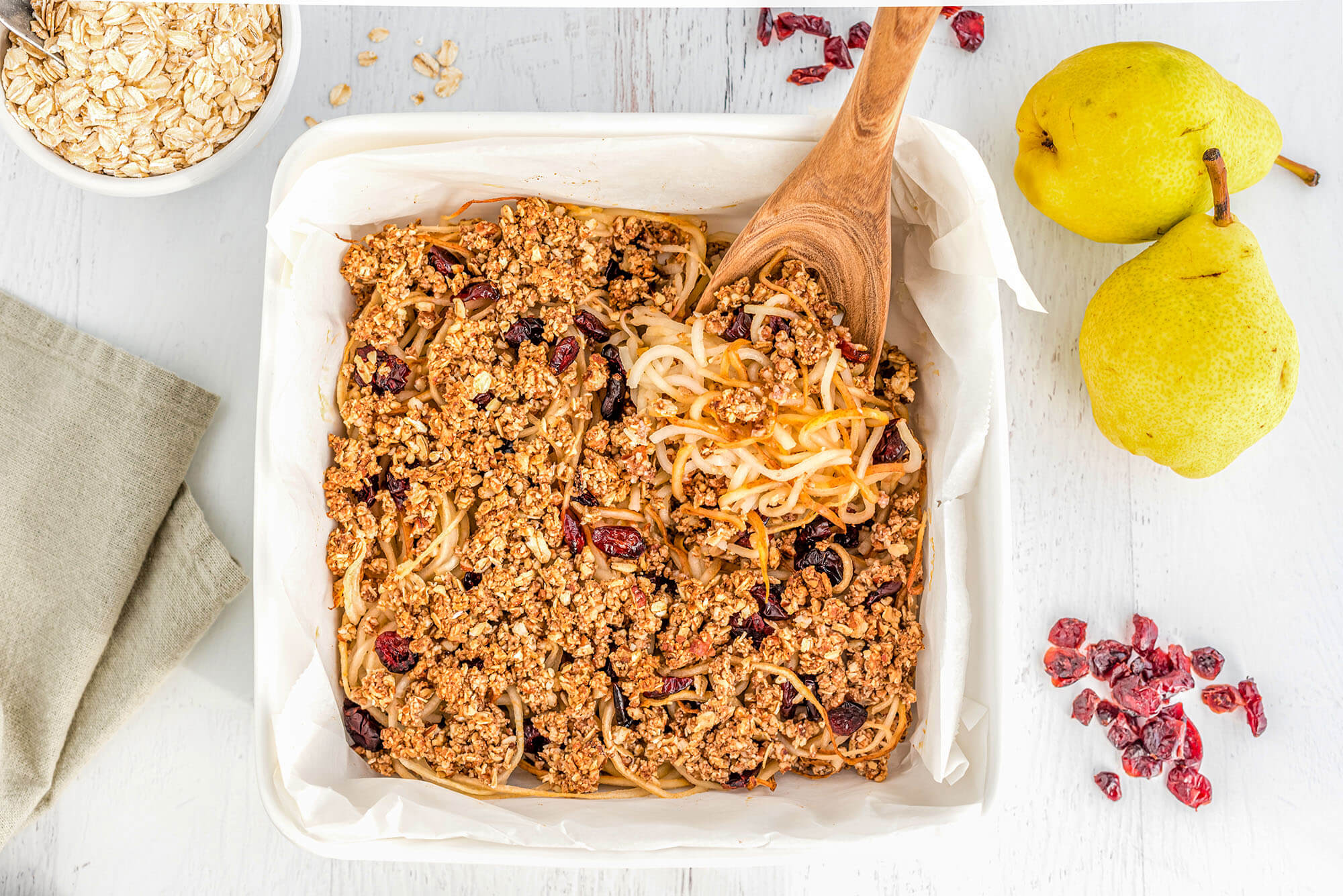 Are you looking for a hug? Because that's what this warm and soothing breakfast feels like with aromatic cinnamon, the sweet taste of pear, and the satisfying texture of nuts and cranberries. Spiralized pear is nestled between the nutty granola before baking into a breakfast that just might become a family staple.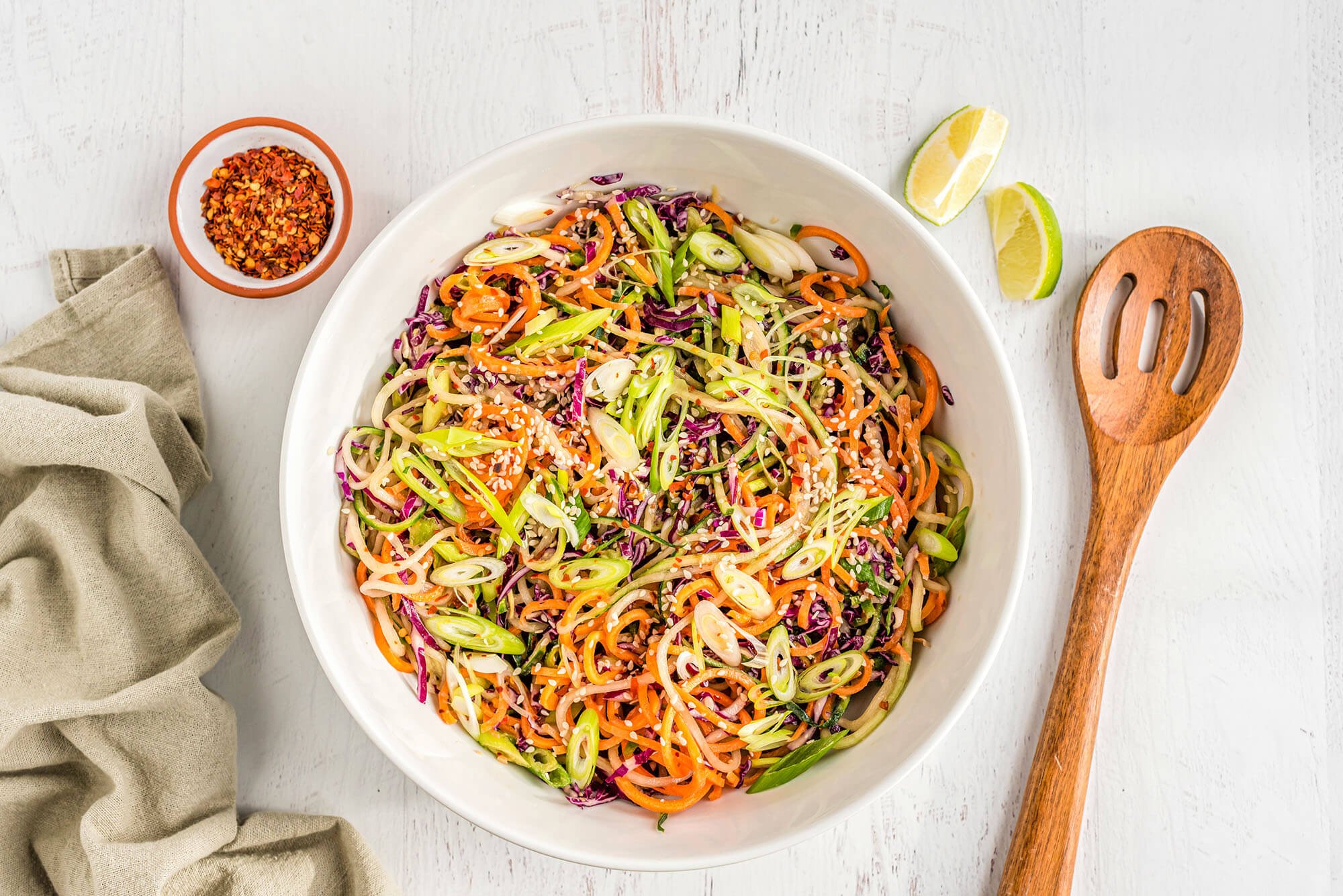 Refreshing and nourishing, this salad has so much to offer with hydrating cucumbers, crunchy carrots, and cleansing beets — not to mention the beauty of the colorful spiralized vegetables. Packed with beta-carotene from the carrots, iron from the beets, vitamin C from the orange, and probiotics from the miso, you'll nourish yourself with each crunchy bite.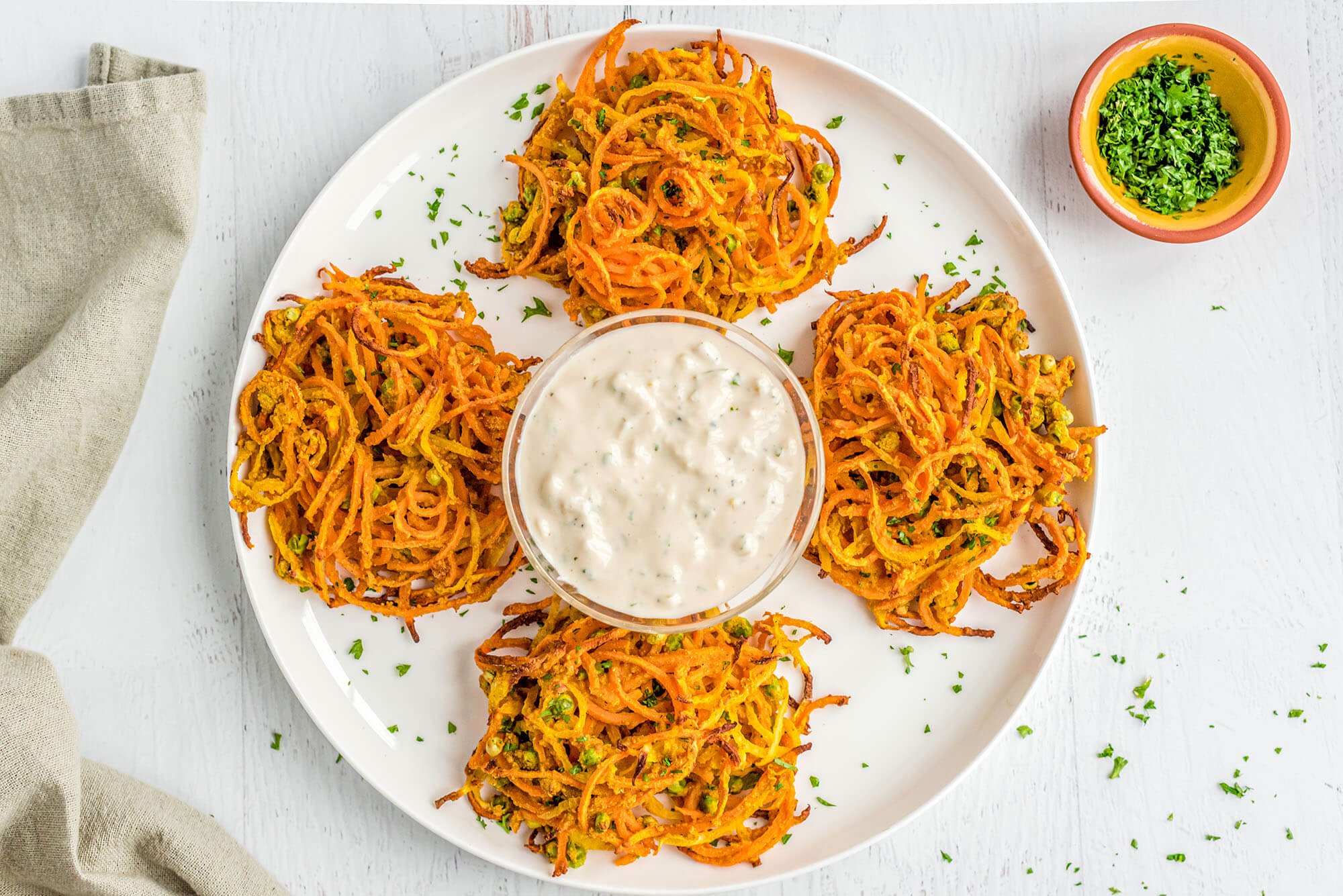 What's bhaji? It's an Indian finger food that's traditionally made with onion and fried in a batter with lots of fragrant Indian spices. To make ours healthy and tasty, we kept the spices and onion but ditched the fried in oil part. Spiralizing the onion and potatoes make this appetizer a lot of fun to make and eat!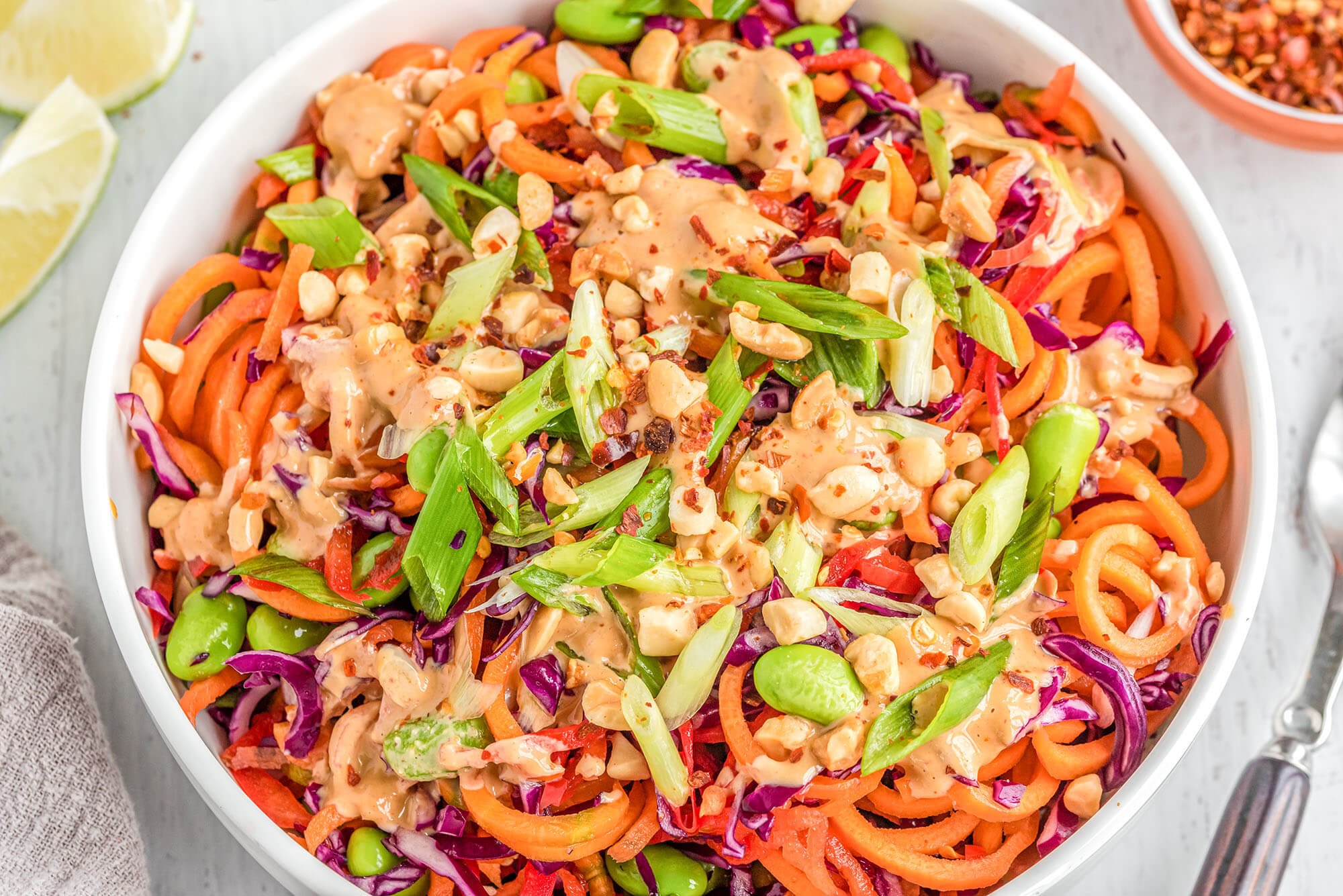 Take your taste buds on a trip with these crunchy raw noodles! As spiralizer recipes go, this is definitely one of the most fun and festive ones out there. The colors, along with the unique shape of the noodles, make this dish almost too pretty to eat! But you must because the nutrient-dense ingredients are waiting to offer you their abundant plant goodness.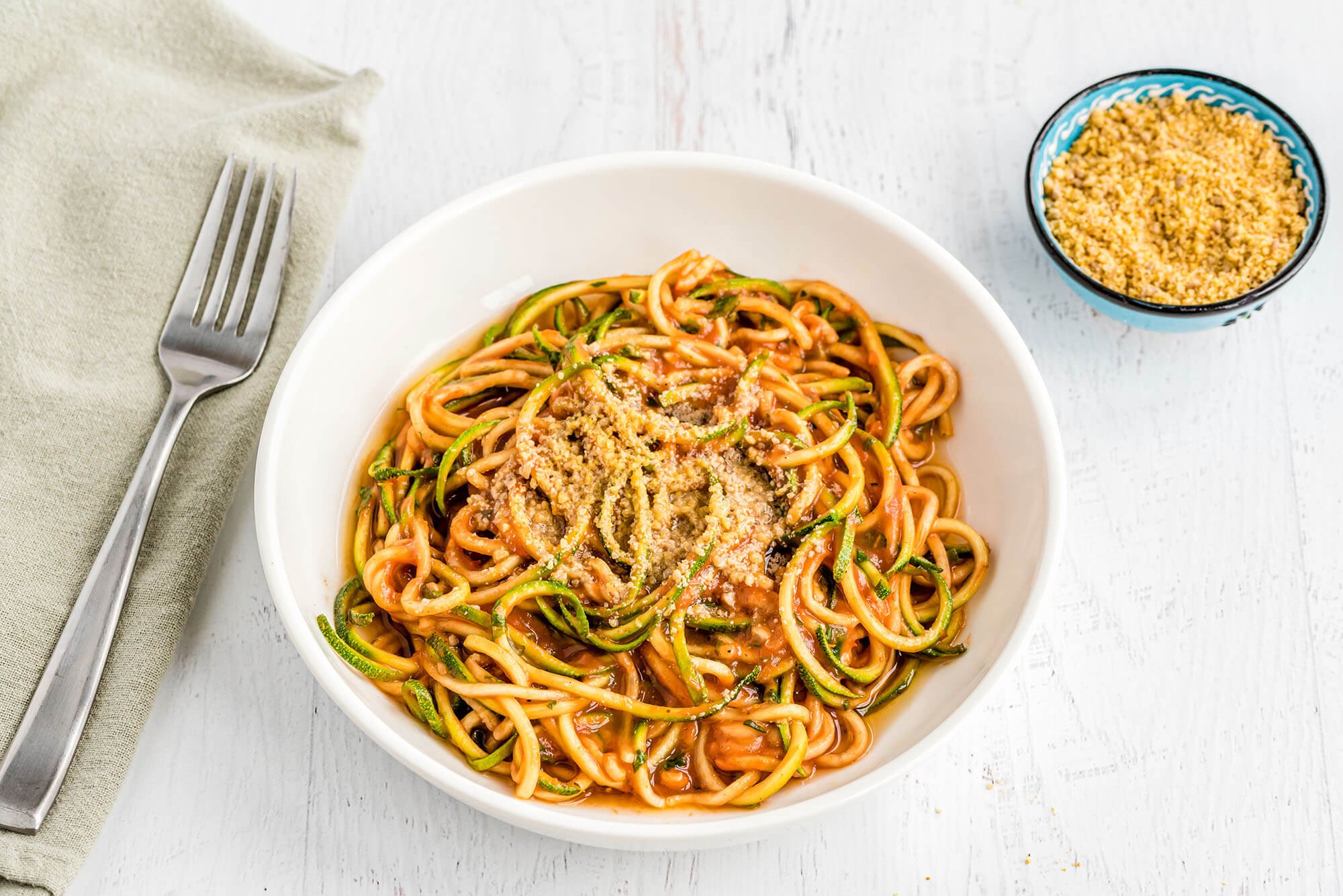 Close your eyes, and you might think you're eating a delicious bowl of pasta with marinara from Grandma's kitchen. The magic of spiralized zucchini comes to life with the familiar noodle shape. Keep it raw or lightly saute it for a softer, traditional pasta-like texture. And enjoy it knowing that you're getting lots of fiber and plenty of carotenoids from the nutrient-rich zucchini.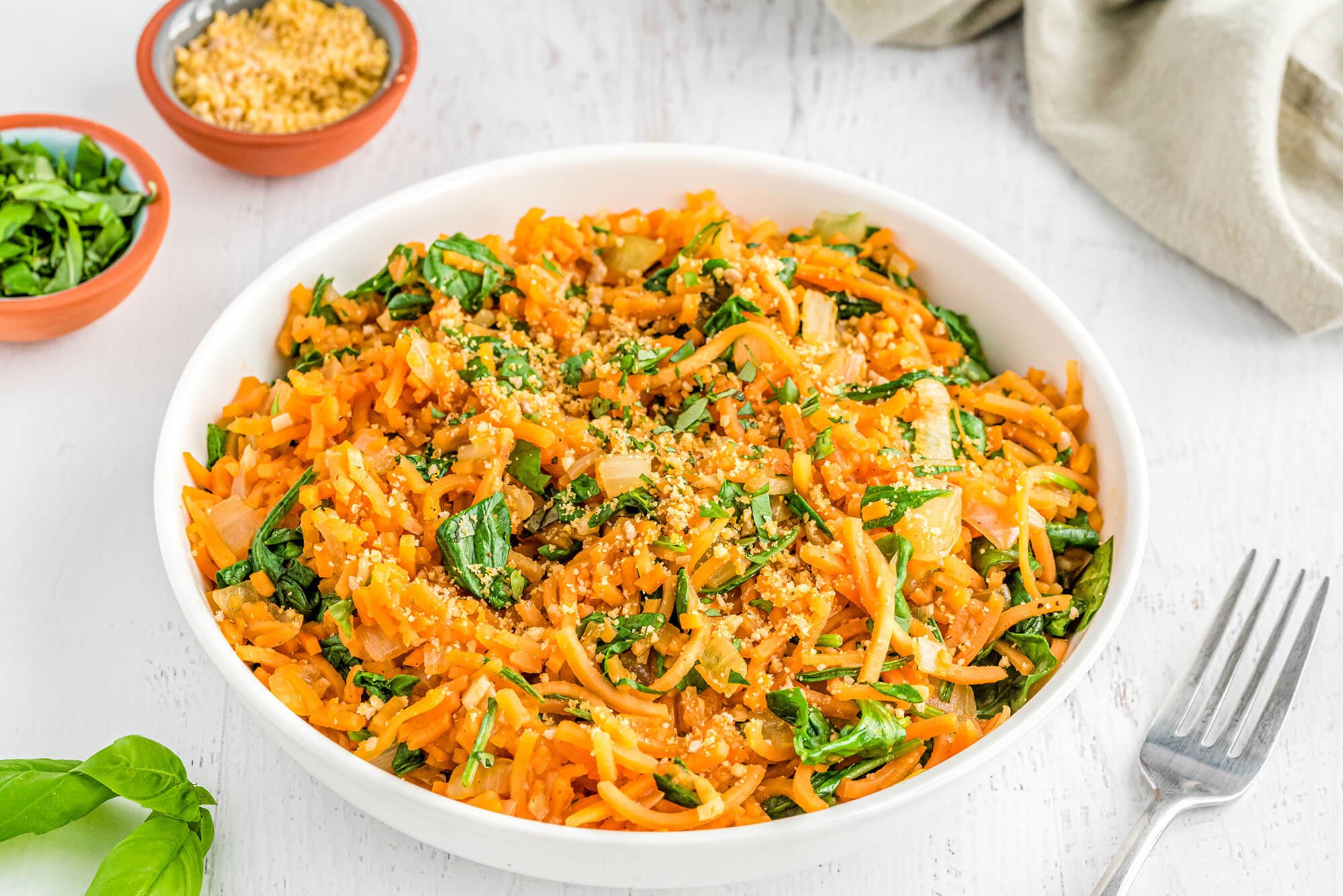 Beautiful sweet potatoes become "pasta" noodles with sauteed garlic and spinach topped with vegan parmesan in this easy and delicious spiralizer recipe. What's really neat is how many noodles you can create from one large sweet potato! If your kids are finicky eaters, these fun noodles are a great way to sneak in some nutrient-dense veggies!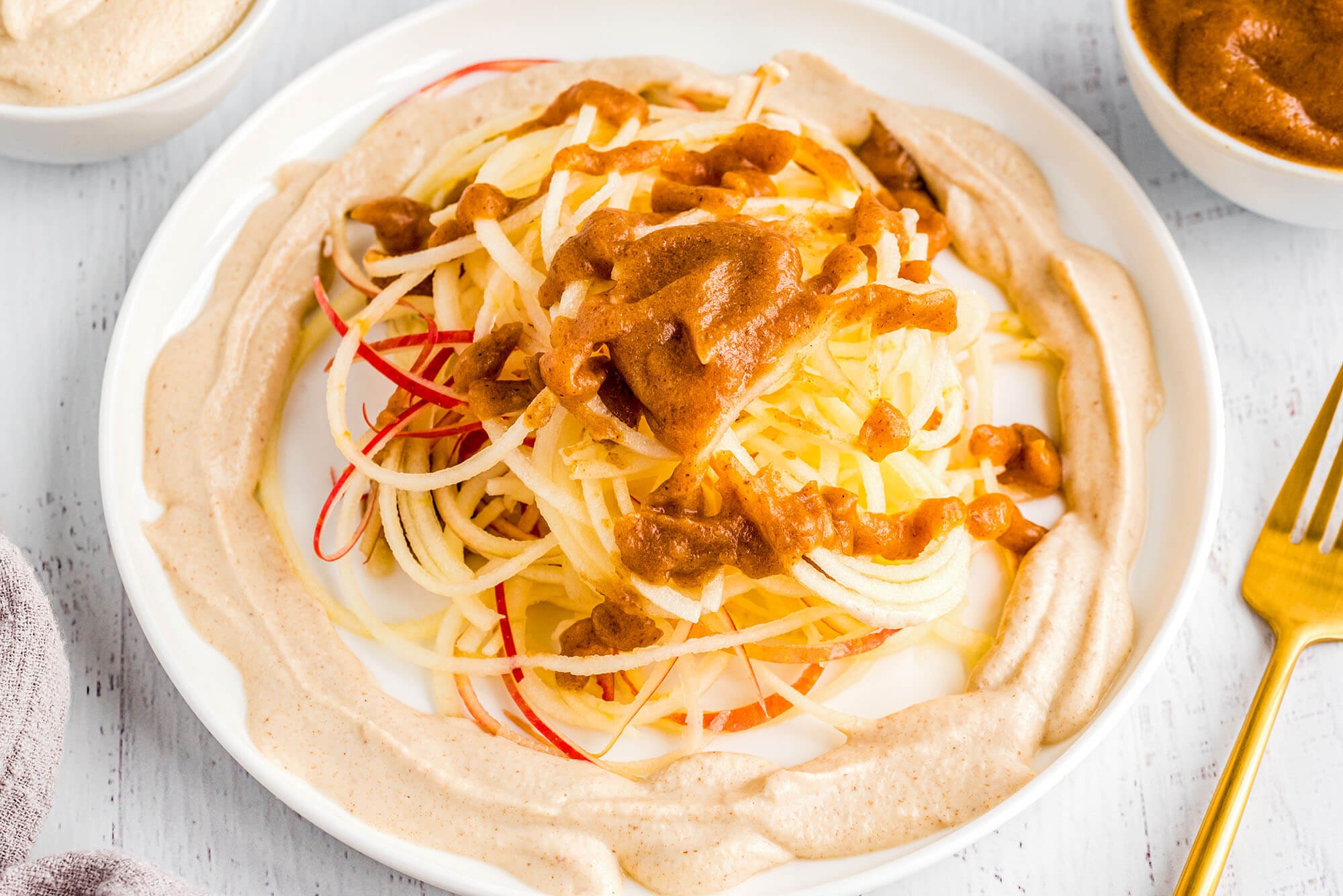 How is it that a raw and sugar-free dessert can be so heavenly? Spiralized apples not only present beautifully on the plate, but they offer a fun crunch and unique experience when swirling them around your fork like pasta (except they're apples!). Add silky smooth vanilla cashew cream and naturally sweet caramel sauce, and you have the ultimate spiralized dessert experience.
Ready, Set, Spiralize!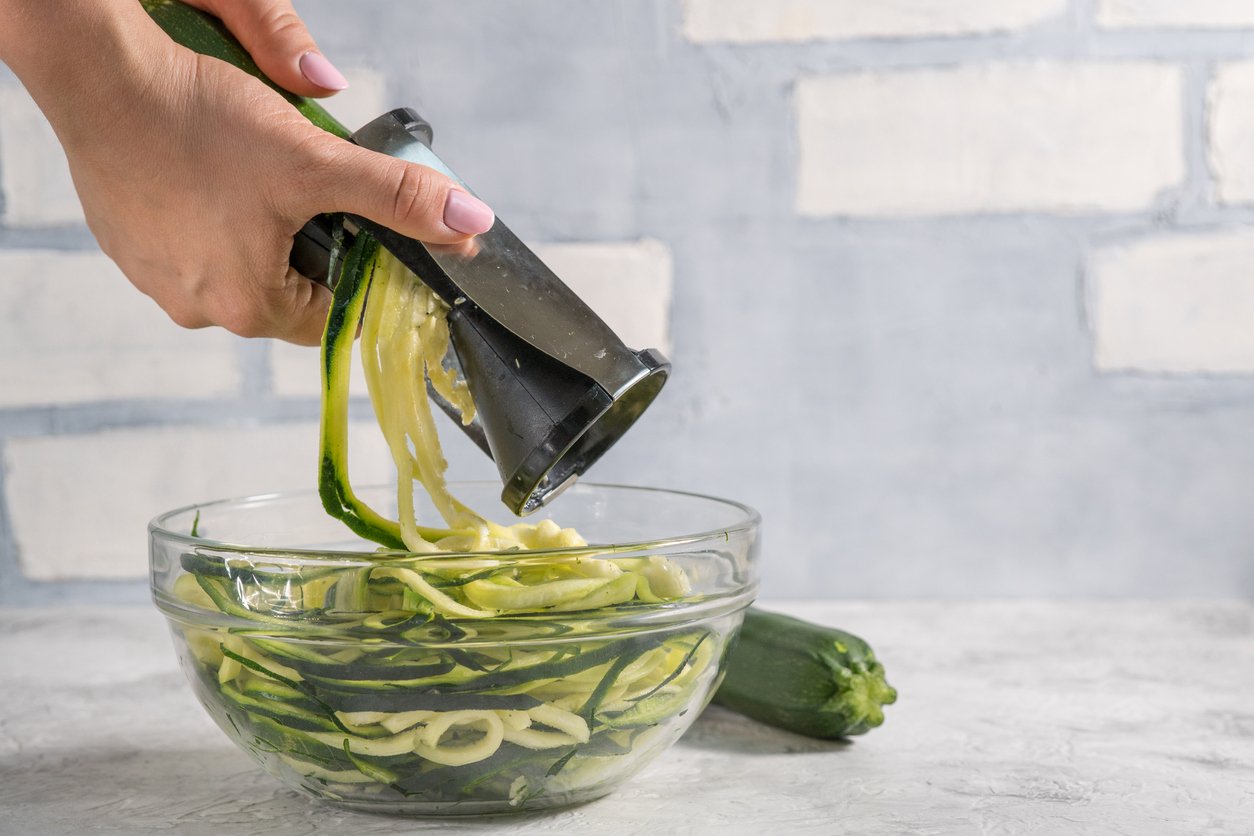 The more veggie-centric your diet becomes, the more fun and function you'll get from a spiralizer. Whether you're trying to interest finicky children in a variety of produce, or you want to add flair and variety to your own consumption of fruits and veggies, a spiralizer might be the kitchen gadget that takes your own veg-ucation to the next level.
Tell us in the comments:
Do you have a spiralizer? If so, what's your favorite recipe that uses it?
What's one spiralizer dish you'd like to try?
Feature image: iStock.com/nataliaspb
Read Next: