Moo-ove over hamburgers! These veggie burger recipes are perfect for summer BBQ gatherings or as a mouth-watering meal anytime.
---
Veggie burgers have been around since the 1960s. They were considered "hippie food" back then. (Like that's a bad thing!)
And now, you can find a variety of veggie burgers in grocery stores and on restaurant menus. They have even started appearing on the menus of popular fast food restaurants. Plant-based meat substitutes, including burgers, are rising in popularity. So it's safe to say that burgers made with plants are here to stay.
There are plenty of store-bought options. But most pre-made veggie burgers are processed. And they often contain refined oils, "natural" flavorings, and other not-so-healthy ingredients.
There's nothing tastier (or healthier!) than crafting your own plant-based burgers at home.
We've rounded up a grill-worthy collection of hand-crafted, veggie burger recipes. These are best shared with friends and family — whether outdoors or indoors.
7 Delicious Veggie Burger Recipes
Delight in these plant-based burger recipes just in time for BBQs, cookouts, and quick weeknight dinners at home. And look for our notes to make these recipes even healthier.
Smoky Tempeh Black Bean Burger Recipe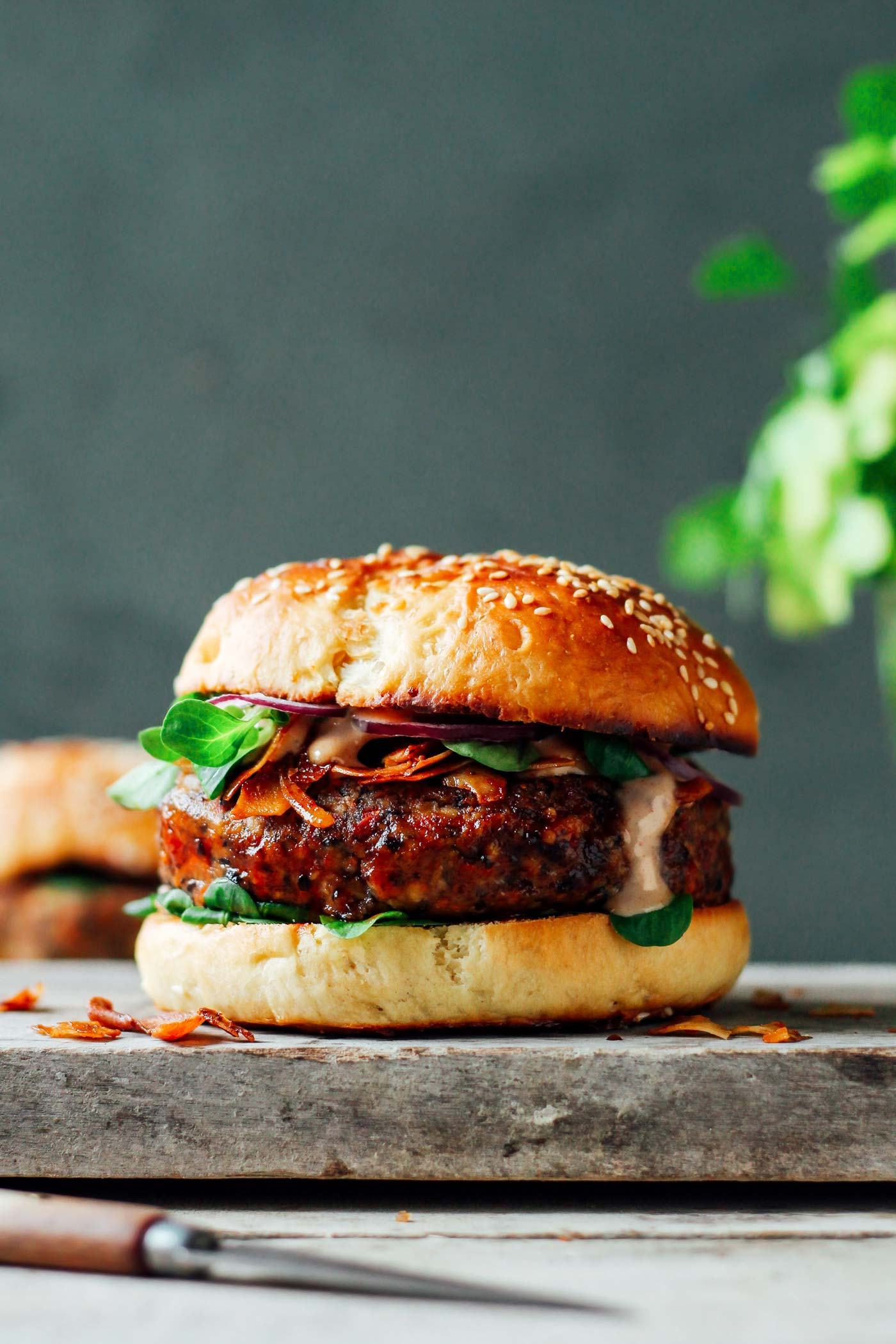 The next time someone asks, "Where do plant-based eaters get their protein?," serve them this Smoky Tempeh Black Bean Burger from Full of Plants.
Chock-full of plant-based protein, these burger patties combine black beans, peanut or almond butter, and tempeh for a total of 20.1 grams of protein.
In addition, you'll get a healthy dose of veggies and anti-inflammatory and immune-boosting spices mixed in and included in the homemade garlic sauce.
Note: The recipe calls for coconut bacon. To make your own, you can follow this recipe by Connoisseurus Veg.
Boost your health: To make this recipe oil-free, you can pan-fry your burger patties in a little water or vegetable broth. Or bake them in the oven.
Chickpea & Quinoa Veggie Burger Recipe
Alexandra's Kitchen's Chickpea & Quinoa Veggie Burgers combine their namesakes with onion, basil, cilantro, scallions, and grated zucchini, along with some heart-healthy spices.
Serve these plant-based burgers hot or cold, with the included tahini sauce and pickled onion recipes, for a quick and easy, Mediterranean-style meal.
Note: Make sure to use dried chickpeas and soak them; otherwise the patties may fall apart.
Boost your health: You can also go oil-free and bake these falafel-like beauties.
Spicy Miso Portobello Mushroom Burger Recipe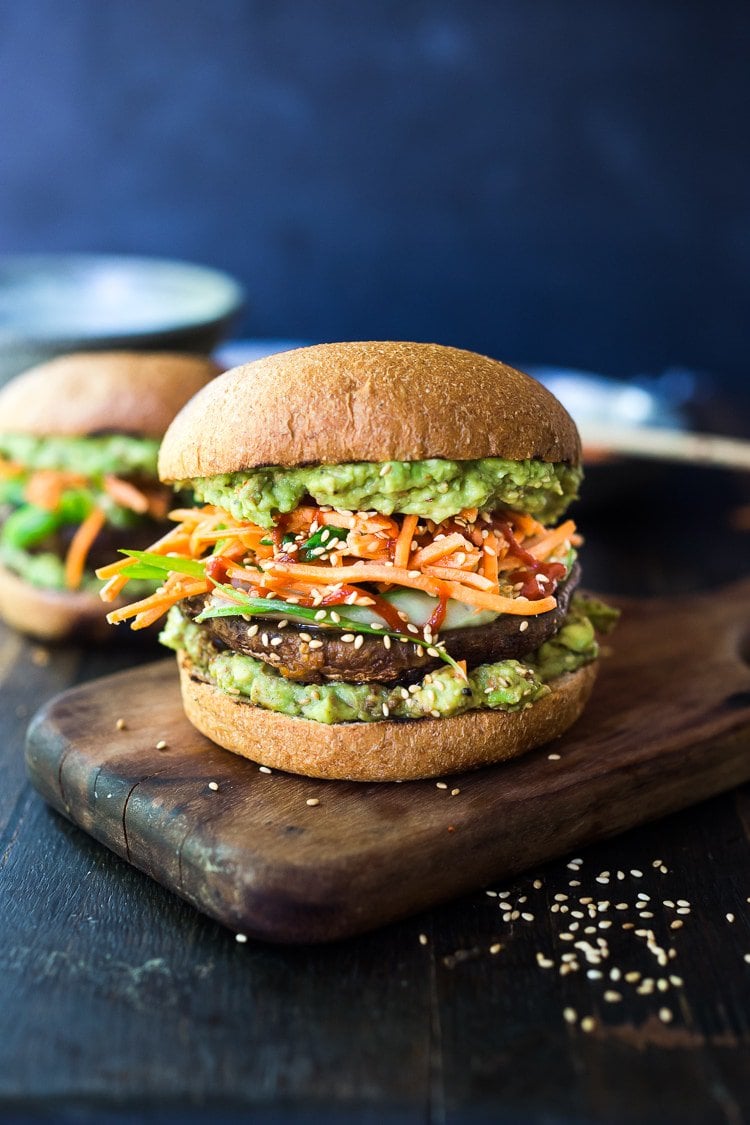 Let mushrooms stand in for a typical burger patty with this Spicy Miso Portobello Mushroom Burger from Feasting at Home.
Brushed with a Miso-Sesame-Sriracha paste, you'll get a mouthful of savory, umami flavor with an added kick of spice. And keeping with the theme, the toppings include a Japanese-style cucumber salad, a sweet carrot slaw, and a unique Asian-style guacamole mixture.
Throw these portobello burgers on the grill for a healthy, plant-based alternative during summer cookouts and BBQs.
Boost your health: You can easily leave out the sugar in the carrot slaw, substitute with a healthier, natural sweetener, or add some dried fruit or fresh apple. You can also leave out the oil to make this oil-free.
Love and Lemons' Best Darn Veggie Burger Recipe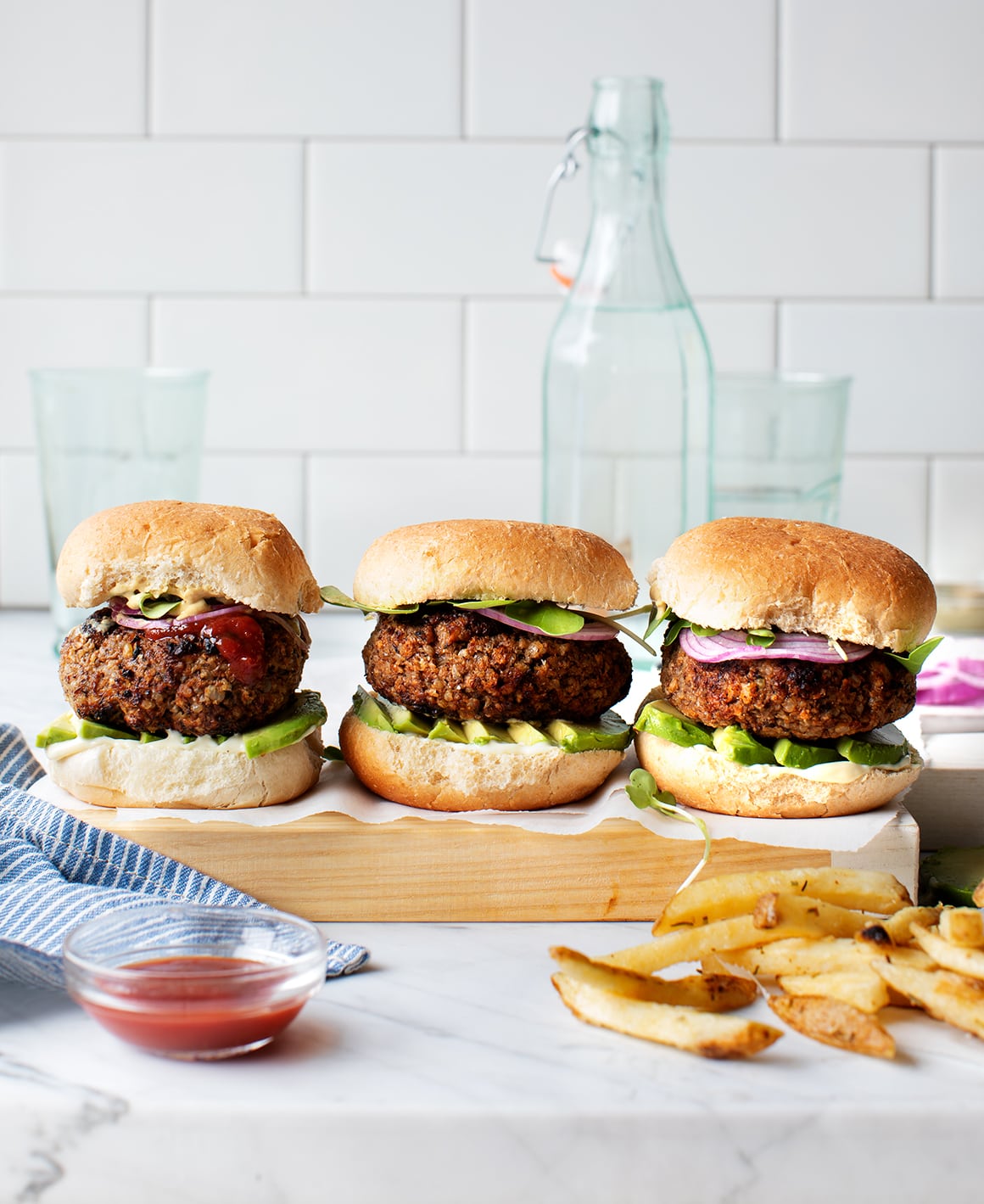 A lot of conventional hamburgers and even store-bought veggie burgers use oil or egg to hold all the ingredients together, but this recipe for Love and Lemons' Best Darn Veggie Burger proves you can do without either.
Short-grain brown rice, flaxseeds, mushrooms, panko breadcrumbs, and walnuts make up this patty, giving you a plant-based boost of protein and omega-3s.
You won't even need a grill to get a smoky, flavorful burger from sauteing the mushrooms with potent, disease-fighting alliums, including garlic and shallot, along with smoked paprika and sriracha.
Boost your health: Go nut-free by leaving out the walnuts or replacing them with sunflower seeds. And for a gluten-free patty, make sure your breadcrumbs are certified gluten-free. For best results, bake or grill the veggie burgers to avoid using oil.
Super Crispy Cauliflower Burger Recipe
What better way to celebrate the rise of this cruciferous powerhouse than by serving it up as a plant-based burger alternative.
Vegan Heaven created a Super Crispy Cauliflower Burger that can easily hold its own among meat-eaters and plant-lovers alike.
To get the crispy texture, the cauliflower steaks get a coat of batter made from flour, plant-based milk, water, paprika, and garlic powder, and then a coat of panko breadcrumbs before baking or grilling.
Boost your health: Although this recipe calls for all-purpose flour, any gluten-free flour, such as chickpea or arrowroot, works just as well. If you're gluten-free, make sure the breadcrumbs are too.
BBQ Tofu Burger Recipe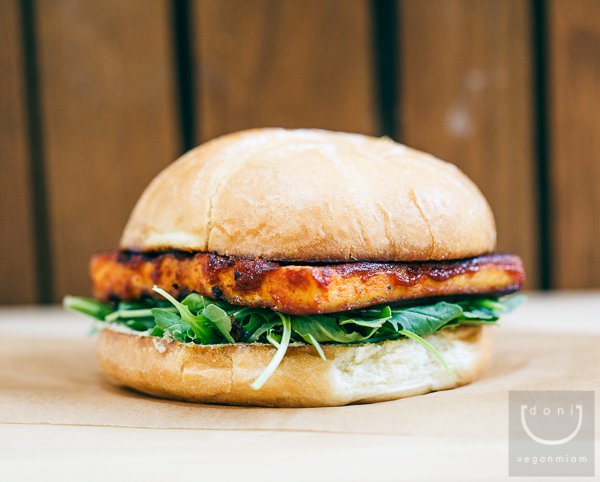 No need to feel left out at family BBQs or cookouts with these BBQ Tofu Burgers from Vegan Miam.
Simply slice up a block of firm tofu, season with the spice rub ingredients, and then lather it up with a homemade BBQ sauce. You'll even get your greens with this veggie burger, which calls for wild arugula and Asian-style pickled cucumber as toppings.
Boost your health: You can leave out the oil when baking or throw the tofu burgers on a grill or panini press for a smokier flavor. If you want to avoid genetically engineered ingredients, choose organic soy products, including tofu.
Curry Seitan and Black-Eyed Pea Burger Recipe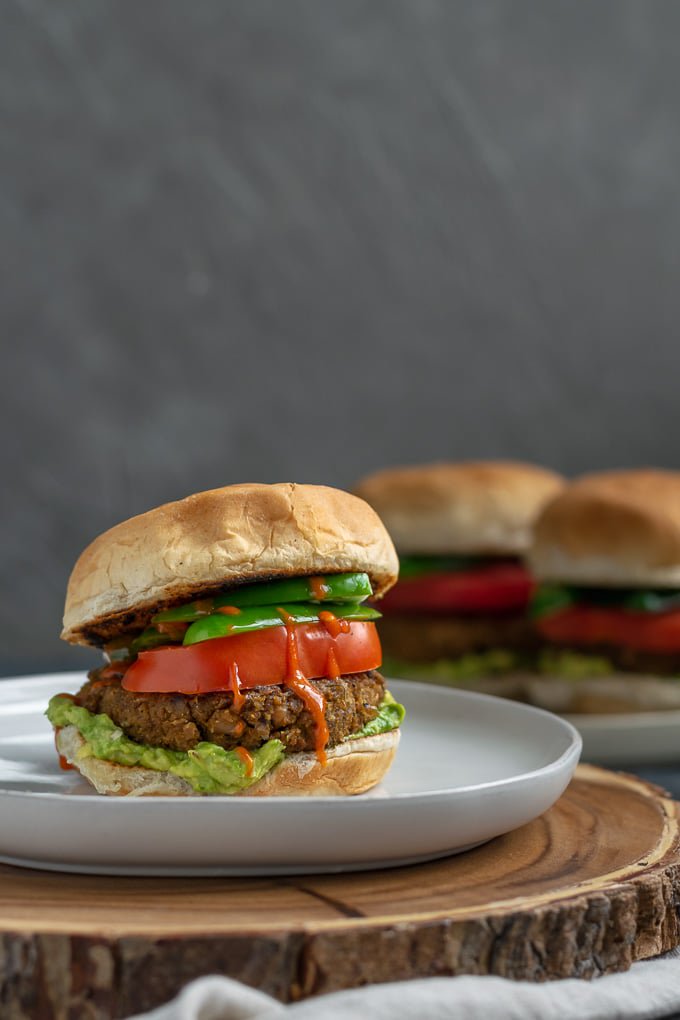 One of the best parts about making homemade veggie burger recipes from scratch is the ability to customize them with unusual flavors, like this Curry Seitan and Black-Eyed Pea Burger from The Curious Chickpea.
Mixing in a blend of Indian spices, including turmeric and dried fenugreek leaves, with the seitan, black-eyed peas, and wheat gluten forms the aromatic flavor-base of these plant-based burgers. Top them with one of the Afghan chutneys mentioned at the end of the recipe, or keep it traditional with lettuce, tomato, and onions.
Note: Seitan is made from wheat gluten, so this recipe is not gluten-free.
Boost your health: To make this recipe oil-free, The Curious Chickpea recommends using a flax egg (1 tbsp ground flax + 3 tbsp water left to sit and gelatinize for 10 minutes).
Tell us in the comments below:
What's your favorite kind of plant-based burger?

What do you think of these veggie burger recipes?
Featured Image: iStock.com/vaaseenaa
Read Next: