In the United States, Memorial Day weekend signals the unofficial start to summer. And for many people, that means cookouts, picnics, and BBQs. Festive summer food might not have the healthiest of reputations. But here are some healthy Memorial Day recipes to help you enjoy the occasion — and nourish your body at the same time.
---
Since the mid-1800s, after the Civil War, Americans have celebrated Memorial Day — an official holiday designated as a time to honor fallen men and women of the military and pay respect at their graves.
After the Uniform Monday Holiday Act was passed in 1968, Memorial Day was made a federal holiday on the last Monday in May, giving the majority of workers a three-day weekend.
It was then that Memorial Day enjoyed longer celebrations, with more festivities. But these days, it's also become the unofficial start of summer and a popular time to go on vacation and enjoy cookouts and BBQs with friends and family.
Summer cookout dishes include foods such as barbequed meat, coleslaw, potato salad, sugary baked beans, and butter-smothered corn on the cob. And the typical way of preparing these dishes wouldn't land them on too many lists of the world's healthiest foods.
But there are plenty of healthier versions of these dishes that can still serve as comfort food during your celebration. As the summer approaches this year, consider these plant-based Memorial Day weekend (or any weekend!) recipes for a menu that's better for your body and for our world.
Plant-based, Healthy Memorial Day Recipes: 4 Main Dishes and 5 Sides
Enjoy a healthy, nourishing, plant-powered Memorial Day weekend among friends and family with these dishes that are perfect for a cookout feast.
Healthy Memorial Day Recipes — Main Dishes
Grilled Tofu Skewers with Pineapple Teriyaki Sauce
Skewers and kabobs are almost always a hit during grilling season. They're easy, fun, and portable, making them a must-have for a plant-based Memorial Day weekend.
These Grilled Tofu Skewers with Pineapple Teriyaki Sauce from The Simple Veganista use tofu cubes along with colorful fruits and veggies, including red onions, pineapple, red pepper, and zucchini. But you can always swap out the veggies if you have other favorites.
Note: Marinate the tofu in the sauce ahead of time for a fuller flavor.
Boost your health: For the sauce, look for pineapple juice with no added sugar or puree whole pineapples instead.
BBQ Jackfruit Sandwiches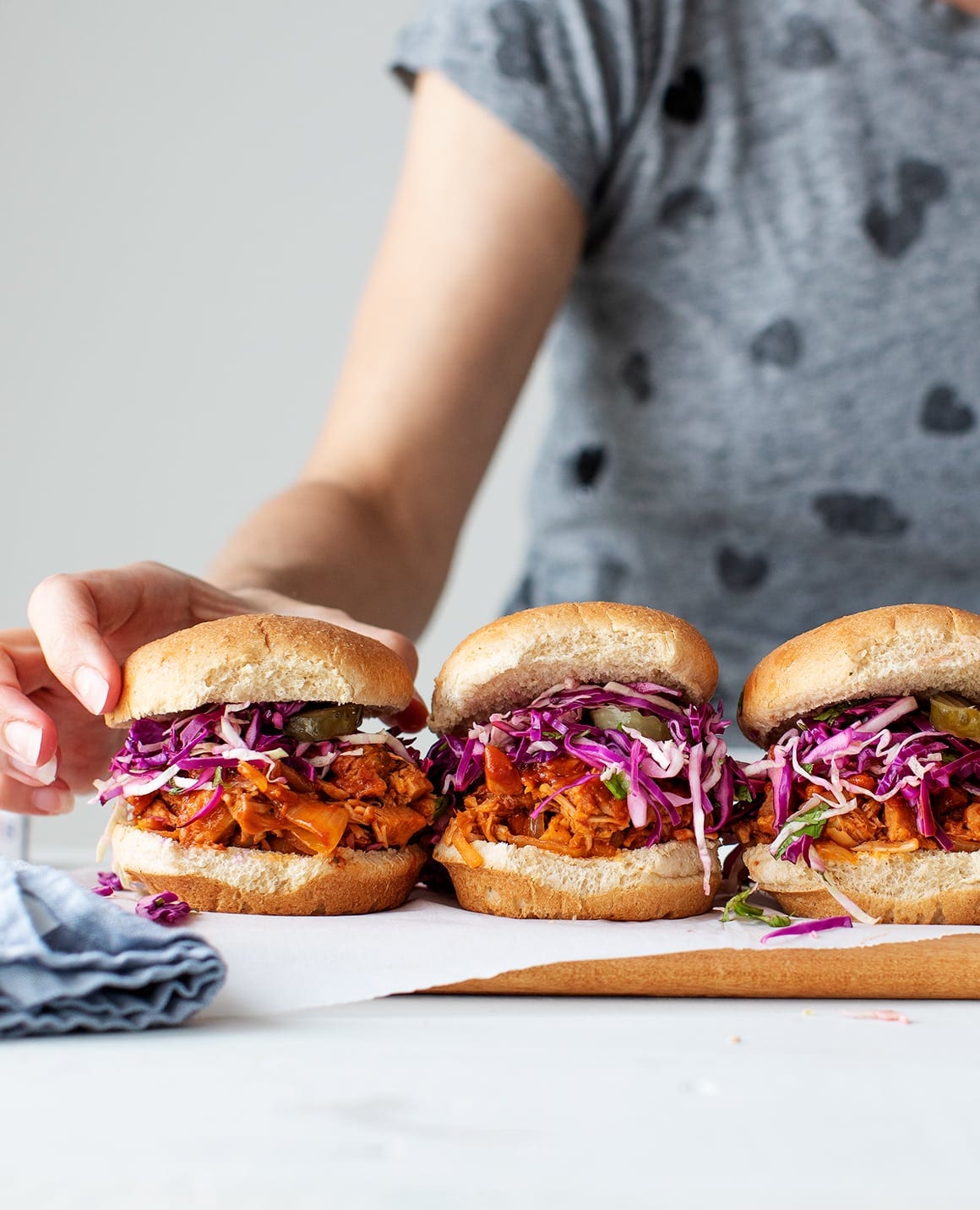 Pulled pork sandwiches are a staple at many a summer cookout or Memorial Day weekend BBQ, but what if you could enjoy them without harming animals or raising your risk of cancer?
Jackfruit often stands-in for pork and other shredded meat recipes when going plant-based due to its meaty, juicy texture. Slathered in a homemade BBQ sauce and topped with savory cabbage slaw, no one will even notice these BBQ Jackfruit Sandwiches from Love & Lemons are entirely made from plants.
Note: Most hamburger buns have gluten. If you're avoiding gluten, choose gluten-free buns or turn the sandwiches into lettuce wraps.
Boost your health: You can omit the oil from the coleslaw and water saute the onions and jackfruit to make this recipe oil-free. Many ketchup brands have added sugar, so you can substitute with tomato paste and a natural sweetener, such as maple syrup or fruit, or enjoy sugar-free ketchup, such as the one sold by Thrive Market.
Artichoke Spinach Cauliflower Bean Burgers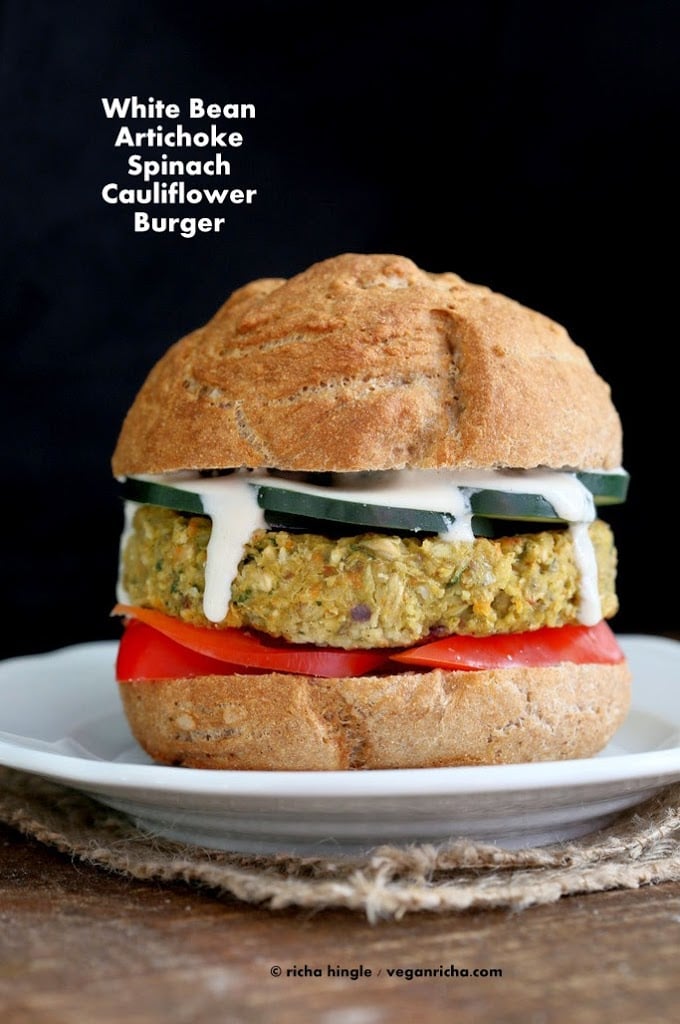 Want a grillable veggie burger that won't fall apart on you?
This Artichoke Spinach Cauliflower Bean Burger from Vegan Richa checks all the veggie burger boxes — nutritious, egg-free, and freezable, so you'll have perfect patties every time.
Plus, they have four out of six GBOMBS (Greens, beans, onions, mushrooms, berries, and seeds). These are Dr. Joel Fuhrman's choices for the most health-promoting foods on the planet.
Note: If you're gluten-free, make sure you're using certified gluten-free oats or breadcrumbs.
Boost your health: To make this recipe oil-free but also keep the stickiness of the burger patties, create a flax egg with flaxseed meal and water.
Seitan Steak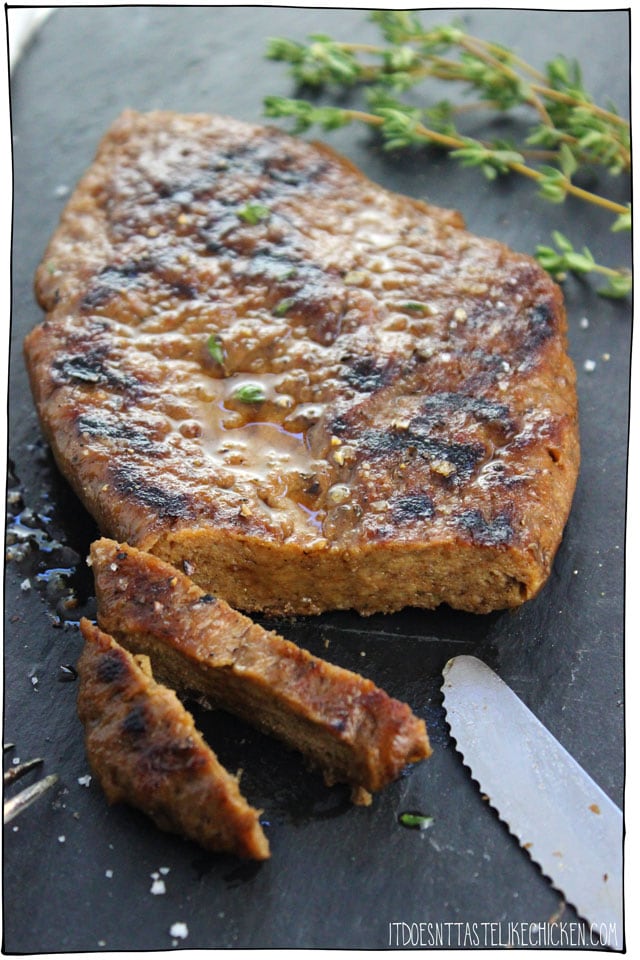 There are many plant-based meat substitutes out there, but this Seitan Steak from It Doesn't Taste Like Chicken will shock you with how much it resembles its animal-based counterpart.
All the ingredients come together in a food processor before forming into steaks, steaming, and then marinating until ready for grilling. The end result is a juicy, mouth-watering, plant-powered steak that's perfect for a Memorial Day weekend BBQ.
Note: Seitan is made from wheat gluten, so this recipe is not gluten-free.
Boost your health: Make this recipe oil-free by omitting the oil in the marinade.
Healthy Memorial Day Recipes — Sides
Mexican Corn on the Cob with Avocado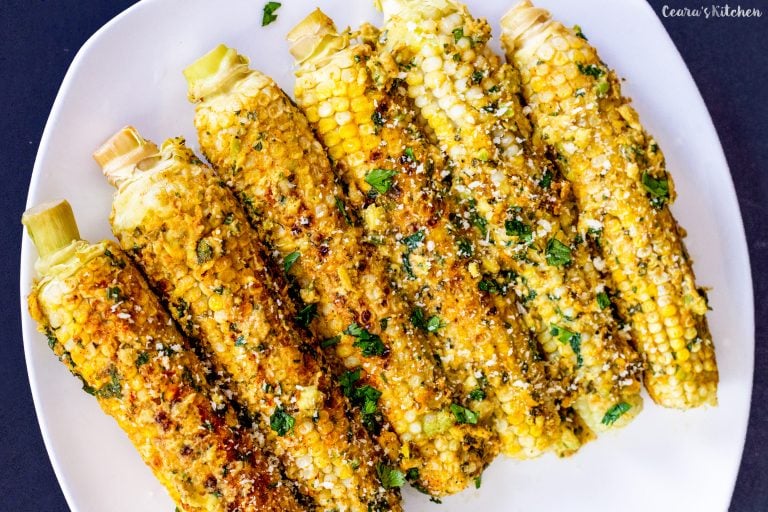 Spice up a summertime favorite with this festive and flavorful recipe for Mexican Corn on the Cob with Avocado by Ceara's Kitchen.
Inspired by Mexican street corn (also known as "elote"), Ceara's recipe keeps the smoky heat found in traditional varieties and uses spices, such as paprika and cayenne pepper, along with garlic and hot sauce to kick things up a notch.
Most corn on the cob recipes call for butter or oil, especially when sprinkled with toppings, but this recipe uses the natural oiliness of avocados to keep all the ingredients on the corn. And while elote often gets a sprinkling of cojita cheese on top, you can also ditch the dairy with this recipe, which substitutes nutritional yeast to get that cheesy flavor.
Baked Beans with Tempeh Bacon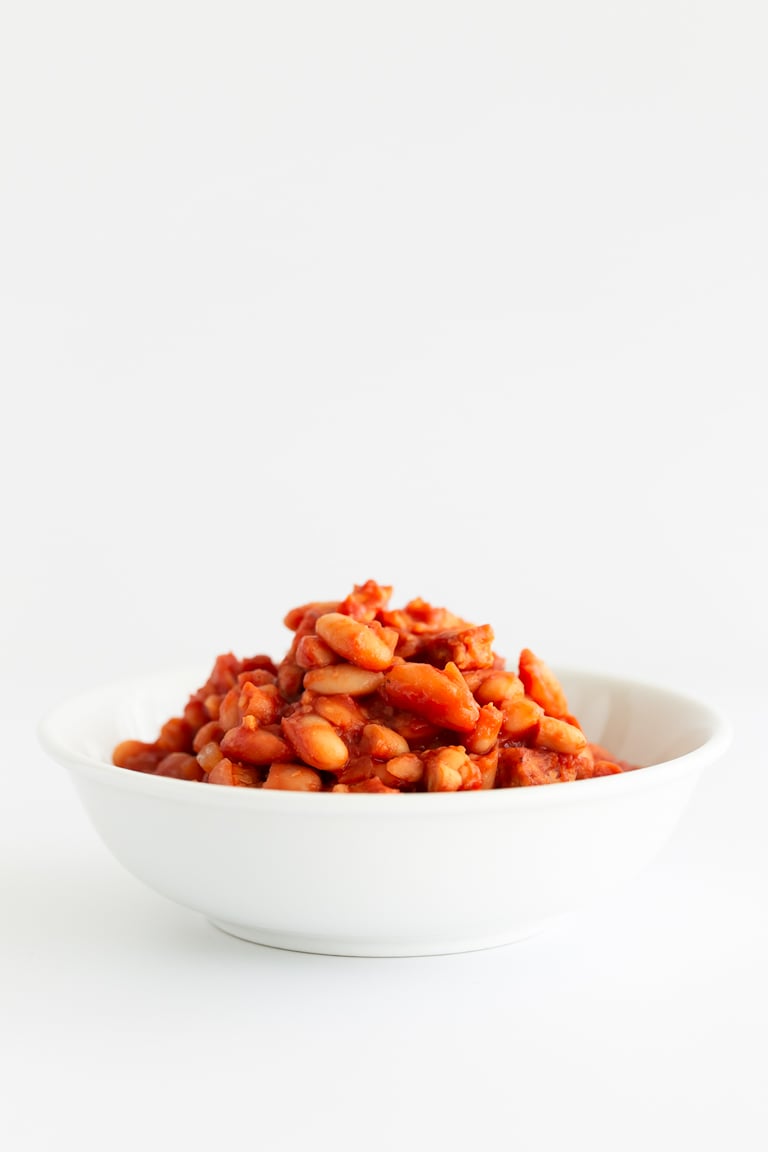 Baked beans are a staple of summertime BBQs, especially in the Southern U.S. states, but they're often loaded with sugar and made with pork bacon.
But now you can have your beans and eat them, too, with Simple Vegan Blog's Baked Beans with Tempeh Bacon. Perfect for sharing, enjoy that traditional, smoky, baked bean taste packed with flavorful alliums and health-boosting spices, including cumin and paprika.
Boost your health: Baked beans typically have a bit of sweetness, and this recipe calls for maple syrup or agave, but you can omit or use a fruit-based sweetener, such as figs or apple if you prefer.
Oil-Free Classic Potato Salad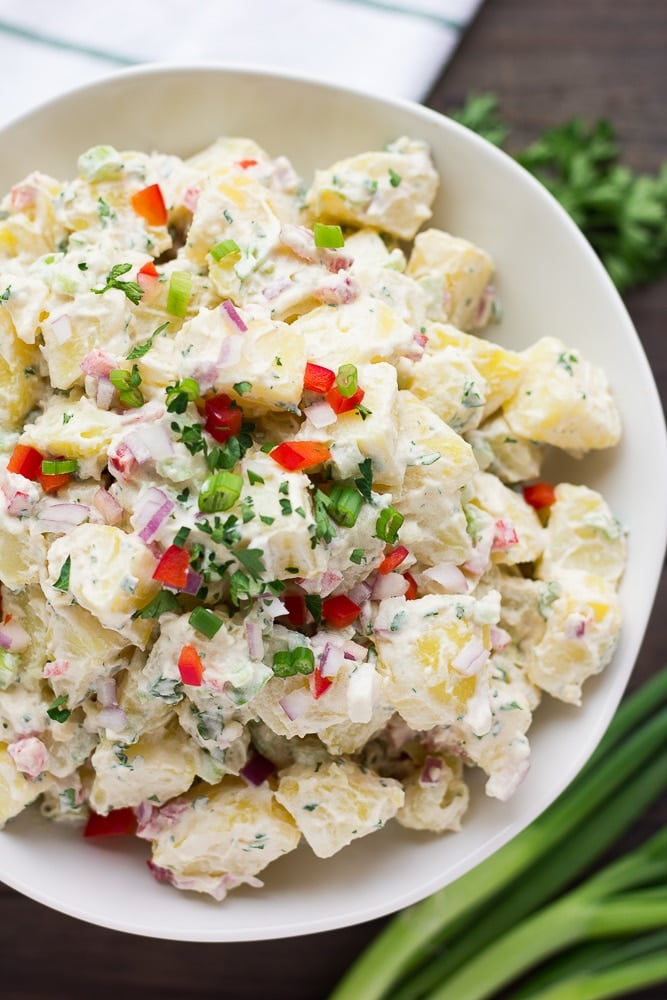 Get a full serving of nutritious veggies with Nora Cooks' Oil-Free Classic Potato Salad.
This recipe includes a homemade egg- and oil-free mayo made from cashews (or alternatively tofu if you're nut-free) to get that classic creamy texture. Plus, in addition to the potatoes, you're getting a mouthful of red peppers, onions, celery, and cancer-fighting parsley.
Not only is it an ideal side dish for a plant-based Memorial Day weekend, but with a total prep and cook time of 35 minutes, you've got yourself a quick and easy addition for an anytime meal.
Creamy Veggie Pasta Salad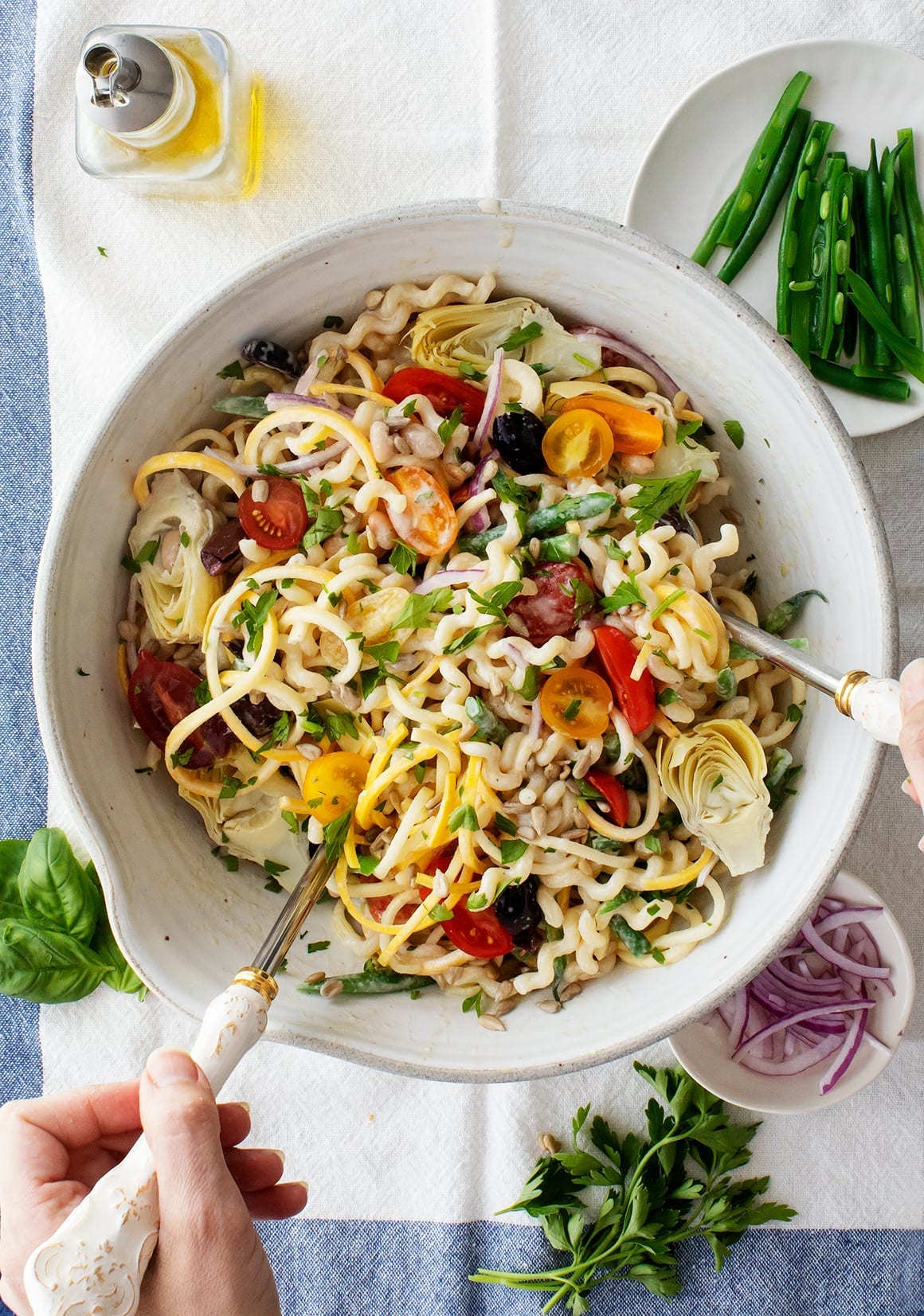 For a rainbowful of veggies at your cookout, choose this Creamy Veggie Pasta Salad from Love & Lemons as a side.
Toss beans, artichoke hearts, cherry tomatoes, red onions, and spiralized yellow squash with curly pasta and a dressing that includes tahini, plant-based milk, lemon, dijon mustard, and maple syrup. Sprinkled with basil, parsley, and sunflower seeds, this Memorial Day side dish packs an antioxidant-rich, cancer-fighting punch that will nourish your loved ones from the inside out.
Note: If gluten is a concern, choose a gluten-free pasta or omit entirely and spiralize more of the squash as a base.
Summertime Fruit Salad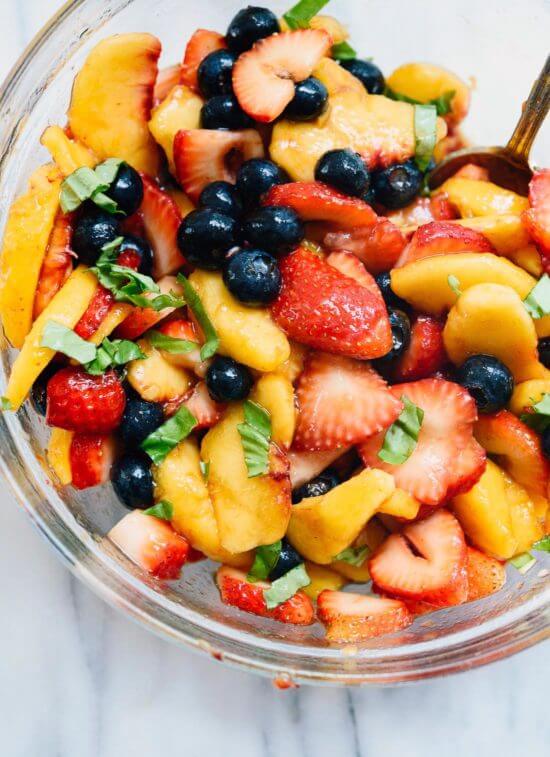 A fruit salad in the standard American diet might include marshmallows or Cool Whip mixed with canned or fresh fruit. But you don't need harmful high-fructose corn syrup or animal products to enjoy the natural sweetness of fruit.
Cookie + Kate's Summertime Fruit Salad uses berries and peaches with a little lemon juice, basil or mint, balsamic vinegar, and an optional sweetener like maple syrup. However, if you enjoy the fruit at their peak ripeness, there's no need to add any sugar to the recipe.
Tell us in the comments below:
What are your favorite plant-based main or side dishes to eat at a summer cookout?

What do you think of these healthy Memorial Day recipes?
Featured Image: iStock.com/Rawpixel Ltd
Read next: