Pasta, basil, and tomato sauce might make you think of Italy. Collards and cornbread, the American South. Potato and onion pierogi could conjure up images of Poland.
And for good reason. The fact is there's a strong human connection between food and place, ethnicity, and culture.
You can see it in the etymology. The word "culture" comes from a Latin word that means to tend or till — as in "cultivate." Much of what is fundamental in human culture arises from the food that sustains us. Festivals, rituals, divisions of labor, and even spiritual practices spring from the daily necessity of procuring nourishment from the land.
The most important foods in any culture are often the "staples" that people can rely on year-round, either because they are always available, or because part of the cultural transmission from one generation to the next includes how to preserve those staples by drying, storing, fermenting, canning, freezing, or in some cases feeding them to domesticated animals.
The three main types of staples are grains, legumes, and roots. Grains that have traditionally served as cultural staples include wheat, rice, corn, barley, sorghum, millet, and teff, among many others. Cornerstone legumes include lentils, black beans, chickpeas, and soybeans. Important roots and tubers include potatoes, sweet potatoes, yams, cassava, and yucca (from which tapioca is made).
But in addition to variation in staple crops, different regions also feature particular horticultural crops that have become a part of their cuisine. Germany's most important fruit crop is apples, which comes across in their desserts. Cabbage has been used since 4,000 BC in China. And citrus trees in the Mediterranean are not only aesthetically pleasing but have a long history dating back to the Roman times as a status symbol and the fruit as a delicacy.
Also, different parts of the world produce different herbs and spices, which become cornerstones of particular cuisines, like basil and oregano in Italy, cardamon and turmeric in India, chili and cilantro in Mexico, and lemongrass and galangal in Thailand.
For those of us in the modern supermarket world, it's easy to lose sight of the significant differences in global cuisine. After all, we can get oranges and grapes in the middle of winter, thanks to global trade, refrigeration, and distant farmworkers. Buying a box of quinoa from Peru is as easy as grabbing a sack of jasmine rice from Thailand or a canister of Scottish oats. But for most of history, a culture's cuisine was based on what grew locally; on what could be reliably gathered or sown. (See the word "culture" riding at the end of "agriculture"?)
Even as cultures get homogenized through Westernization and globalization, memories and traditions around "home cooking" remain strong. Tourists to different countries often choose to experience the traditional cuisine of those countries. Heritage festivals feature samples of dishes from the "home country." And especially around holidays and religious festivals, we may be drawn to the meals eaten by our ancestors.
Culture and Change
Lots of people would like to eat a healthier diet, or a more ethical one, or one less environmentally taxing, but they lament the need to give up their cultural heritage. How can a Cajun from Louisiana still be a Cajun without chicken and sausage jambalaya? Who would a Haitian be without their griyo (grilled pork) or chicken and cashew stew? A Colombian minus meat-stuffed arepas and Ajiaco (a chicken, corn, and potato soup)?
Are the various forms of plant-based eating at odds with honoring our cultural traditions? Absolutely not.
First, vegetarianism is not a new phenomenon. Many cultures' cuisines are influenced by their religions as well as their environments. Since non-violence and other forms of harm reduction are fairly common religious ideals, many civilizations extend these ideas beyond the human realm, and into interactions with other species. One obvious form of non-violence regarding animals is to refrain from eating them, which is just what we see in parts of India, Ethiopia, China, Japan, and other regions where Hinduism or Buddhism are prevalent.
Secondly, what we think of as "traditional" foods are sometimes actually once-a-year treats rather than daily fare. Jambalaya was a "throw in whatever you catch or gather" dish favored by refugees who were forced to live in the deep swamps where other people would not or could not sustain themselves. How often would those folks have access to andouille sausage or smoked ham, or even chicken stock?
Rich foods, especially those sourced from animals, eggs, or dairy, were saved for holidays and important life-cycle events, or dire need. As a Yiddish proverb put it, "When a poor man eats a chicken, one of them is sick."
11 Global and Diverse Plant-Based Recipes from Around the World
So it's actually quite easy to return to a culture's pre-industrial "peasant roots" and discover and recreate the traditional recipes made with grains, legumes, roots, vegetables, herbs, and spices. And with the burgeoning availability of plant-based meat analogues, you can be meat-free without missing out on the taste and mouthfeel of ham, chicken, or beef. A little bit of experimentation can turn even a meat-based meal into a delicious plant-based version.
You can take advantage of the positives of living in a global world and experiment with and enjoy dishes from a variety of different lands and cultures. We've put together a few international dishes that are either naturally plant-based or have been modified slightly to remove any animal products. Try something new and expand your culinary horizons with new flavors, textures, cooking techniques, and ingredients.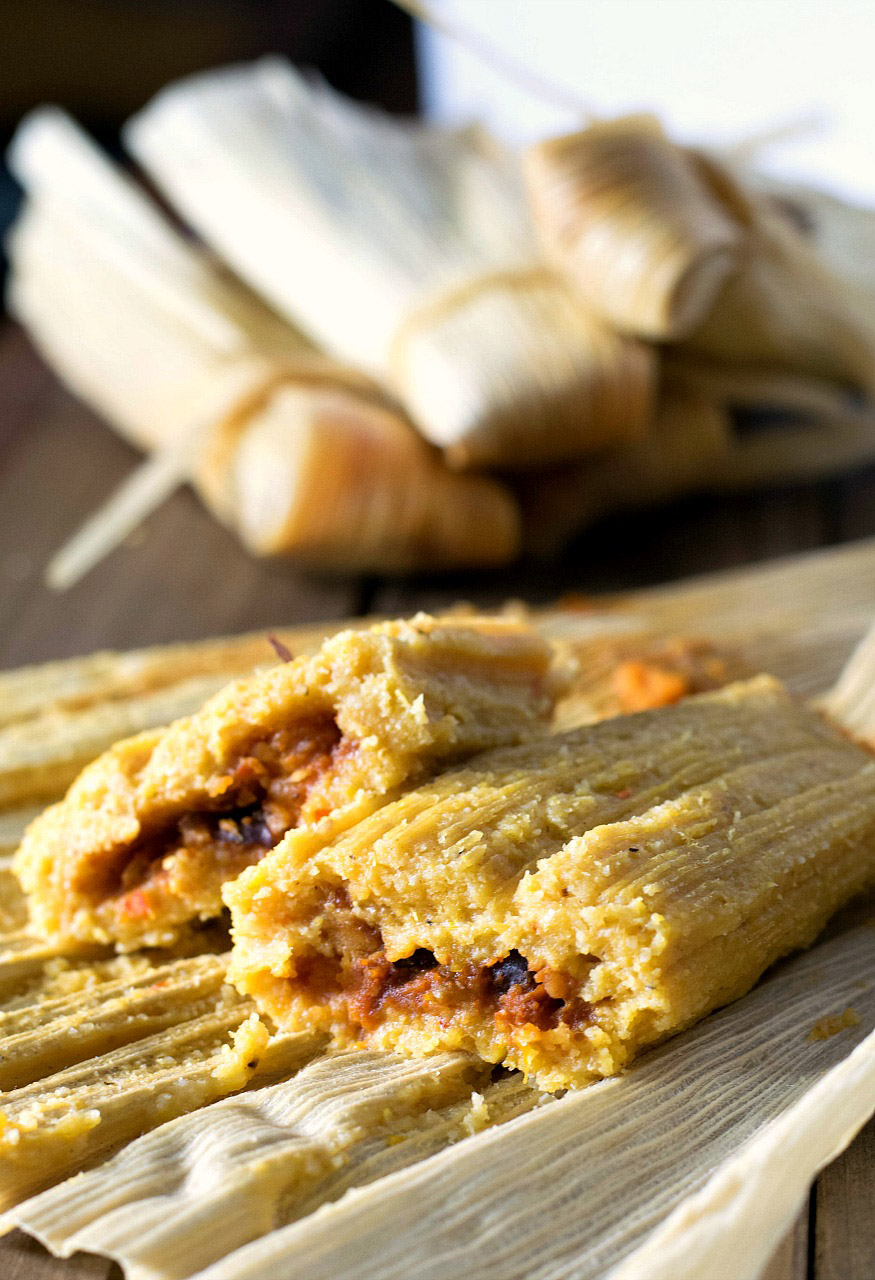 Tamales are a tasty Mexican dish that comes in three layers: the outer corn husk, which is used as a wrapper and often a plate; the cooked cornmeal dough, and the filling. In this meat-free recipe, recommended by Dora's Table, black beans and sweet potato form the inner filling, and the whole thing is finished with a yummy red chili sauce.
If possible, use organic masa harina (the corn flour used to make the dough), to avoid genetic modification and pesticides. Aside from the corn flour, dried corn husks, and red chili pods (which you can find at most Mexican and Central American markets, as well as online), you may already have all the ingredients necessary.
Don't leave this dish to the last minute, however, since the red chili sauce will take a bit of time to come together.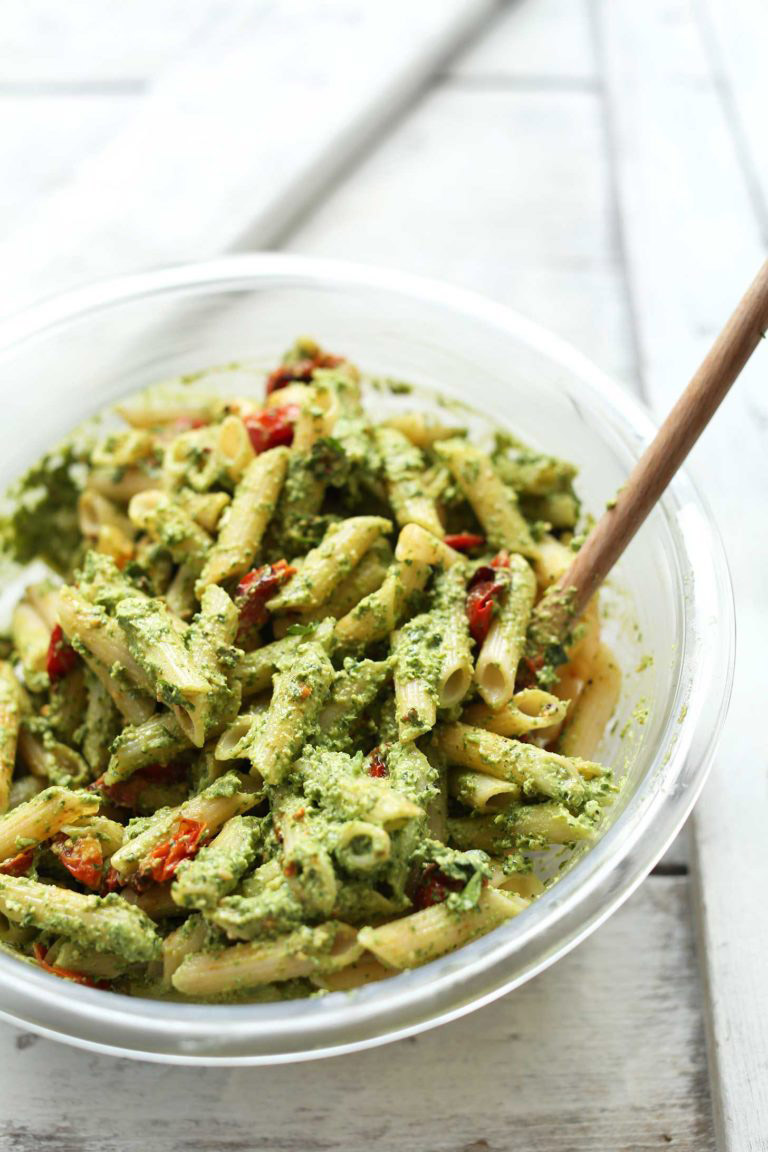 If you love pesto but have been avoiding it because of the parmesan cheese, today is a happy day. Minimalist Baker shows you how to make delicious and authentic pesto, sans cheese, using basil, garlic, lemon, pine nuts, cashews, nutritional yeast, salt, and olive oil to create that creamy and tangy pasta sauce.
Add in the roasted cherry tomatoes, and you have a quick and easy dinner that's kid-friendly — or a fancy salad for your next party or pot-luck. You can go gluten-free with the pasta (brand recommended in the recipe) to accommodate those with wheat allergies or sensitivities.
Our round-the-world culinary tour now takes us to the shores of the Mediterranean, for a rich, smokey dip or sandwich filling. Starring the lowly eggplant, baba ganoush is already healthy, gluten-free, and vegan — so what's not to love?
The flavor is rounded out by sesame tahini, garlic, lemon juice, and cumin, and as much cayenne pepper as you want (or can stand!). It's most authentic when the eggplant is roasted over an open flame, but the recipe is forgiving and will deliver the goods even if you have to use a gas or electric oven.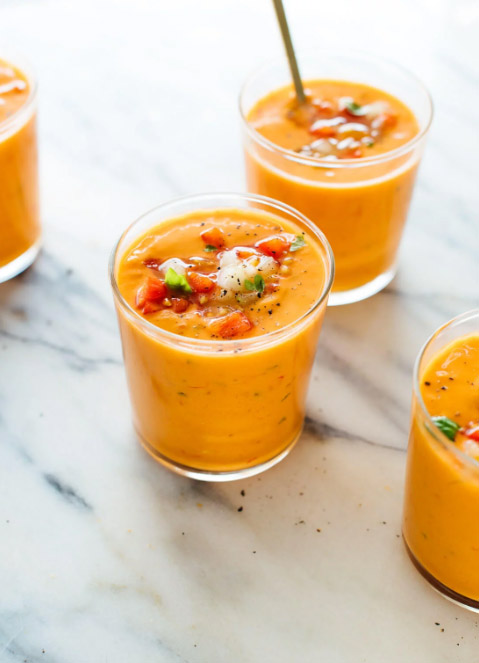 Gazpacho, or chilled tomato soup, is a party in a pitcher all by itself. This recipe layers ripe red tomatoes (so bookmark it for the height of summer) with sweet onion, cucumber, red bell pepper, fresh basil, and garlic.
A decent blender will make quick work of the chopped ingredients, which should produce a lovely reddish-orange color soup. Serve it in glasses or mugs, and top with some of the same ingredients, chopped small and set aside. And definitely get ready to Instagram this one!
Let's dip into East Africa for a healthy plant-based example of one of the world's most distinctive cuisines, Ethiopian. The key is the layering of flavors, including ginger, garlic, red and green onion, cumin powder, and an Ethiopian spice mixture called berbere. Once that's all cooked down, the tomato paste, red lentils, and baby spinach leaves do the rest.
Since berbere's main ingredients are chili peppers and cayenne powder, I suggest going easy on it at first, until you've discovered your optimal "fire tolerance." One nice thing about Ethiopian food is that even mildly spiced, you still get a festival of flavor in your mouth.
For those of us who adore pasta in all shapes and sizes, dumplings can be dangerously tempting. And since most commercial and restaurant pierogi use cheese in the filling, vegans will be happy to discover this recipe's substitution includes firm tofu, subtly seasoned with soy sauce and lemon juice.
The filling is a very authentic potatoes and onions, along with the tofu. The dough that wraps around the filling is a simple one: just wheat flour, water, salt, and a bit of olive oil. Give yourself a couple of hours for all the steps, and don't be sad when all the dumplings disappear within minutes.
7. New Orleans/French-Creole – Simple Vegan Jambalaya by Simple Vegan Blog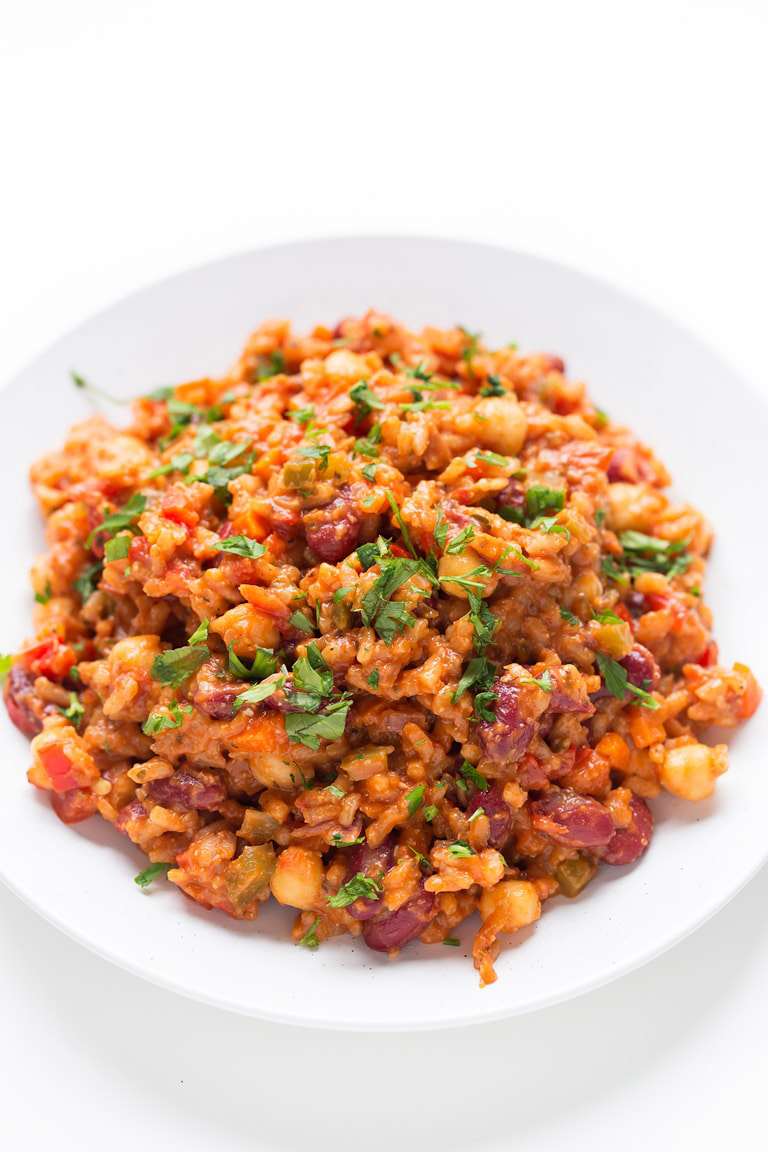 New Orleans is arguably the foodiest city in America and Jambalaya one of its star creations. In this version, swap out the meat for chickpeas and beans for heft, protein, and belly-filling goodness.
Don't be scared by the long list of ingredients; most of them are spices that you might just have lying around anyway. If not, you can always cheat by finding a traditional New Orleans spice blend at the supermarket or online. And one of the hallmarks of Louisiana is an improvisational, make-do attitude, so if you're out of something, feel free to substitute, or just leave it out. Traditionally, jambalaya is served over long-grain white rice, but if you want to avoid the potential arsenic exposure, or just prefer a different grain, go for it.
OK, time to head to the Middle East, to a traditional village in Pakistan, for a delicious roasted cauliflower curry. Close in spice and technique to Indian food, this Pakistani-informed dish honors the flavor of cauliflower by roasting it with salt, pepper, lemon juice, and olive oil for 20 minutes, and only then adding it to the rest of the curry. Grated ginger and fresh cilantro on a dollop of plant-based yogurt complete the dish.
Another 2,700 miles to the east brings us to Vietnam, and the home of the iconic noodle dish called pho (pronounced, I have it on good authority, "fuh" and not "foe"). The trick to pho is the spices simmering in the stock — and they decidedly do not need any beef to be complex and delicious. Just listen to this list of spices added to the soup: cardamom, coriander, star anise, Vietnamese cinnamon (cassia bark), clove, and fennel. Sounds like a love poem to me!
Dried shiitake mushrooms provide the umami flavor instead of beef, and get balanced by the various greens and sprouts that add crunch and nutrition. Your noodles (and taste buds) will never know what hit them!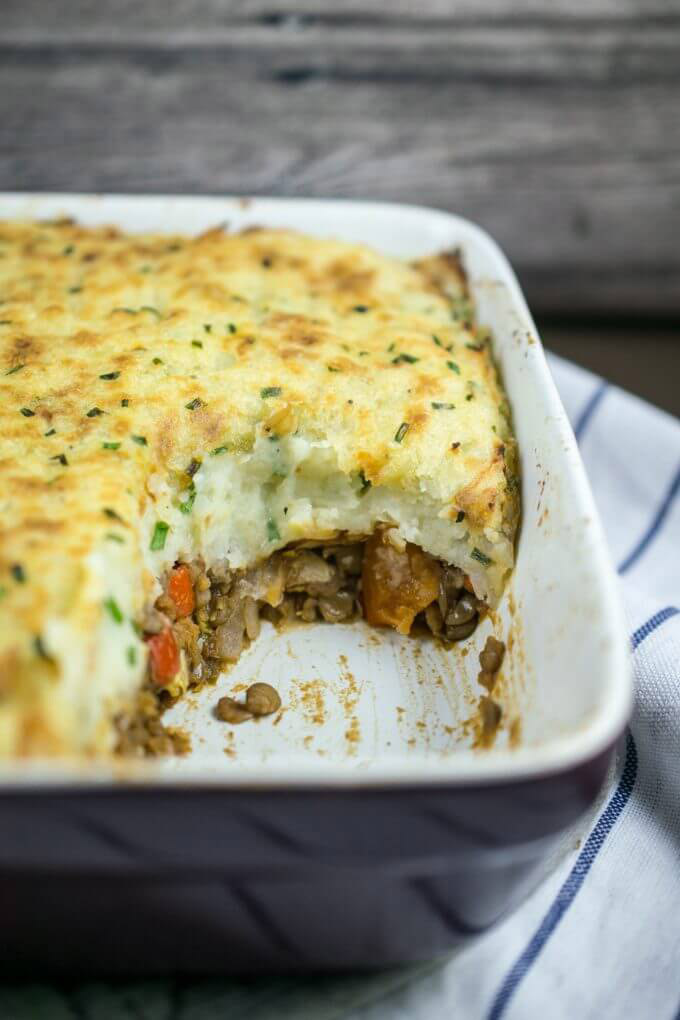 Shepherd's pie isn't just for shepherds, so for those of you who spend more time handling onions, potatoes, carrots, and lentils than sheep, this may be the perfect comfort food. Basically, this shepherd's pie hides a layer of lentils and vegetables (in place of lamb or beef) under a creamy and garlicky mashed potato topping.
A perfect Sunday supper centerpiece, or anytime you want a bunch of people to feel well-loved and warm. It takes an hour in the oven, so plan accordingly.
Let's finish our plant-based world culinary tour by heading down to South Korea. Since it's already a mecca of vegan food, we don't have to do too much to this tofu soup, which you may see on restaurant menus as Soondubu Jigae.
The tofu being suggested here comes in a squeezable plastic tube, and breaks up into small curds that hold together, rather than disintegrating in the soup. (Look for "Korean soft tofu" at your local Asian grocery store.) If you can't find it grown organically, however, or if there isn't an Asian grocery store near you, then you can use organic silken or soft tofu instead. Mushrooms provide the umami, and seaweed and green onions add flavor and contrast to the creamy tofu curds.
Your Turn
Which of these recipes will you try first? Is there another ethnic cuisine or dish you'd like to see "plant-base-ified"? Let us know in the comments.
Tell us in the comments:
Have you made any of these recipes? If so, what do you think?
What are your favorite plant-based, ethnic dishes?
Featured Image: iStock.com/KatarzynaBialasiewicz
Read Next: