Ahh, the holidays — a time for fun, festivities, and… stress? The holidays can, and should, be a time to focus on what we have in common and what we want to celebrate together. But what happens when our friends and family members have different diets and food preferences, and we're in charge of holiday meal planning?
What if you're vegan? Or you eat a whole food, plant-based diet free of processed food, oil, and sugar, and your friend is gluten-free; your sister is Paleo; your nephew is allergic to nuts, and your in-laws love sausages and donuts?
The sources of stress can go far beyond food, of course. One of the things about family is, well, we can't choose them. Holiday gatherings can bring together people with widely different political and social views. It can be enough to make you want to skip the holidays entirely.
But, don't despair.
You can bring people together over a shared meal and shared values — whether you observe Christmas, Hanukkah, Kwanzaa, Ramadan, or just want to share time with friends and family.
In this article, we'll focus on planning and preparing delicious and healthy holiday food, while also looking at how to extend those strategies to present a loving and welcoming table for all your guests.
8 Holiday Meal Planning Tips to Bring Your Guests Together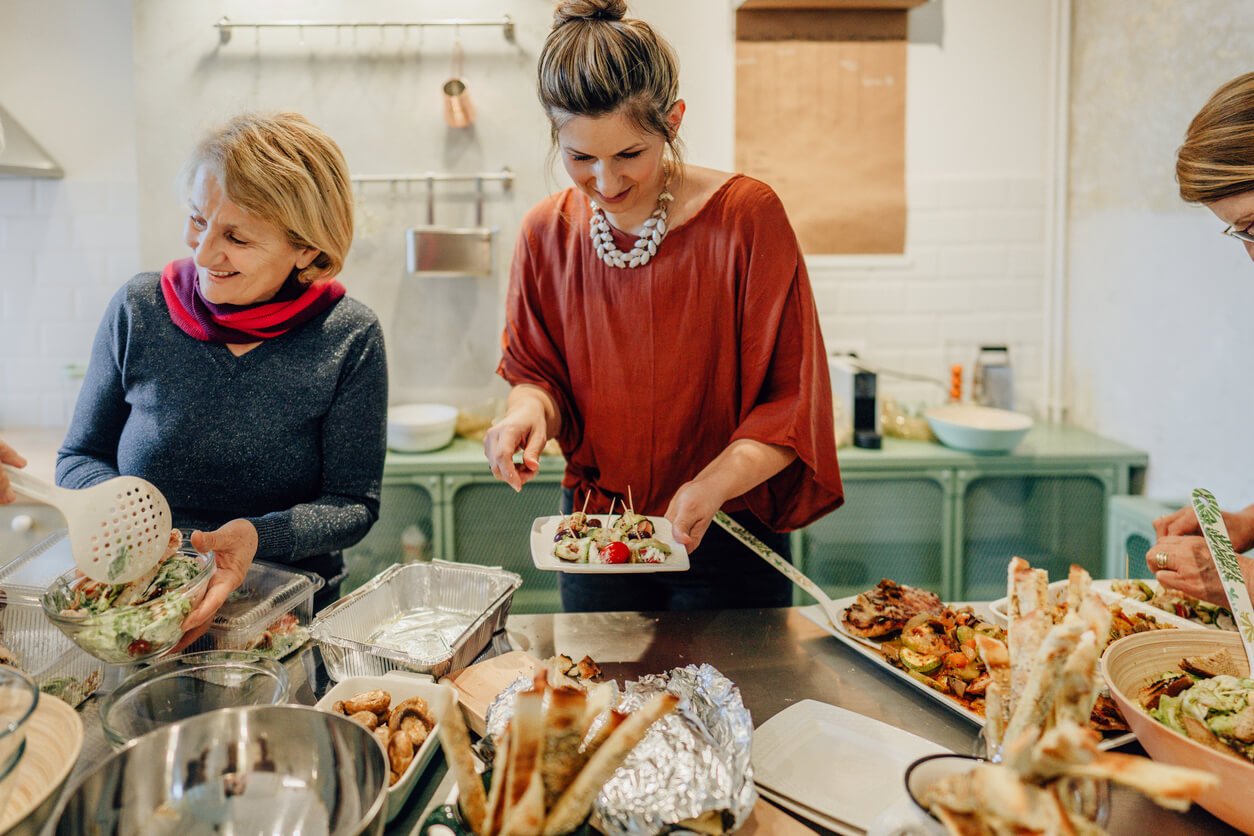 Even if the thought of hosting a holiday meal intimidates you, a bit of advance planning can ease your stress and create a better experience for everyone.
I've been to gatherings where the food was great, but the hosts were so stressed about getting everything perfect, nobody was enjoying themselves. And I've also attended plenty of parties where the food was so-so, but the vibe was relaxed and fun. Luckily, with these holiday meal planning tips and recipes, you can take some of the pressure off yourself while also maximizing both the food quality and festive atmosphere.
1. Consider your guests.
Considering your guests' tastes, lifestyles, and allergies can go a long way towards having a pleasant experience at a holiday gathering. Hopefully, your guests will communicate their needs upfront. But if they don't, or you don't already know their preferences, ask before the gathering, so you can prepare.
With your invitation, consider asking these two questions:
Do you have any dietary restrictions? (Allergies, sensitivities, religious or ethical considerations, etc.)
What are your food preferences? (We can't promise, but we'll do our best to serve food you'll enjoy eating.)
2. You don't have to please everyone.
While it's helpful to know about your guests' dietary preferences, and considerate to do your best to accommodate them, you don't have to twist yourself into knots trying to please everyone. Don't undermine your own health and well-being while worrying about everyone else. There are a couple of ways you can simplify a meal so that everyone can have something they want to eat.
First, consider making "neutral" dishes. It's always easier to add an ingredient to a dish than remove it once it's already in. If you have your heart set on that wild rice salad with dried cranberries and toasted pecans, but a couple of your guests are allergic to nuts, go ahead and make the salad without the nuts, and serve them in a separate bowl on the side.
Second, don't be shy about asking someone with a particular dietary preference or restriction to bring a dish that they will enjoy. Many vegans, for example, love to contribute something to omnivorous gatherings (and are often used to doing so!). And gluten-free eaters may happily bring some gluten-free stuffing for themselves or even to share with the whole crew. Keep in mind that most folks who have dietary restrictions appreciate the heads-up that the menu may not include enough dishes for them, so they can come prepared.
3. Think outside the box.
Holiday meals often have meat like turkey, ham, or goose as the centerpiece. But you don't need to feel obligated to prepare something just because it's traditional — especially if it doesn't align with your values or diet. Consider starting a new tradition when you're the holiday host. You can serve up a plant-based, holiday centerpiece dish like Tofurky. Or take a more whole food approach with a luscious, whole grain risotto or mushroom Wellington.
You can also make a variety of holiday side dishes instead of an entree, so guests can try a bit of everything (this is also a great way to accommodate a range of tastes and dietary preferences!). Or mix it up completely and serve something unique! If meat-eating friends or family insist on having their animal-based foods, you might invite them to bring their own, or you could offer it as more of an optional topping.
4. Consider hosting a potluck.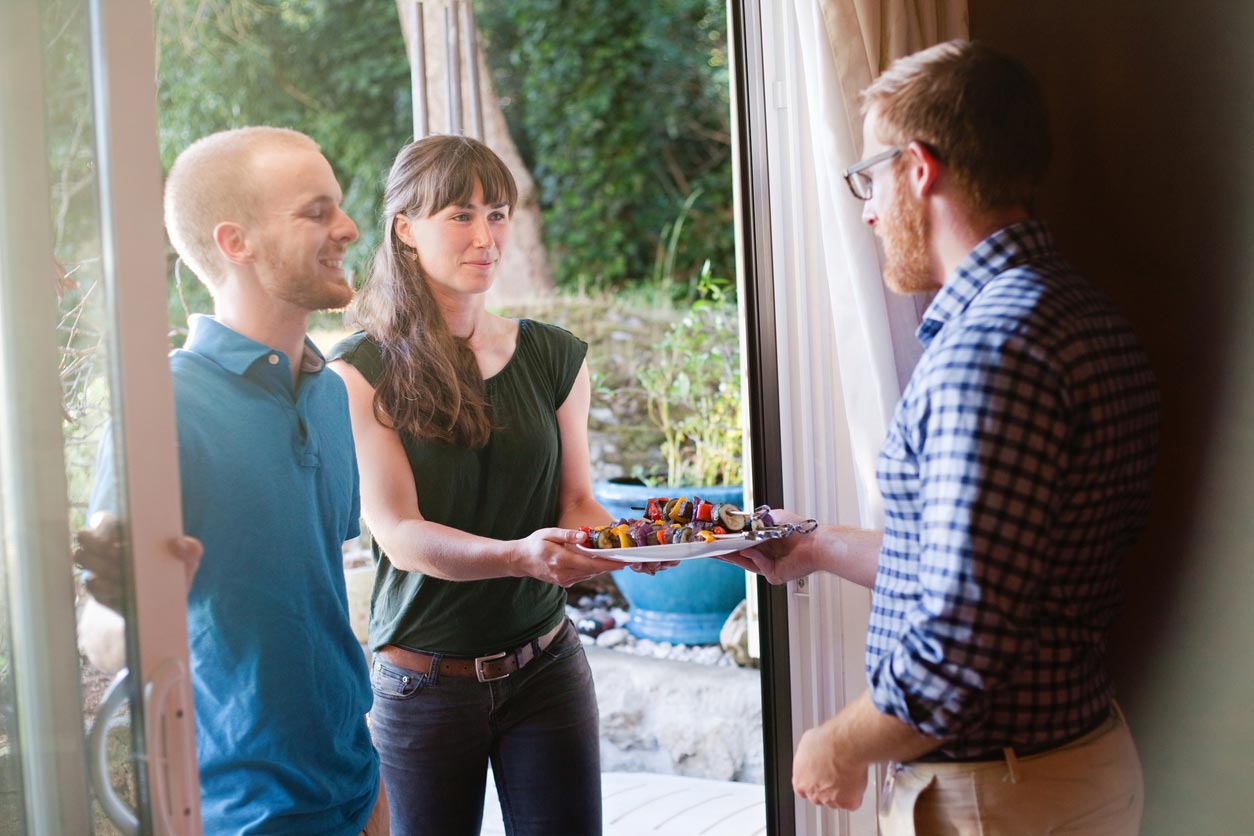 Take the "please bring a dish" strategy global by making your holiday gathering a potluck. This can be an excellent choice if you're hosting a large crowd with diverse diets. In this scenario, everyone now has options they can eat and enjoy — while also taking some of the pressure off you as the host.
To facilitate the process, you could ask attendees to add what they plan to make to a shared document. Or if you don't want to manage the process so closely and are ok with the "luck" part of potluck, assign types of dishes (mains, salads, sides, desserts) based on the first letter of the guests' last names or some other randomization scheme. Then, ask your invitees to post a note on the dish they bring listing the ingredients, also noting if the recipe doesn't meet the dietary needs of someone who will be attending.
5. Don't take things personally.
Try not to take it personally if your friend or family member doesn't eat all the food you made. Each person needs to be in integrity with their own health and values; it's not an insult to your cooking. Instead, try focusing on what they did like or were able to eat, or the non-food aspects of the holiday gathering like the conversation, decorations, sports games, holiday songs, or whatever else you're sharing.
6. Focus on building bonds.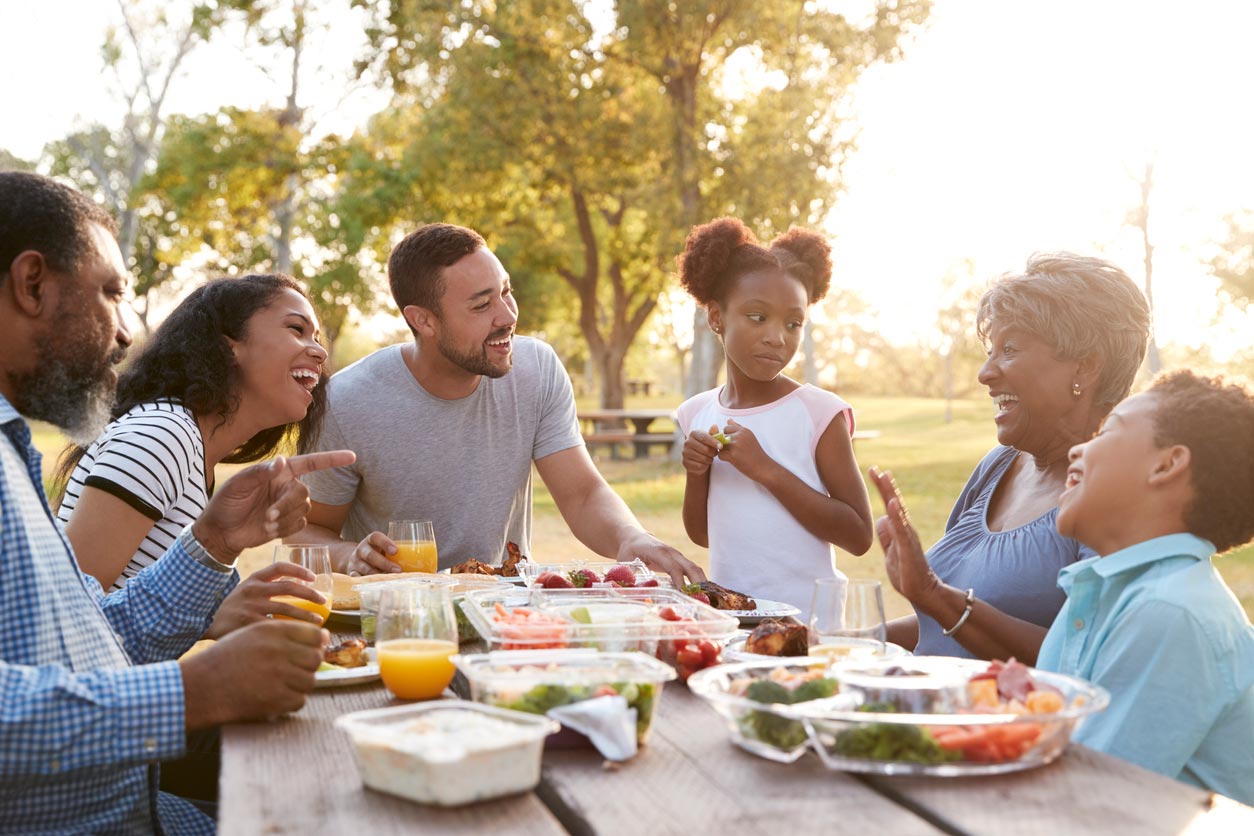 If you're chomping on kale with resentment in your heart, you're not doing your health any favors. The two Vitamin Gs (Gratitude and Generosity) are arguably as important as fiber and phytonutrients.
A lot of research shows that positive feelings and moods are health-promoting. The holidays may be a good time to relax your own dietary rules — for the sake of goodwill with your family and friends. For example, if you typically avoid oil or certain processed foods, a holiday meal with family can be an instance where you can stretch a little if you can do so without damaging your well-being or your integrity.
After all, the holidays are about spending time with loved ones and building fond memories. And sometimes that means being flexible and practicing compassion towards others — especially where there are differences. This doesn't mean you have to compromise your values or your health. It just means that the holidays are an excellent time to be particularly thoughtful and generous.
7. Discuss topics that may unite, rather than divide.
Here are some ideas you can use for your holiday event:
Ask about what's going on in people's lives.
Talk about hobbies and interests.
Ask about the best things that have happened in the last year, or about your hopes and dreams for your life in the year to come.
Ask for recommendations for favorite TV shows, movies, music, podcasts, and books (including cookbooks!).
Have each person to say three things they are grateful for.
When possible, focus on gratitude, humility, and being thankful for having food to share, as well as things like family, friends, and a home.
8. Remember that it doesn't have to be all about the food.
Because our gatherings and celebrations typically include food, we have a tendency to make food the centerpiece of the whole experience. If you play a word association game and say "Thanksgiving," what will people say in response? Probably "turkey," "stuffing," and "cranberry sauce." The historical and spiritual significance of the holiday typically takes a back seat. Some people even call it "Turkey Day," which is unfortunate for many reasons, including that it ignores the central idea of giving thanks.
While food is a pleasurable aspect of holiday gatherings, it doesn't have to be the make-or-break element of the whole experience. Include rituals that highlight the meaning of the holiday. Focus on togetherness, on building memories, and on weaving community together. And try to leave any judgment behind with the understanding that not everyone will have the same dietary preferences as you or even the other guests.
Ideas to Consider for Easy, Stress-Free Holiday Meal Planning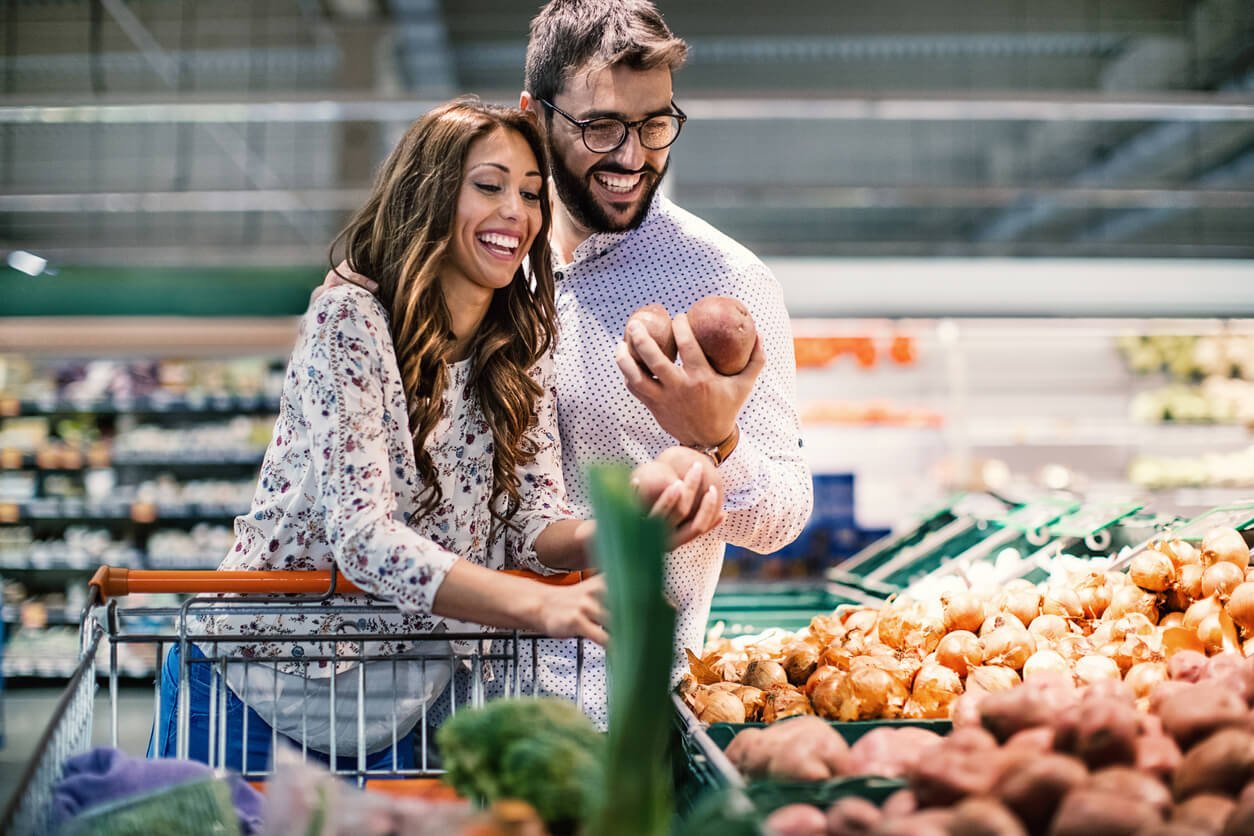 Send invitations early. People can get very busy around the holidays.
Plan your holiday menu well in advance and prepare what you can ahead of time (certain dishes freeze well, and no one will know you didn't make it that morning!).
Do as much of the grocery shopping as makes sense — things like spices, grains, legumes, and frozen ingredients — earlier rather than later (you know what grocery stores and markets are like right before a holiday).
Then save your produce-buying for a few days before your gathering, but before the selection is picked over.
Plan a schedule for when to serve food.
Clean the house before the gathering. As you clean, play music you love, and focus on making your home welcoming and calm.
Set the table early — perhaps even the day before.
Alcohol is often an expected part of holiday gatherings. If you don't have anyone wanting support in recovery, you may want to consider serving both alcoholic and non-alcoholic beverages (like mocktails) for kids, drivers, and those who prefer not to imbibe. However, if you don't want to serve alcohol, consider asking guests to bring their own or not bring it at all (and let them know it will be a sober celebration).
Choose festive and relaxing background music ahead of time.
Delegate tasks, including grocery shopping, chopping and prepping food, dishes, and clean-up, and setting the table, to willing friends and family members. Make it part of the experience that everyone shares.
For more tips on maximizing meal prep, check out this article.
Holiday Menu Ideas: Healthy Holiday Recipes for a Festive Feast
Whether you're looking for healthy holiday recipes to create a memorable and successful Christmas dinner, or you observe another holiday, these menu ideas will help you create a gathering everyone can enjoy.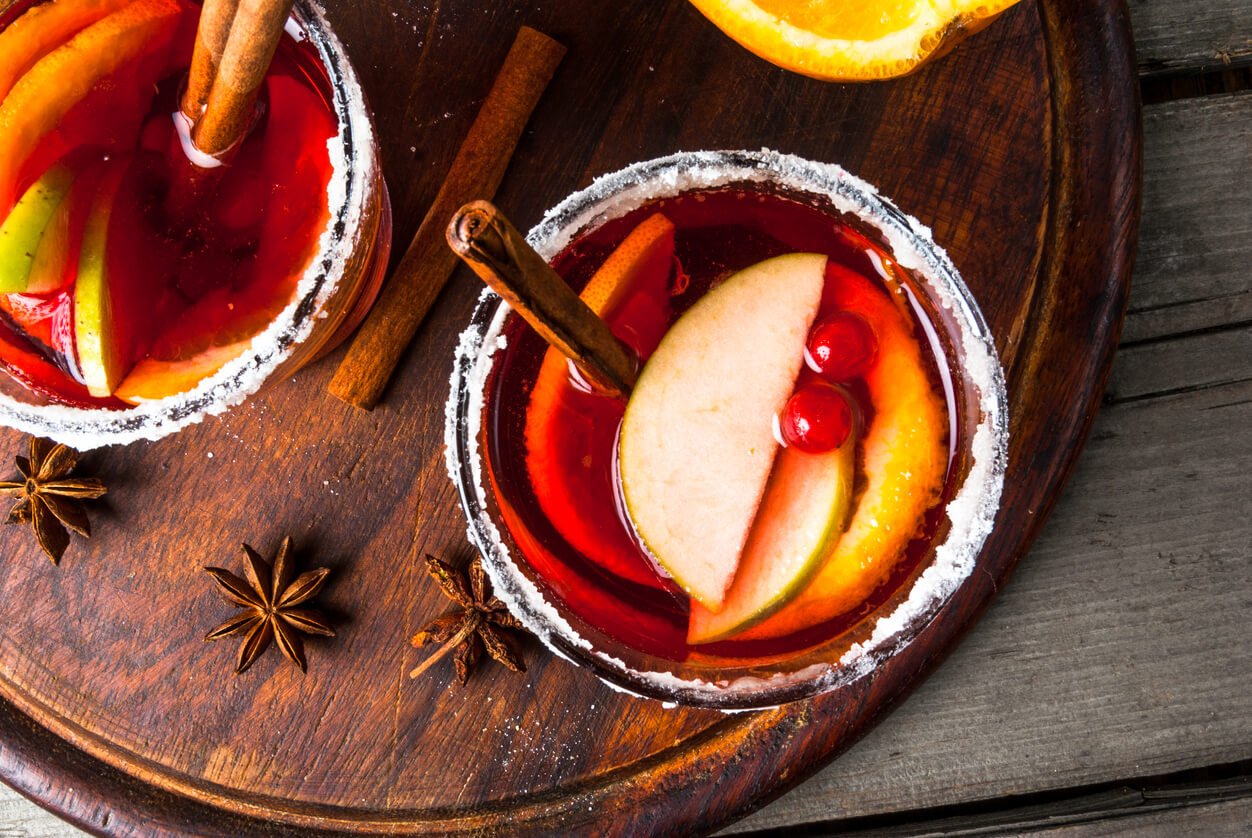 It's a good idea to plan for a variety of dishes at a holiday gathering. But if you're trying out new recipes like the ones below, it's best to make them at least once before the event, so you can be sure you like the dish or to make any necessary tweaks.
Festive Holiday Beverage Ideas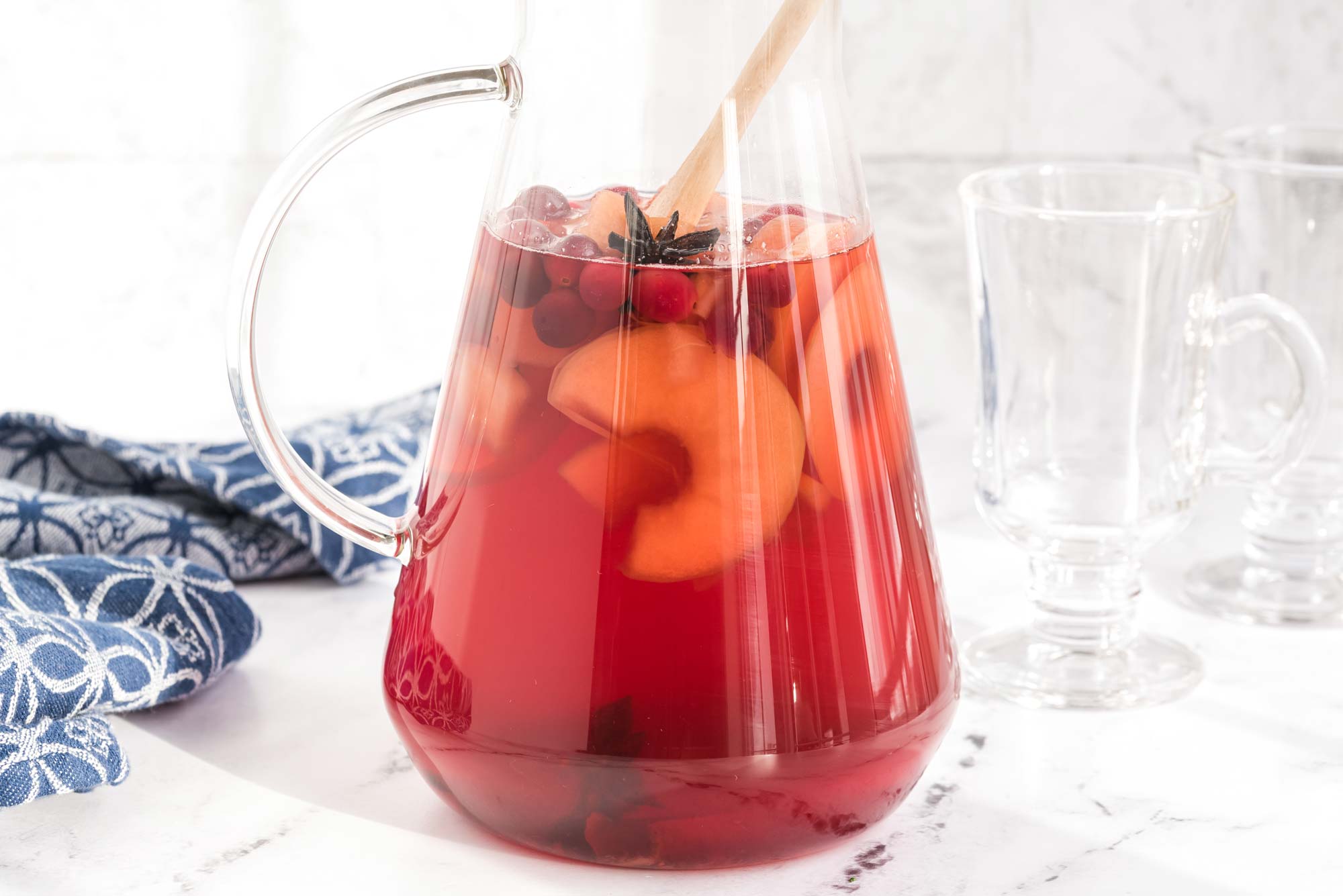 Open your home and create a feeling of warmth as soon as guests arrive with the natural aroma of cinnamon, apple, and cranberry through this Slow Cooker Cranberry Apple Cider, made with 100% cranberry and apple juices (no sugar added!)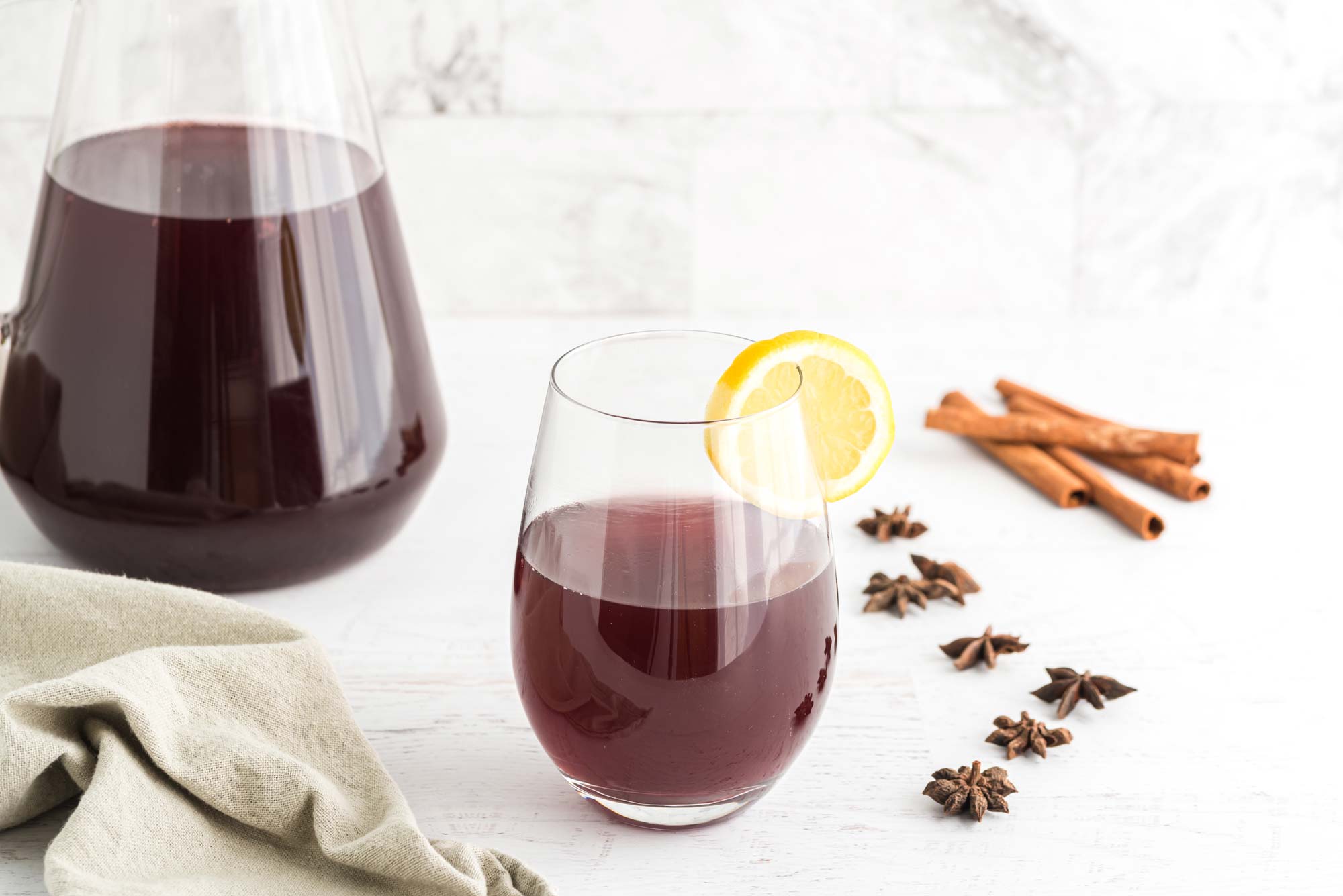 There's no need for alcohol when you have this antioxidant-charged beverage on hand that will naturally lift spirits with its powerful phytonutrients and festive flavor. Sip on it while you toast the holidays and celebrate your loved ones.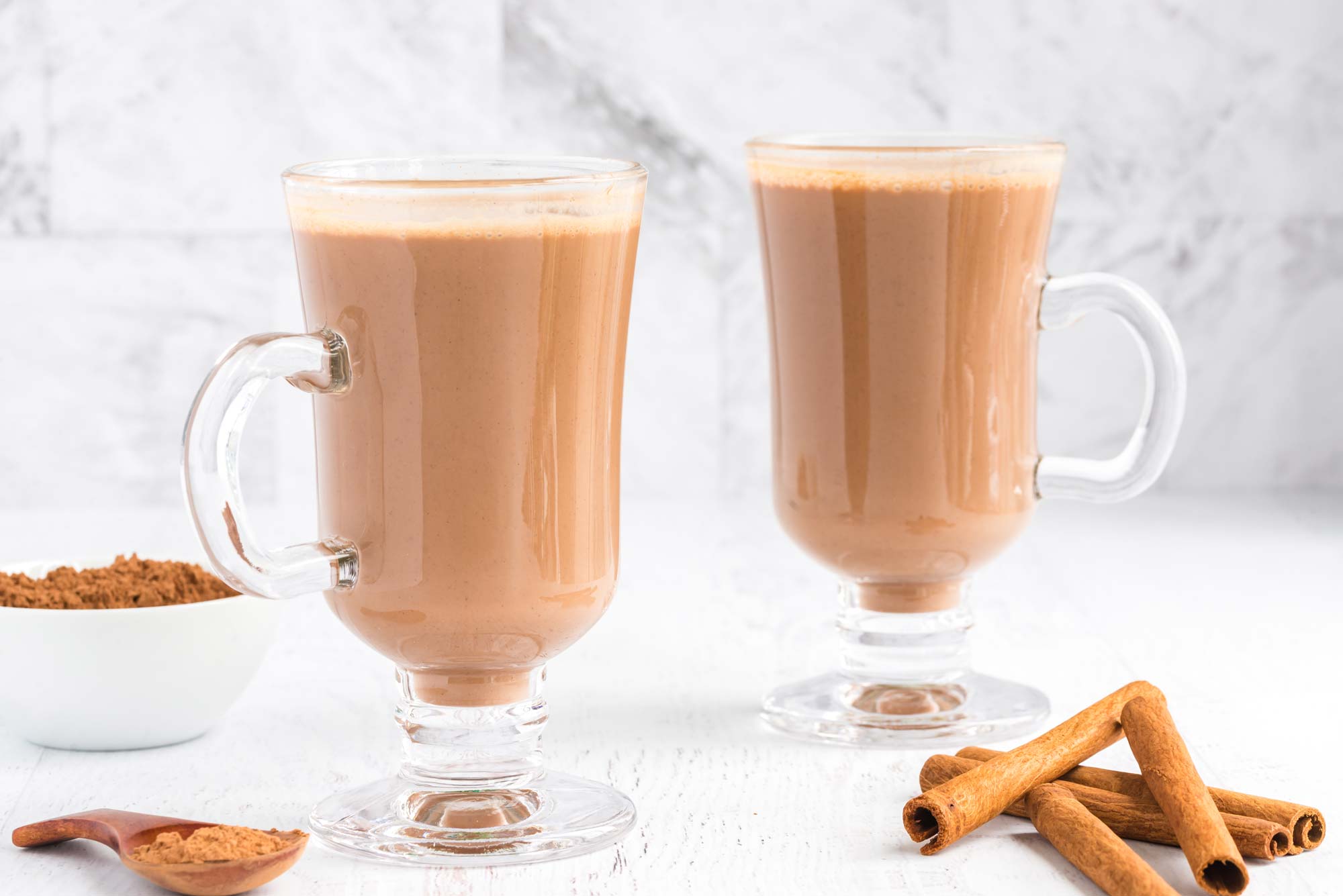 Spicy Aztec Sipping Chocolate originates from the ancient Mesoamerica tradition over 3,000 years ago that used "xocoatl," or chocolate, as a symbol of strength and health. What perfect symbolism when looking forward to the new year. Cheers!
Holiday Appetizer Ideas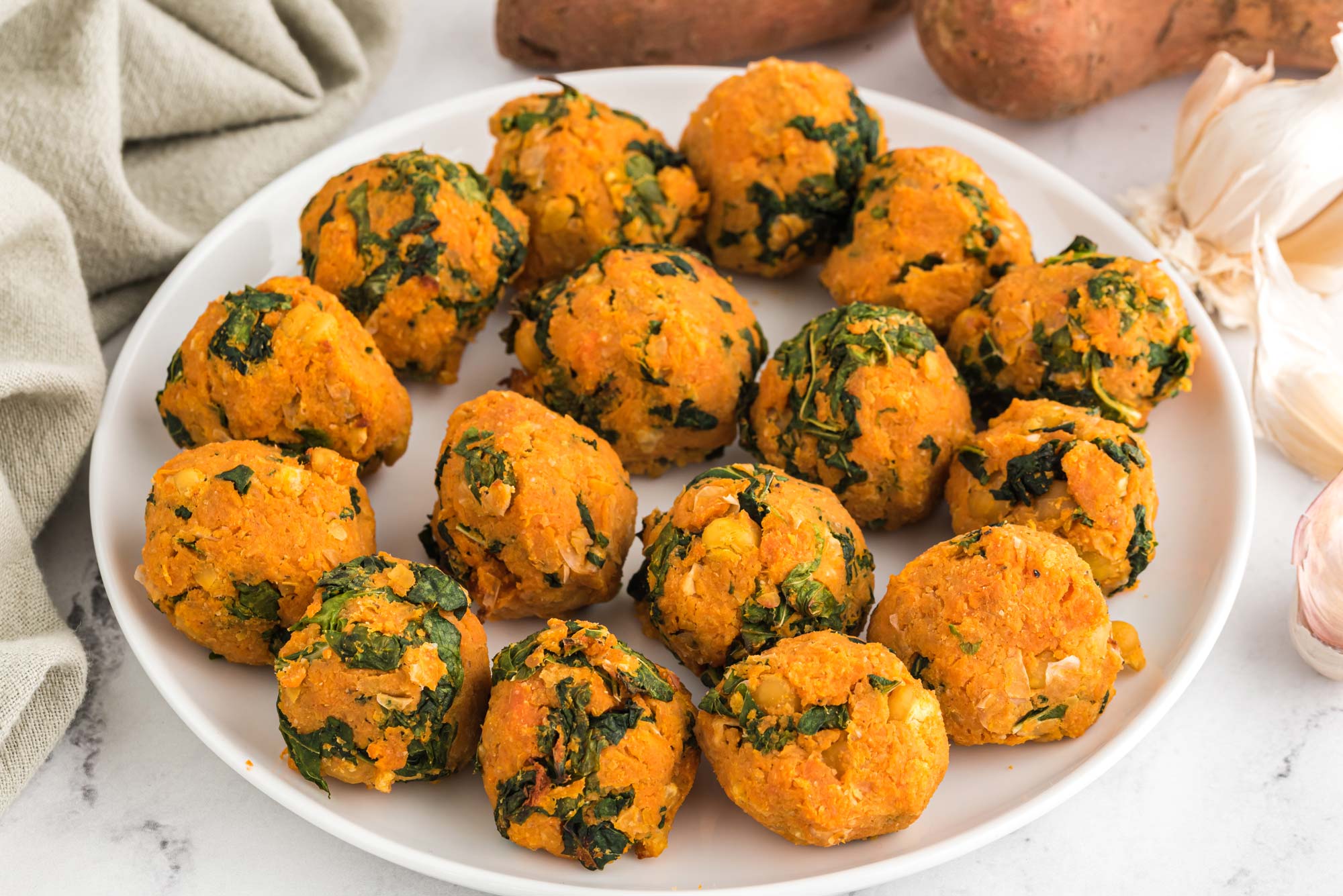 Adding a pop of color to your appetizers with these Sweet Potato Kale Bites will not only pique the interest of your holiday guests, but these bite-size nuggets will also intrigue their palates. Crispy on the outside and soft on the inside, this festive appetizer is sure to be a crowd favorite.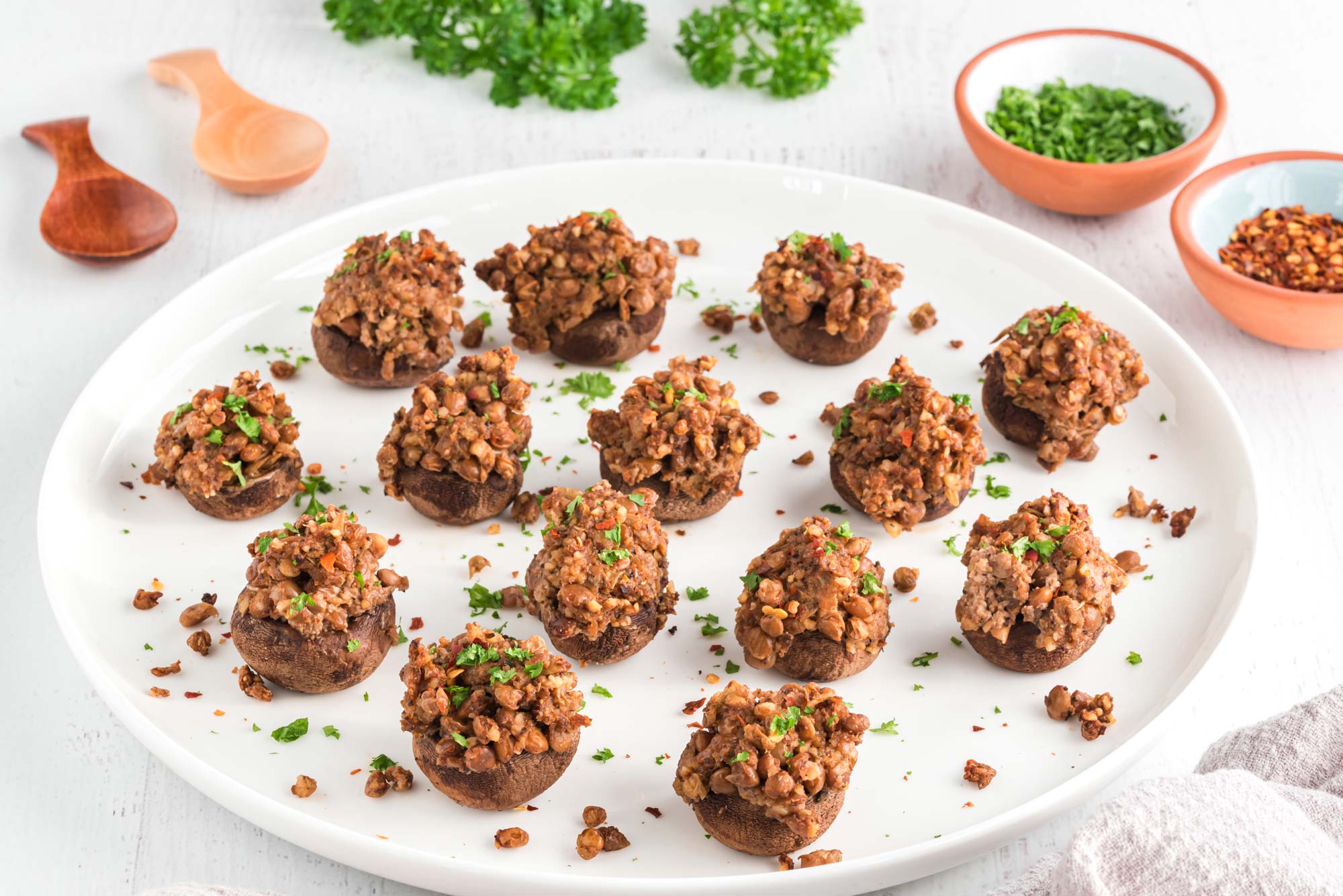 The aroma of toasted walnuts is warm and comforting, perfect for the fall and winter holiday season. When you combine the toasted walnuts with warm lentils, and then add the nutty mixture to baked mushrooms, you get a hearty, flavorful, and exquisite appetizer that will enchant your holiday guests.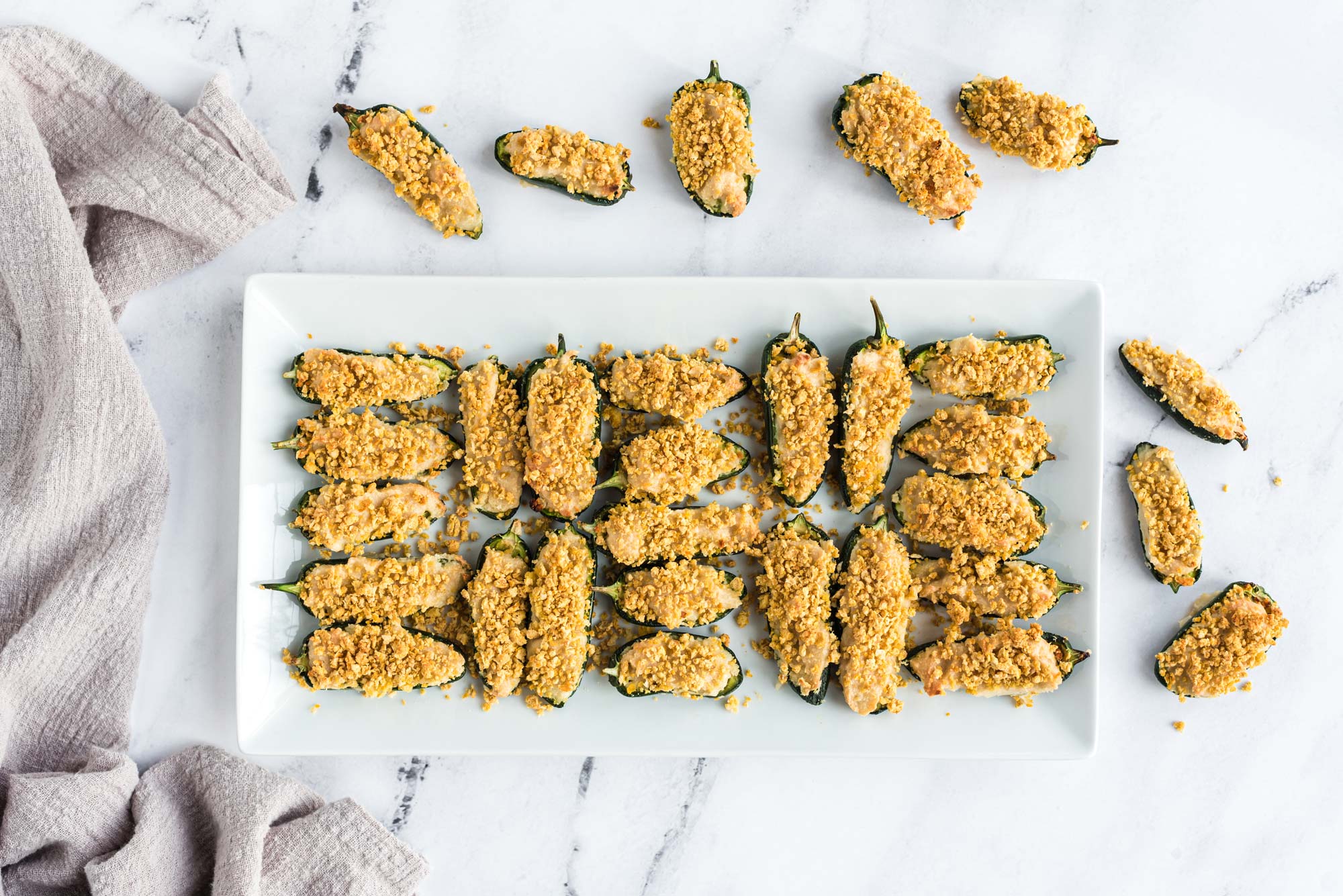 Spice up your holiday party with this festive and tasty pop-in-your-mouth appetizer. Cashews serve as the base for cream cheese, and chickpeas pose as a crunchy breadcrumb topping in this dish. Get ready! Jalapeño Poppers might just turn your holiday guests on to plant-based eating!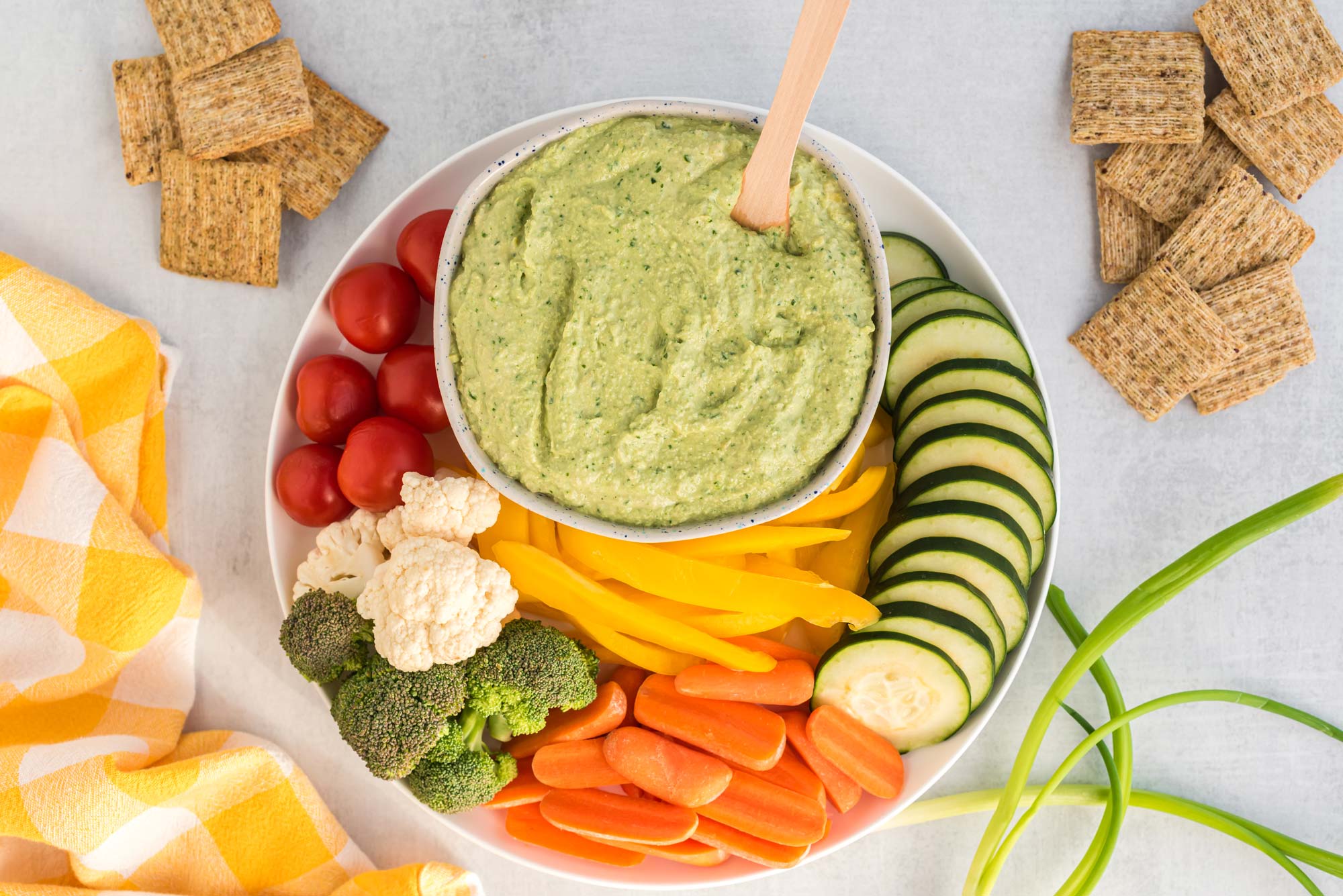 Something magical happens when you blend spinach with artichokes and cashews — they create an ooey-gooey sea of synergistic deliciousness packed with nutrition. This seemingly indulgent dish is also very simple to prepare. Serve it as a veggie dip, spread it on flatbread, or layer it with potatoes, then bake as a casserole.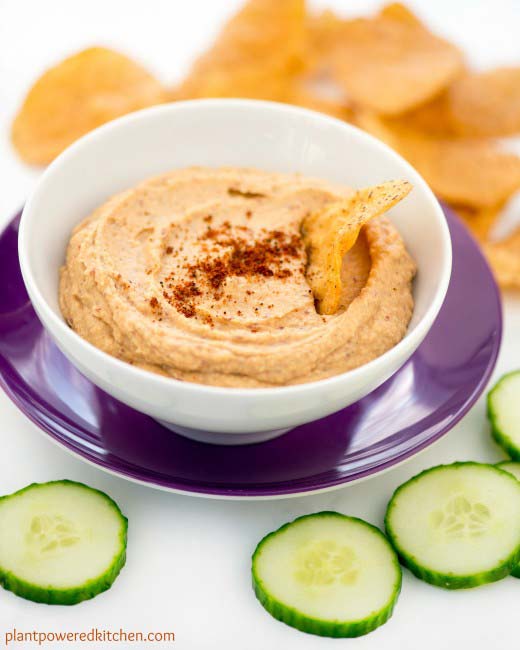 Hummus might seem too ordinary to serve at holiday gatherings, but homemade hummus made with spiced sweet potatoes promises to be a new and irresistible dip for your guests (plus, who doesn't love hummus?). Creamy and sweet with a bit of tang from lime juice, there's just enough chili powder and cinnamon to give it flavor without too much spice!
Wintery Soup and Salad Ideas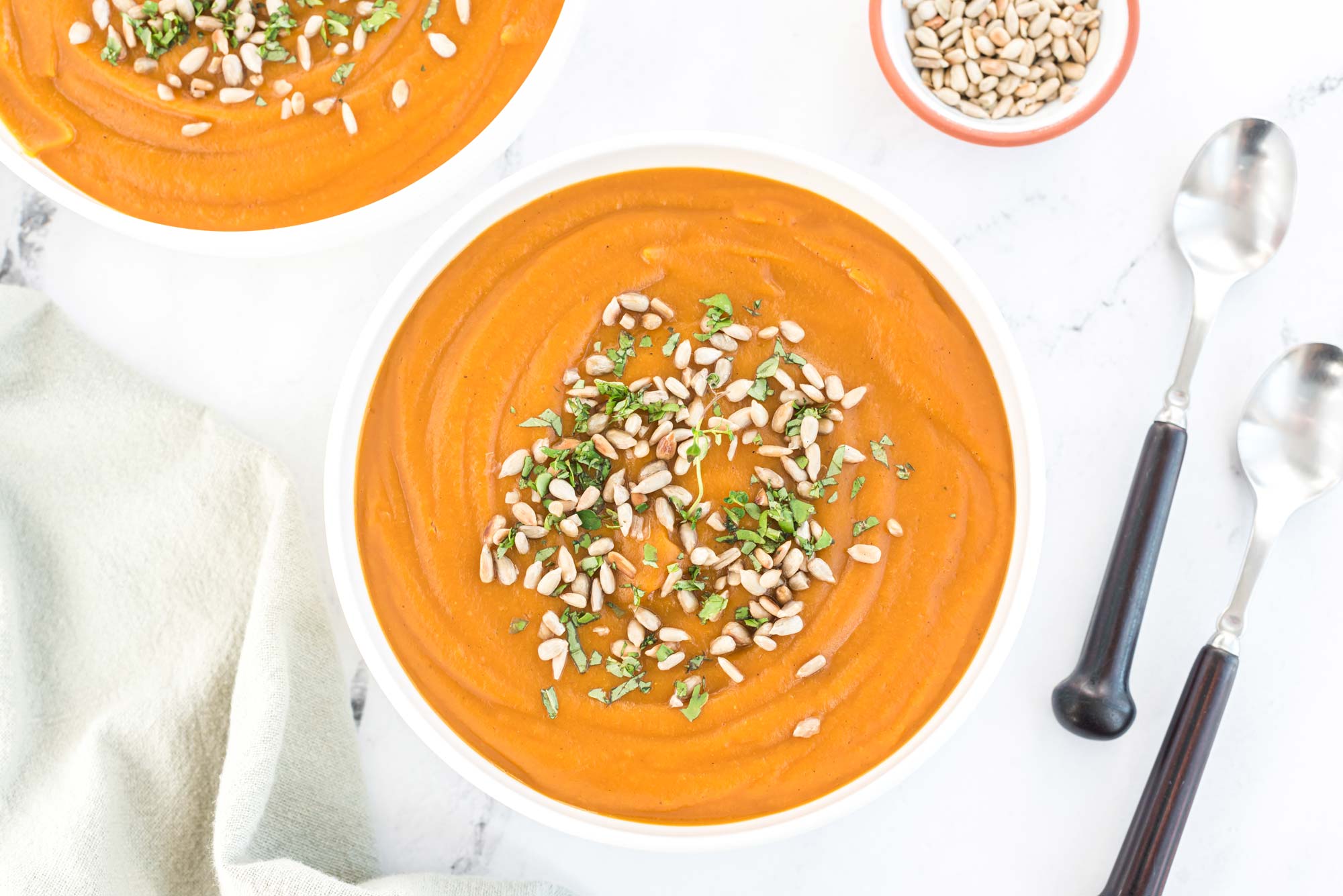 Warm the hearts and bellies of your holiday guests by serving this creamy and comforting soup that uses nutrient-rich carrots and sweet potatoes as its base. The root veggies get their vibrant orange colors from carotenoids, compounds that act like antioxidants in the body, scavenging free radicals and protecting you from lifestyle diseases. They're also both packed with fiber, making this soup gut-loving and satisfying.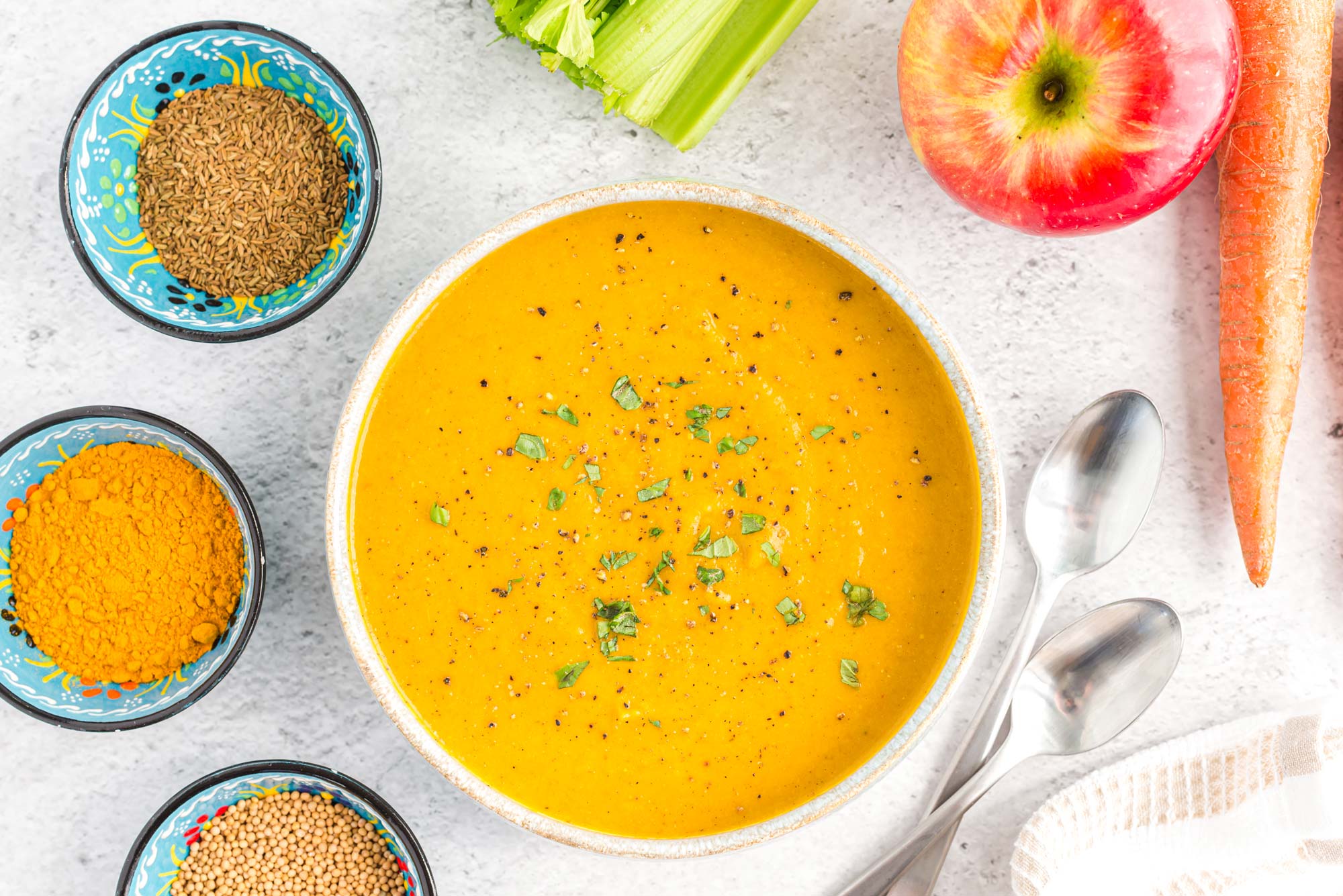 This nourishing soup tantalizes with flavors of apple, ginger, onion, and spice — it's delicious and healing. Prepare it before guests arrive, so its aroma greets them as they walk through the door. And serve it before your main meal to whet their appetites in the best way possible!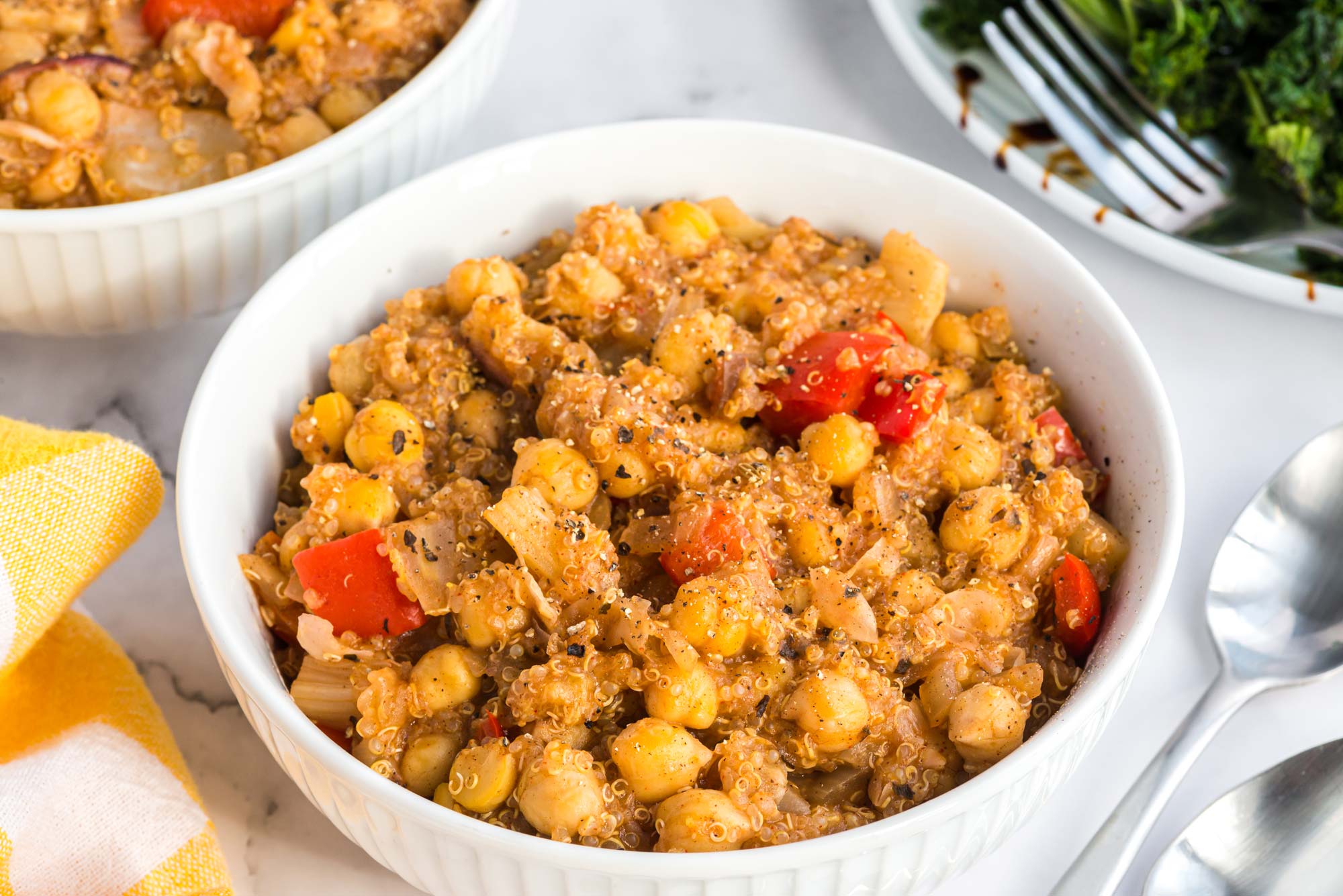 If you're feeding a large group of people for the holidays, then there's nothing better than making a dish that's easy to serve, tastes delicious, and takes minimal preparation for many people. This dish is a cross between a casserole and a stew. It's cooked on the stove-top, much like a stew, but is much more like a casserole in texture. The quinoa and chickpeas are simmered with warm, earthy spices, and balanced with the sweetness of dried figs and sautéed fennel. It's perfect for the holiday season!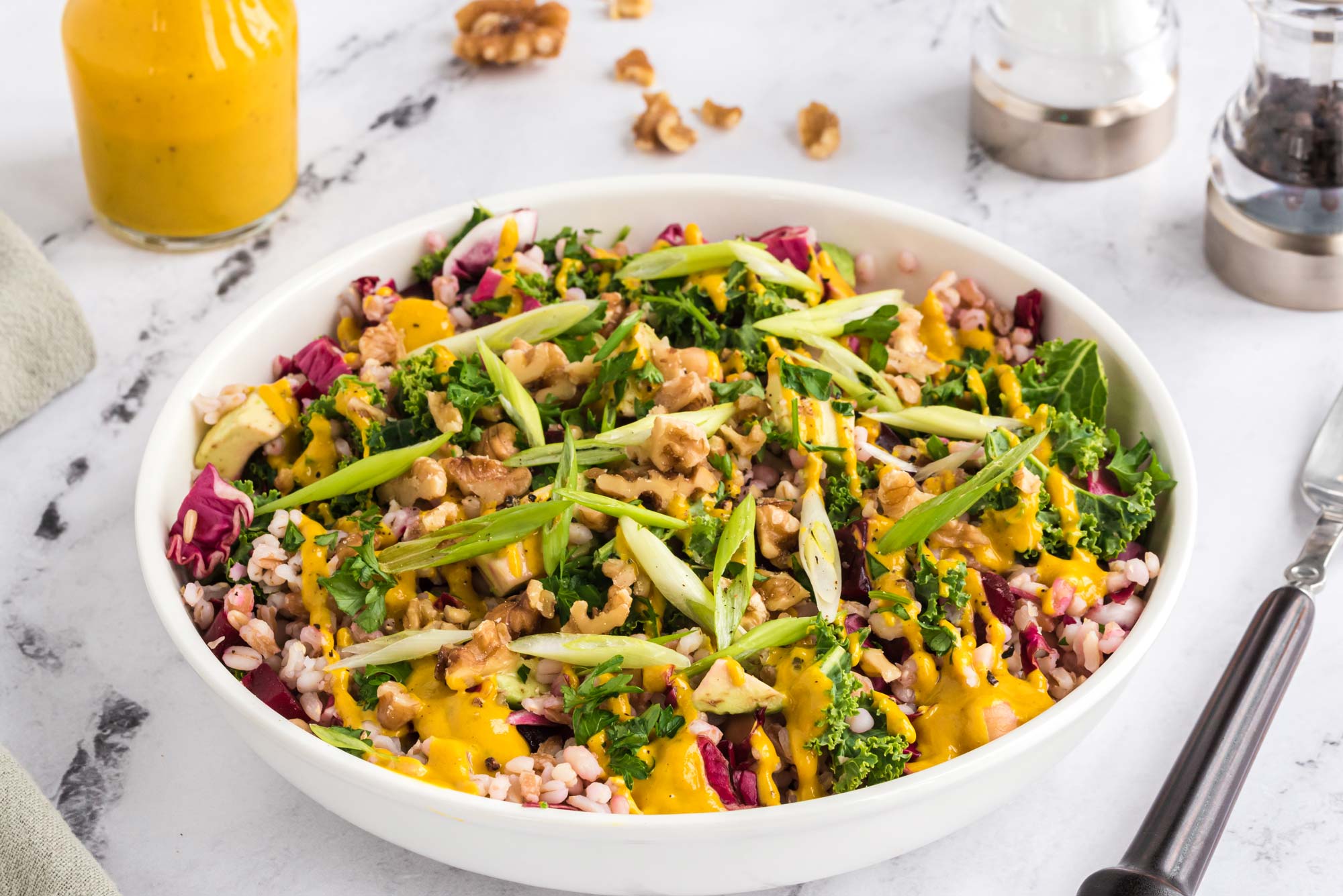 Warm grains mixed with winter veggies create a hearty salad that is both satisfying and nourishing to the body and soul. Not to mention, the array of colors brings lots of holiday cheer — this meets our definition of festive!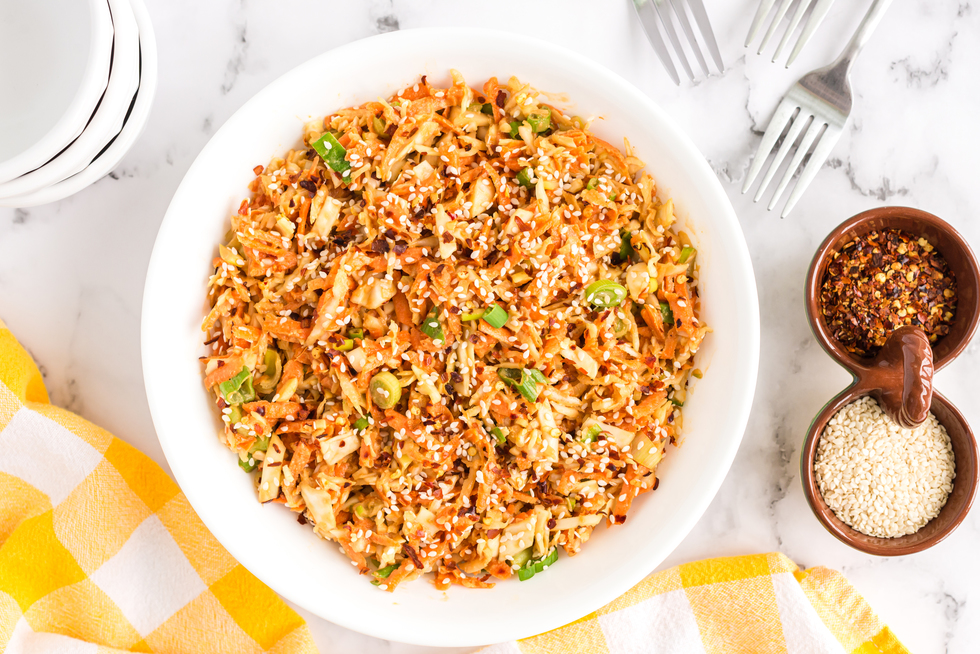 Versatility is the name of the game with this savory slaw that has versatility as a side, an appetizer, or perhaps as a topping on plant-based "cheese" and crackers. No matter how your holiday guests enjoy it, the flavors pop, and the crunch is super satisfying. Don't be surprised if they ask you for the recipe!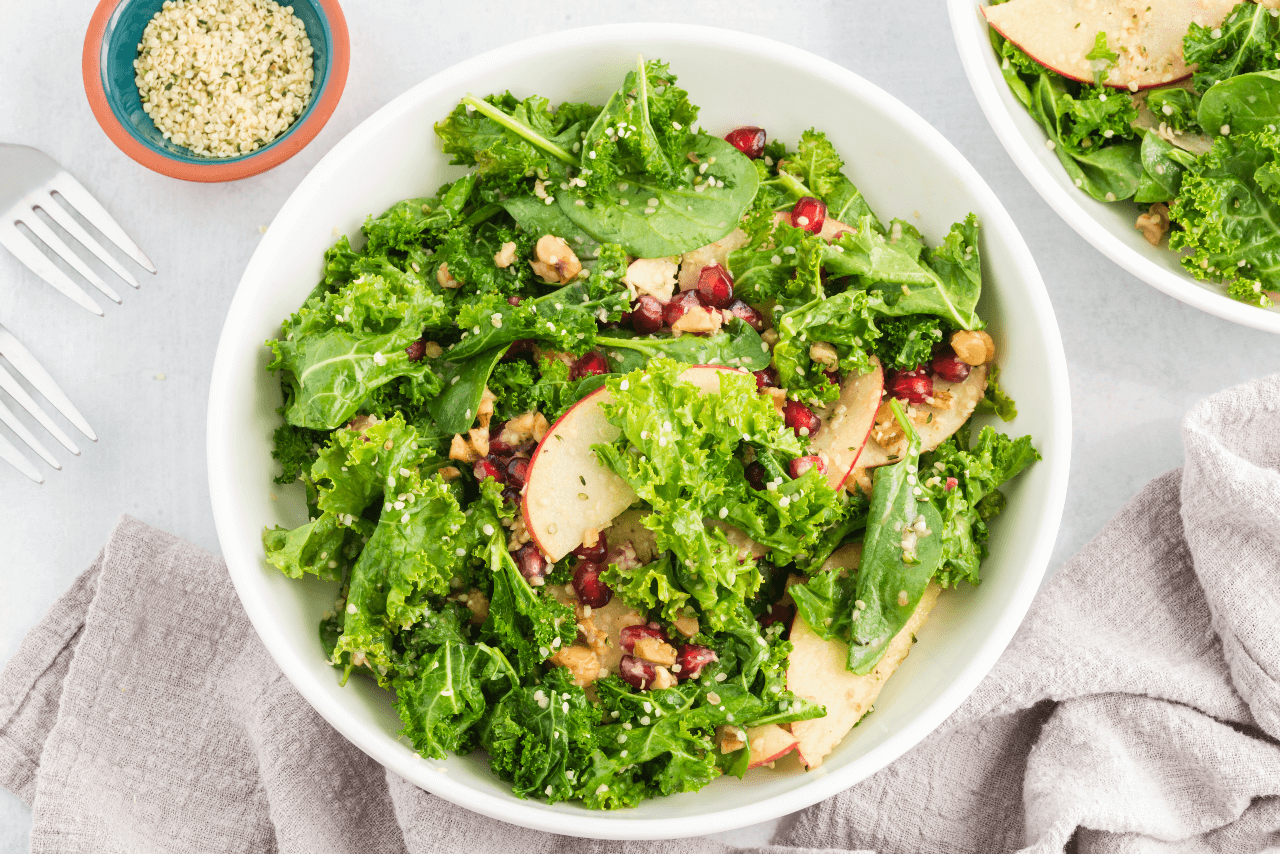 Vivid green kale leaves paired with vibrant red pomegranate arils make for the most festive salad of the year that also tastes incredibly delicious. Kale lends earthy flavors, pomegranate brings juicy brightness, walnuts provide nutty goodness, and apples add some natural sweetness. Your holiday guests will rave about this dish!
Holiday Entrees to Wow a Crowd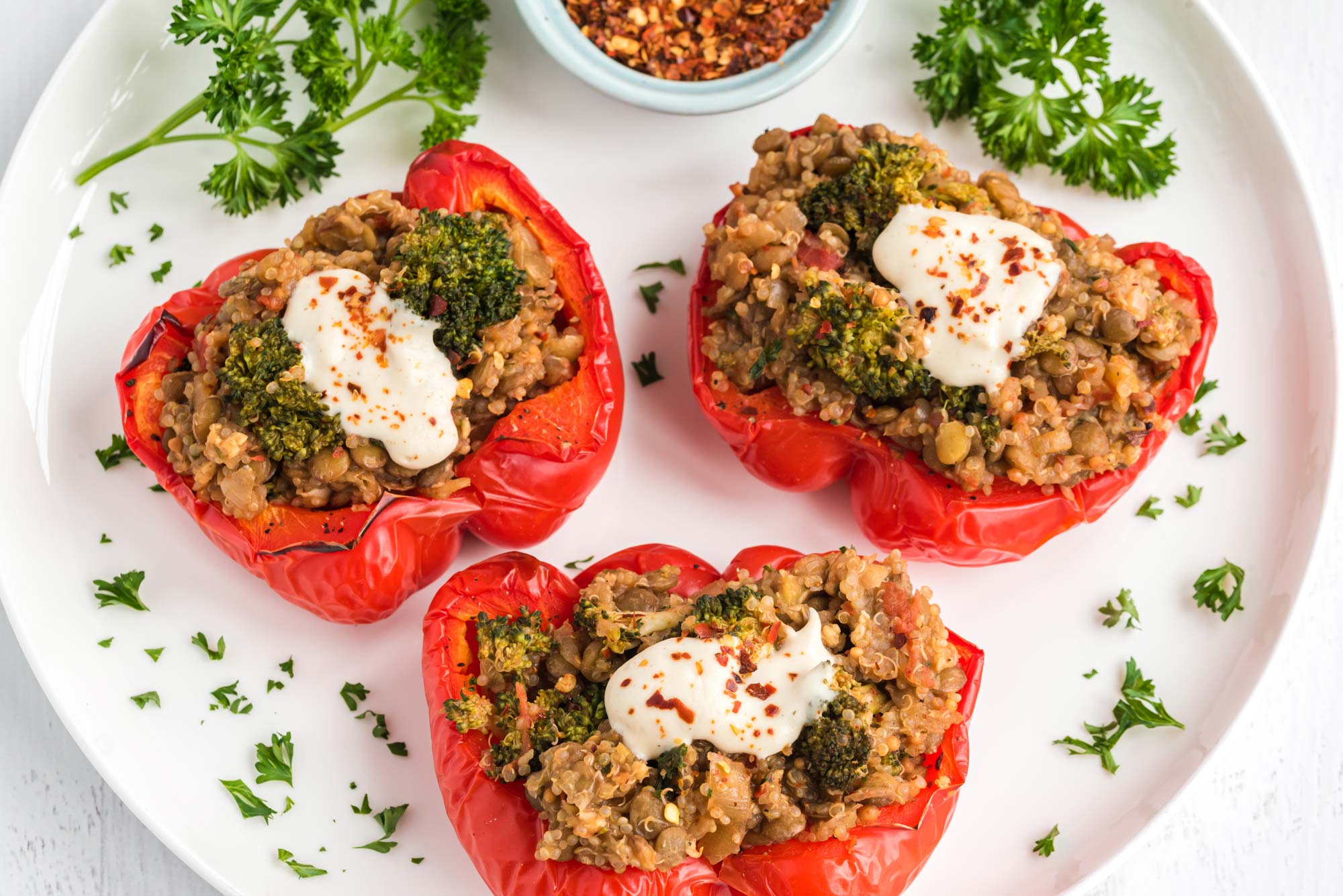 Nourish your family during the holiday season with these Lentil and Quinoa Stuffed Peppers that will permeate your home with their aroma as you're making them. What's more, these delicious beauties are gluten-free and dairy-free, covering two common allergens that can sometimes make it a challenge for families to enjoy meals together.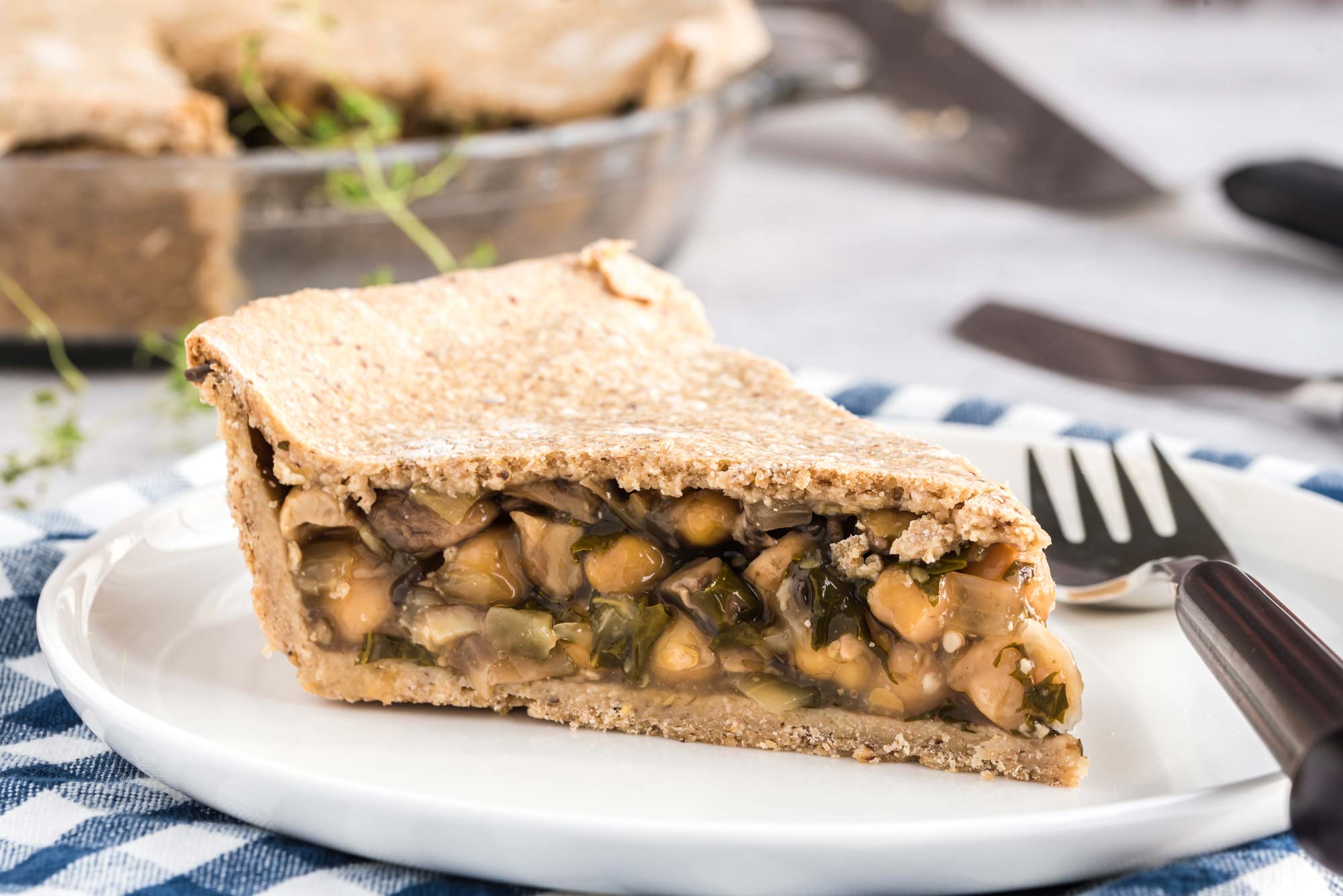 Keep friends and family happy and healthy throughout the holiday season by sharing this Mushroom and Kale Pot Pie. It looks, smells, and tastes indulgent and is also super nutritious! Immune-supporting mushrooms, nutrient-dense kale, and pathogen-fighting aromatics bring an irresistible combination of flavor, textures, and nutrition to this tasty pie.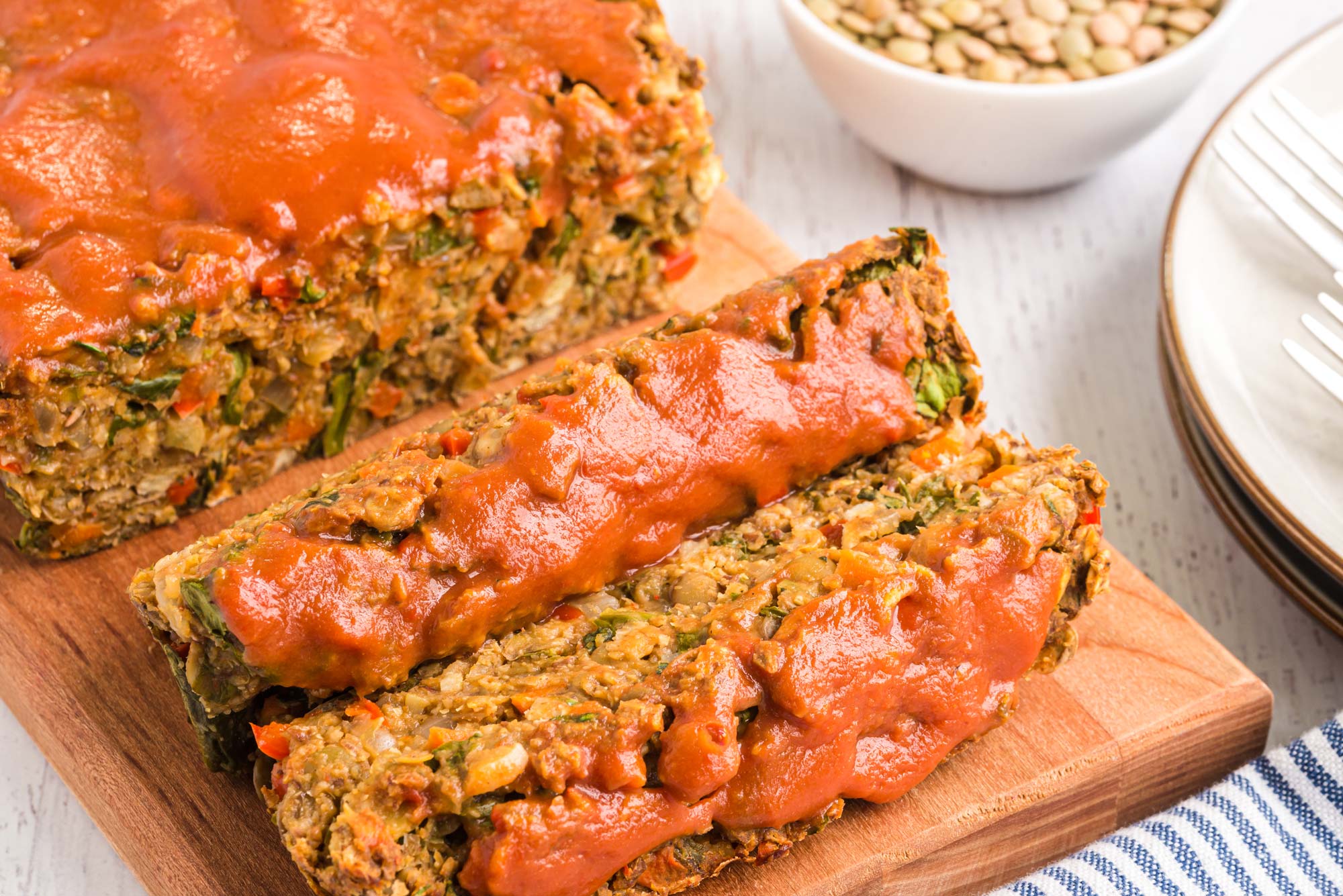 Not to be confused with traditional meatloaf, this lentil loaf is loaded with fiber, phytonutrients, vitamins, minerals, and omega-3s. Enjoy it alongside mashed sweet potatoes or roasted winter veggies (pro tip: roast the vegetables while you're cooking the lentil loaf).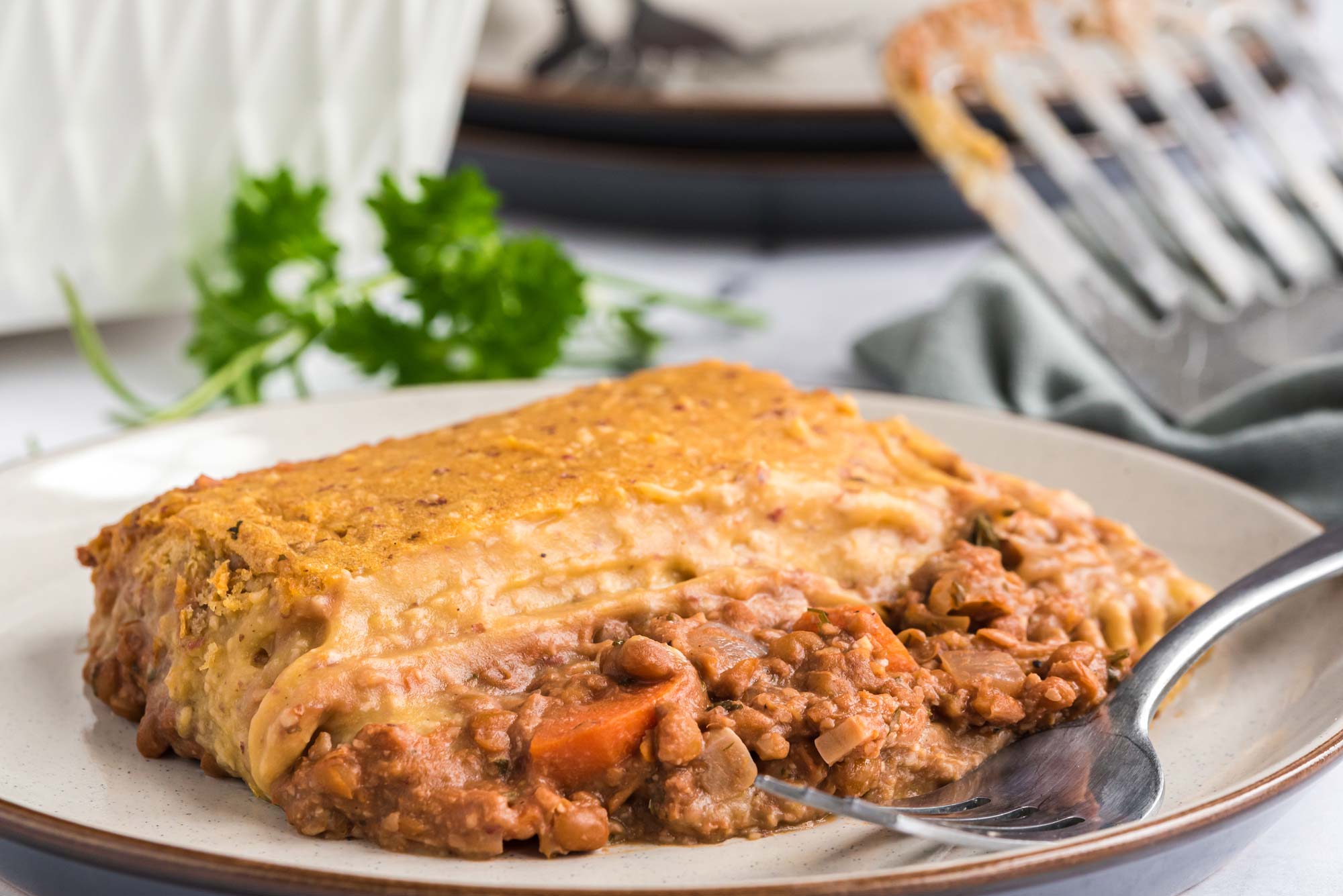 Turn on the holiday tunes and get ready to feel the festive mood as you're making this delectable Shepherd's Pie that the entire family is going to enjoy. The brightly spirited mood combined with the deep comfort of this traditional dish will make your guests feel well-loved!
Time to get cozy for the holidays! Similar to how a fat — like whipping cream or butter — is folded into traditional risotto just before serving, a fresh cashew cream sauce adds a lot of body and flavor to this whole-grain risotto. Comforting, soothing, and delightful, this dish will keep you warm from your head to your toes this holiday season.
Holiday Side Dishes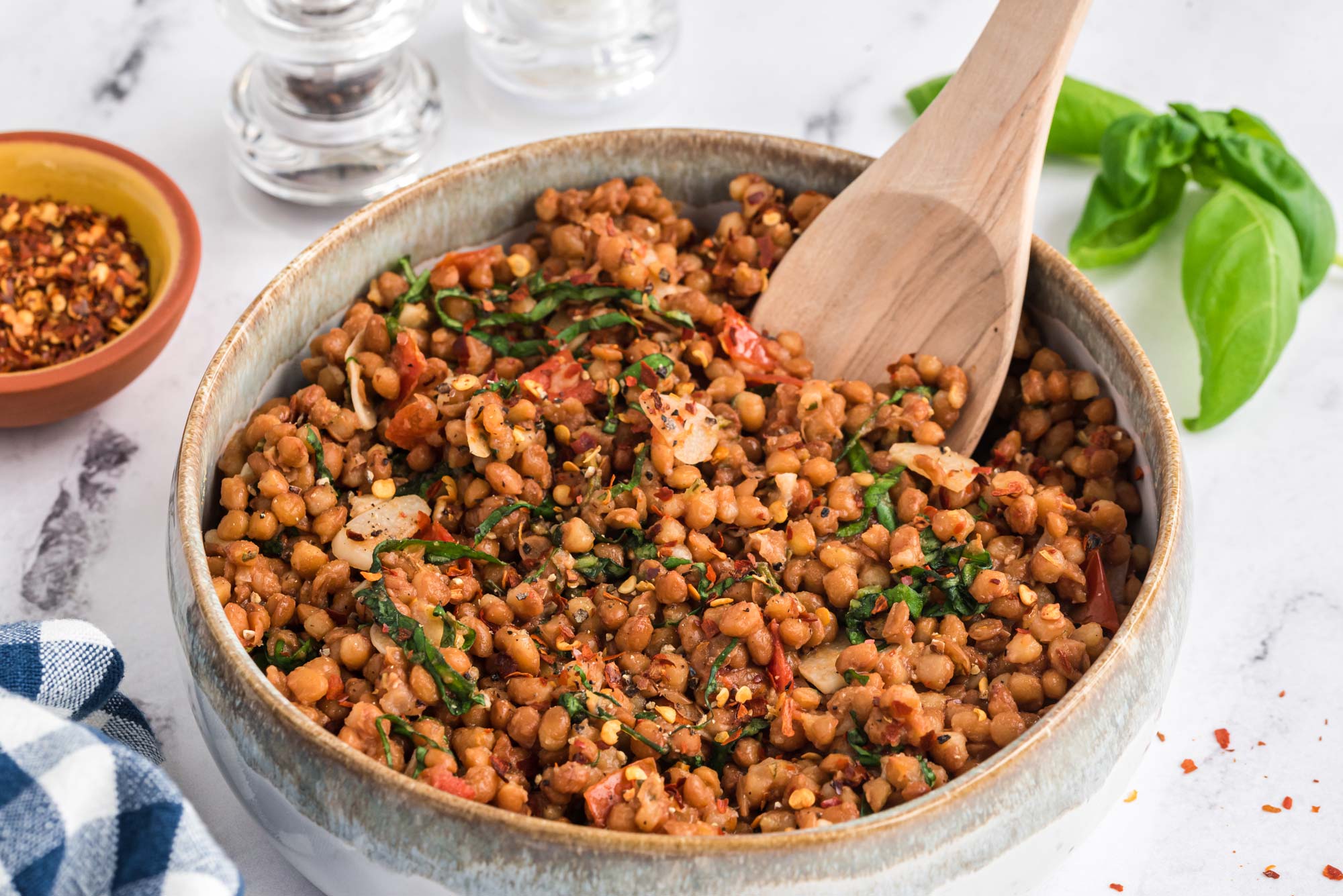 Warm lentils mixed with fresh rosemary and healing garlic will bring feelings of well-being and comfort to your holiday table. Serve them as a warm salad, on top of sliced whole grain bread, or as a part of a plant-based charcuterie board.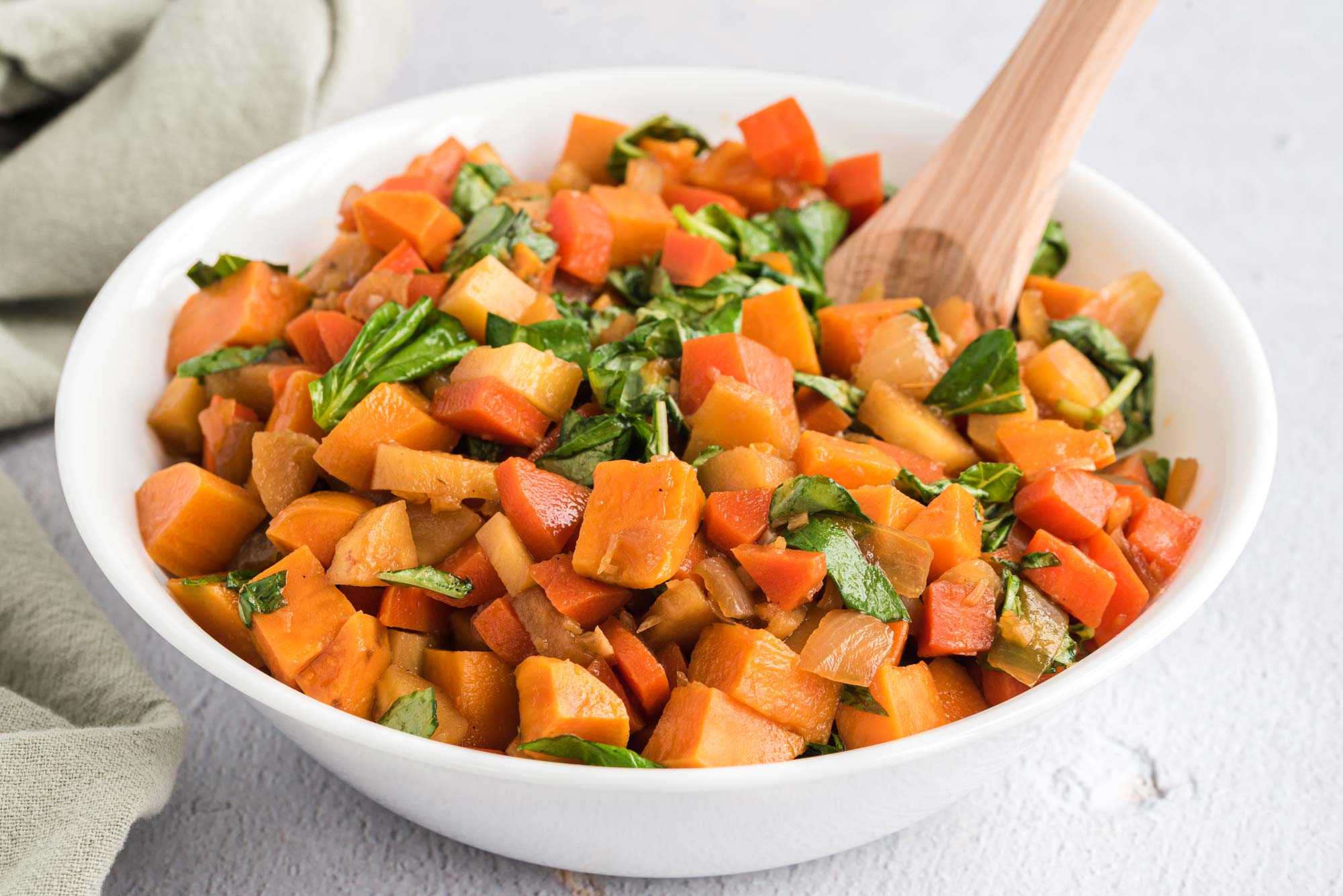 Three-Cup Vegetables is historically called Three-Cup Chicken and usually calls for braising the bird in rice wine, soy sauce, and sesame oil with plenty of ginger, garlic, and basil. Here, root vegetables take the place of the chicken, making this dish low in saturated fat, cholesterol-free, and high in vitamin C, beta-carotene, and fiber. Serve it as a festive and flavorful side, or make it a full meal by doubling the sauce and adding organic tofu.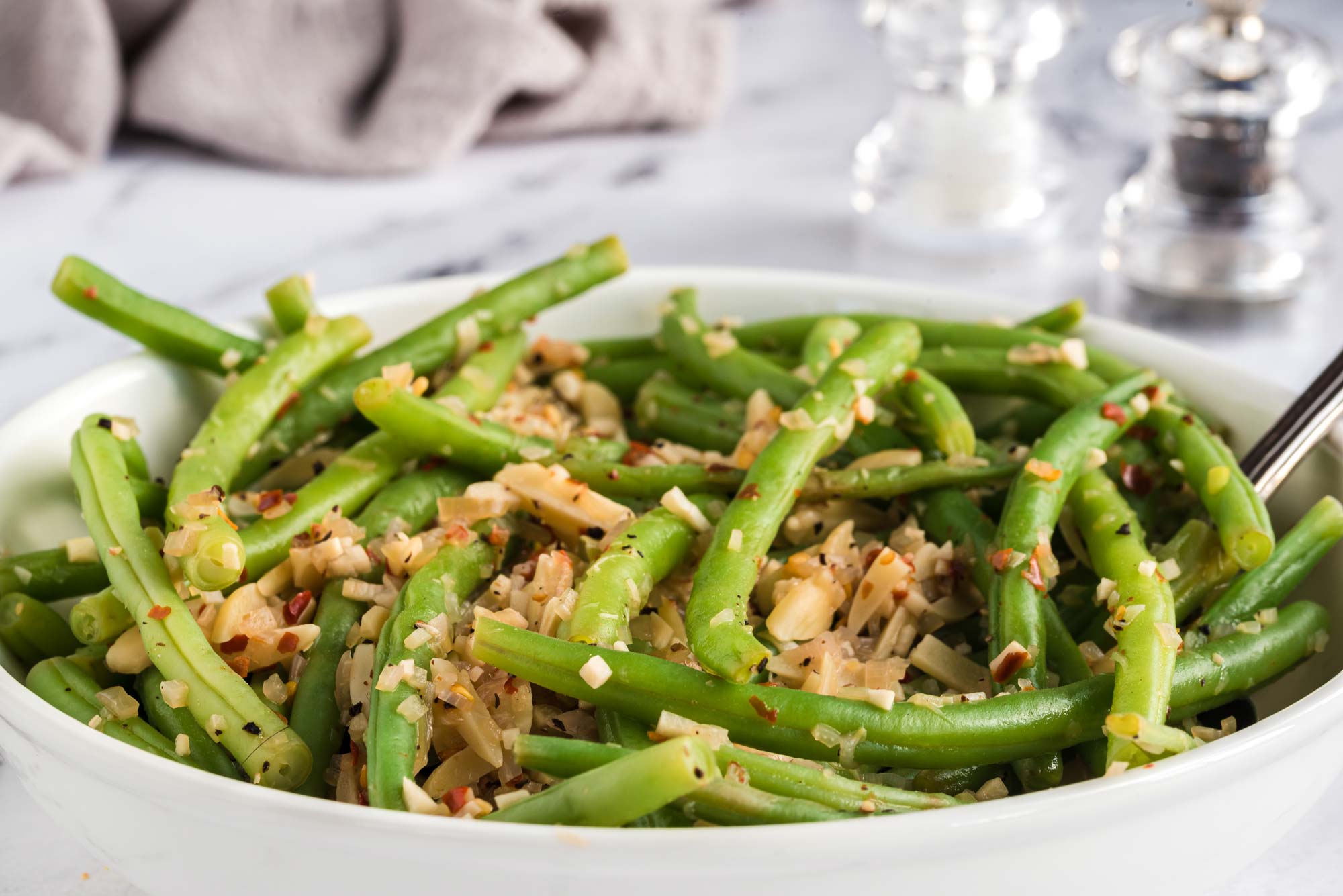 This classic dish gets a healthy facelift by omitting the butter and oil and keeping the fiber (green beans and almonds). This version also adds lots of aromatics (shallots and garlic) and a little crunchy sweetness (again, almonds!). It may just become a holiday family favorite!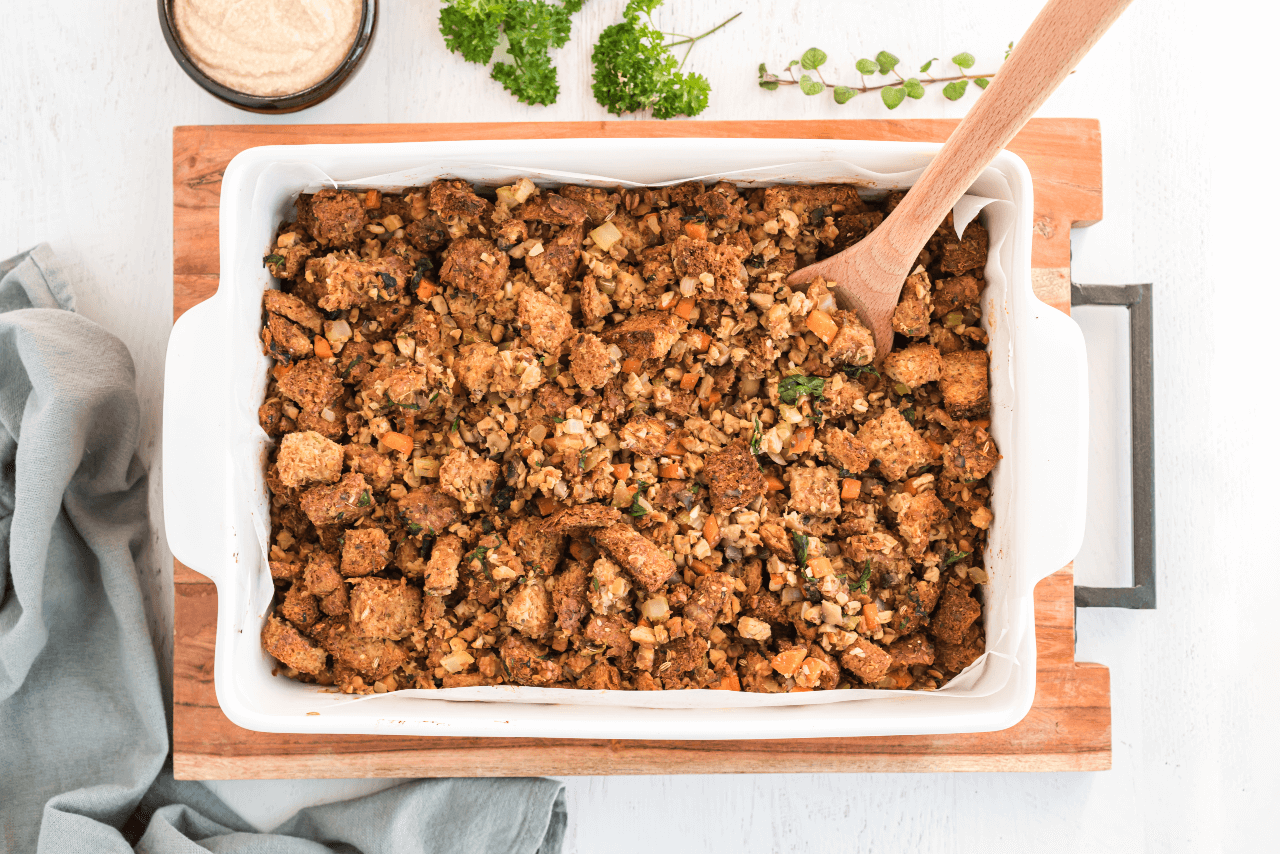 Show your holiday guests some love by substituting plant-based foods for meat. It can lead to enormous health benefits! Research shows that soy products may lower cholesterol levels, reduce inflammation, and, in tempeh's case, improve digestive health due to its high fiber content. In this holiday-worthy recipe, organic tempeh adds a rich texture when cooked with the whole grain bread. And the fennel and other spices give the stuffing a delectable flavor.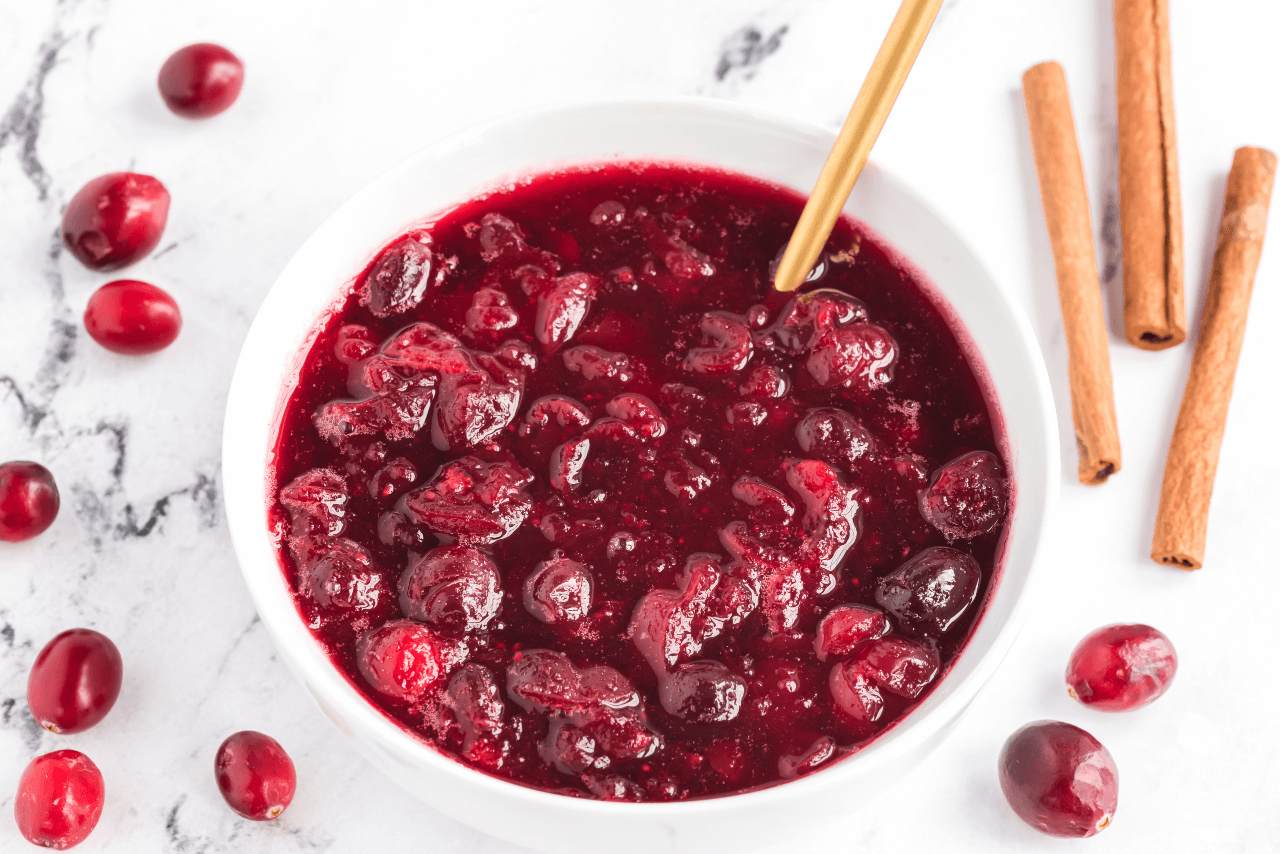 Using whole cranberries, phytonutrient-rich pomegranate juice, and fresh cinnamon and ginger, Pomegranate Cranberry Sauce will change your thoughts of cranberry sauce as you know it. This sauce has all the zing of traditional cranberry sauce, plus lots of nutrition from the fruit and spices. Enjoy it alongside roasted veggies, mashed potatoes, and lentil "meatballs."
Holiday Dessert Ideas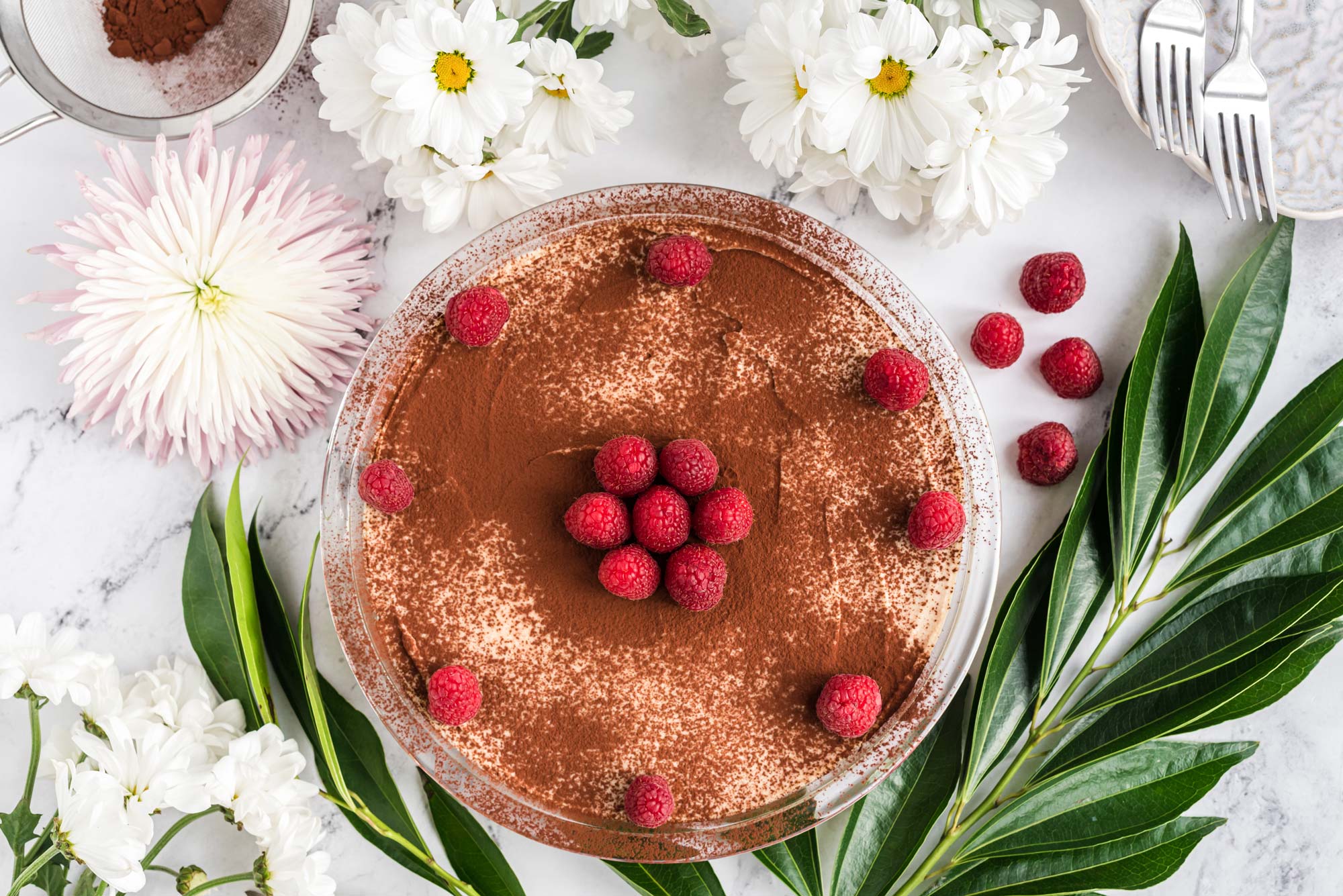 If you want to impress your holiday guests, then add Decadent Chocolate Dusted Cheesecake to your menu. This nut-based, cocoa-dusted cheesecake is delicious! Cashews create creaminess, macadamia nuts create richness, and almonds create a naturally sweet flavor. Add that creamy "cheese" to a sweet and salty pecan crust, and you have a recipe that will swoon even the hardest to impress cheesecake aficionados.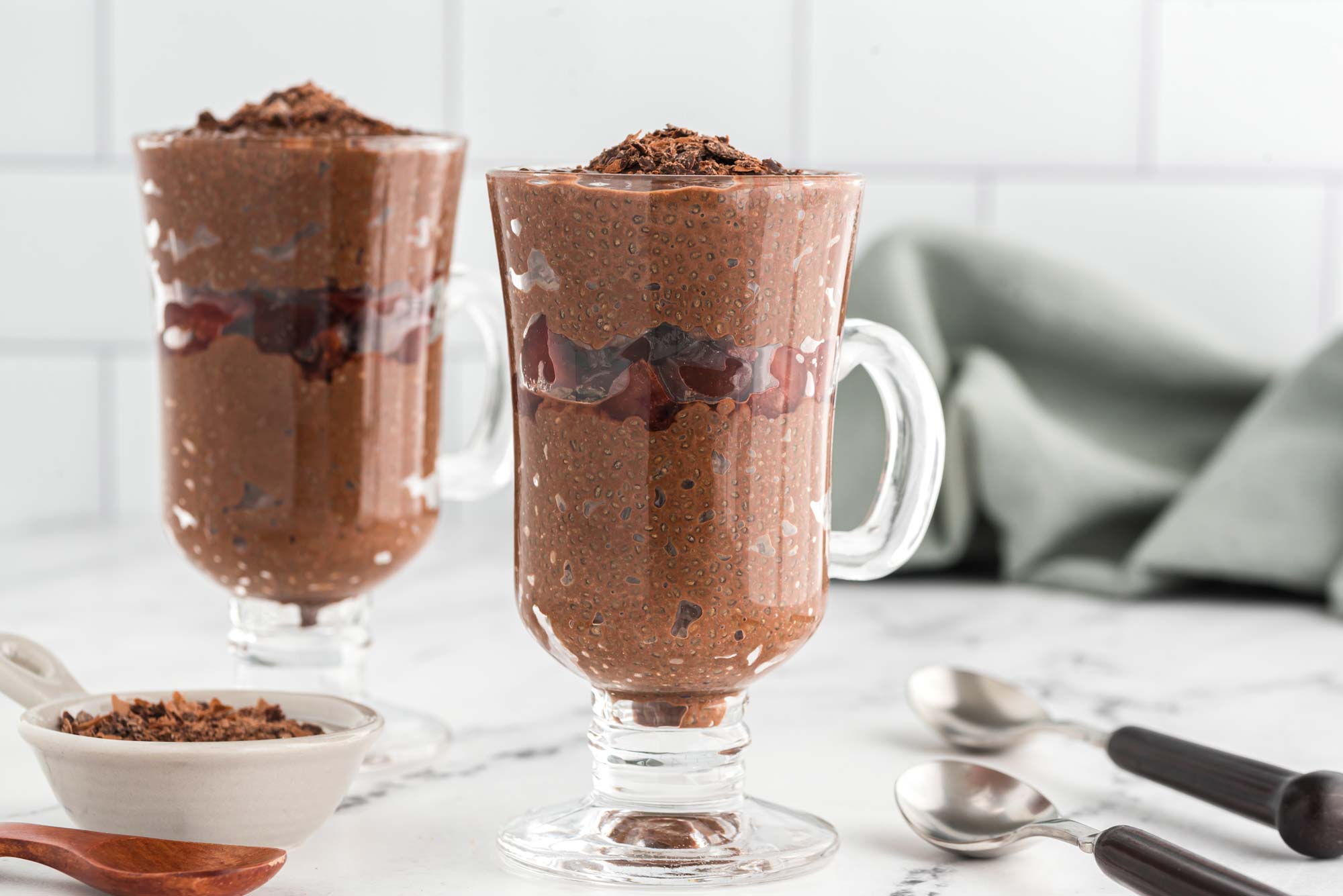 These Cherry Chia Cacao Pudding Parfaits are a fun and festive way to celebrate and ring in the new year. And they don't just look pretty on your table — they serve a purpose by making your holiday guests happy with their creamy texture and rich flavor while helping to keep them healthy with antioxidant-packed ingredients. Cheers to a healthy celebration!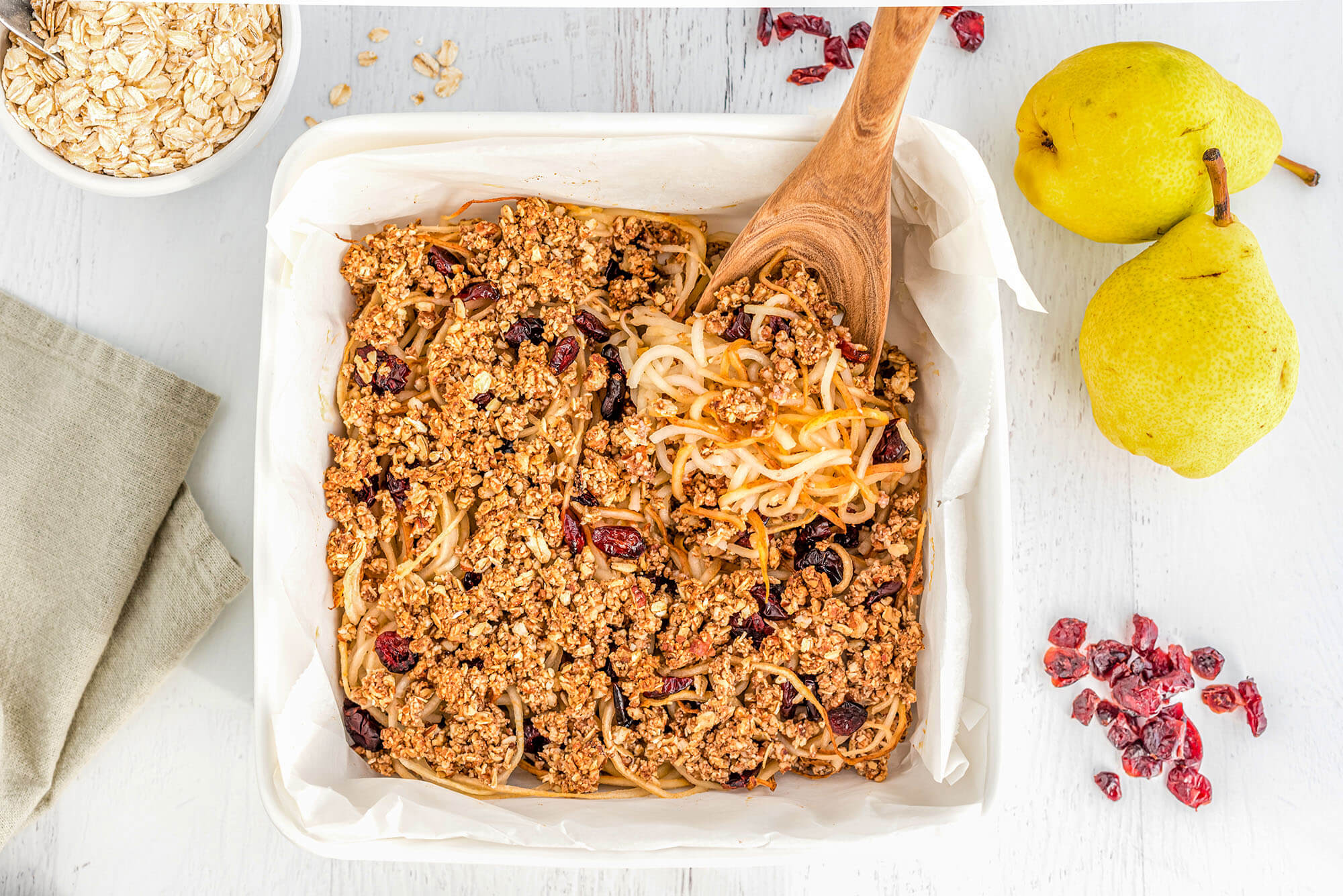 Are you looking for a hug this holiday season? Because that's what this warm and soothing breakfast feels like, with aromatic cinnamon, the sweet taste of pear, and the satisfying texture of nuts and cranberries. Spiralized pear is nestled between the nutty granola before baking into a breakfast that just might become a family staple.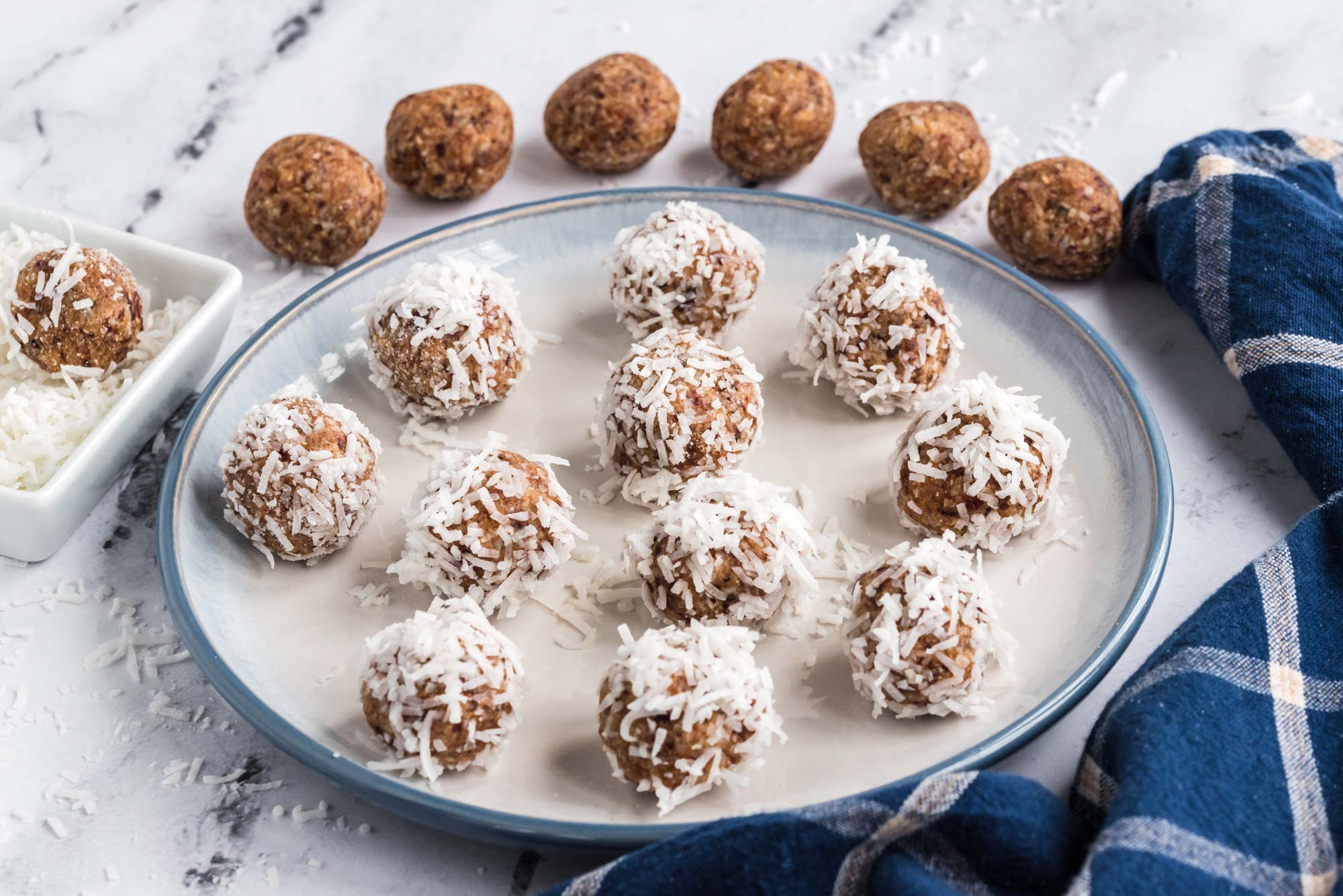 Even if you're not a fan of winter, this type of snow is sure to delight. That is, edible, naturally sweet snowballs you can enjoy making, and then eating, as a mid-afternoon snack or after-dinner treat. Because coconut is reminiscent of snowflakes, these bite-sized snacks also create a sense of cheer as a display on your holiday table.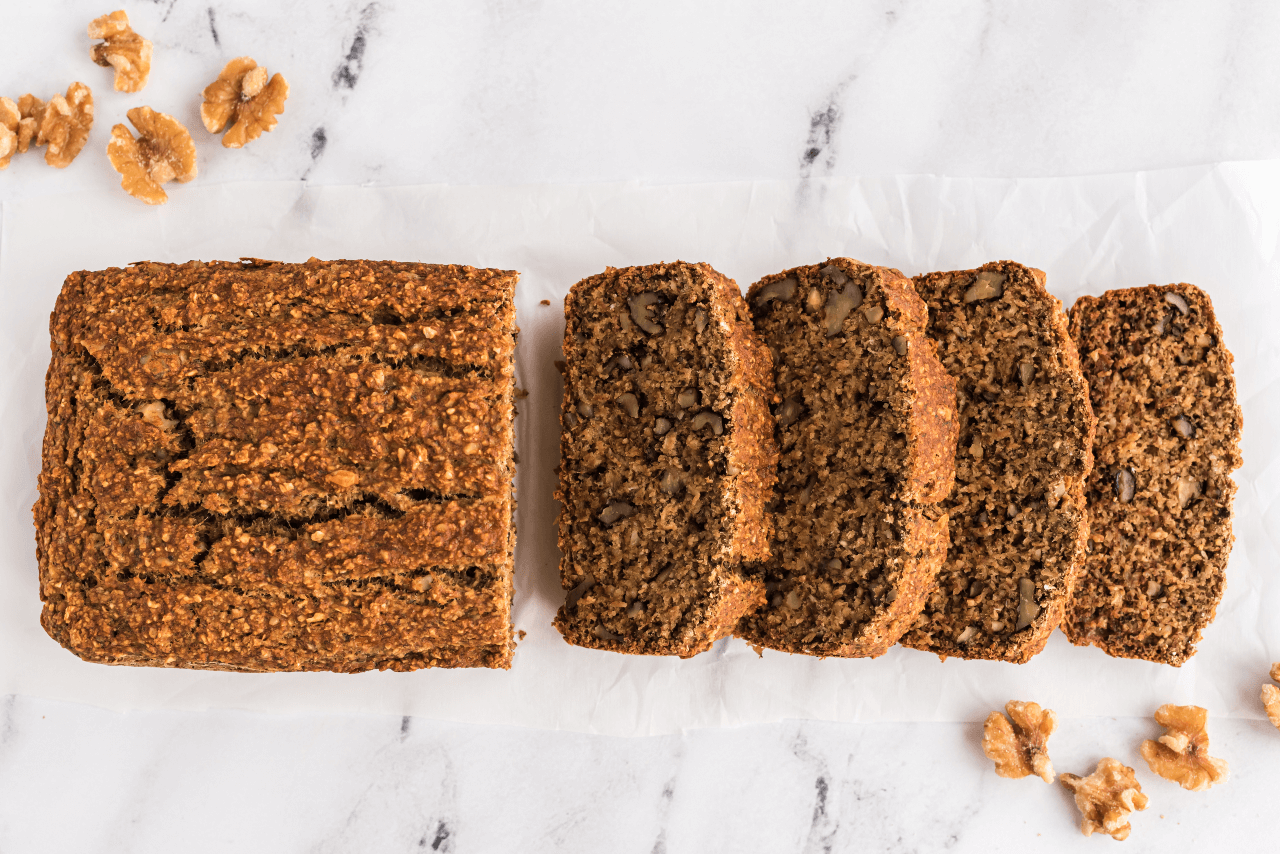 Our Banana Walnut Bread qualifies as a warm dessert, sustainable breakfast, or delightful afternoon snack, making it perfect for sharing with friends and family. It's naturally sweet, nutty, moist, and perfectly satisfying. Bonus points for its fiber, plant protein, and phytonutrient content. And a double bonus for its simplicity, especially during the holiday season when things can get busy.
Bon appétit!
Tell us in the comments:
What holiday meal planning techniques do you use to unite your friends and family?
What are your favorite, healthy holiday recipes and dishes?
Please leave a comment below and share your tips for a healthy, happy, holiday season!
Featured Image: iStock.com/Foxys_forest_manufacture
Read Next: