Ahh, the holidays — a time for fun, festivities, and… stress? The holidays can, and should, be a time to focus on what we have in common and what we want to celebrate together. But what happens when our friends and family members have different diets and food preferences?
What if you're vegan? Or if you eat a whole food, plant-based diet free of processed food, oil, and sugar, and your friend is gluten-free, your sister is paleo, your nephew is allergic to nuts, and your in-laws love sausages and donuts?
And the sources of stress can go far beyond food, of course. One of the things about family is, well, we can't choose them. Holiday gatherings can bring together people with widely different political and social views. Uncle Dave may be mostly OK, but watch out after that third drink. And make sure your Fox News watching kin are seated far away from the MSNBC demographic.
It's enough to make you want to skip the holidays entirely. But, don't despair.
You can bring people together over a shared meal and shared values — whether you observe Christmas, Hanukkah, Kwanzaa, Ramadan, or just want to share time with friends and family.
In this article, we'll focus on the food, but also look at how to extend those strategies to present a loving and welcoming table to all your guests.
8 Holiday Meal-Planning Tips for Creating A Holiday Meal That Brings Everyone Together
Spending time planning your holiday meal is critical if you want your gathering to be a success. And even if the thought of hosting a meal scares you, planning well in advance will ease your stress and create a better experience for everyone.
I've been to gatherings where the food was great, but the hosts were so stressed about getting everything perfect, nobody was enjoying themselves. And I've attended plenty of parties where the food was so-so, but the vibe was relaxed and fun. Luckily, with the tips and recipes we'll be sharing, there's no reason you can't have it all.
1) When planning your holiday menu, consider who will be attending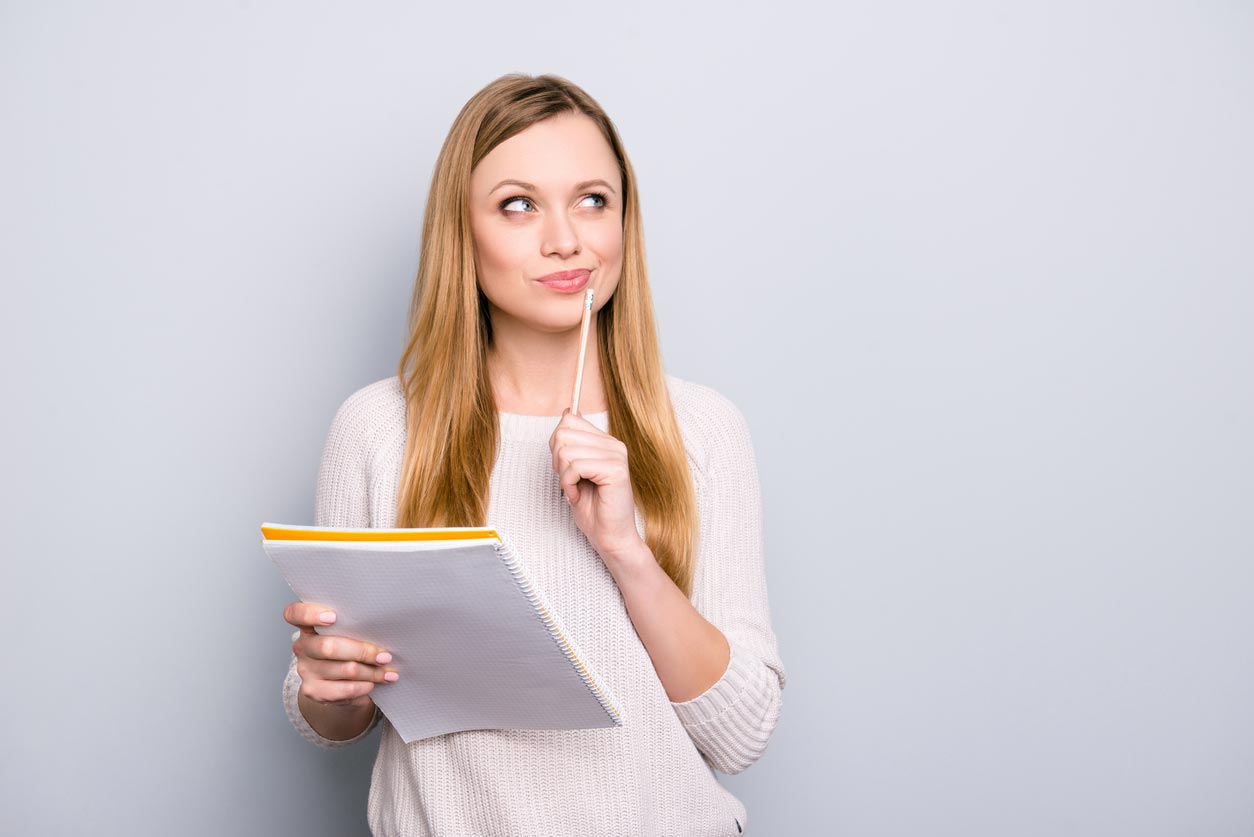 Above all, always consider your guests' tastes, lifestyles, and allergies. And if you don't know, ask before the gathering so you can prepare.
With your invitation, you can ask two questions:
Are there any dietary restrictions we should know about? (Allergies, sensitivities, religious or ethical considerations, etc.)
What are your food preferences? (We can't promise, but we'll do our best to serve food you'll enjoy eating.)
2) You don't have to please everyone, especially if hosting a large crowd of differing diets
While it's great to cater to your guests, you don't have to twist yourself into knots accommodating 23 different diets. Don't undermine your own health and wellbeing while worrying about everyone else. There are a couple of ways to simplify the meal so that everyone can eat.
First, consider making "neutral" dishes while planning your holiday recipes. It's always easier to add an ingredient to a dish than to remove it once it's already in. If you have your heart set on that wild rice salad with dried cranberries and toasted pecans, but a couple of your guests are allergic to nuts, go ahead and make the salad without the nuts, and serve them in a separate bowl on the side.
Second, don't be shy about asking someone with a particular restriction to bring a dish that they will enjoy. Many vegans, for example, love bringing their own food to omnivorous potlucks. They will proudly note that their dairy – and meat-free lasagna with roasted veggies was consumed completely! And gluten-free eaters may happily bring some gluten-free stuffing for themselves or even to share with the whole clan. And keep in mind that most folks who have dietary restrictions appreciate the heads-up that the menu may not include enough dishes for them, so they can come prepared.
3) Let your host know your needs and preferences
If you're the guest at a holiday gathering, take the initiative in letting your host know if you have dietary needs or restrictions. Don't make demands, but simply let them know that you don't eat eggs, or gluten, or added sugar. That way you give them a chance to accommodate you while they are planning their holiday recipes, rather than spending days making their prize-winning triple decker Black Forest Layer Cake only to discover you would have preferred fresh fruit.
When you share your restrictions, offer to bring a dish so your host doesn't have to go to any extra trouble on your behalf. Let them decide how much extra work they want to do.
4) Consider hosting a potluck — after soliciting and sharing everyone's dietary needs in advance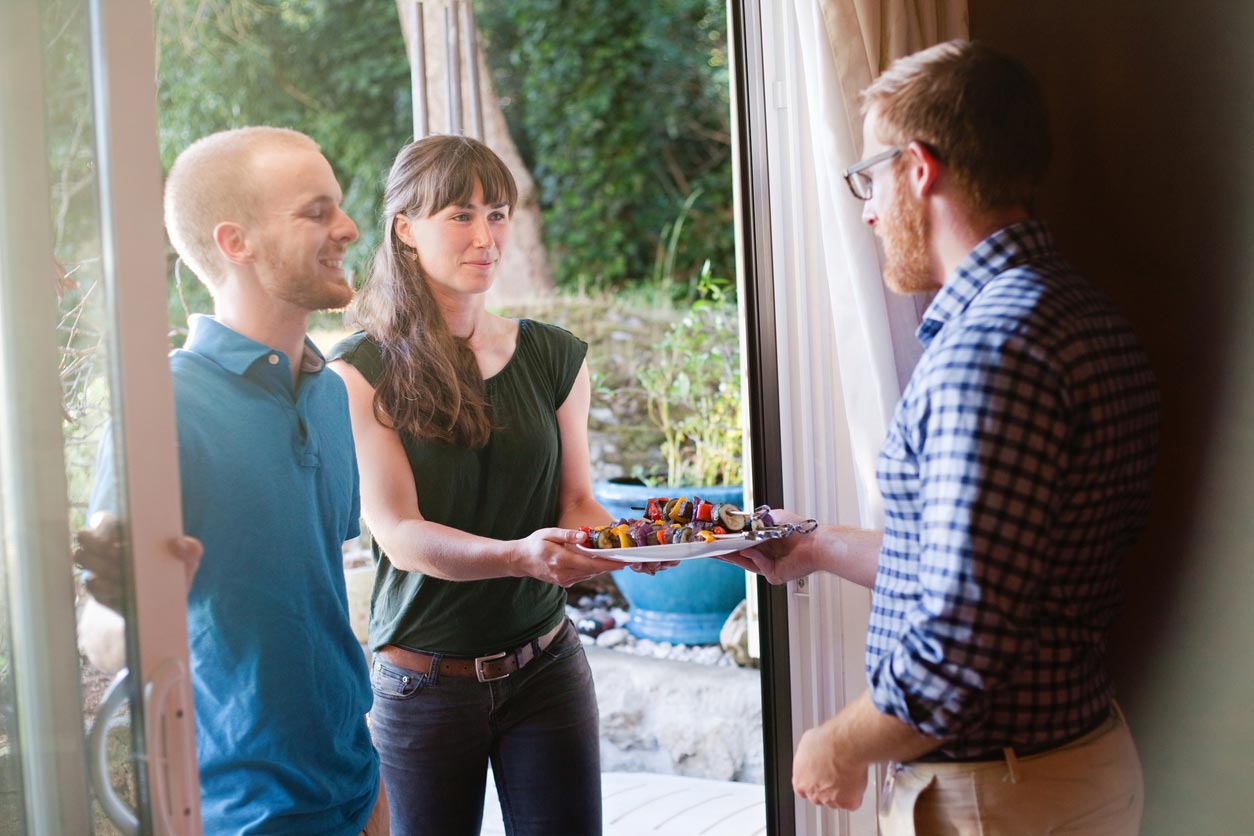 You can take the "please bring a dish" strategy global by making your gathering a potluck. This can be an excellent choice if you're hosting a large crowd with diverse diets. Now everyone has options they can eat and enjoy.
You can gather everyone's dietary needs and preferences, and include those in the invitation. Ask attendees to add what they plan to make to a shared list, or if you don't want to micromanage the process and are ok with the "luck" part of potluck, assign types of dishes (mains, salads, sides, desserts) based on the first letter of the guests' last names or some other randomization scheme. And then, ask your invitees to post a note on the dish they bring listing the ingredients and also noting if the recipe doesn't meet the dietary needs of someone who will be attending.
5) Remember, you don't have to eat everything on the menu
For example, if you're vegan, and your host serves turkey, you don't need to eat it. If you're allergic to gluten, don't eat the stuffing. Don't be a martyr – if you feel some simmering resentment ("They never take my needs into consideration!"), focus on what you can eat, or on the non-food aspects of the holiday gathering: the conversation, the decorations, the football game, the songs, or whatever it is that you're sharing.
And importantly, if you're the person who made the turkey or the stuffing, don't allow your feelings to get hurt if your vegan or gluten-free friend or relative doesn't eat the food you made. Each person needs to be in integrity with their health and values, so it's not an insult to your cooking.
6) Building bonds with family by sharing a meal can be as health-promoting as eating a kale salad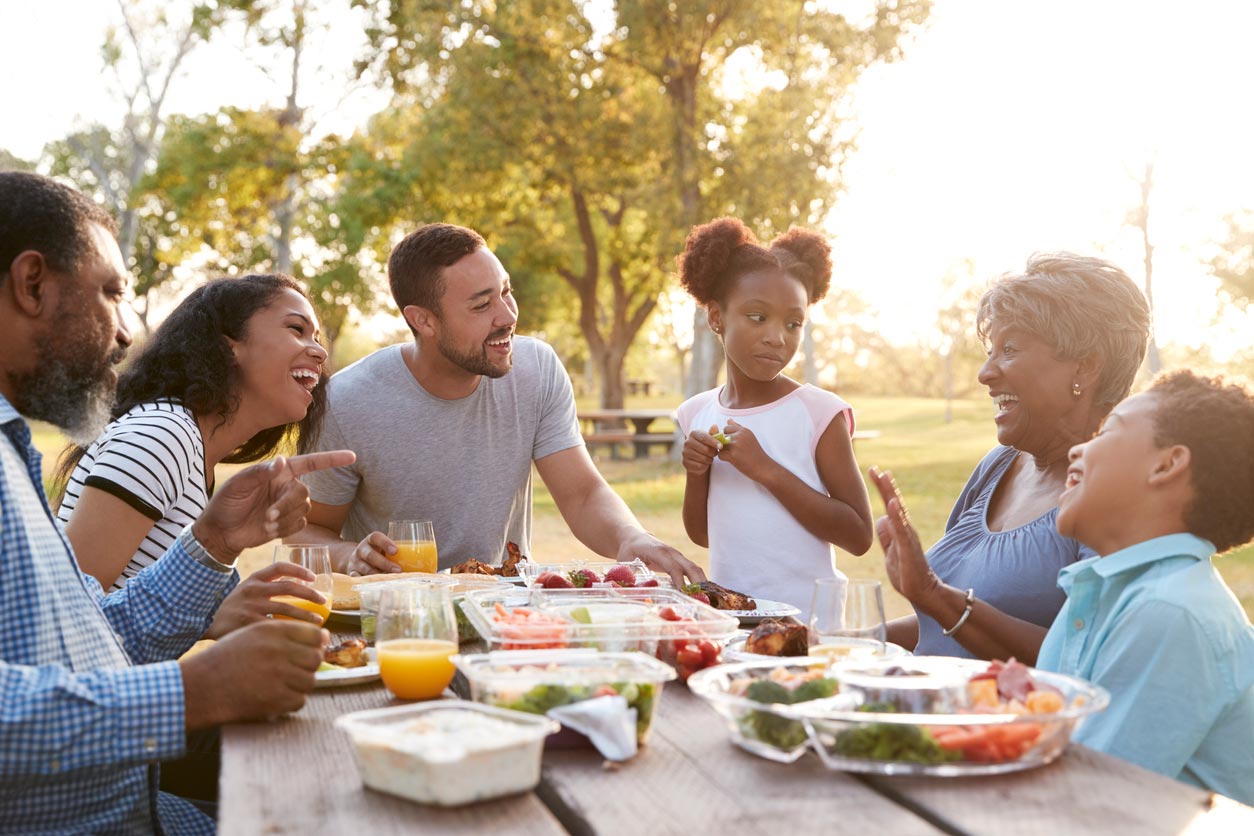 The holidays may be a good time to relax your strict adherence to your diet slightly — without compromising your ethics or risking your health. For example, if you typically avoid oil or certain processed foods, a holiday meal with family may be a time when you want to relax your rules a little if you can do so without undermining your well-being or your integrity.
Overall, think about how you can be flexible and accommodating to your friends and family, rather than how they can be accommodating to you. This doesn't mean you have to compromise your values or your health. It just means that holidays are an excellent time to be particularly thoughtful and generous.
And there's a lot of research showing that positive feelings and moods are health-promoting. If you're chomping on kale with resentment in your heart, you're not doing your health any favors. The two Vitamins G (Gratitude and Generosity) are arguably as important as fiber and phytonutrients.
7) Think about topics you can discuss that may unite, rather than divide
Here are some ideas you can use for your holiday event:
Ask questions about people's personal lives.
Talk about hobbies and interests.
Ask about the best things that have happened in the last year, or about your hopes and dreams for your life in the year to come.
Invite everyone to join in a gratitude circle.
Ask for recommendations for favorite TV shows, movies, music, and books.
Ask each person to say 3 things they are grateful for
When possible, focus on gratitude, humility, and being thankful for having food to share, as well as things like family, friends, and a home.
8) Remember that it doesn't have to be all about the food
Because our gatherings and celebrations typically include food, we have a tendency to make food the centerpiece of the whole experience. If you play a word-association game and say "Thanksgiving," what will people say in response? Probably "turkey," "stuffing," and "cranberry sauce." The historical and spiritual significance of the holiday typically takes a back seat. Some people even call it "Turkey Day," which is unfortunate for many reasons, including that it disappears the central idea of giving thanks.
While the food can be a pleasure, it doesn't have to be the make-or-break element of the whole experience. Include rituals that highlight the meaning of the holiday. Focus on togetherness, on building memories, and on weaving together community.
Ideas to Consider for Easy, Stress-Free Holiday Meal Planning
Send invitations early. People can get very busy around the holidays.
Prepare the menu at least a week in advance.
Plan a schedule for when to serve food.
Do your grocery shopping a few days before the gathering. Be sure you have all the ingredients you need, so you're not rushing at the last minute.
Clean the house before the gathering. As you clean, play music you love and focus on making your home welcoming and calm.
Set the table early — perhaps even the day before.
If you don't have anyone wanting support in recovery, you may want to consider serving both alcohol and alcohol-free beverages. A glass of wine with dinner can help the meal pass more smoothly for those who are used to it. But if you do offer alcohol, be sure to include festive alcohol-free drinks for kids, drivers, and those who prefer not to imbibe.
Choose festive and relaxing background music ahead of time.
Delegate tasks, including grocery shopping, chopping and prepping food, dishes, and clean-up, and setting the table, to willing friends and family members. Make it part of the experience that everyone shares.
Healthy Holiday Recipes That Will Please Everyone from Beginning to End
Whether you're looking for healthy recipes to create a memorable and successful Christmas dinner, or you observe another holiday, these ideas will help you create a gathering everyone can enjoy.
Planning a variety of dishes for any holiday gathering with a lot of people is a great idea. But if you're trying out new recipes, like the ones below, it's best to make them at least once before the event, so you can be sure you like the dish and can make any tweaks. Don't experiment on your guests!
Festive Beverages Ideas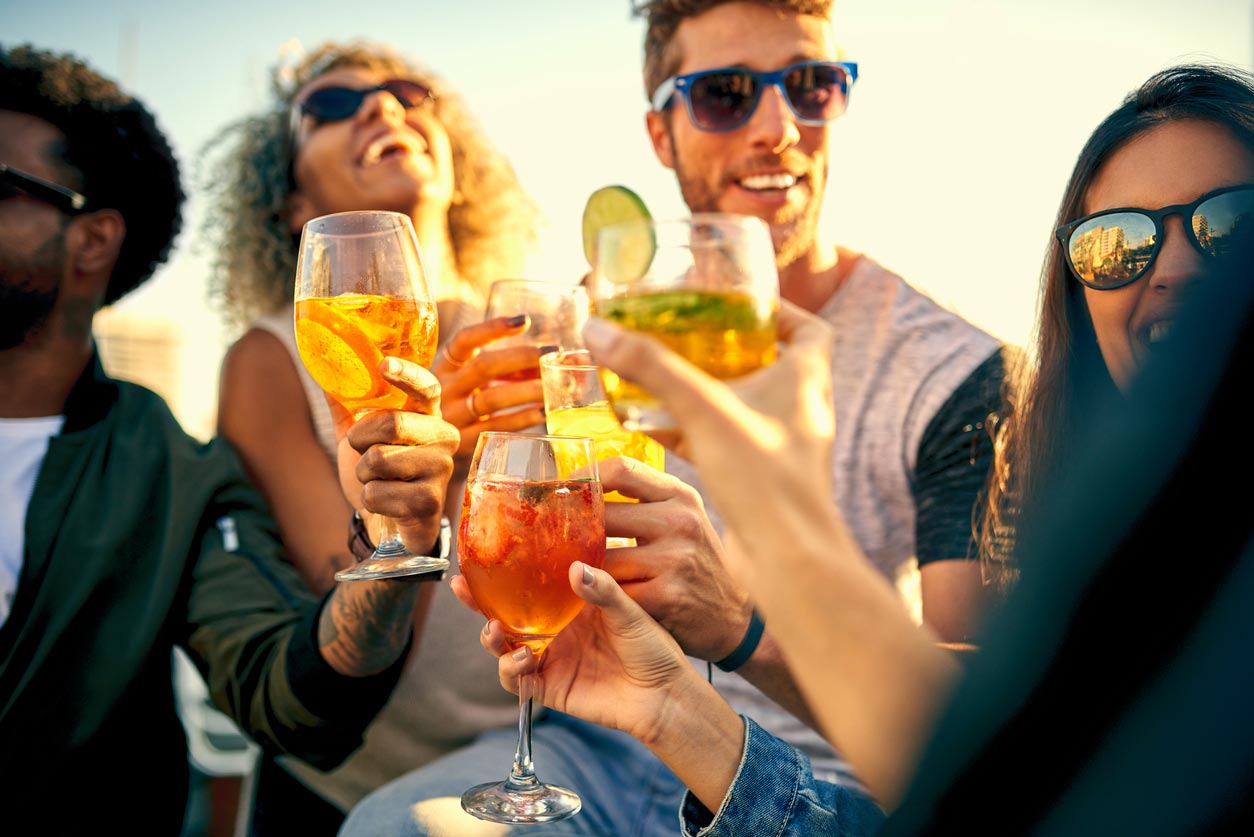 Pear Cranberry Sparklers from Zoe Singer at Epicurious
This recipe is pretty and has both an alcoholic and an alcohol-free version. One of the ingredients is pear nectar, which sometimes contains refined sugar. Look for pear nectars sweetened with fruit juices and fruit purées.
Vegan Turmeric Eggnog from Abra at Abra's Kitchen (Vegan, Gluten-free, Naturally-sweetened, Paleo)
This lovely golden holiday beverage is alcohol-free, perfumed with turmeric and spices, and naturally sweetened with dates. If you want, you can make it oil-free by omitting the coconut oil.
Seasonal Starter Ideas
These healthy holiday recipes for appetizers are easy to make and great to serve as your guests arrive.
Olive Tapenade from Sarah at Fried Dandelions (Vegan, Gluten-free, Nut-free, Sugar-free)
This is both an elegant and easy-to-make starter that is perfect for holiday festivities. And, it's easy to make oil-free! We recommend using sun dried tomatoes that haven't been marinated in oil. Soak them briefly in warm water if needed to soften them up before blending.
Vegan Pesto Stuffed Mushrooms from Megan at Detoxinista (Vegan, Gluten-free, Sugar-free, Oil-free)
These flavor-packed, savory little bites are a delicious way to begin the holiday season. They do contain nuts, so those with allergies should avoid eating them.
Creamy Artichoke Spinach Dip from Dreena Burton (Vegan, Gluten-Free, Sugar-Free, Oil-Free)
A classic gone contemporary, this dip has all the richness and familiar texture of your family's favorite version but in a healthy, plant-based form.
Wintry Soup and Salad Ideas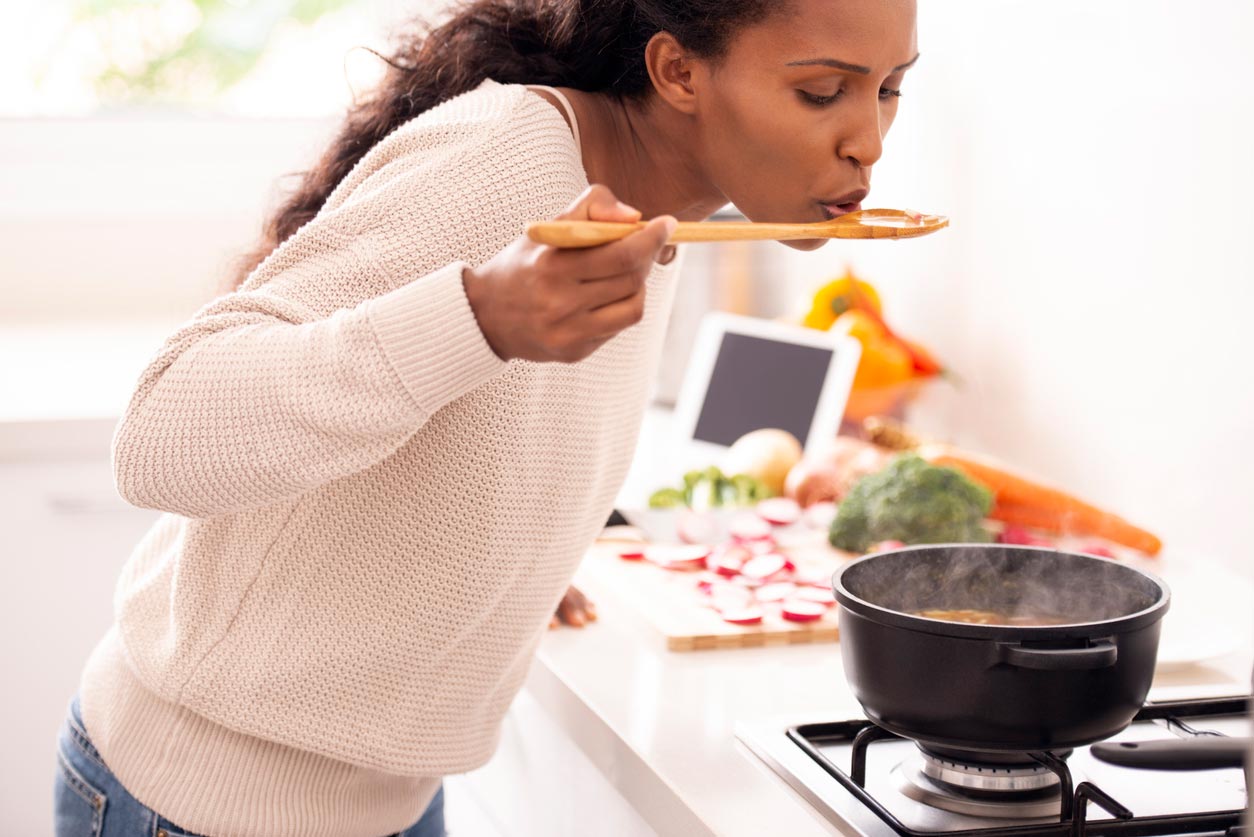 Shredded Brussels Sprouts Salad with Dried Cranberries and Cashews from Susan at Fat-Free Vegan Kitchen (Vegan, Gluten-free, Oil-free)
No list of healthy holiday recipes would be complete without a delicious salad. This beautiful salad allows for endless variations. Once you learn Susan's techniques, you can create your version of this healthy holiday salad, adding different fresh or dried fruits, and adding or omitting nuts. This recipe does use maple syrup, so people avoiding sweeteners can leave it out or use date syrup instead.
Curried Butternut  Squash Soup from Dana at Minimalist Baker (Vegan, Gluten-free)
The spices in this luscious, quick-to-come-together soup add an extra layer of warmth for chilly holiday temperatures. Make it oil-free by using water or vegetable stock for the initial saute.
Healthy Holiday Recipes for Enjoyable Entrees
Lentil Mushroom Walnut Balls from Angela at Oh She Glows (Vegan, Gluten-free, Sugar-free)
An inspired twist on the now ubiquitous veggie loaf, these protein-packed gems are also a great way to sneak in some greens! Use water for the saute to make it oil-free and be sure to use organic oats in order to avoid glyphosate.
Lentil & Sweet Potato Shepherd's Pie from Dana at Minimalist Baker (Vegan, Gluten-free, Nut-free, Sugar-free)
This gorgeous, healthy entrée is full of holiday flavors and is sure to please everyone, from meat-eaters to vegans alike. The recipe calls for a couple of tablespoons of oil, but it can easily be modified to be oil-free, as noted in the recipe.
Vegan Mushroom Pot Pie with Sweet Potato Crust by Richa Hingle of VeganRicha (Vegan, Nut-free, Sugar-free, Gluten-Free Option, Oil-free Option)
Enjoy the earthy umami goodness of mushrooms along with beans, greens, and beta-carotene. It's a soul-satisfying meal in a dish!
Healthy Holiday Recipes for Side Dishes
Baked Potato Latkes from Katie at Plants Rule (Vegan, Gluten-free, Sugar-free, Oil-free)
This Jewish classic, traditionally served at Hanukkah, gets a healthier spin by baking, rather than frying. This tasty recipe is also gluten-free, using potato flour or garbanzo bean flour as a binder, rather than the usual wheat-based all-purpose flour.
Wild Rice Salad from Aysegul at Foolproof Living (Vegan, Gluten-free, Sugar-free, Oil-free Option)
This festive holiday dish boasts bright citrus flavors, crunchy pecans, crisp green onions, and tart cranberries on a foundation of mineral- and protein-rich wild rice. Go with an organic orange for zesting and juicing, choose unsweetened dried cranberries to keep it sugar-free and omit the oil in the vinaigrette to make it oil-free.
Easy Quinoa Stuffing from Alyssa at Simply Quinoa (Vegan, Sugar-Free, Gluten-Free, Oil-Free Option, Nut-Free Option)
This scrumptious side dish has all the classic Thanksgiving flavors wrapped up in a lighter and healthier version of traditional stuffing. Make it oil-free by roasting the potatoes on a parchment-lined baking sheet with just the spices, and nut-free by substituting lightly-roasted pumpkin and/or sunflower seeds. And, if you use the optional dried cranberries, be sure to look for unsweetened!
Date Sweetened Spiced Orange Cranberry Sauce from Simply to Thrive (Vegan, Naturally Sweetened, Gluten-Free, Nut-Free, Oil-Free)
This gorgeous sauce is naturally sweetened with only dates and is super-easy to make. Add a touch of organic orange zest for that bit of something extra.
Delicious, Healthier Holiday Dessert Recipes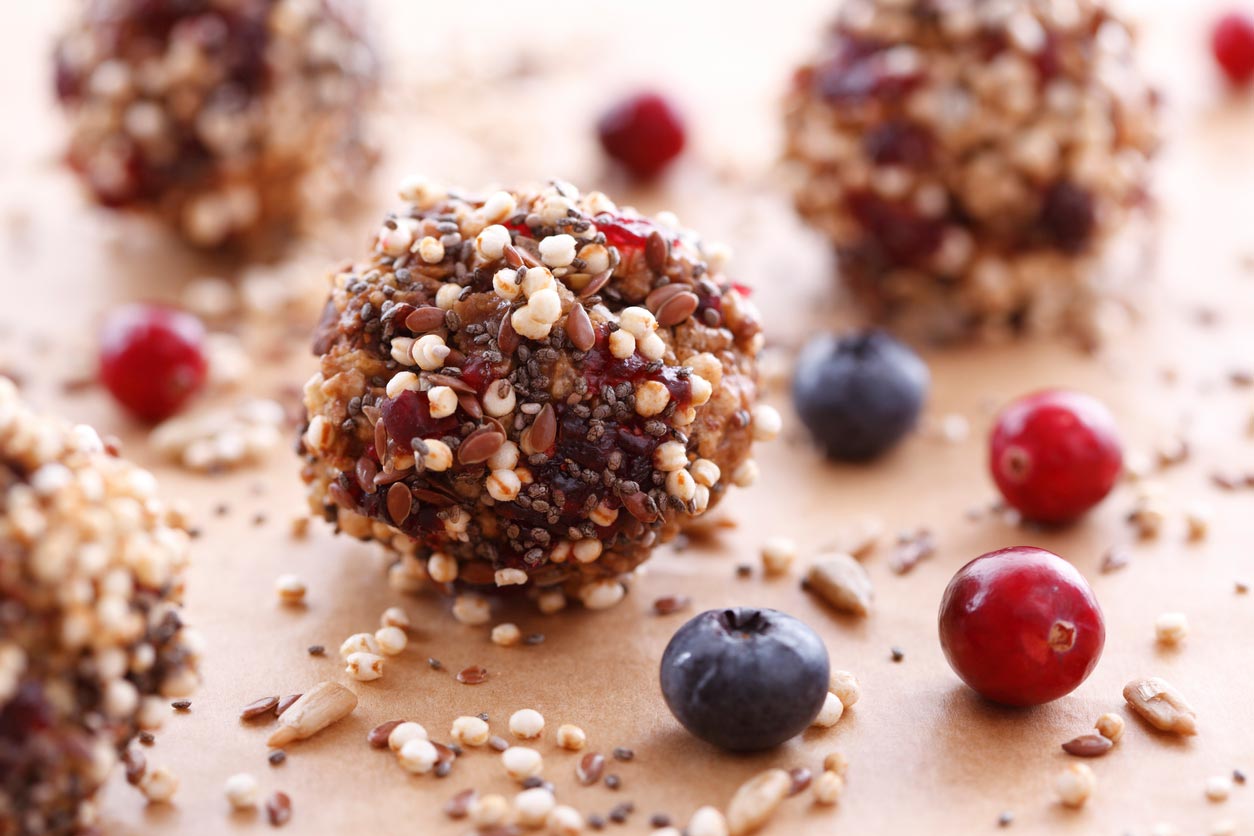 For any holiday gathering, dessert is a must. We found healthy holiday recipes for desserts, too! These healthy holiday desserts are delicious and fun. But they aren't as indulgent as many holiday treats.
Chocolate Ganache Cake from Chef Cynthia Louise (Vegan, Gluten-free, Oil-Free, Flour-free, Naturally Sweetened)
Frozen raspberries add holiday color to these divine whole-food bars that use nuts and seeds instead of flour for extra whole food goodness. And please be sure to use fair-trade certified cacao!
No-Bake Gingerbread Date Balls from Two Healthy Kitchens (Vegan, Naturally Sweetened, Gluten-free, Oil-free, Nut-free Option)
These lovely, holiday-spiced truffles are sweetened only with dates and can be made nut-free by rolling them in dried coconut instead of pecans.
Chocolate Candy Balls (Forbidden Chocolate Truffles) by Emily at Deliciously Green! (Vegan, Naturally Sweetened, Gluten-free, and Oil-free)
These delicious, chocolatey treats are low in fat and made from only whole plant foods — including dates and forbidden black rice.
Vegan Chai Coconut Oatmeal Cookies from Brandi at The Vegan 8 (Vegan, Naturally Sweetened, Oil-free, Gluten-free Option)
Simply. Irresistible. These quick and easy cookies take oatmeal to a whole new level. Be sure to use certified gluten-free oats if you need to avoid gluten, and choose organic oats, whether gluten-free or not.
Tell Us In The Comments:
What techniques do you use to unite your friends and family at the holidays?
What are your favorite healthy holiday recipes and dishes?
Please leave a comment below and share your tips for a healthy, happy, holiday season!
Featured Image: iStock.com/Foxys_forest_manufacture
Read Next: