There are few things more refreshing — and nourishing — than a healthy summer salad on a hot day.
Salads are a great way to enjoy more veggies, fruits, nuts, seeds, legumes, herbs, and spices — the very foods most of us would be healthier eating more of. Plant foods and especially raw plant foods contain essential vitamins, minerals, antioxidants, and nutrients like fiber.
As well as helping you get at least the recommended minimum daily serving of five fruits and vegetables per day, salads are also versatile and easy to make dishes. They can serve as a starter or appetizer, a main course, and in some cases, even a dessert!
Some of the most popular kinds of summer salads are:
Caesar salad
Cucumber salad
Bean salad
Pasta salad
Potato salad
Coleslaw
Fruit salad
Kale salad
Any of these can be great choices if you're hosting or heading to a cookout, potluck, or other get together, whether during the summer or anytime. Salads make a great addition to a healthy table spread, especially when you make them with seasonal fruits and vegetables.
Eating with the seasons is healthier for you and better for the environment. Seasonal produce is more nutritious, fresher, and usually contains less pesticides as well. Buying local also helps support local farmers and your community's economy.
To find out what's in season near you this summer, check out the Seasonal Food Guide.
Some examples of what might be in season near you in the summer are:
Arugula
Asparagus
Carrots
Cherries
Green Onions
Kale
Peppers
Radishes
Raspberries
Strawberries
Summer Squash
You can buy seasonal produce at your grocery store, health food store, or local farmers market.
And when you make your own salad dressing at home, you can also ensure that it has no harmful food additives, excessive salt, GMOs, sugar, or other ingredients you want to avoid.
So, if you're looking for some ideas for cookout-friendly salads, or just want some new summer salad recipes to add to your regular meal rotation, here are our picks.
12 Healthy and Refreshing Summer Salad Recipes
Enjoy the power of plants this summer (or anytime), and take your pick between these healthy summer salad recipes.
Eggplant & Roasted Tomato Farro Salad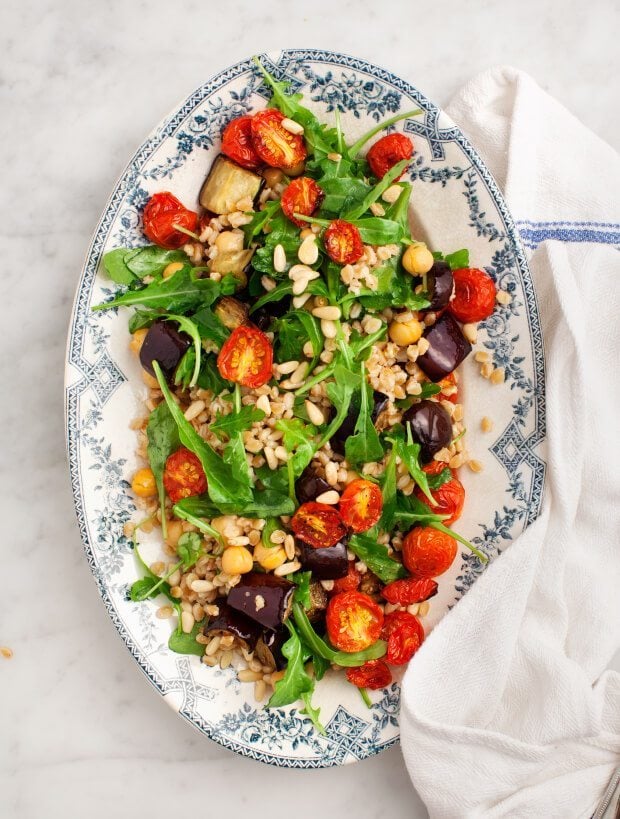 You don't have to limit yourself to raw ingredients in your summer salads. In fact, a combination of both raw and cooked veggies can give you the most vitamins and minerals from your food.
Take this Eggplant & Roasted Tomato Farro Salad by Love & Lemons, for example. The eggplant and tomatoes are both cooked. Then they're combined with cooked farro, and chickpeas, as well as raw pine nuts, arugula, and basil for a Mediterranean-inspired salad.
Note: For a gluten-free version, use quinoa instead of farro. And to go oil-free, water sauté the eggplant and just use vinegar or a little lemon for the dressing.
Thai Mango Salad with Peanut Dressing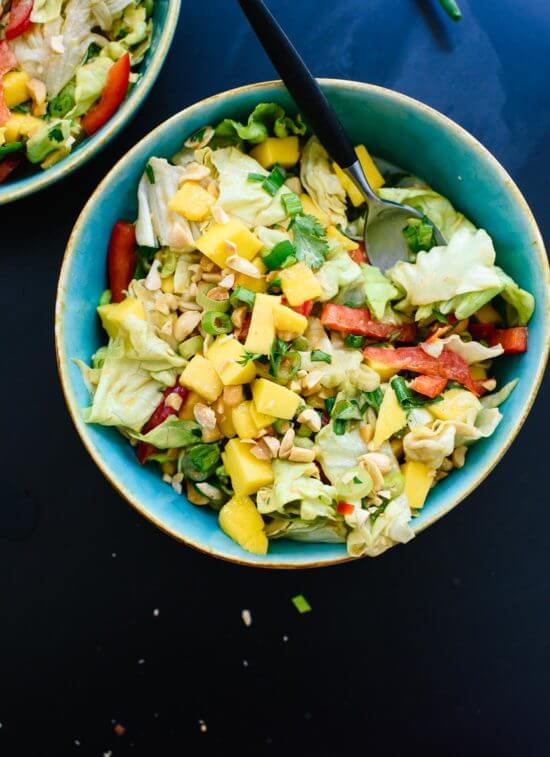 This light and refreshing Thai Mango Salad with Peanut Dressing, by Cookie and Kate, is bursting with summery colors and flavors. The combination of sweet, spicy, and sour will tickle your tastebuds and leave you satisfied.
Although you may need to purchase imported mangoes for this salad if you don't live in a tropical or subtropical climate, the green onions, jalapenos, cilantro, and bell peppers are in season for most climates in the summer.
Note: Make sure to choose raw, unsalted peanuts and organic peanut butter without any additives or hydrogenated oils.
Creamy Cucumber Salad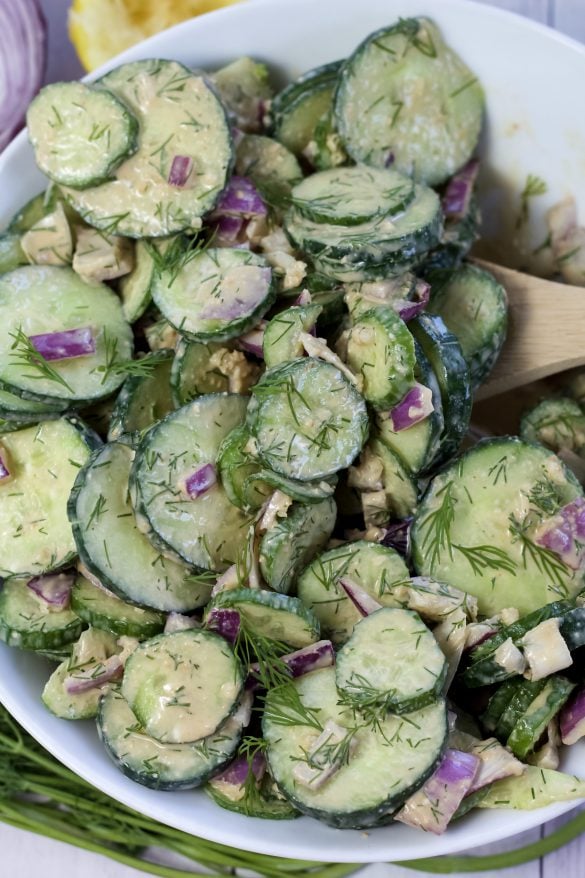 For the perfect summer side dish for a cookout or BBQ, bring this Creamy Cucumber Salad from Ceara's Kitchen with you. All you need are cucumbers and red onions for the base, which is then tossed with a homemade, preservative-free ranch dressing.
With only eight ingredients and a total prep time of 10 minutes, this healthy summer salad can save the day when you need to whip up something shareable in a hurry.
Note: You can use raw, organic cashew butter like the one mentioned in the recipe, or make your own ahead of time with this recipe from Savory Simple (salt optional).
Simple Potato Salad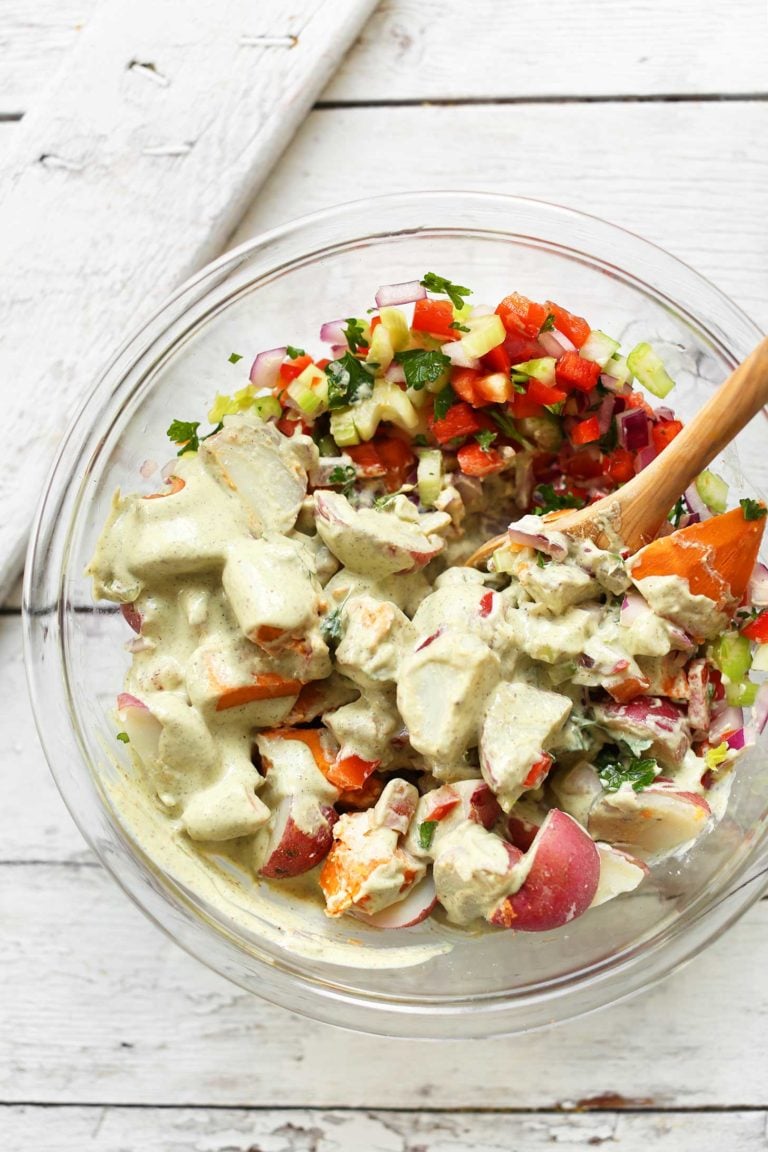 Nothing says "summer" like a classic potato salad. It's the go-to side for outdoor picnics and BBQs. But most potato salads are full of saturated fat from all the eggs, mayo, and dairy. Not this one!
Minimalist Baker's Simple Potato Salad uses soaked cashews to get that mayo-like consistency minus the harmful health effects. Tossed with crunchy summer veggies and some fresh sprigs of parsley on top, you'll also get your fill of fiber and antioxidants.
Note: You can omit the oil if you'd like. You can also omit the agave or maple syrup or replace with your choice of sweetener alternatives.
Lemon Mint Fruit Salad (Red, White & Blue Fruit Salad)
In the U.S., Australia, France, or the United Kingdom, and feeling patriotic? Or just like red, white, and blue? Then try this eye-catching Lemon Mint Fruit Salad (Red, White & Blue Fruit Salad) from Veggie Balance.
Even if you don't take it to an Independence Day BBQ, this crisp and healthy summer salad will delight no matter when you decide to make it.
Apples, blueberries, and strawberries get tossed together with a three-ingredient dressing. And if you're vegan or want to enjoy the natural sweetness of the fruit, you can easily omit the honey or substitute it with another sustainable sweetener.
Ultimate Protein-Packed Caesar Salad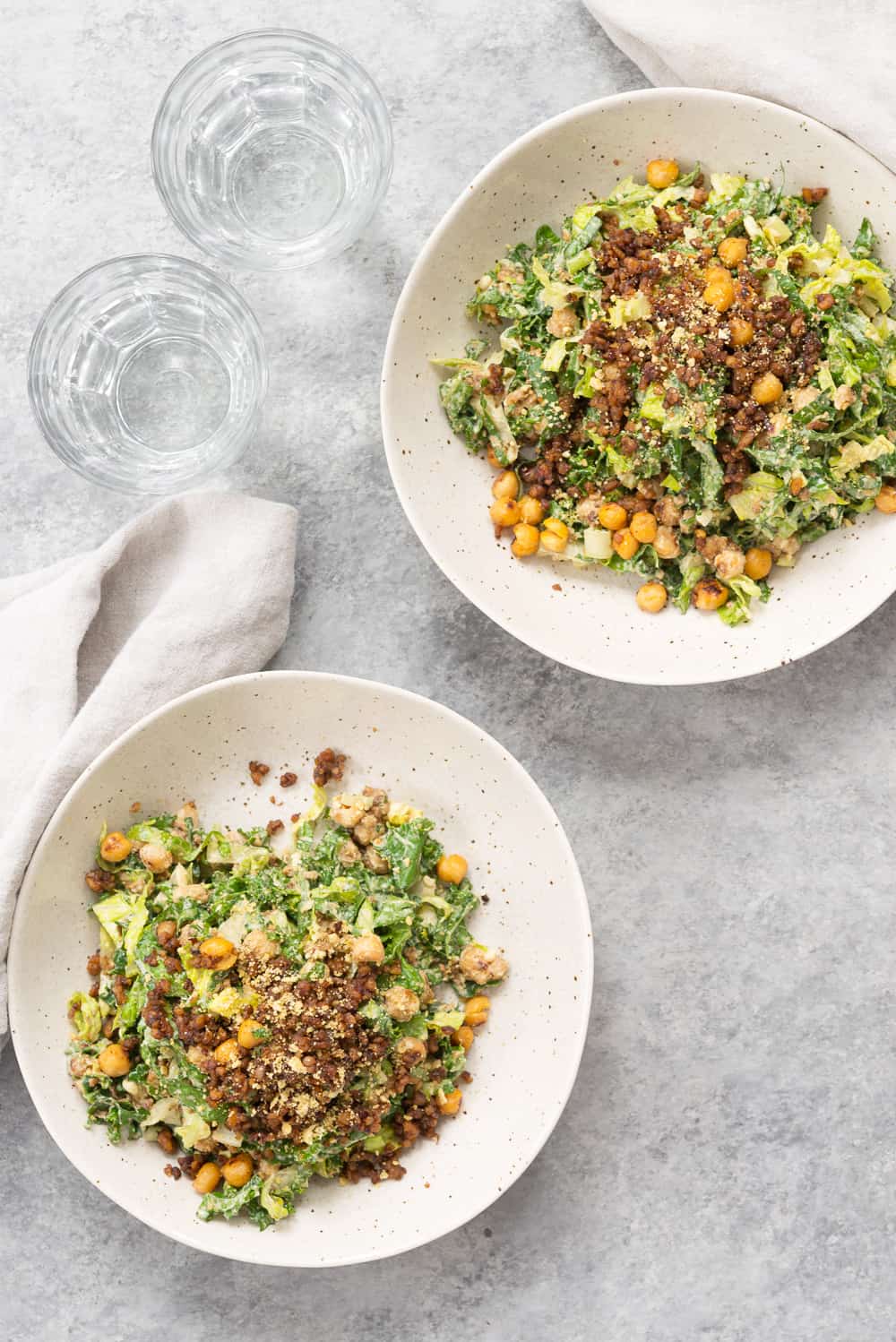 Caesar salad, one of the most popular salads in the U.S., is typically tossed with an anchovy-based dressing and topped with parmesan cheese and chicken. But you can still have a Caesar salad without the animal products by trying out this Ultimate Protein-Packed Caesar Salad by Delish Knowledge.
Although most Caesar salads contain iceberg or romaine lettuce, this version adds nutrient-packed kale to the mix. You also won't find any croutons here, but you can still enjoy the same satisfying crunch (and an added dose of plant protein) with the homemade tempeh bacon bits and crispy chickpeas as toppings.
Note: To go oil-free, bake instead of pan-frying the tempeh and chickpeas — and omit oil from the dressing.
Mashed Chickpea "Tuna" Salad
Similar to a traditional tuna or egg salad, this Mashed Chickpea "Tuna" Salad by The Simple Veganista, uses chickpeas along with a creamy dressing mixed with lemon, paprika, carrots, and celery.
While these kinds of recipes usually call for mayo, you can use a homemade vegan mayo (based on tofu) or a tahini-mustard sauce instead.
Serve it on a bed of lettuce, on its own, or use it as a dip or sandwich filling.
Watermelon Salad with Tomato & Avocado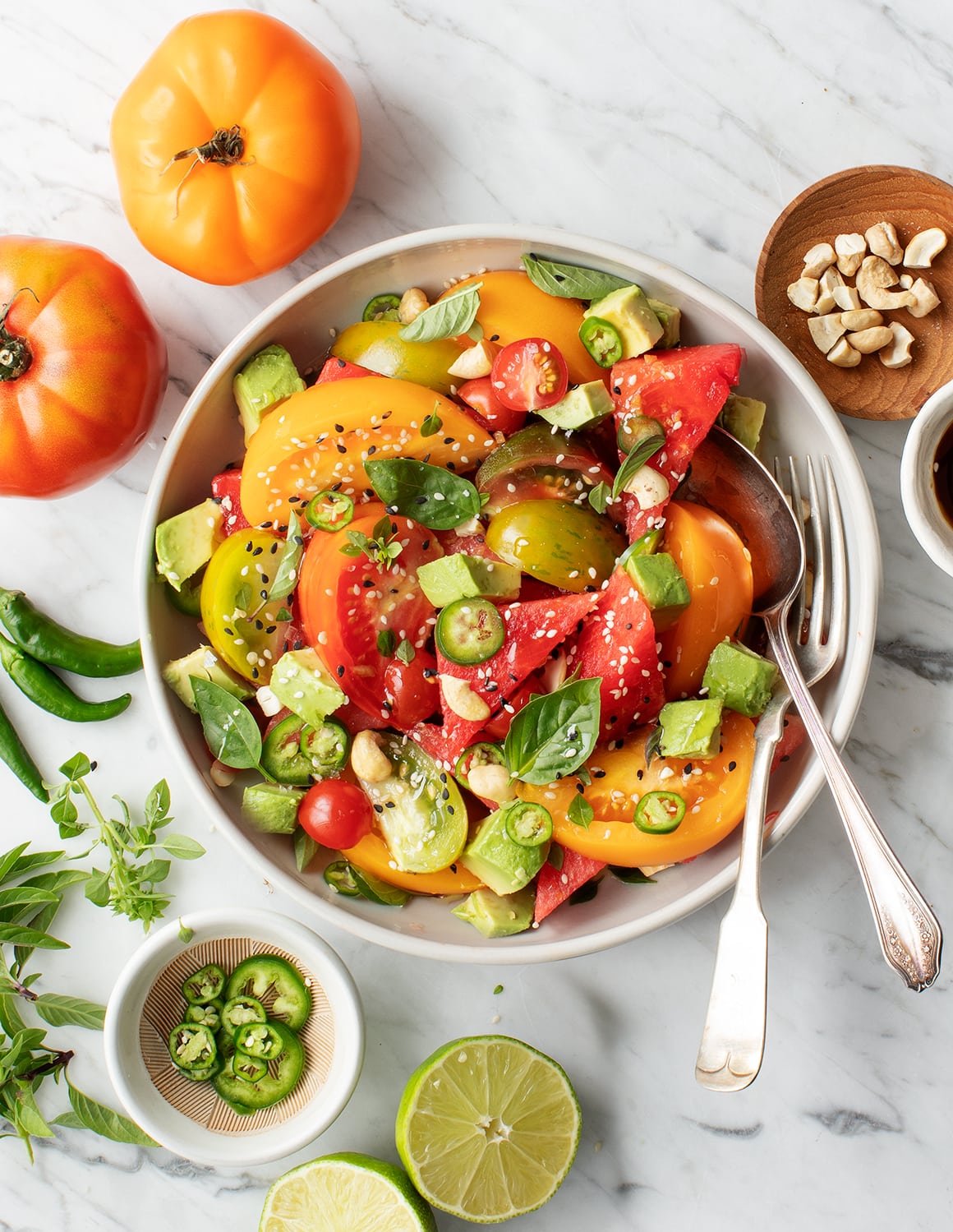 For a hefty dose of heart-healthy antioxidants, namely beta carotene and lycopene, give this Watermelon Salad with Tomato & Avocado by Love & Lemons a go.
Juicy, summery watermelon pairs surprisingly well with tomatoes, avocado, basil, and cashews. And with a sweet, savory, and sour, Asian-inspired dressing, you'll get a mouthful of interesting flavor profiles that come together for a refreshing take on a summer salad side dish or main course.
Taco Salad
For all the fun Mexican flavor of a taco, without all the mess, try this delicious, meat-free Taco Salad from Homegrown Provisions.
Mixed greens, tomatoes, avocado, black beans, and radishes form the base of this festive, summer (or anytime) salad.
And with the addition of Mexican street-style corn, a cashew-based chipotle crema, and walnut taco "meat," you've got the makings of a healthier, plant-based twist on taco night.
Note: Grill or steam the corn for an easy way to omit the oil from this recipe.
Carrot Slaw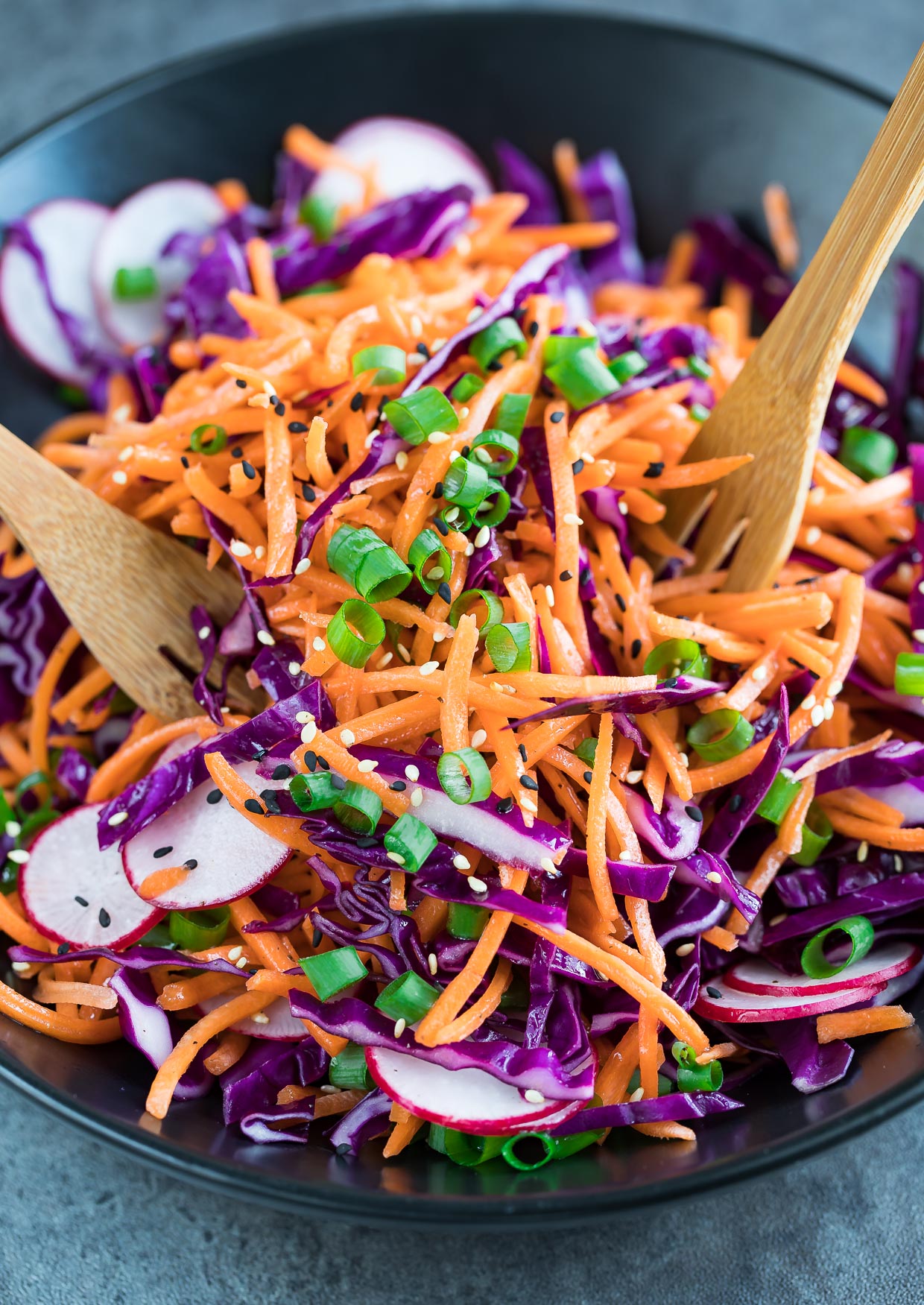 Another classic summer salad that gets a healthy, Asian-inspired makeover, is this Carrot Slaw from Peas and Crayons. It's sure to be a crowd pleaser at your next summer cookout or BBQ!
Radishes, shredded carrots, and cabbage get topped with green onions and sesame seeds — and tossed with a tangy lime-ginger dressing.
Not only is this carrot slaw tasty, but it's also a potent cancer-fighter. Radishes and cabbage are cruciferous veggies, which contain the anticancer phytochemical sulforaphane, and as part of the Allium family of vegetables, green onions also contain organosulfur compounds, which have anti-inflammatory, anti-viral, and antibacterial properties.
Grilled Summer Vegetable Salad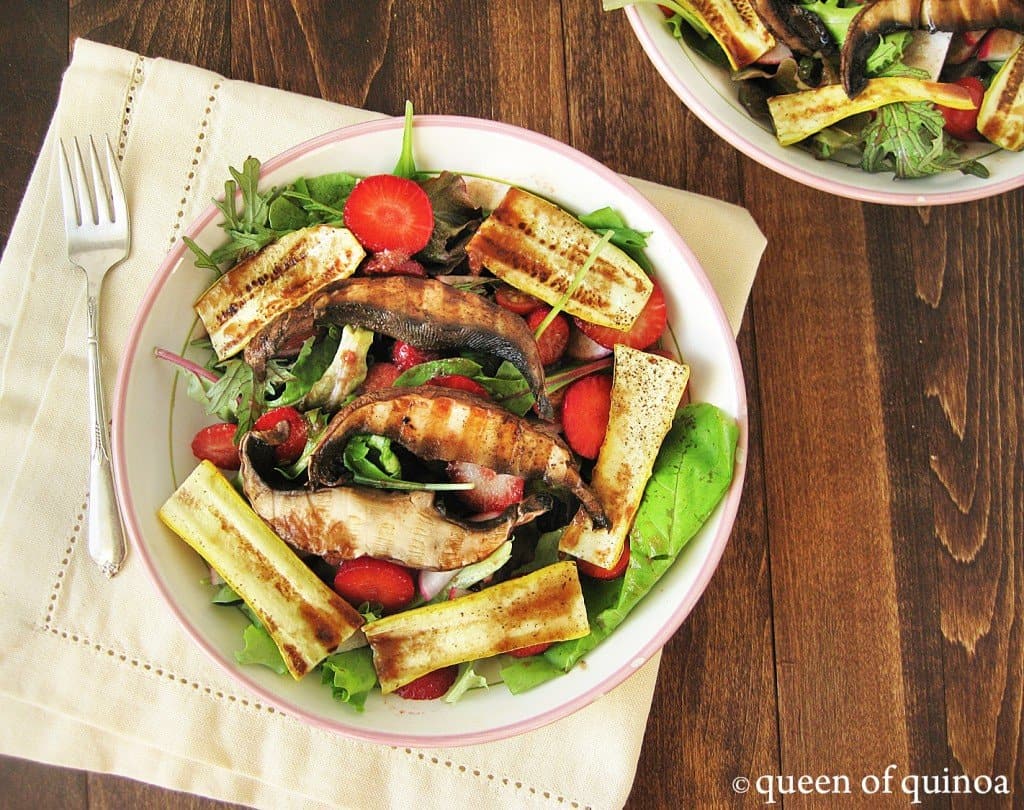 Warm, pleasant weather calls for eating outdoors, and for many people that means grilling on a barbeque. With this Grilled Summer Vegetable Salad by Simply Quinoa, you can still have that backyard cookout without endangering yourself and your loved ones by grilling vegetables — which, unlike meats, don't release dangerous chemicals in the air or onto your food.
This recipe calls for portobello mushrooms and summer squash. But you can also grill other locally available summer veggies, like asparagus or bell peppers. If you're feeling adventurous, try throwing some fruit on the grill as well. Or you can make fruit skewers to serve on the side.
Cold Soba Noodle Salad with Sesame Ginger Dressing
For an Asian twist on a classic, cold pasta salad, toss together Vegan Richa's Cold Soba Noodle Salad with Sesame Ginger Dressing. Soba noodles cook quickly, usually within four to five minutes, which makes this a prime choice when you're in a hurry.
With the addition of colorful, raw vegetables like carrots, green onions, and zucchini, you'll also get almost all your daily dosage of both vitamins A and C in just this single dish.
Note: Most soba noodles are made with buckwheat, which doesn't contain gluten (despite the name), but also includes regular wheat flour as well. Look for a certified gluten-free option made from 100% buckwheat if you want to be sure to avoid gluten.
Tell us in the comments below:
What do you think of these healthy summer salad recipes?
What's your favorite kind of healthy summer salad?
Do you have any favorite summer salad recipes?
Featured Image: iStock.com/sveta_zarzamora
Read Next: