Want some nutrient-packed recipes for Taco Tuesday? Even the most die-hard taco fans won't miss the meat with these healthy, vegan tacos made from plants.
---
Tacos may be the perfect food. No matter what ingredients you have lying around, you can probably make a tasty taco out of them.
What began as street food for Mexican miners gradually made its way to the U.S. through immigration. Eventually, tacos became Americanized using common ingredients.
Today, you can find tacos — some healthier than others — in homes, restaurants, taquerias, taco trucks, and even chains like Taco Bell.
The United States has something of a love affair with tacos. There's Taco Tuesday, National Taco Day, and, of course, Cinco de Mayo, which has turned into a bigger holiday in the United States even than it is in Mexico.
Fast-food tacos, and most tacos in general, are full of factory-farmed meat and cheese, GMO corn, and cooked with a lot of oil. But you can still enjoy these handheld food miracles served with a healthy dose of plants.
10 Vegan Tacos to Spice Up Your Meals
Whether you want your plant-based tacos stuffed with beans, mushrooms, or even jackfruit, check out these healthy recipes for plant-based tacos that are perfect for Cinco de Mayo… or anytime.
Remember, most corn in North America is genetically engineered. If that's not your thing, then go organic or non-GMO with corn and corn tortillas.
Black Bean Tacos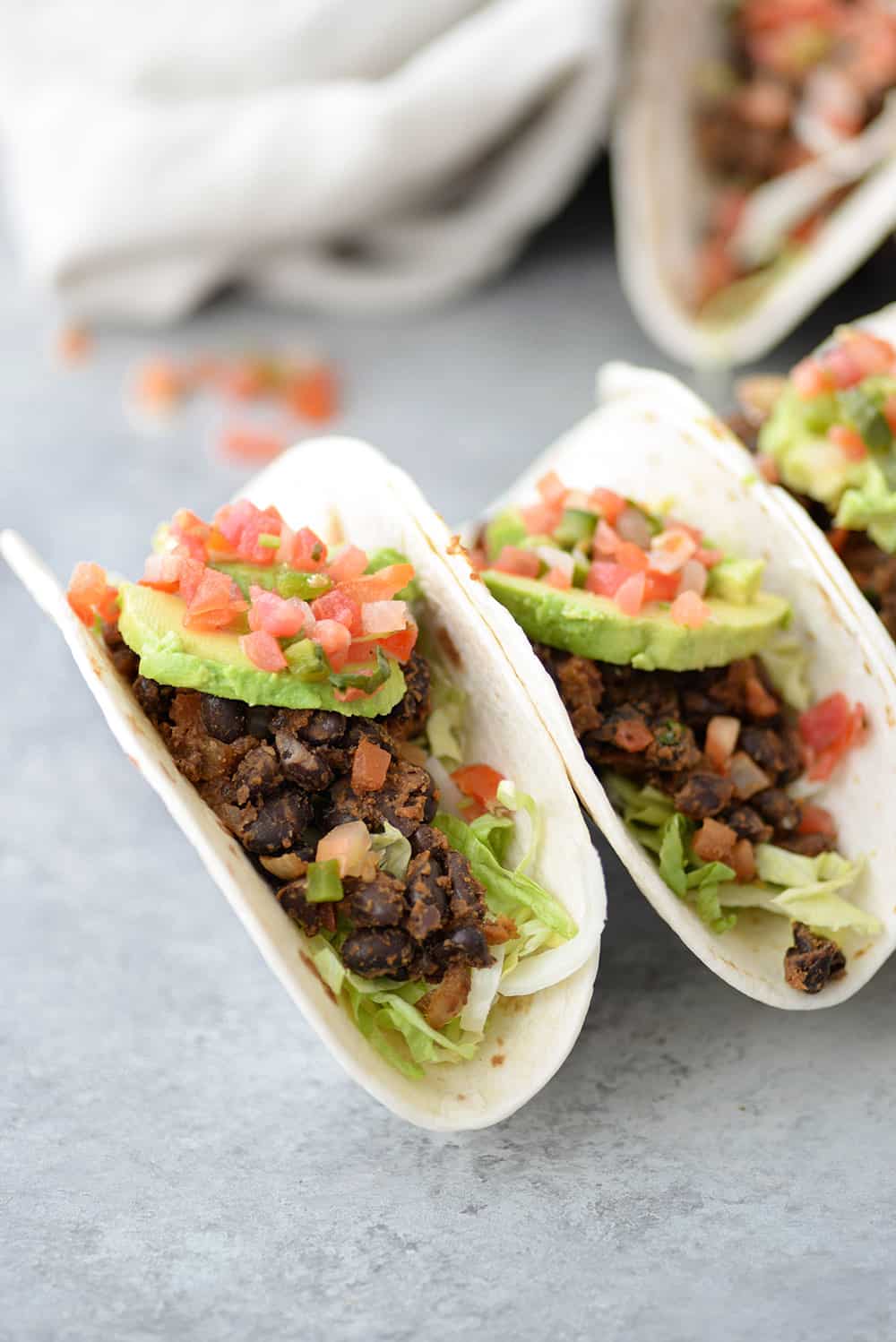 For an easy Taco Tuesday or weeknight meal, you can enjoy these Black Bean Tacos from Delish Knowledge, which are ready in just 10 minutes.
Because this taco recipe uses canned beans, the only ingredient that requires cooking is the onion, which is stirred together with cumin and chili pepper — both potent, health-promoting spices.
Note: To make this recipe oil-free, you can water sauté the onions. And if you prefer to cook your own beans, make them ahead to cut down on the day-of prep time.
Rainbow Tacos
With curried quinoa and a garlic tahini sauce, these Rainbow Tacos from Two Spoons are packed full of tasty Mediterranean flavors.
The colorful, plant-powered filling has red cherry tomatoes, orange grated carrots, protein-packed, yellow curried quinoa (made with turmeric), green spring onions and cilantro, and purple cabbage — all combined for an incredibly delicious and antioxidant-packed taco.
All that's missing is the color blue from these tacos! Add a side of blueberries, and you'll give a new (and healthier) meaning to the phrase "Taste the rainbow!"
Chipotle Tempeh Tacos
If you're looking to switch beans for beef, try a taco recipe that uses probiotic-rich tempeh (fermented soybeans).
These Chipotle Tempeh Tacos from Connoisseurous Veg are good for your gut and your brain.
And with the smoky flavor of chipotle peppers and the crumbly, meat-like texture of the tempeh, you'll satisfy even the most carnivorous of eaters with these delicious, plant-filled tacos.
Notes: To make this recipe oil-free, you can use water or vegetable broth to water sauté the veggies. If you want to avoid genetically engineered ingredients, we recommend buying organic tempeh and other soy products.
Lentil Tacos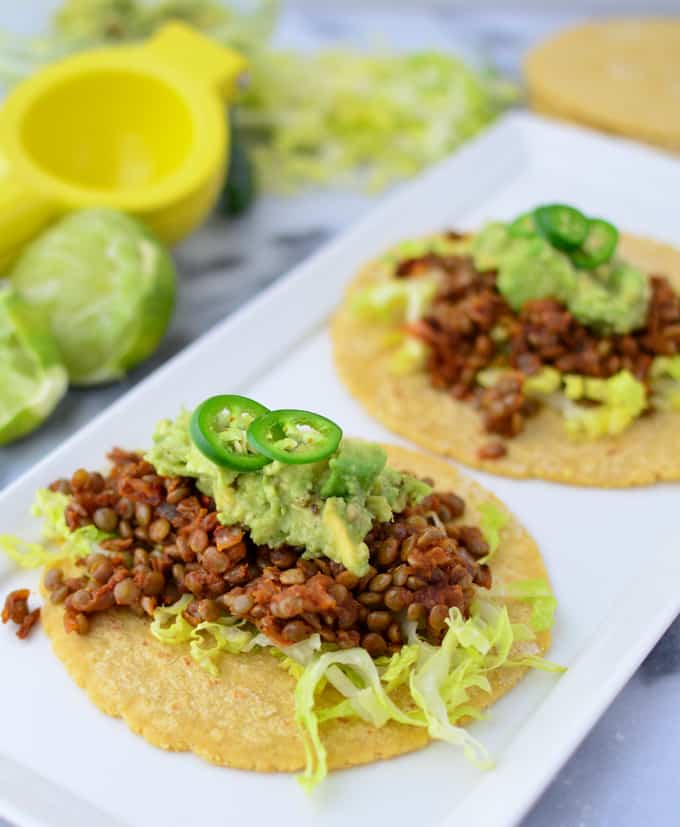 If you're fiesta-ing on a budget, lentils are one of the most inexpensive plant-based proteins — while also providing a significant source of both calcium and iron.
Indulge in these simple Lentil Tacos from Delish Knowledge for a meal that's both affordable and nutritious.
Note: To make this recipe oil-free, you can use water or vegetable broth instead.
Mango Lime Cabbage Tacos
Mango, lime, radishes, and fresh peas add a refreshing, springtime interpretation with these Mango Lime Cabbage Tacos from Active Vegetarian.
With the addition of avocado and a sprinkle of hemp hearts, you'll get a heart-healthy dose of whole foods-sourced monounsaturated fats, which can help lower LDL cholesterol levels.
If you're looking for a flour- or gluten-free alternative, this recipe uses antioxidant-rich, purple cabbage as the "shell" instead of tortillas.
Note: If spice isn't your thing, you'll enjoy the cooling, Mango Lime Sauce included in this taco recipe, which uses fresh fruit as a natural sweetener.
Easy Jackfruit Tacos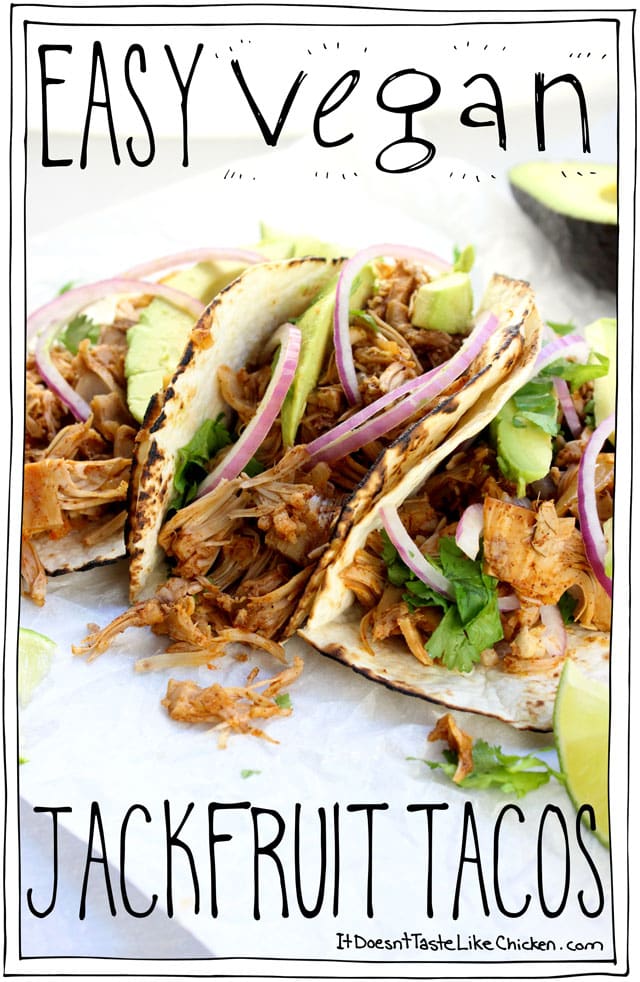 For a sustainable meat-alternative in your tacos, jackfruit is an attractive option.
In this Easy Jackfruit Tacos recipe from It Doesn't Take Like Chicken, the shredded jackfruit looks and even tastes somewhat like meat but is completely cruelty-free.
You'll also get a healthy dose of garlic, cumin, and cilantro in your tacos — spices known to naturally improve your digestion.
Note: You can make this recipe oil-free, by using water or vegetable broth instead
Rancheros Tofu Scramble Tacos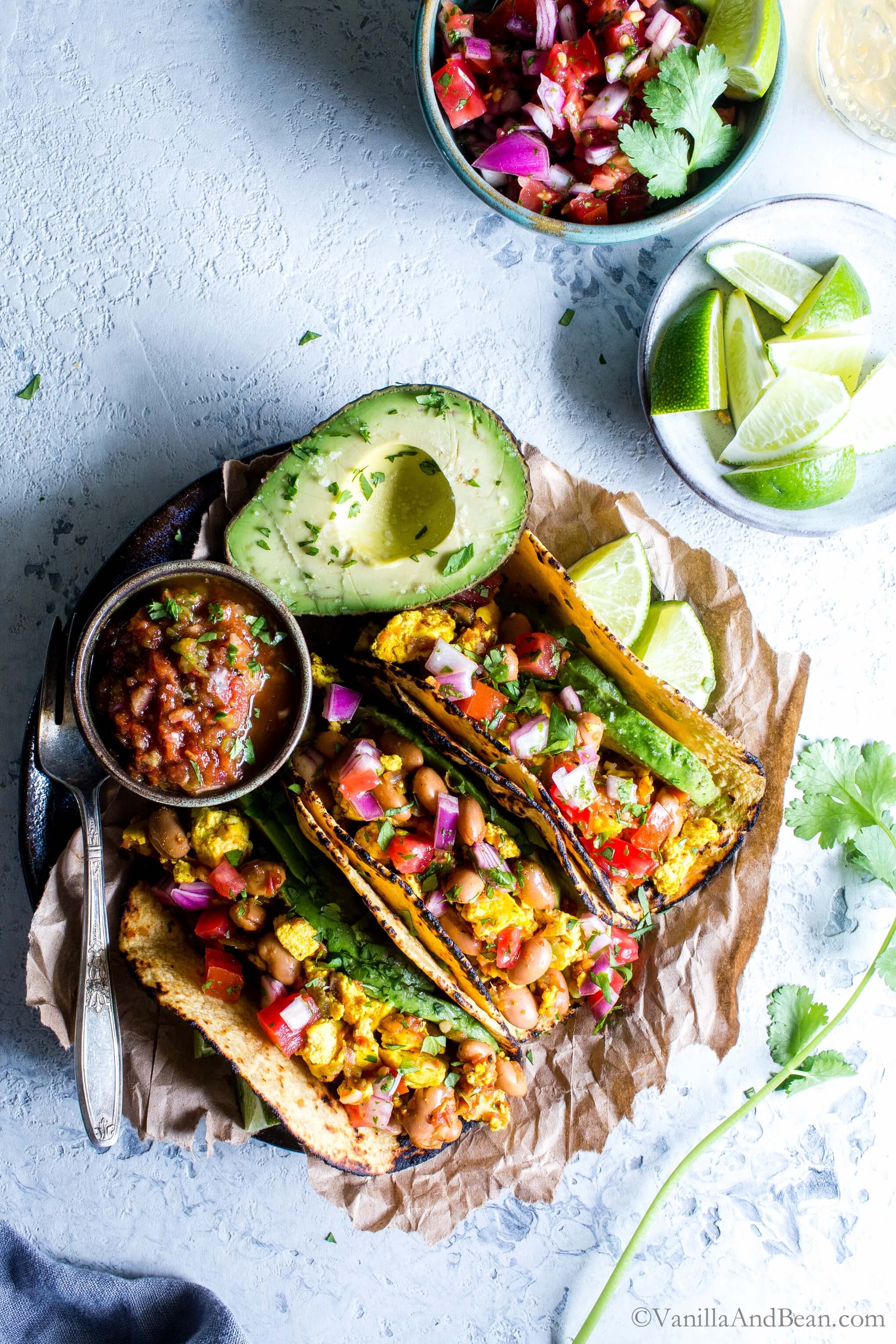 Who said tacos were only a lunch or dinner option? Start your day off right with these Rancheros Tofu Scramble Tacos from Vanilla and Bean.
Tofu and pinto beans make up the protein base for a hefty dose of energy and an ample head-start on your daily fiber intake.
Plus, with the addition of turmeric, the tofu will turn yellow — mimicking the color of eggs. Now you can enjoy the look, texture, and flavor of huevos rancheros without the egg!
Portobello Tacos w/ Jalapeño Sauce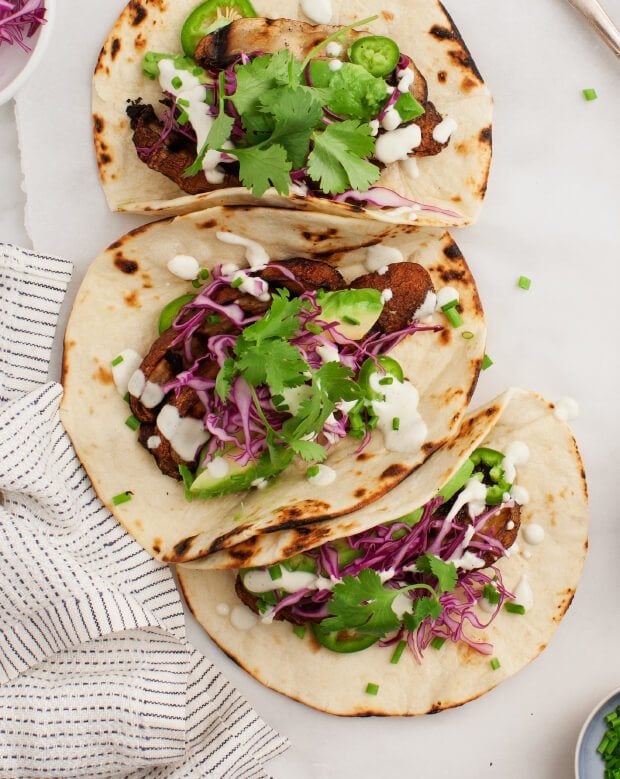 Fusing together both Asian and Mexican flavors, Love and Lemons' Portobello Tacos w/ Jalapeño Sauce are like a multi-ethnic fiesta in your mouth!
The inclusion of soy sauce brings out the mushrooms' umami flavor. And the jalapeño sauce adds a flavorful kick with a spice level that's adjustable depending on your preference.
Note: Although these call for grilled mushrooms, you can easily water sauté or even steam them to give them a chewier texture.
"Ground Beef" Cauliflower Mushroom Tacos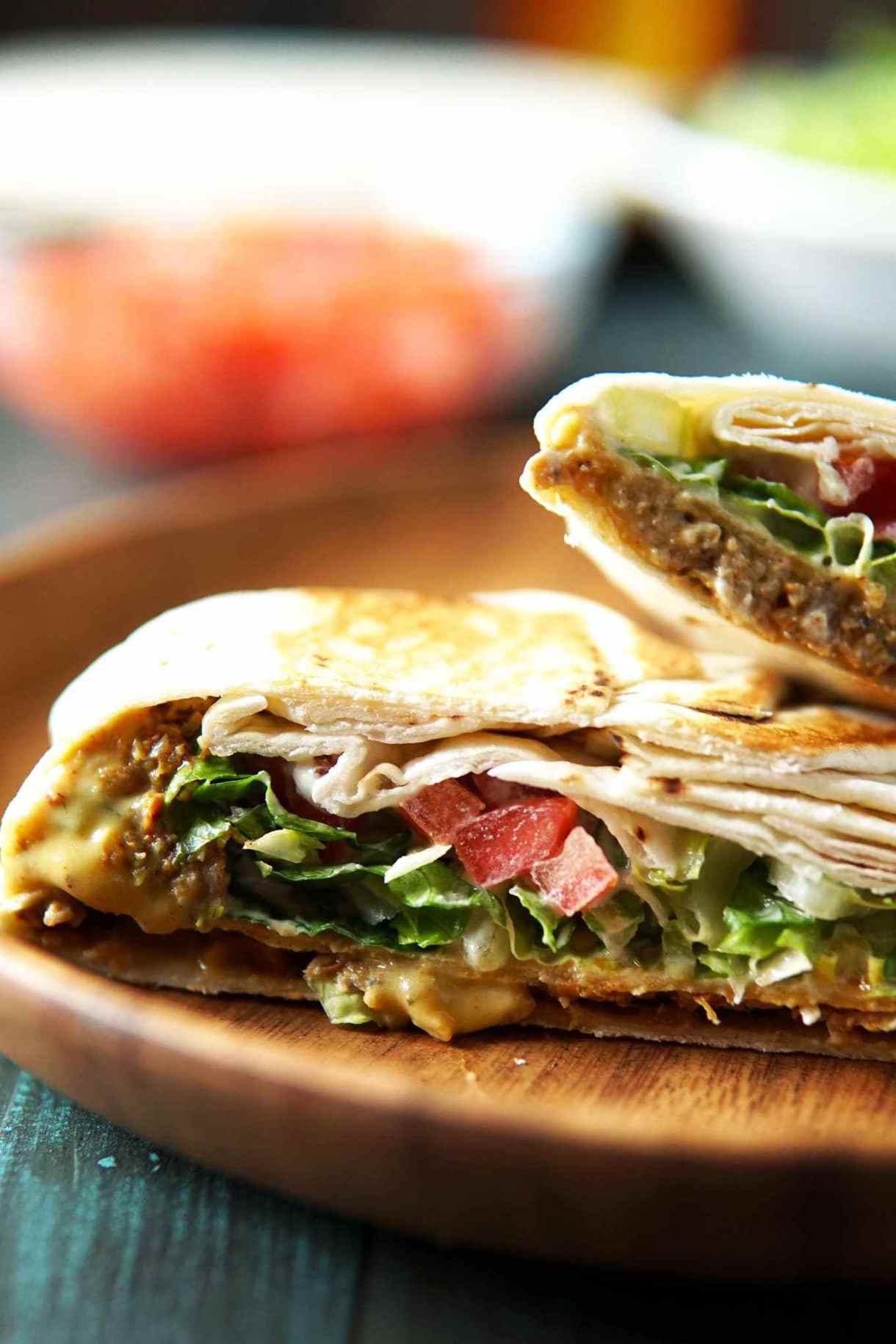 These "Ground Beef" Cauliflower Mushroom Tacos from Pass the Plants resemble ground meat tacos without the problematic health effects.
The "ground meat" is a combination of cauliflower, mushrooms, carrots, onion, garlic, pepitas (if nut-free) or walnuts, and sun-dried tomatoes. Plus, this recipe includes a homemade taco seasoning without any preservatives or added sugar.
Raw Korean BBQ Tacos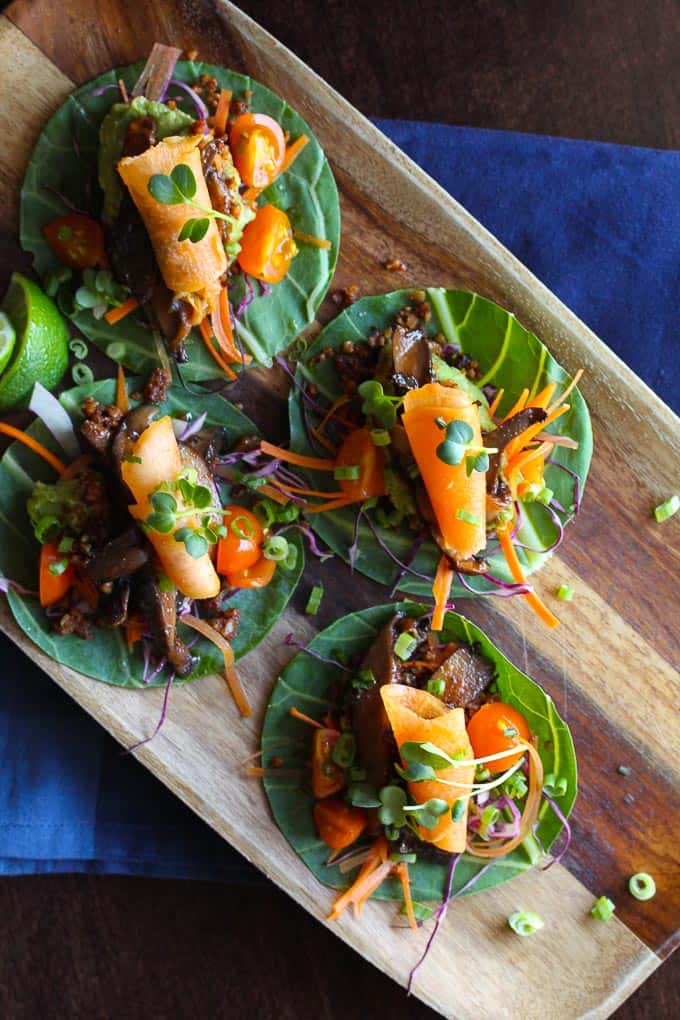 For creative, vegan tacos inspired by Los Angeles' Koreatown neighborhood, give these Raw Korean BBQ Tacos from Plant Craft a try.
Collard leaves take the place of tortillas and are piled high with walnut chorizo, and homemade Korean BBQ mushroom marinade. Toppings include red cabbage, scallions, cilantro, and kimchi (or fermented cabbage).
Note: For a nut-free chorizo, try organic tempeh instead.
Tell us in the comments below:
What's your favorite filling for plant-based or vegan tacos?

What do you think of these vegan tacos recipes?

Do you have any favorite, healthy taco recipes to share?
Featured Image: iStock.com/Magrig
Read Next: