Adapted from 31-Day Food Revolution: Heal Your Body, Feel Great, & Transform Your World by Ocean Robbins. Get your copy here.
---
Editor's Note: As of this writing, dining out at restaurants is being impacted by the COVID-19 pandemic. Because restaurant openings and closures are regulated on a national, state, county, or city level, it's important to note that dining restrictions may vary where you live or are traveling to. We encourage you to use your own best judgment and to practice safe protocols in addition to observing any government mandates that may exist wherever you are.
One way to tell that you live in a toxic food culture is that there's such a thing as "health food." Think about that term for a second and what it implies about all the products that don't get shelved in that tiny section of the supermarket — and that don't only appear in modest co-ops or upscale specialty markets. It's a bit like having a section of the auto showroom for "non-exploding cars."
Once you realize that most modern food products compromise your happiness, health, vigor, and longevity, it's only natural to want to take as much control over your food choices as possible. And more and more people are doing just that — taking an interest in where their food comes from, how it was produced, and how it will impact their health. The trend toward healthy eating has skyrocketed over the past decade or so, as more and more people choose foods that are non-GMO, organic, vegan, local, or fair-trade.
The best way to take charge of your food choices is to "insource" food prep — that is, shop for ingredients and prepare dishes at home. That way, you can ensure the quality of the food you eat and serve to your loved ones.
Why Eat Out at All?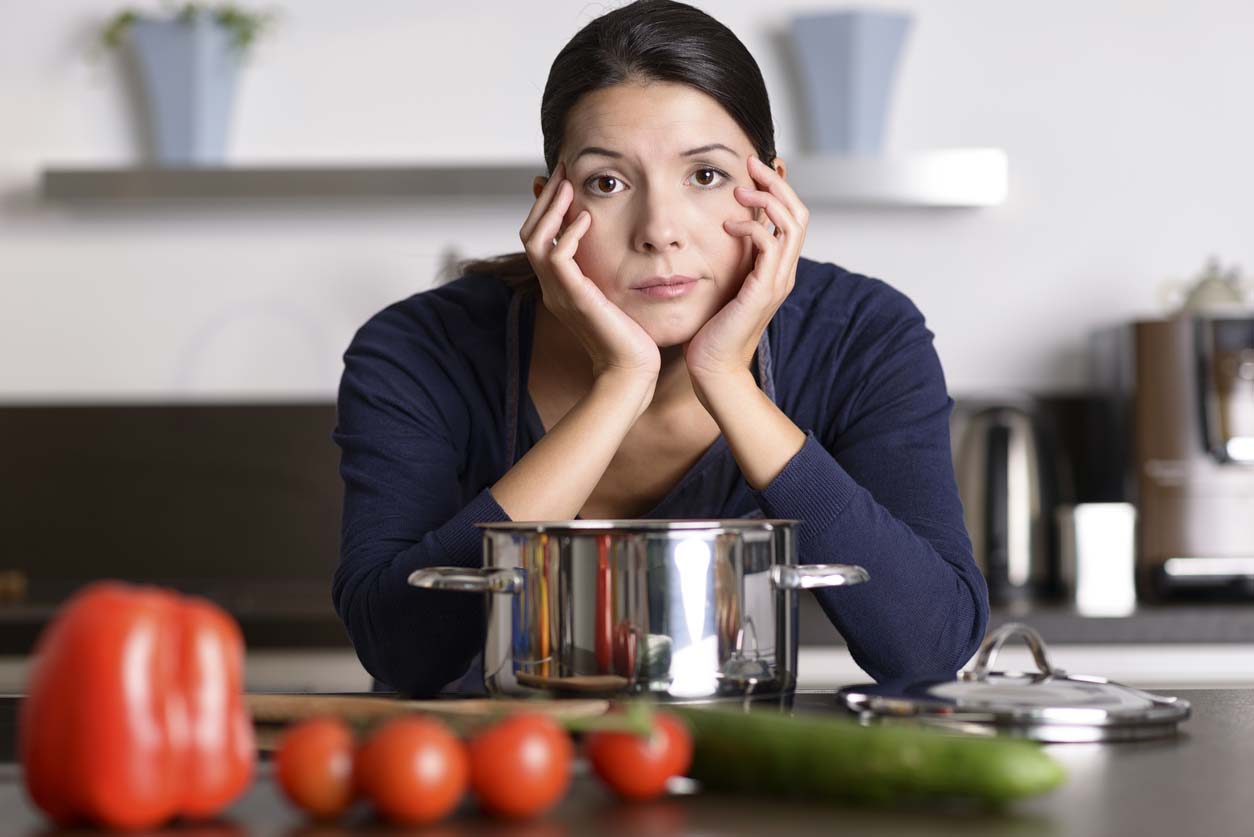 But sometimes it's nice (or necessary) to eat food prepared in a restaurant, whether you're dining in (hard to do in a pandemic, depending on where you live), or getting takeout or delivery. After a long, tiring day, you may not be in the mood to cook, serve, and clean up. I know that sometimes I'm so fried after a marathon planning or working session that it feels like I literally cannot make a single decision about food. Everything in the fridge looks like it would take a miracle to turn into a meal.
Eating out also provides a chance to enjoy new flavors or ingredients that you may not regularly include in your home cooking. Professional chefs study hard to master techniques that are far beyond the reach of most of us, even if we fancy ourselves seasoned and committed home cooks. Have you tried making dosas (South Indian lentil and rice crepes) at home? I've never gotten them even close to the thin, crispy, delicious ones that I can get in a good Indian restaurant.
Eating out or taking out can also support local businesses that may be struggling mightily to stay solvent during the pandemic. Many communities have been hit hard with restaurant closures, which disproportionately occur in small independent establishments rather than the large national chains. If you want to enjoy a variety of locally sourced, lovingly prepared meals by staff who are paid more than rock bottom wages, now's the time to patronize them and help them make it through.
And although eating out can be pricey, and may not be as healthy as what you can make at home, there are ways to ensure you're eating as healthfully as possible when dining out. In this article, we'll look at the bad and the good of restaurant food, and how to eat healthy at restaurants.
The Bad: Many Restaurants Use Dangerous Ingredients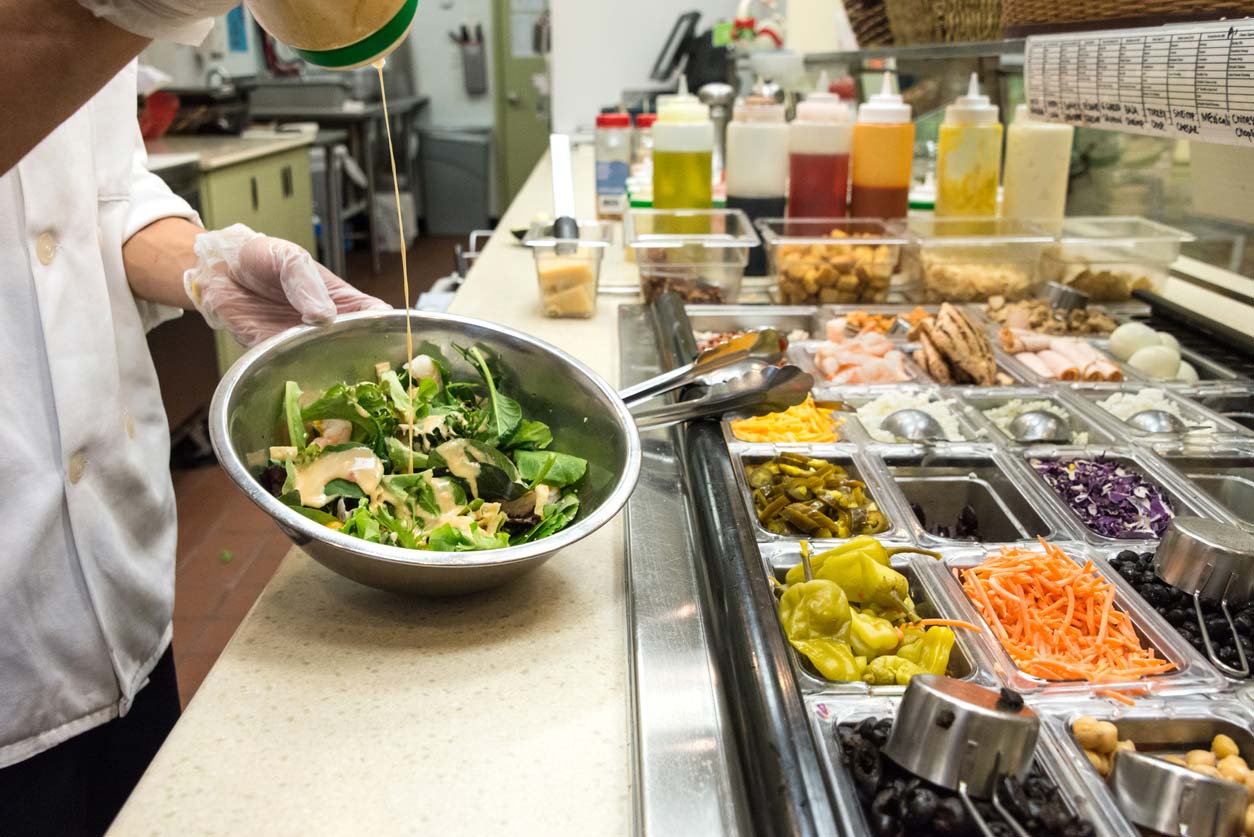 Paul McCartney once said, "If slaughterhouses had glass walls, everyone would be a vegetarian." Similarly, if restaurants had to reveal the ingredients they used to make their ultra-tasty dishes, many health-conscious individuals would avoid them completely. Many of us realize that fast food isn't healthy; it's full of trans fats, oxidized oils, high fructose corn syrup, processed carbs, and factory-farmed meat and dairy. But it's not as well known that many of those same ingredients may "grace" the meals we eat at casual and even upscale restaurants.
The restaurant business is a notoriously difficult one. Margins are tight, and there's tremendous competition. Even fancy establishments may use questionable ingredients sourced from dodgy suppliers or favor low-grade government-subsidized ingredients in order to cut costs. And since their business model depends on delighted customers coming back and telling their friends, there's every incentive to drench the inferior ingredients in sugar, salt, oil, and flavor-enhancing chemicals to camouflage any lack of quality.
Chain restaurants, in particular, may have dishes with pre-made sauces, soups, dressings, and breadings that contain harmful chemicals and additives. Many use highly processed oils (often GMO) and foods laced with "natural" or artificial flavorings, added sugars, and preservatives. Unless they explicitly tell you otherwise, restaurant salad dressings could also contain chemicals like disodium guanylate and monosodium glutamate (MSG).
And given the high-cost of grass-fed meat and wild-caught fish, you should assume that every restaurant uses factory-farmed meat, fish, eggs, and dairy unless they explicitly state otherwise. Even when salmon is advertised as "wild," that may not be a guarantee that it actually is. In 2015, the nonprofit ocean conservation group Oceana used DNA analysis to study samples of salmon from upscale and takeout restaurants in New York; Washington, DC; Chicago; and Virginia. They found that two-thirds of the "wild" salmon on restaurant menus were actually farmed.
While you can be reasonably confident that the food you eat in restaurants has been prepared in a sanitary manner, thanks to government regulations and inspections, there's no such guarantee about their quality or healthfulness. The truth is, you'd never allow into your kitchen many of the ingredients that you may have been blissfully consuming, completely unaware, at restaurants.
But all is not lost! You can still mitigate the bad and load up on the good when you eat out or order in.
Choosing Conscious Restaurants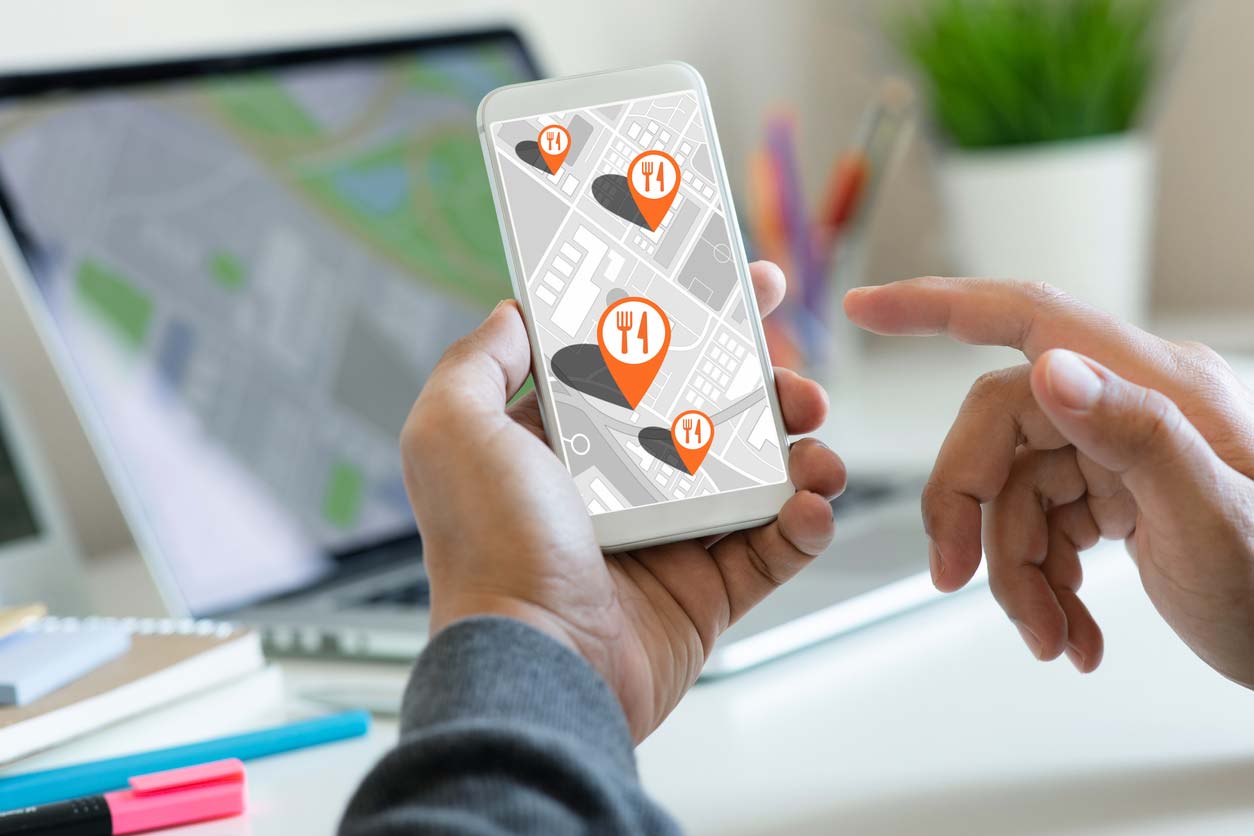 The easiest way to ensure healthy dining at a restaurant is to choose a restaurant that serves healthy food. That way, you won't have to navigate the menu like it's a field of nutritional land mines. Luckily, there are some great tools to help you appraise restaurant options and find establishments that care about your health.
Google & Yelp
First, search engines are your friend. For example, I thought I knew all the restaurants worth knowing in my town after living here for years and years. But recently, I searched Google and Yelp with keywords like "organic," "natural," "sustainable," and "vegetarian" + restaurant + [my town]. Lo and behold, I found a whole string of new establishments that I hadn't known about, complete with price information and customer reviews.
One of the restaurants I discovered was a local, organic Sri Lankan restaurant that my wife and I went to on a date night (pre-COVID-19!). During our meal, the owner, who is also the head chef, came out to say hello to all the patrons. She asked me for feedback on the spices she'd used in the vegetable curry I was eating and shared some of the thinking that had gone into her choice of ingredients. She cared about her guests. Offering nourishing food that delighted people was more than a job — it was a passion. It's always possible there's a jewel hidden in your neighborhood or nearby.
Find-a-Restaurant Apps
In addition to search engines and Yelp, there are dedicated apps that make it easy to find restaurants that fit certain criteria, no matter where you are in the world. HappyCow.net caters to vegetarians and vegans, while Vegan Maps is a crowdsourced app that includes detailed descriptions, reviews, and directions to plant-based eateries. The Vanilla Bean app serves vegans, vegetarians, and "flexitarians" (i.e., those who don't identify with an "ism" but still prefer healthy, plant-based food whenever they can get it). The Food Tripping app focuses on sustainable and local businesses, serving conscious consumers of many different dietary philosophies and preferences.
Word of Mouth
And often, the best way to feed your mouth is through word of mouth. Ask your health- and environment-conscious friends and loved ones for their recommendations. If you belong to an online plant-based community, like Food Revolution Network's WHOLE Life Club, it's easy to connect with others who can give you the scoop on what's delicious and healthy wherever you are.
Healthier Chains to Know
There's also a growing trend toward healthier fast food or "fast-casual" options. For example, Chipotle now has more than 2,000 locations worldwide. And despite some challenges with food safety in its supply chain, the restaurant has led the way by going non-GMO and offering vegan options along with meat from grass-fed animals. Amy's Kitchen has opened an organic drive-through restaurant in California and has plans for franchise-based expansion. There's also a growing body of health-minded chains opening up, with names like Veggie Grill, Native Foods Café, True Food Kitchen, and Sweetgreen.
Tips for Ordering the Healthiest Options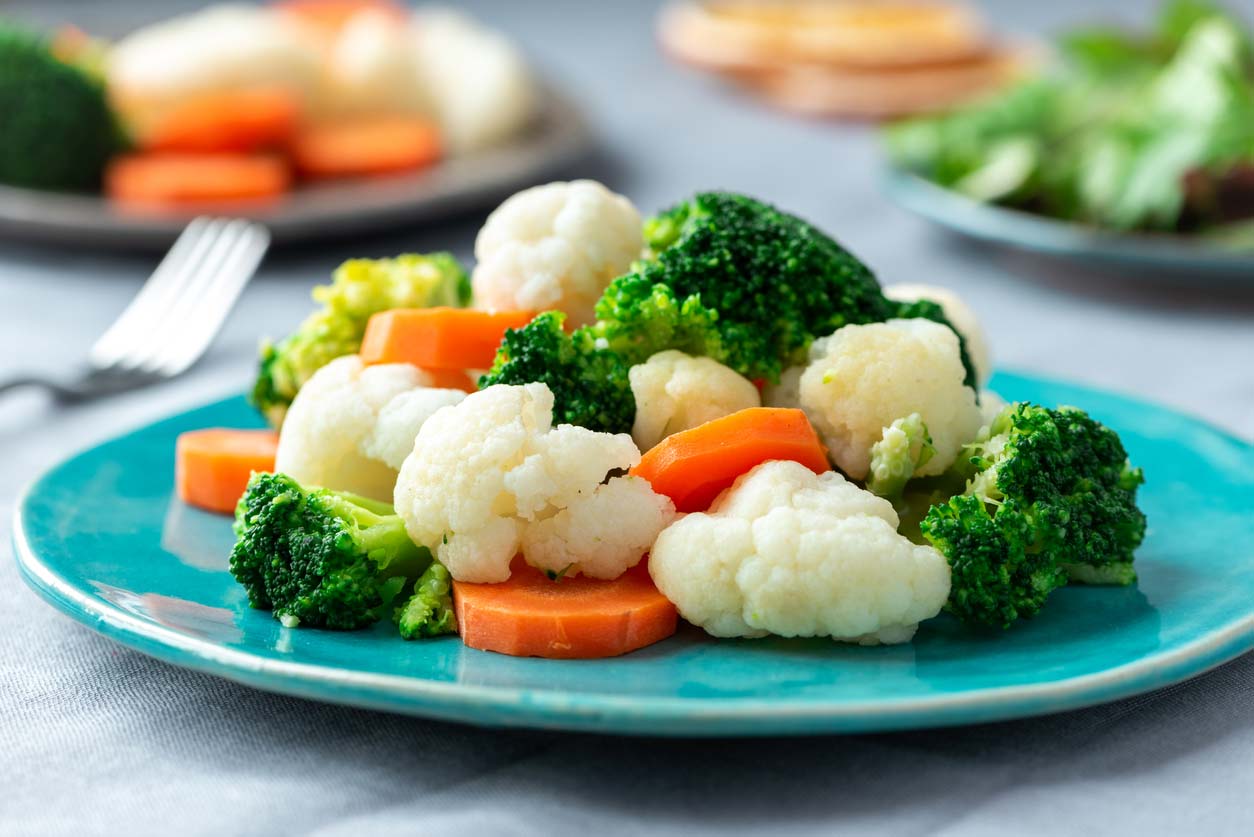 If you're eating at a "regular" restaurant that isn't explicitly intended for a health-conscious clientele, there are still things you can do to get the healthiest meal possible. First, scout ahead. Check for a menu on their website or app, so you can plan in advance. (Of course, if you're ordering food for takeout or delivery, you've likely already done this.) The nice thing about online menus is that sometimes they also include useful information about things like ingredients, including allergens, animal products, and sodium content.
You can also call ahead to ask if a restaurant allows substitutions or can put together a special meal for you. It's much easier to say yes to your requests if you give them some advanced notice. If you're dining in, you can tell your waitperson your preferences or needs and ask for recommendations. And if you don't see anything on the menu that feels like a good fit, you can often order "off the menu," requesting combinations or options that make use of ingredients the restaurant has — assembled in a way that works for you.
For example, a couple of years ago, I was staying in a hotel and decided to try my luck at its restaurant. I didn't see anything on the menu that I felt comfortable eating, but I didn't let that stop me. I ordered steamed vegetables with lemon wedges and a baked potato topped with olive oil, Tabasco sauce, salt, chopped parsley, and curry. I also ordered a salad, and instead of the house dressing, I requested olive oil, lemon juice, salt, and an Italian seasoning mix the restaurant had on hand.
It certainly wasn't the high point of my culinary life. But by the time I added the seasonings, I had a reasonably tasty (and unique!) meal — and I felt glad that I hadn't compromised my values or taste buds.
A Note About Off-Menu Ordering
A lot of restaurants can accommodate your preferences. Selections at many eateries can be bountiful if you're creative and willing to ask for substitutions. More and more, restaurateurs looking to capture market share are realizing that they need to be flexible enough to serve many kinds of diners. And swapping out meat, dairy, or a white flour roll for something else, such as a meat or cheese analogue, or a lettuce wrap, can be an easy (and often, money-saving!) way for them to do it.
The way I look at it, you shouldn't feel guilty about requesting a little extra attention. Restaurants are in business to serve their customers. By telling them what you need, you're helping them do their job. And besides, if they get "out of the box" requests often enough, they just might decide to change the box. How else would they know there was customer-based demand for healthier food?
So what sorts of things can you order at a "mainstream" restaurant? When I'm eating breakfast at a restaurant, I opt for oatmeal — made with water or a plant-milk — instead of bagels, pastries, or sugary boxed cereals. For lunch or dinner, I might try to incorporate steamed vegetables and salads along with quinoa, rice, potatoes, or sweet potatoes and some tasty curries.
A Kind Word for Restaurant & Delivery Workers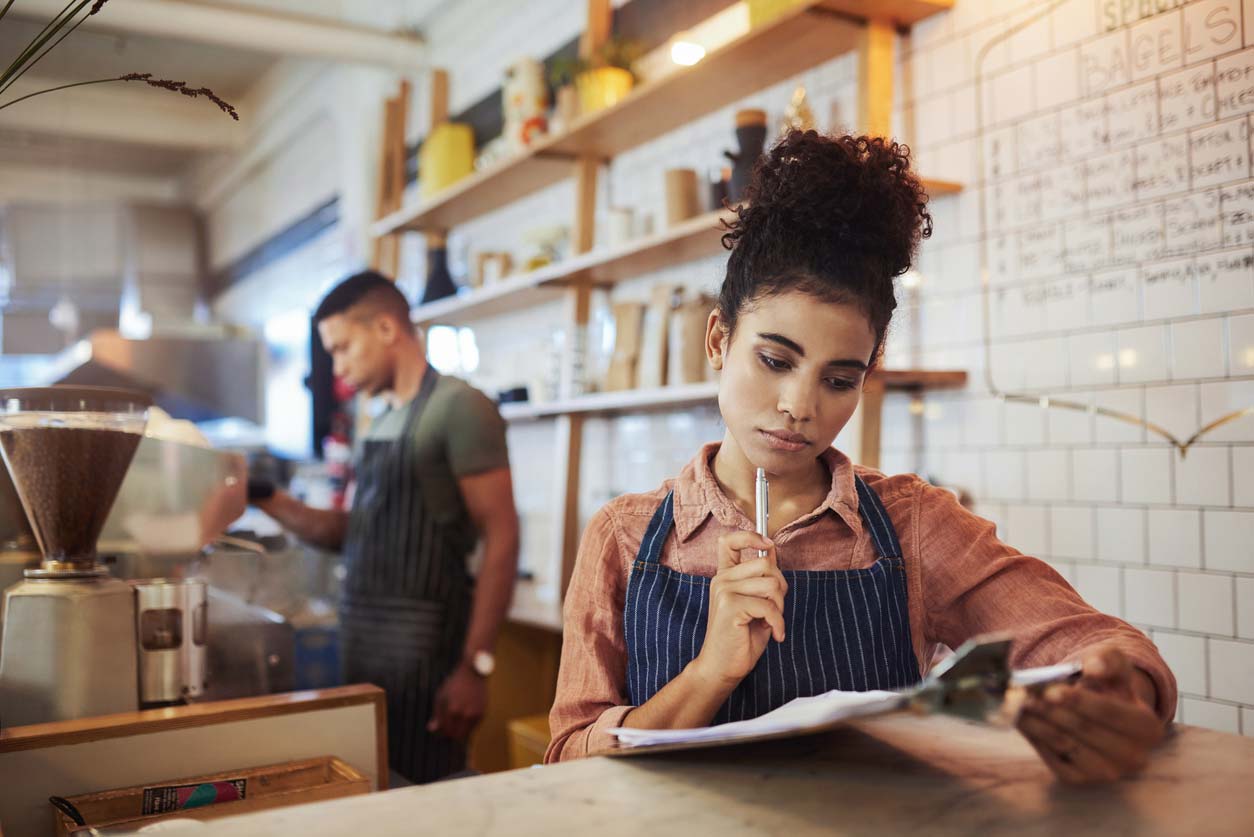 Behind most restaurants is an owner, of course. But there are also chefs, servers, dishwashers, janitors, and other staff who work hard to bring us our meals. Many of them aren't paid a whole lot, or offered benefits. And some of them face hostile working conditions. Did you know that 40% of female fast-food workers are subjected to sexual harassment on the job?
When you go to a restaurant, even if you find the food or the service disappointing, remember that the workers are probably under a lot of stress, especially right now. Smiling, saying "thank you," tipping generously, and being friendly can brighten everyone's day, including your own.
And, of course, the more we patronize establishments that prioritize the well-being of their employees — perhaps by offering a living wage and benefits — the more restaurants will hopefully clean up their labor acts in response to market demand.
And especially during the pandemic, re-patronize restaurants you enjoy — and support them however you can. That might include writing glowing reviews, spreading the good word, and even buying gift cards for yourself and others. The cash flow now in exchange for a meal later can be a huge boost to a restaurant struggling to keep its staff employed.
Eating On-the-Go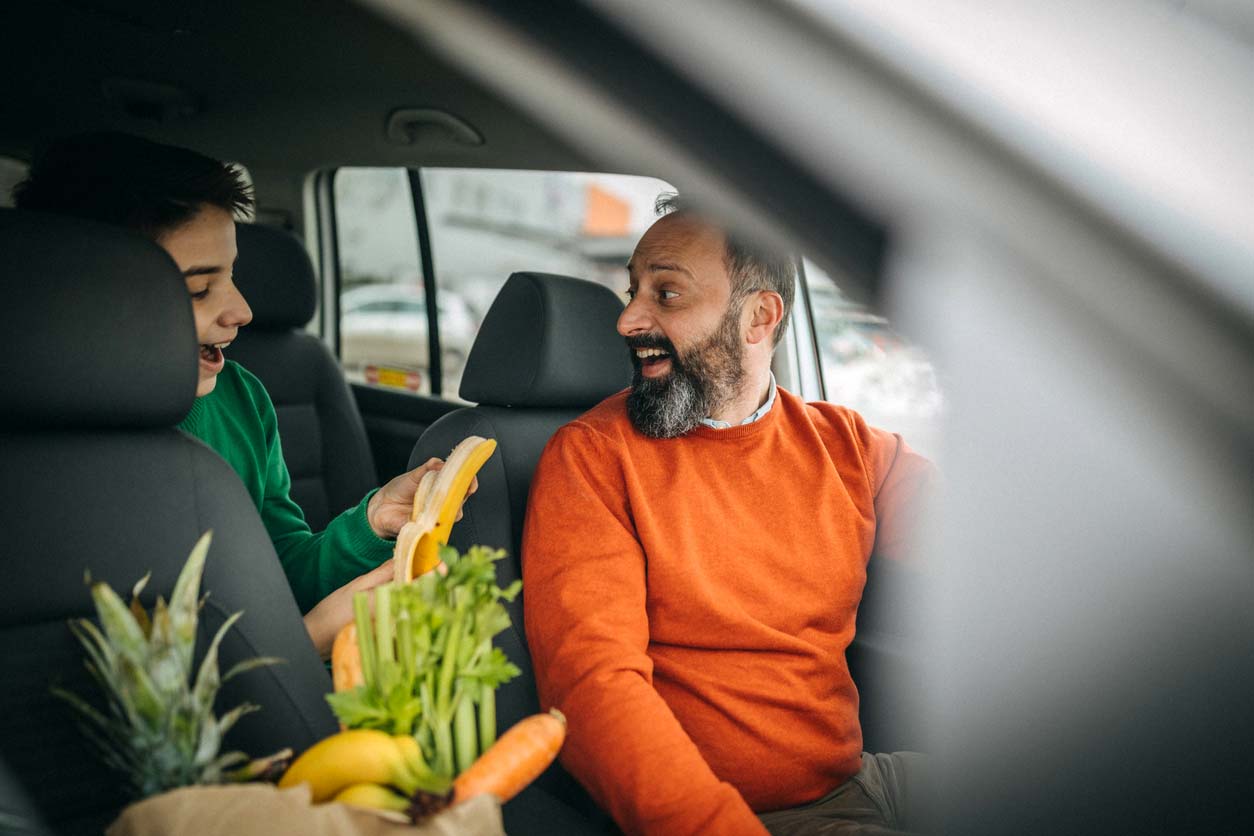 If you're traveling, you can employ many of the strategies we've already covered. Use an app or search engine to locate healthier chain restaurants (some I haven't mentioned include Sharky's and Tender Greens), a Whole Foods with a prepared foods bar, or a natural foods store, farmers market (check the hours), juice bar, or co-op. And no matter how low-quality the items in the center aisles, every large supermarket has a produce section that includes food you can eat to reduce your dependence on eating out. Munching on apples, celery sticks and hummus, or baby carrots and salsa can replace some of the unhealthy calories you'd otherwise order at a restaurant.
You can also bring some healthy snacks on your travels. If you're in a car, pack a cooler with your favorite salad toppings or dressings, as well as yummy and healthful sauces, drinks, and so on.
I nearly always head out on long drives or flights with some food packed. Try sandwiches with avocado, pesto, or bean spreads; chickpea salad wraps; Mediterranean mezze platters with olives, flatbread, roasted peppers, and tabbouleh; chia puddings; nut "cheeze" and crackers; homemade energy bars or energy balls; trail mix; dried fruit; sturdy veggies (such as broccoli, cauliflower, or celery) with hummus; vegetable sushi rolls; or cold bean-and-pasta salads with a tangy vinaigrette and veggies. Fruit travels well, too. Apples, oranges, pears, and bananas are ready to go; no refrigeration necessary. (Do be careful with bananas, though. I can tell you from personal experience that squashed bananas and laptop computers don't get along!)
To keep your eating out sustainable, if the restaurant allows it, bring your own food storage items too: stainless steel, silicone, or glass containers for leftovers and drinks, and bamboo or stainless steel cutlery. That way, you can keep a lot of plastic out of the waste stream and advance the trend for restaurants to encourage reusable food storage from their customers. And when ordering delivery, some restaurants also have an option for no utensils, further reducing single-use plastic waste.
6 Healthy Dining Recipes for Eating Out & On the Road
Whether you're visiting a local restaurant, taking a road trip, flying out of town, or are just out and about running errands, we have you covered with some nutritious snack and condiment options that will keep you energized and sustained. Since these will be homemade, with love by YOU, you'll want to plan ahead a bit to make sure you have snacks in hand while traveling.
If you're in the savory snack lovers group, then plan to make the easy-to-create Two-Ingredient Flax Crackers or Crispy Cheesy Kale Chips. If you like your snacks on the sweeter side, then dive into the Cacao Peanut Butter Energy Squares or Super Seedy Granola.
If you're tired of visiting restaurants that just haven't figured out how to get creative with vegetables yet, then bring the Toasted Spice Blend with you when you dine out. It transforms any blah meal into a flavorful one.
Finally, one thing we could probably all use while traveling is some immune support. Brace yourself for this one: while it's really simple to make, it does require time to marinate. This means you'll want to start FRN's Fire Cider weeks before you're ready to travel in order to benefit from the tonic's immune-supporting power.
Here's to healthy, satisfying, and smooth travels (at least where food is concerned).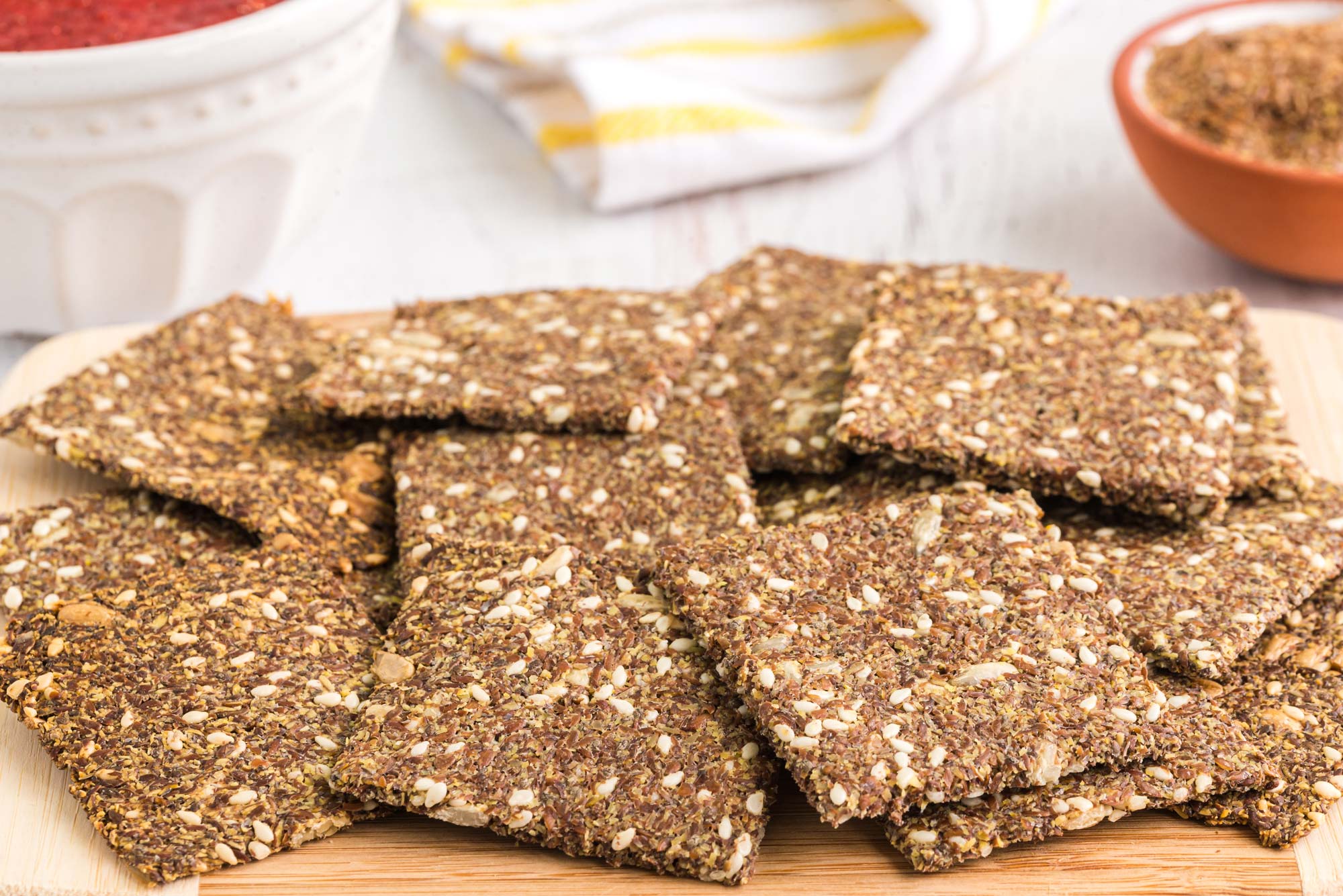 Who doesn't love munching on a crunchy cracker while they're taking a road trip? Pro-tip: they're also great as an accompaniment to or crumbled on top of restaurant dishes! This recipe couldn't be any easier to make, so make sure to plan ahead by carving out 25 minutes before you head out of town to make these 2-Ingredient Flax Crackers. You'll be so happy (and nourished!) while you're munching away!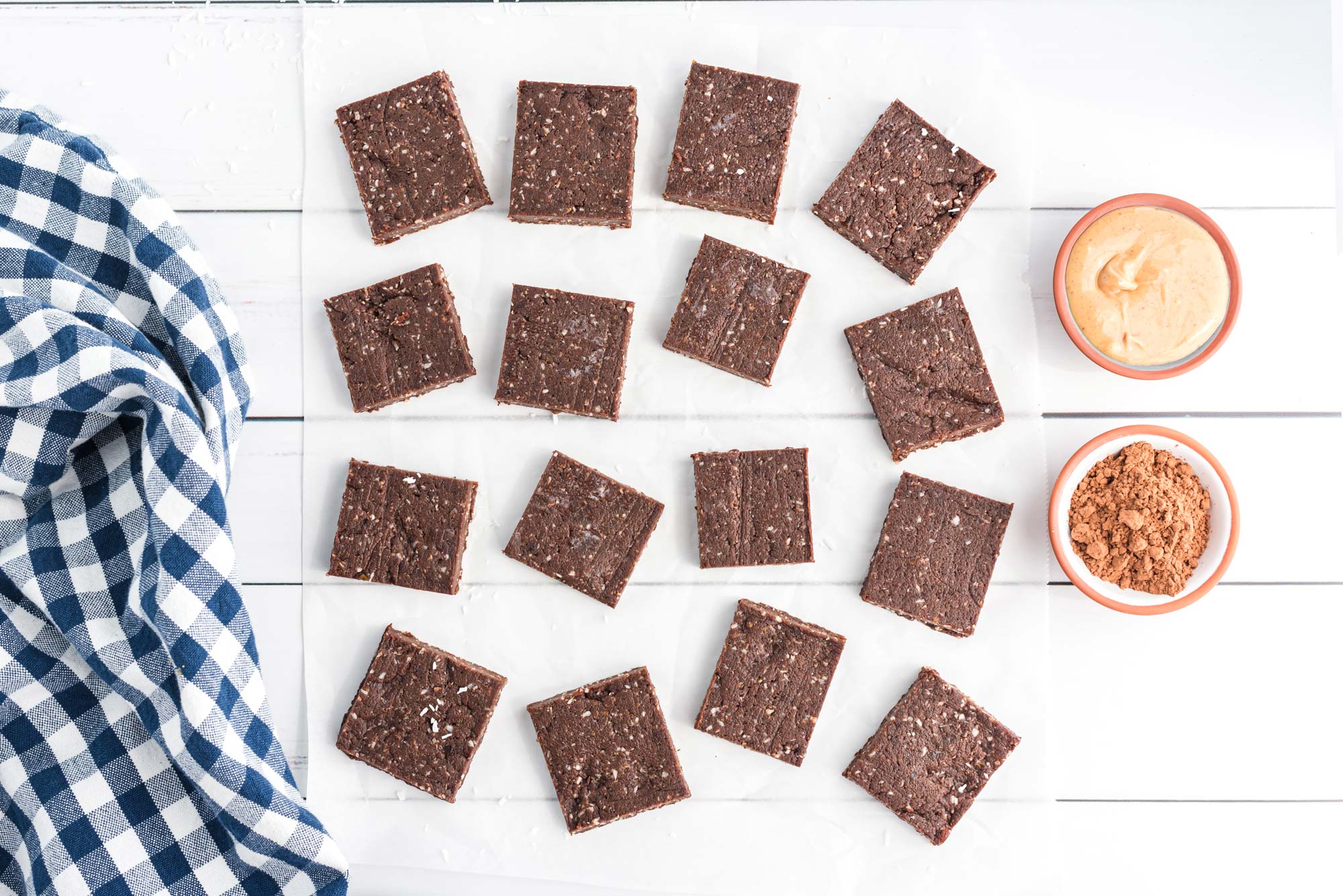 Are you one of those individuals who gets hangry while traveling when you can't find anything decent to eat? (Don't worry, I feel you!) These Cacao Peanut Butter Energy Squares are packed with plant-powered protein and a decent amount of fiber to prevent those annoying hunger pangs while you wait to find a full meal. Plus, they taste pretty indulgent!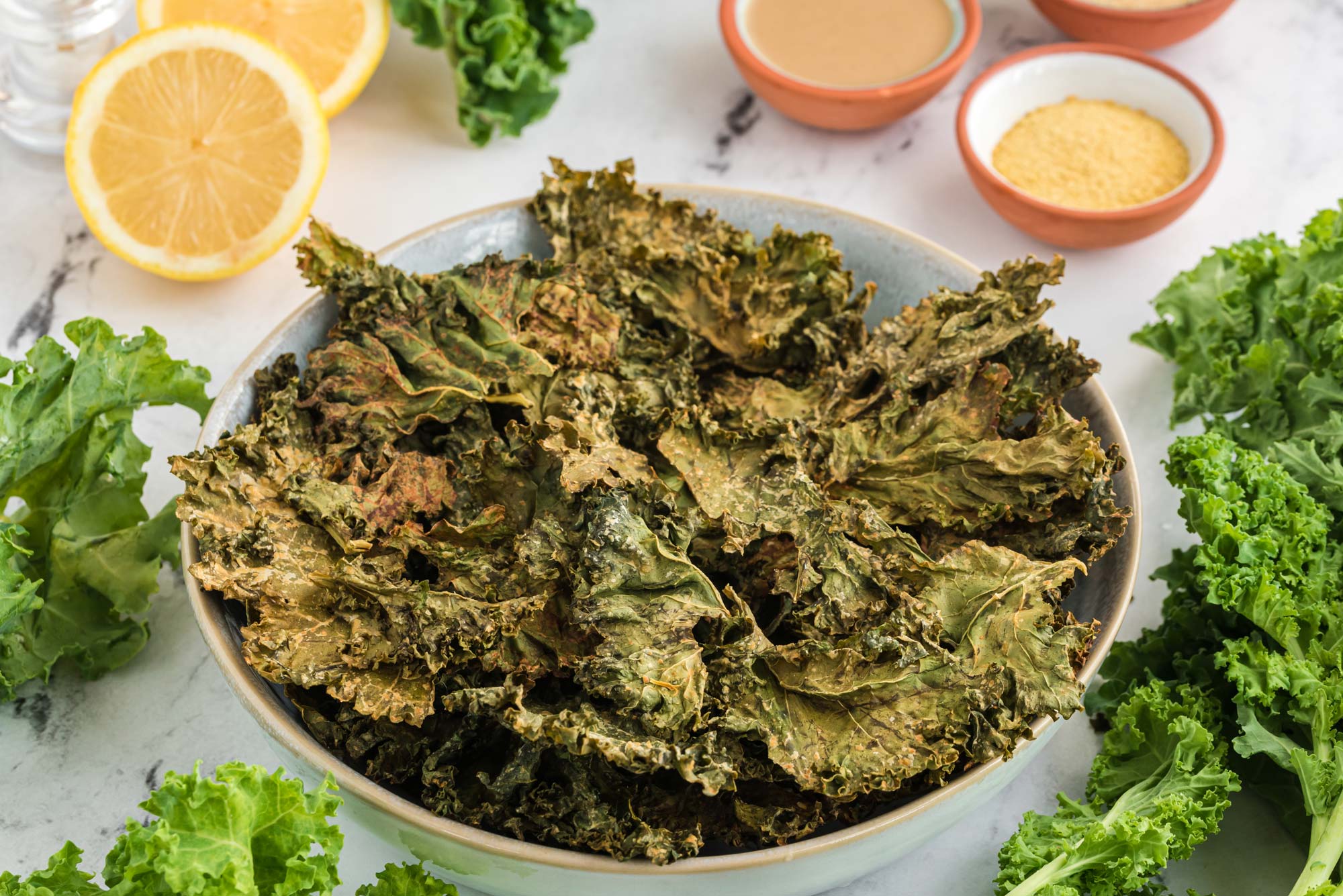 One of the most challenging foods to find while traveling or on-the-go is leafy greens. Leafy greens are truly helpful on the road since they provide essential vitamins and minerals to support immunity, energy levels, and healthy sleep patterns. Plan ahead by making these kale chips before you leave and store them in an airtight container for safe travel (they break apart easily!). They're very simple to make!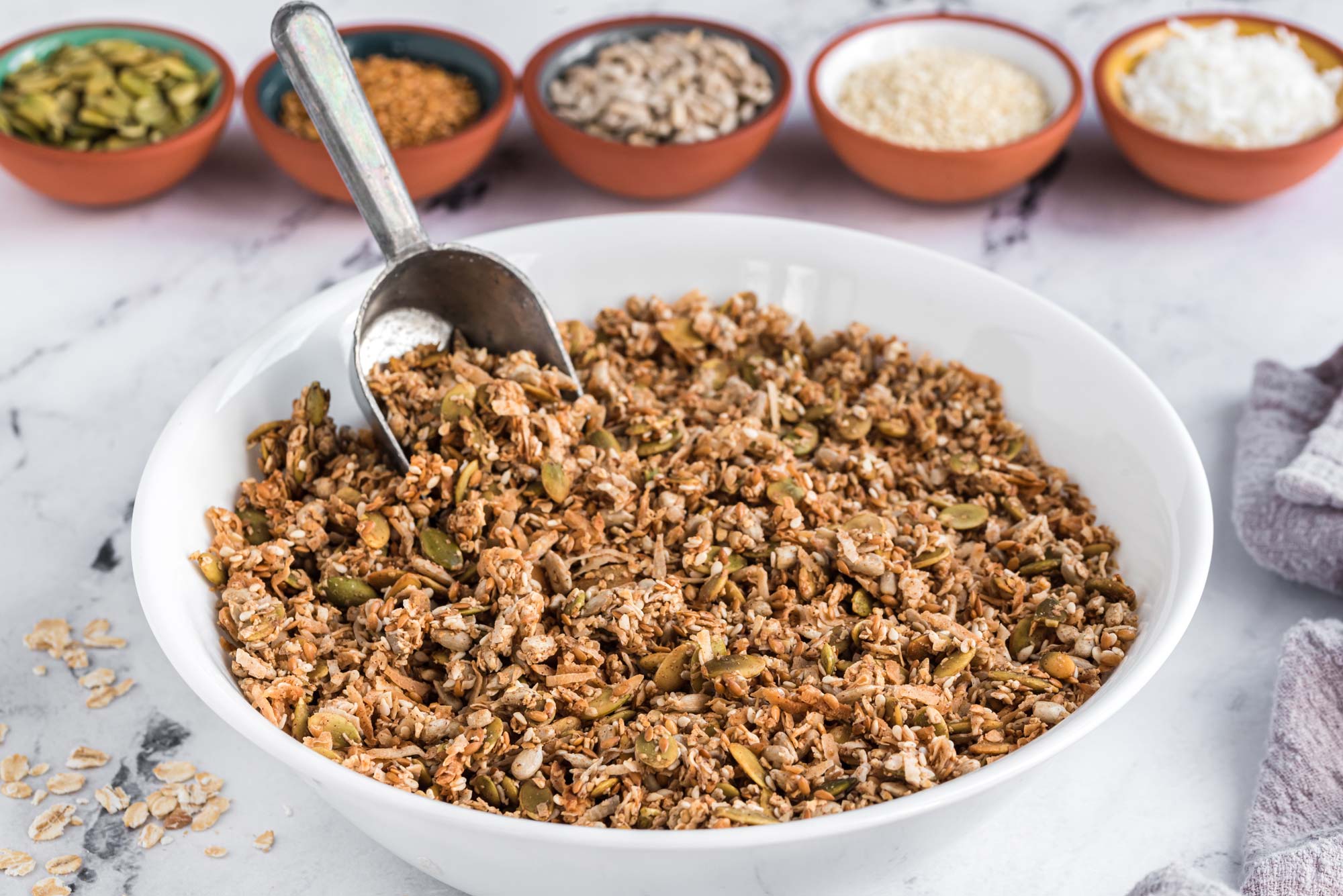 One common complaint on the road — constipation. No wonder so many people have a difficult time going while traveling. Aside from not being in the comfort of their own home, oftentimes, water consumption decreases and eating foods-on-the-run devoid of fiber increases. Enter Super Seedy Granola. Not only is this granola a tasty, crunchy snack, but it's packed with fiber to help your digestive system stay regular (and help you stay comfortable and happy!). Just don't forget to wash it down with plenty of water.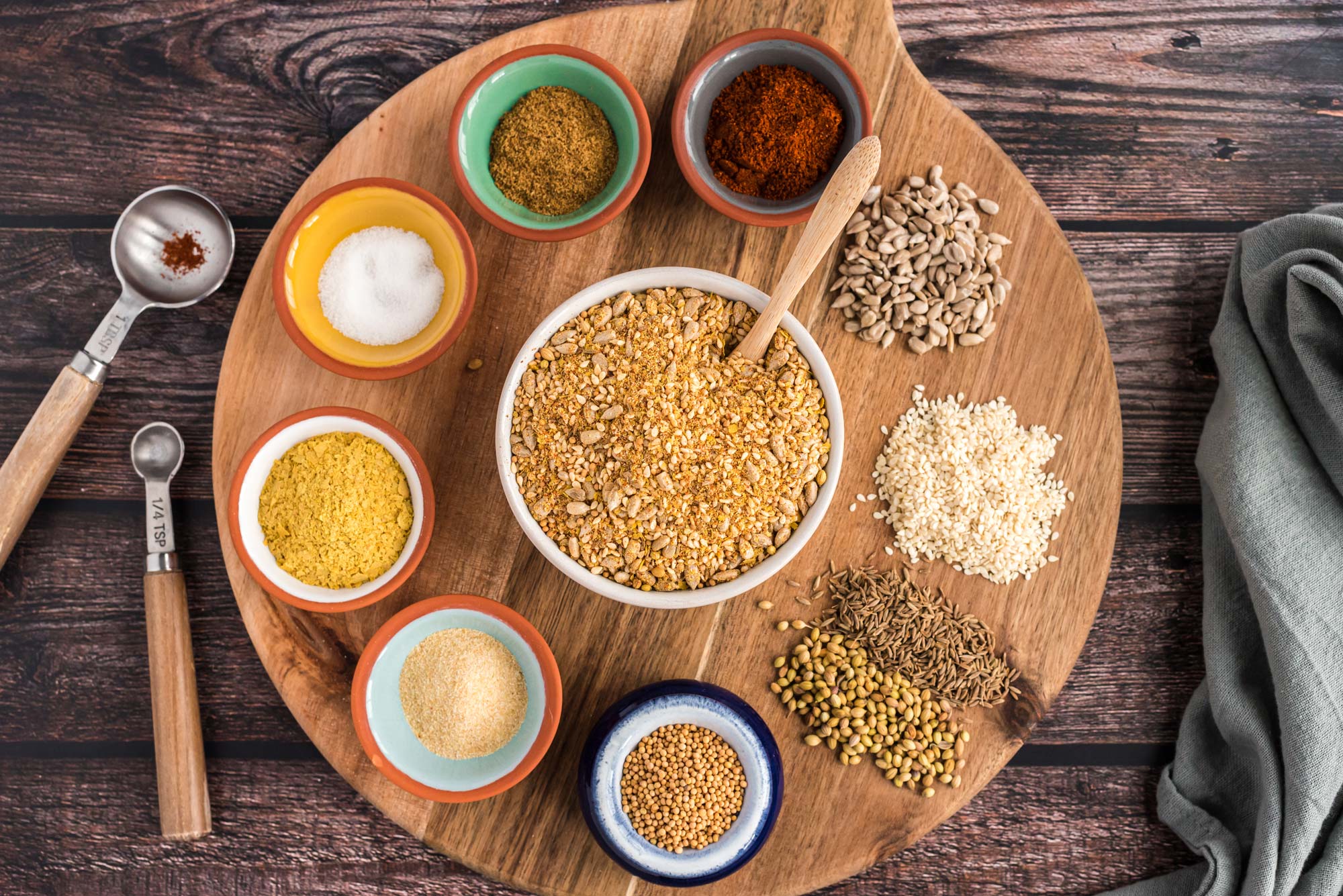 Have you ever visited a restaurant and asked for a plant-based meal only to receive a plate full of steamed vegetables? Not that steamed veggies aren't delicious and nutritious — hooray for that. But, sometimes we need a little more creativity and love to go into that meal, so it has more texture, flavor, and nutritional value. That's where this Toasted Spice Blend will come in handy! This easy-to-make blend is bursting with flavor from the variety of healthy seeds and spices and can transform any blah meal into a fantastic, healthy dining experience.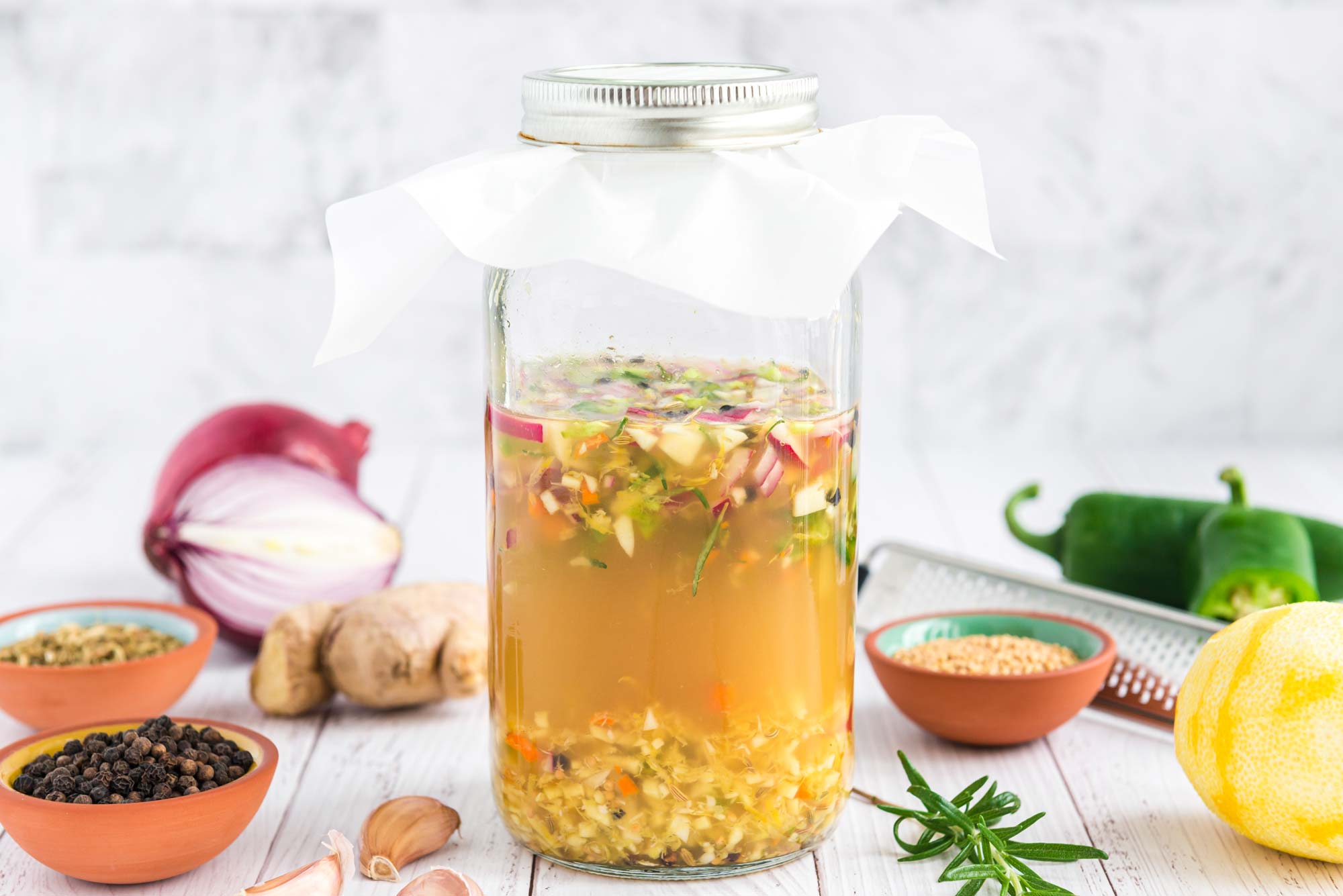 Traveling can definitely wreak havoc on your immune system as you're exposed to new environments, your sleep patterns are off, and your healthy diet might go by the wayside — depending on what's available. If you're able to travel with liquids (road trip!), then plan (weeks!) ahead of time by letting healing spices and herbs marinate in apple cider vinegar to create a flavorful and potent tonic that you can take daily as an immune-supporter.
Healthy Dining While Eating Out is Possible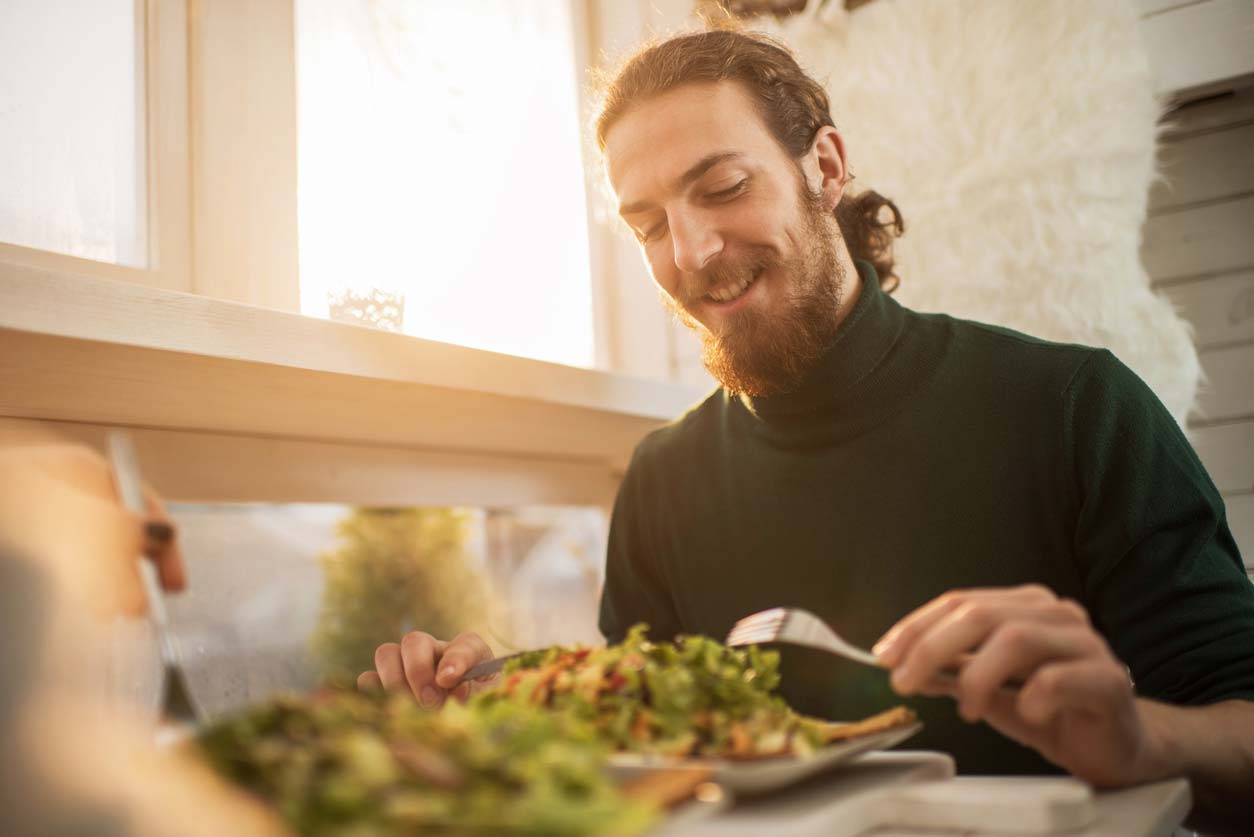 Although eating out may be more expensive and somewhat less healthy than making food yourself, it's still possible to eat pretty well while "out in the world." And you may want to have slightly different standards when out than at home. After all, it's what you do most of the time, day in and day out, that shapes your destiny. If you get solid in a healthy pattern at home, then you can mix it up a bit for variety — and in order to remain connected to friends and loved ones. Do the best you can, and whatever you end up eating, enjoy your food. Guilt never made anyone healthier.
Bon appetit!
Tell us in the comments:
What are your best tips for healthy dining from restaurants?
What's one dish you really enjoy ordering out for?
What food do you take with you when traveling?
Feature image: iStock.com/RossHelen
Read Next: