On a cold, dark winter night, there's little better than
sipping hot cocoa
while wrapped in a cozy blanket and reading a good book beside a toasty fireplace, while the wind blows and snow falls outside (depending on where you live, of course!). And if you're anything like me, you also crave hearty meals to ease you through those cold, dark winter months. You know, those warm, nourishing meals like
soups
, stews,
bakes
, and
chilies
that give you all the warm and comforting fuzzy feels inside.
Fun fact about plants — they can create the most delectable, rich, and satisfying flavors and textures to keep your belly happy and heart soothed when temperatures plummet. Plant-based foods like beans, lentils, potatoes, quinoa, brown rice, and root vegetables are fiber-rich and loaded with vitamins, minerals, and other essential nutrients that help you feel fuller for longer and satisfy your hunger. They also fill you up while providing long-lasting energy without the food coma that many of us know so well from the traditional winter meals a lot of us grew up with. Plus, it's always nice to have a variety of warm, healthy recipes to add to your dinner repertoire for chilly winter nights. If you're unsure where to start, the following recipes can guide you.
Keep reading as we look at how to prepare and cook hearty meals during winter, whether it's a holiday feast for a family gathering or an intimate meal for two, along with tips for making dinnertime extra cozy. We'll also provide seven delicious and healthy dinner recipes to keep you warm, content, and well-fed during those long, cold nights.
Winter Dinner Foods
Creating winter dinner recipes can be a fun and exciting activity for the whole family since you can use seasonal fruits, veggies, and other ingredients that you might not use during warmer seasons. When creating such recipes, you're choosing foods that are not only satiating, filling, and warming (for both body and soul), but also filled with fiber, vitamins, minerals, and nutrients necessary for good health.
Examples of heartwarming, health-promoting foods include:
Root vegetables like potatoes, carrots, onions, beets, and turnips
Winter squash such as acorn, butternut, spaghetti, and kabocha
Beans, including garbanzo, pinto, navy, cannellini, and black
Whole grains such as brown rice, buckwheat, barley, millet, and bulgur
Lentils, including brown, red, green, and French
Whenever possible, choose local or seasonal foods to create your winter dinner recipes. Many grocery stores have organic and seasonal produce sections, and visiting your local farmers market — winter markets are a thing! — is a great way to find fresh, wholesome food — especially storage crops and cold-weather greens — during what is typically a fallow season. Supporting your local farming community during the quiet months also helps to reduce your food-related carbon footprint.
Since local or seasonal foods tend to be fresher than store-bought produce, they often provide more immune-supporting nutrition, including vitamin C and provitamin A. Local and seasonal foods are also often tastier! Seasonal produce is also rich in two nutritional superstars — fiber and antioxidants. Fiber supports gut health, while antioxidants strengthen the immune system. When cooking any produce, be aware that some nutrients are enhanced while others are lost during the cooking process.
Tips for Creating Healthy Winter Dinner Recipes
A huge bonus when it comes to winter meals like soups, stews, bakes, and chilies is that you can batch-cook them in large quantities (and they often get even tastier the next day!). So whether you're feeding the entire family, plan to enjoy them as leftovers during the week, or want to freeze portions to enjoy later in the season, these winter recipes are made for multiple meals and meal prepping.
Time-saving tip: Chop your veggies in advance so they're ready to go when it's time to cook. Another tip is to add everything to a slow cooker early in the morning to have an aroma-filled home and dinner ready for you and your family after a long day. This not only saves you time and energy, but it also allows for more quality mealtime with family rather than enduring stress over what to prepare and getting it on the table before the hangries have set in.
Choosing recipes that call for some of the same ingredients can save you time and money. When planning two or three recipes ahead of time, batch-cook ingredients like lentils, brown rice, quinoa, beans, and root vegetables in advance, then divide them between meals throughout the week.
A final tip for making dinnertime super cozy on a chilly winter day is to create warm and uplifting spaces in your home. Dim the lights, light (eco-friendly) candles, play soothing music, and enjoy a generous helping (or two) of your favorite winter meal. Bonus if you have a furry friend by your side! You might even consider placing some flowers or other seasonal decor on your dinner table or kitchen counter for an extra dose of comforting coziness.
Healthy Dinner Recipes to Keep You Warm and Cozy on Cold Winter Nights
If you're curious about what to make on a chilly night, we've got seven delicious plant-based recipes to warm you from the inside out. Our healthy, winter dinner recipes are all about fresh seasonal ingredients that turn into nourishing and tasty comfort dishes! Whipping up a delicious dinner doesn't have to be difficult, either. In fact, a few of these recipes only require one pot and a bit of prep time before you've got a cozy and delicious meal to dish up for you and your loved ones on a cold winter's night.
One-pot meals are an easy and delightful go-to during cold winter months. Butter beans create a layer of rich creaminess that makes this veggie-centric soup (think carrots, onions, and Swiss chard) all the more nourishing. Make it for the week or freeze it in individual containers so you have soup for the cold winter months to come.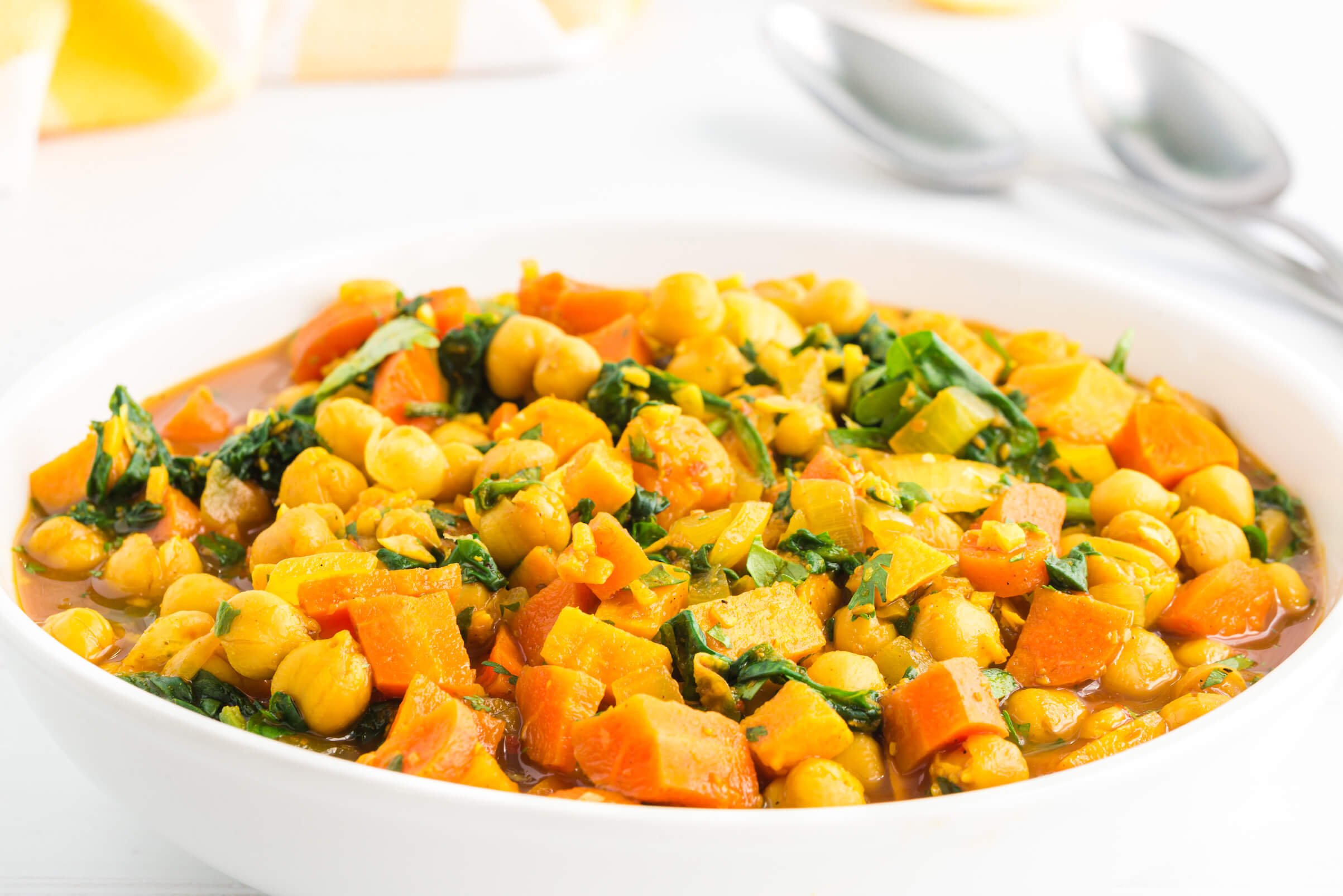 Make a winter meal feel extra cozy by taking advantage of warming spices, rich and starchy root vegetables, and healing leafy greens in our Moroccan-inspired and oh-so-satisfying stew. A delicious balance of sweet and savory flavors, it's made with onions, carrots, sweet potato, chickpeas, and spinach, flavored with toasted spices, and finished with fresh herbs. With its variety of flavor and texture combinations, this just might become a go-to dish when you're wanting some nourishing warmth.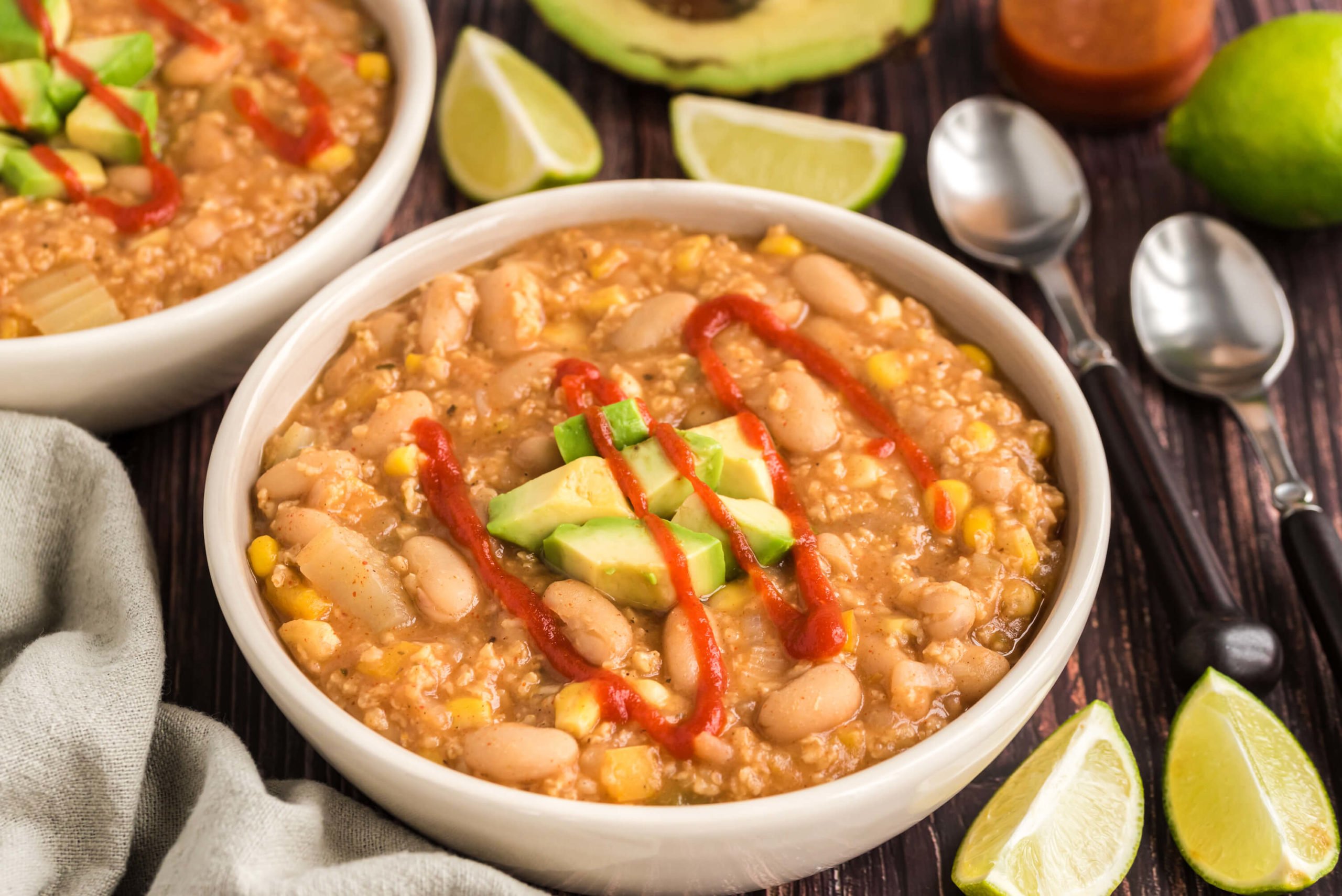 Just about everyone could use a delicious, plant-based chili recipe in their back pocket, and this one might be yours. Loaded with creamy white beans, millet, root veggies, and spices, it's a healthy and comforting spin on a traditional tomato-based chili. Pile on creamy avocado and a dash of hot sauce (for a bit of heat and totally optional) to enjoy on a cold winter's night.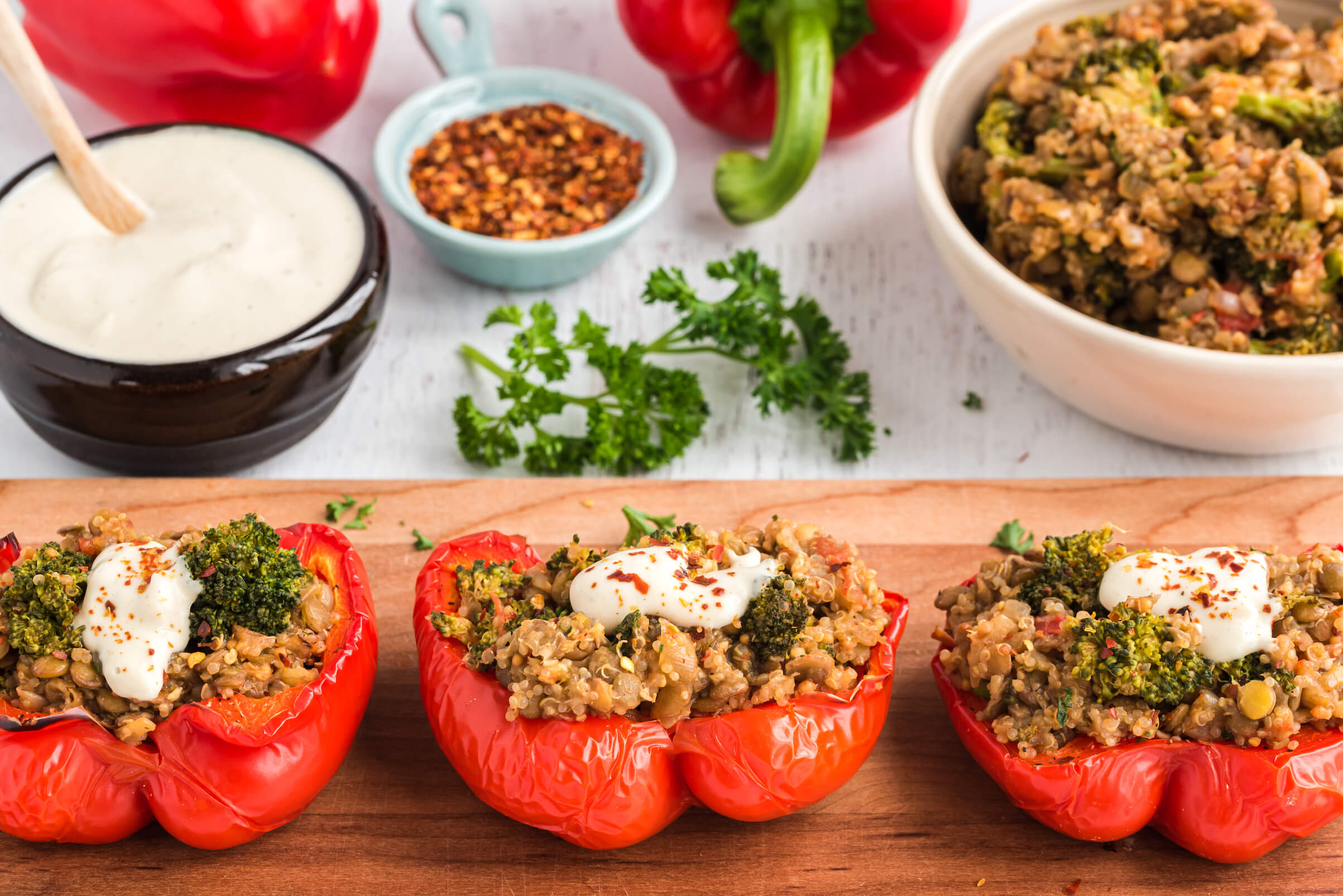 A colorful bundle of essential nutrients in one hearty package, Lentil and Quinoa Stuffed Peppers are a delicious and fun source of healthy comfort. The star ingredients bring plenty of fiber, protein, and phytonutrients to this easy-to-make main dish. And broccoli, tomatoes, and peppers serve up a generous amount of vitamin C to help keep your immune system in tip-top shape.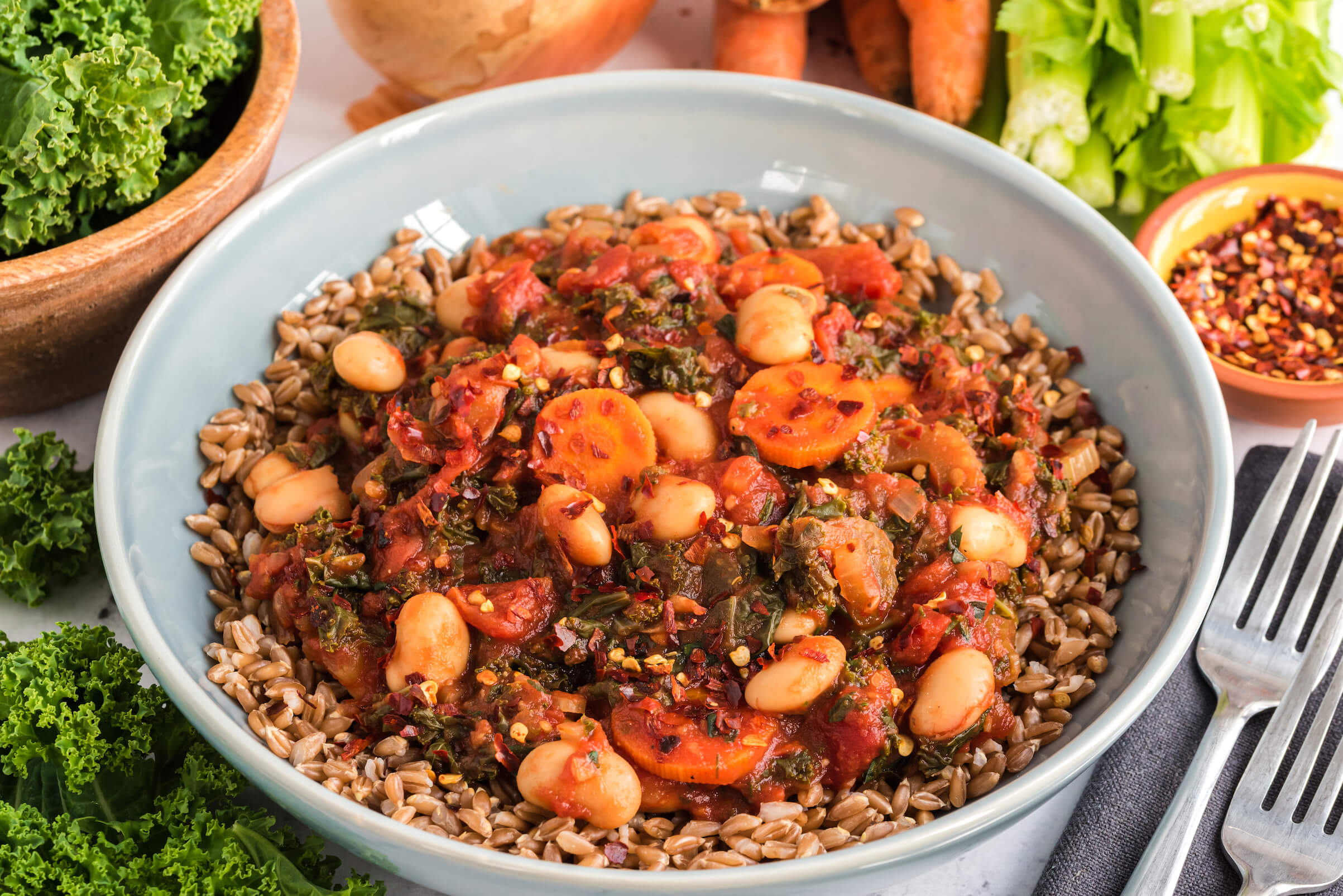 A deeply satisfying stew, Tuscan Beans and Kale is filled with nutrient-rich beans and greens simmered in a robust tomato and root vegetable sauce. This is a great dish to customize to your individual needs or your family's preferences. For example, swap the butter beans with chickpeas or substitute spinach for kale. With so many delicious ways to make it your own, this recipe is surely one to keep on hand for the winter season.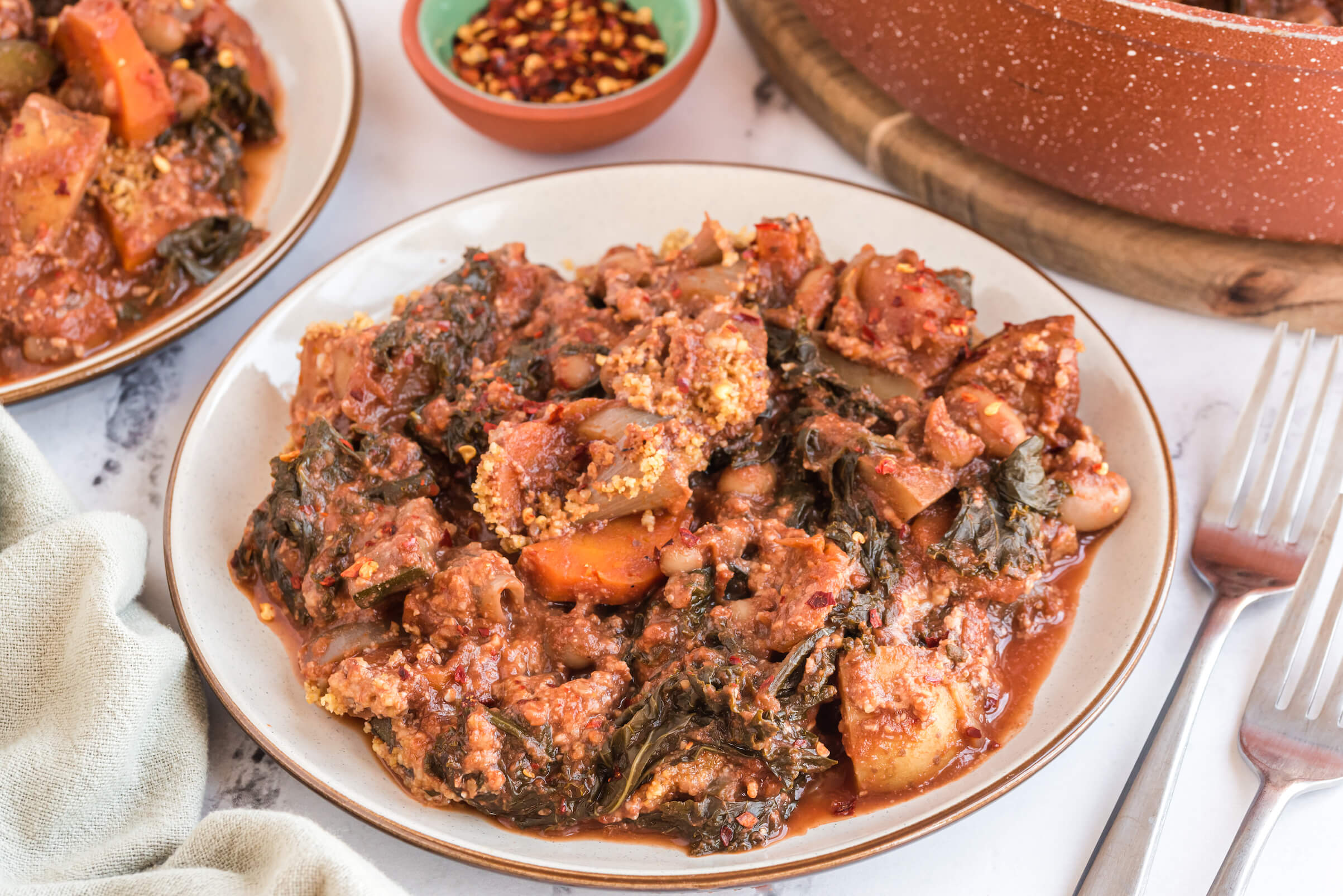 Squash, root vegetables, potatoes, and white beans are seasonal and nourishing ingredients that provide plenty of plant power to warm you from the inside out. Our Vegetable Cassoulet takes some time to cook, but the prep time is minimal and the aroma that fills your home will make it worth the wait — we bet you'll be counting down the seconds before you can dish it up for a bite!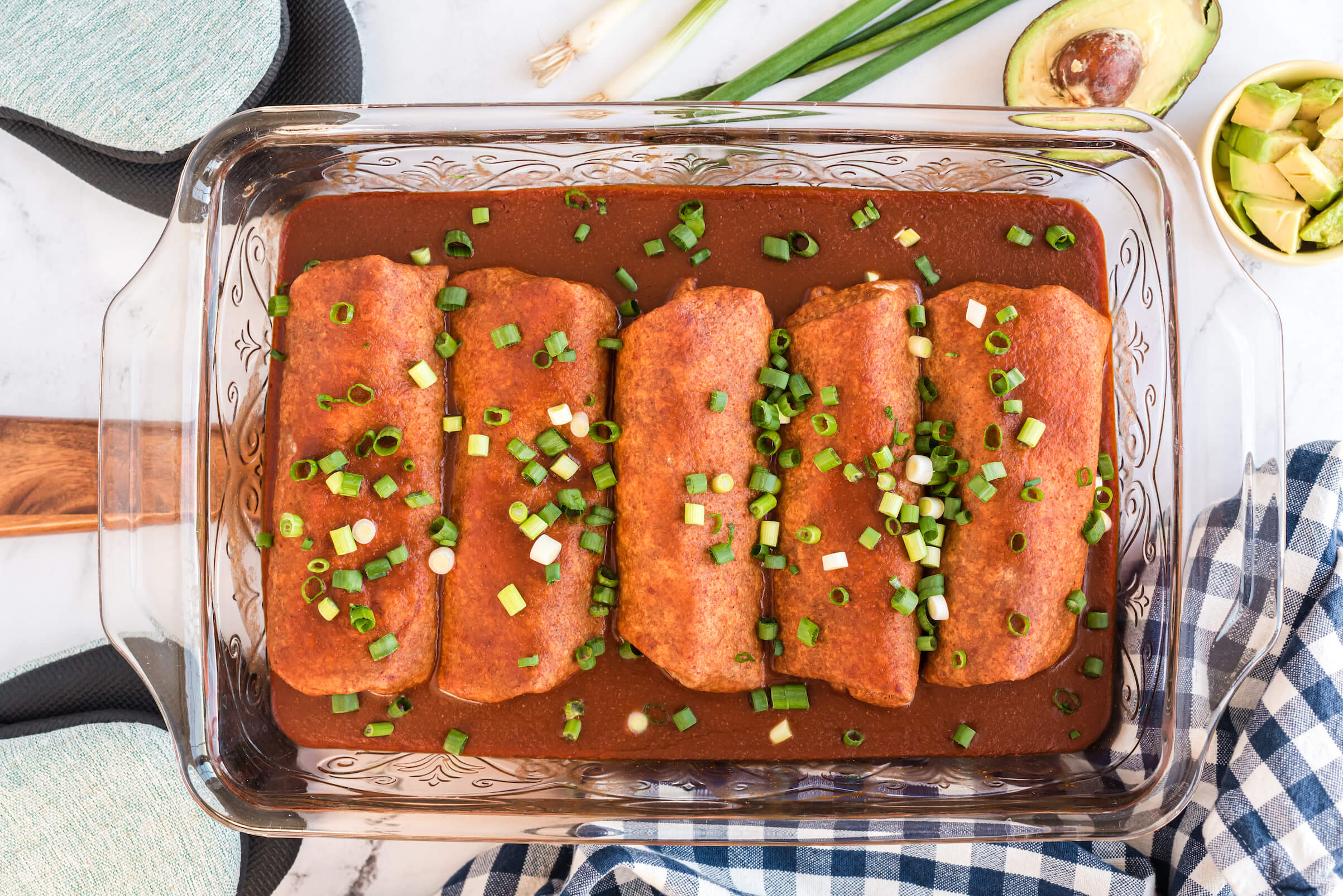 Healthy comfort food on a cold and frosty night has got to be the ultimate win, and our Spinach and Mushroom Enchiladas check both of those boxes! Their enticing aroma, delicious flavor, and satisfying texture can lift your spirits and keep you feeling warm and cozy. Once these bubbly beauties come out of the oven, top them with creamy avocado and an extra drizzle of savory sauce for an unforgettable, satiating, plant-based meal any night of the week!
Enjoy Hearty Comforting Meals Year-Round
You don't need meat or dairy to create delicious, healthy winter dinner recipes that the whole family will love. Instead, turn to recipes packed full of veggies, legumes, and whole grains to make your suppers super nutritious and healthy. Doing so will not only take the chill off your bones but also satisfy your craving for a hearty meal that delivers warmth and comfort for mind, body, and spirit. By following these tips and recipes, you'll have a variety of winter dinner meals that are hearty, nourishing, comforting, and will keep you warm and healthy during the coldest months of the year!
Tell us in the comments:
What's your go-to winter dinner recipe?
Which healthy winter dinner recipe are you going to try first?
What healthy plant-based food swaps for meat and dairy do you make?